Google Ads for dentists is one of the best dental marketing strategies (ppc for dentists – your best guide to dental pay-per-click) that will get you new high-quality patients that are looking for specific high-revenue treatments like dental implants, crowns, etc. These high-quality patients are people who are actively looking for a dentist to go to, you just need to be in front of them on Google.
You can be very successful with Google ads campaign because they own about 75% of searches done on the internet. Meaning out of all other search engines like Bing and Yahoo, 75% of searches done are done on Google. Making Google a best platform for digital marketing your dentistry practice can tap into this market of people and grow your patient list.
Understanding the keywords these patients use to find dentists to go to and how the Google Ads platform works is key to your private practice's success.
It is important to know that Google ads campaign (formerly known as Adwords) run on a pay-per-click, or PPC, system. This means that you only pay when someone clicks on your dental ppc ad. Therefore there isn't too much to lose by running these ads. So at least if your ppc ad is so bad that no one clicks on it, you will not get charged for it.
With Google Ads (or dental ads), you can be at the top of the search results for important search terms. It'll increase awareness of your dentistry, and reach an entirely new audience.
Ready to begin your Google Ads journey?
Google Ads Structure
Google Adwords also has a structure in place that determines how you can run ppc ad.
You have settings that you may alter at the account, campaign, and ad group level. Campaigns are the umbrella category of your account structure. This is where something broad like check-ups may be a campaign and you have an ad group for teeth cleanings and another ad group for x-rays.
Keywords are terms that you would like to target and make your ad about. These appear in search queries, which are the word/sentence/phrase that someone types into Google. A keyword can be "dentist" or "root canal services in Irvine." They can be super simple or very long and specific.
Quality Score
A huge factor in determining your ads' success is Google's quality score ranking. This can affect your cost per click and ad positions. This is ranked on a 1-10 scale, with 10 being the best. The 4 determining factors in quality score ranking are:
Click-through rate (CTR)

Relevance between ad text and keywords

Relevance between keywords and search queries

Landing page relevance
There is no set CTR you should aim for since it all depends on the industry and keyword you are targeting. As for the relevancy aspect of quality scores, this means that your ads, keywords, and landing pages must all tie together. They should not be about different things or have tons of keywords smashed into them. These 3 things must all be thematically related to each other.
You can check your quality score to see how well you are doing and what to change. Your scores may be low at first, but don't worry. Delete any keywords with a score of 1, and any that are 2+ keep working on them. Make sure you are checking the relevance of all factors, and aim for a score of 7.
Remember, the higher your score is the cheaper your cost-per-click is and the higher it is shown in the search results. So make sure to monitor your progress and make alterations when needed.
Creating your first Dentistry Search Ad Campaign
You must have a Google Ads account to get started. Once you create that you are asked what your main PPC advertising goal is. It is important to ignore the 3 options shown, and scroll down to "Switch to expert mode." This allows you to have more control over your ads.
Next, you are asked what dental PPC campaign type you will be running. As mentioned earlier, we are trying to leverage Google's main share of searches so we will click on the search ad campaign type.
There are others like display and video, which you can test out at another time. It is important that these Google ads for dentists dominate the search and show up as the first result.
You should also skip the question below campaign type regarding results.
The Campaign Settings
The campaign settings are where you can set up your first dental PPC campaign. You can title it an umbrella term which you can place multiple ad groups under. A good choice would be "Check-up services," where you can, later on, make ad groups for teeth cleanings and x-rays. When doing this it is recommended that you deselect Google Search Partners and the Display Network option. These settings will drive up costs by showing your ads on places other than Google search, which is not the goal.
Still have questions on setting up a ppc advertising campaign or about Google Ads?
Audience Demographics
Within the audience demographics section, you can set things like location and language. Since you are a local dental clinic, you should use the location setting to target locals.
You are allowed to include and exclude people from locations. It is best to set your preferences by:
Entering your dental practice's location

Click advanced search

Select radius (a couple of miles)

Type in your dental office's address and choose how large of a radius you would like to target

Save changes

Click target "People in or regularly in your targeted locations"

For exclusions, exclude any city or neighborhood you don't want to target
The reason for selecting "People in or regularly in your targeted locations," rather than "People who show interest in your location," because this is targeting people who have physically been in your location. Instead of someone who is merely interested in going to that place. For example, if your dentistry is in Anaheim, California you would not want your ads to show to the residents of Anaheim, instead of people interested in going to Disneyland. As for the radius aspect, you should choose between a 5-10-mile radius depending on the population density of the area surrounding your office. Consider using dental Waze Ads to promote your practice to drivers around you.
These settings should all make your Google search ads more efficient. You then have the option of changing your language settings. It is possible to leave English as your only language, or you can select a second language. This would be helpful if someone on your staff speaks another language that is commonly spoken near your dentistry. This will allow your 2nd language ads to be shown to people whose default Google settings are in that language. This means that those who have their Google settings in English searches in your 2nd language will not be shown the ad.
Budget and Bidding Strategies
When it comes to your daily budget on Google ads, it is important to not try and stretch it too thin. This means that since these are PPC ads, you will be targeting keywords and likely have an ad per keyword. You should not try to only spend $10 on ads for 5 different keywords. The data from low budgets accumulates slowly and most likely won't be very useful.
It is great to start with a $30 to $60 daily budget. $30 should allow you to target 1-2 keywords depending on the price and competitiveness of the word.
There are 7 options in the bid strategy section:
Target cost-per-acquisition (CPA)

Target return on ad spend (ROAS)

Maximize clicks

Maximize conversions

Maximize conversion value

Target impression share

Manual cost-per-click (CPC) 
As mentioned earlier, there are settings that give Google more control over your ads. To bypass that, you should select the Manual CPC option which will give you the most control. It also doesn't allow Google to spend over your budget. If you want to learn more about our services and our success stories, check out YoYoFuMedia's page.
Ad Extensions
Advertising extensions allow you more space to include information. This allows your ads to be bigger and more relevant to the keywords you are targeting. By making them more relevant, it can improve the performance of your ads since Google rewards relevance. It is also helpful to you because adding more information to your ads keeps away irrelevant traffic and allows for people who are more likely to become patients to see them.
You can choose one or multiple of the 6 types of ad extensions:
Sitelink extensions: Clickable links to specific pages of your dental website that provide relevant information to searchers.

Callout extensions: Highlights features of services/products you offer.

Structured snippets: Help to showcase what you offer. (To know the difference between structured snippets vs callout extensions, read more

here

.)

Call extensions: Allows for users to call your business.

Message extensions: Give searchers the ability to send a message or email.

Promotion extensions: Provide promotional deals to your dental ad.
In the above example, this dental google ad used a sitelink extension (Contact Us, Dental Bridges, etc) to their website pages. They also used a promotion extension to show they offer a deal of up to $600 off teeth whitening.
Need help determining which ad extensions can be the most beneficial for your dental practice?
Creating Your Ad Groups for your Dental Practice
Once you are done with ad extension, you can begin structuring your ad groups. If you decide to go with the campaign example mentioned earlier for check-ups, you can make an ad group for teeth cleaning. However, you don't have to structure your groups by the dental service you offer. You can even create ad groups for certain demographics you are targeting.
Want to target new parents who are finding their child's first dentist? That can be an ad group. Or if you offer dentures at your office, you can make an ad group to tag elderly people who are learning about them. Decide what type of structure you think would best fit your dental practice.
In this section, you have the option to choose your keywords at the ad group level. This means that ads created under the ad group will target those keywords. You can even set a bid for how much you think this keyword will be worth. Depending on your ad group you may or may not want to set these.
Creating your first Google Ad for Dentists
Since you are done structuring your ad groups, you can begin creating your first ad! You have to capture your audience's attention, so think about what makes your dentistry unique. If you have any local awards, features in magazines, or amazing reviews from Nextdoor or Yelp you can feature them.
Testimonials can be a great asset to you, as you can use them as headlines for your dental ad. Brainstorm and think of at least 3 headlines. Note that you won't know if these headlines will show up together or which one will show, but it's good to create a few just in case. The more headlines you have, the more space your ad has on the search engine results page. There is a 30-character limit per headline, so keep it eye-catching and concise.
Now that you grabbed the reader's attention, you need to keep it by writing a great description. Here is a chance to use the keywords that you researched earlier and include a CTA, or call to action. A CTA is basically telling searchers what to do next after reading your ad. It should be specific, not like "Click here."
This example shows that your services are affordable, you have been in the industry for 30 years, and have won an award amongst locals.
Keyword Research, Planning, and Types
For your ads to do well, you must research and plan your keywords. Picking the wrong ones will result in your ad not converting. For example, targeting "teeth" is way too broad and you will be wasting money on a very competitive keyword. You can show up in search queries for "teeth clipart," which means your ad will be irrelevant to the searchers. Make sure to do your due diligence with keyword research.
The best way to do this is to think of how your dental patient would search for dental services. How would someone interested in finding a new dentist search? One person may type in a question like "best dentist for children near me?" Others may type in "dentist near me." To get started with keyword research you can try a few different tools:
Google and its autosuggestions
Google Keyword Planner and Ubersuggest will show you the competitiveness of these keywords as well as the search volume and CPC. Search volume is an important factor in keyword research. You don't want to target something huge with 600,000 searches per month, but not something with 0 searches either. As low as 100 searches can work for you as long as the user intent is to book an appointment.
A great keyword to target for your dentistry is "Service/Product + City/Town." It's a simple way to start taking over the ad spots shown to locals.
Above is an example of Google Keyword Planner, with the keyword "dentist Irvine". It has an average monthly search of around 1k-10k with low competition. The top of the page bid is at around $4.50 to $11.20. It also offers you suggestions for other keywords. It is important to note that this information is not 100% accurate, and search volumes and prices fluctuate.
Keyword Types
In Google Ads, you can choose between 5 different keyword types for your ads. Depending on the type you pick you can choose how you want your keywords to appear in search queries. To differentiate the keyword types you must format your keyword, so Google can register which specific keyword searches you want to target.
Broad Targeting:
By using broad targeting, your ads will show the exact keyword and related keywords (things like synonyms, variants, similar phrases, and similar concepts). Broad targeting is the most "broad" form of targeting and will bring you a wide variety of users. Because of its "broad" reach, it is unlikely to drive conversions and get dental patient.
Symbol

: none

Keyword:

dentist

Examples of what

keywords your ads may show up

:

dentist near me, how to be a dentist, dental school, etc.
Broad Match Modified Targeting:
Similar to broad targeting, broad match modified targeting makes it that your ads will only trigger for search queries that contain your targeted keyword. But, it can be found in any order.
Symbol

:+

Example: +Dentures

Examples of

queries that will trigger your ads

:

Dentures San Jose, San Francisco Dentures, cheap dentures near me

Example keyword: +Root canal

Examples of

queries that will trigger your ads

:

cheap root canal crowns, root canal on baby teeth, and how to say root canal in Spanish
Phrase Targeting:
With phrase targeting, searches that contain the exact phrase regardless of what comes with before or after the phrase will trigger your ad.
Symbol

: ""

Example keyword: "best dentist"

Examples of  searches

that will trigger your ad

:

best dentist near me, best dentist in San Jose, Riverside best dentist
Exact Targeting:
Unlike phrase targeting, your ad will only be trigger unless the exact term is used. With exact match types, you can narrow down your visitors significantly by correctly targeting keywords with high search intent. This will generate the highest CTR (click-through rate) and CPC (cost-per-click) for your campaign. If you know your audience, then the exact match will be best.
Symbol

: []

Example: [Dentist San Jose]

Search queries that will trigger your ads

:
Negative Keyword Targeting:
There are cases, there are search queries you don't want your ads to be triggered by. That's where negative keywords come in. They are keywords that will be excluded from a certain search. You can use these for cities or services that your clinic is unable to serve.
Symbol

: –

Example: -Braces
Still confused on how to complete keyword research and planning for your dentistry?
Show Local Search Ads in Google Map
Advertising on Google Maps is an effective approach to reach out to nearby clients. If you own a local business, Maps advertisements make it simple for customers to find you.
Here's how to show local PPC ad on Google Maps:
To allow Google Maps to display your search ads,
Enable Google Ads location extensions for your account.
Create or edit your Business Profile listing.
Set up your Business Profile listing if you don't already have one. If you already have a listing, double-check the details.
Use location targeting and bid according to location. Target a certain location and establish bids based on geography so that your bids are consistent. Check out this thorough guide on how to Show local search ads on Google Maps – Google Ads Help
Landing Pages for your Dental Practice
A landing page is where you send searchers after they click on a link. For our case, it is your ads. Your landing page is the last step where a searcher can turn into a lead by gathering their information or booking an appointment. Google considers landing pages, so they should be structured to be relevant to the ad. So, make sure you don't offer a different deal or mention something having nothing to do with your ad description or headlines.
Keep everything relevant. Use similar ad copy and even bring up points you already mentioned in your ad. Use the same keywords as well. For example, if you mentioned you have been serving the community for 30 years then mention it again on the landing page.
Make sure your landing page includes:
 A title

Your dentistry's name

Testimonials/Reviews from Nextdoor, Yelp, etc

Business location

Phone number

CTA

Relevant Image (e.g your dental practice)
Below is an example of what yours can look like: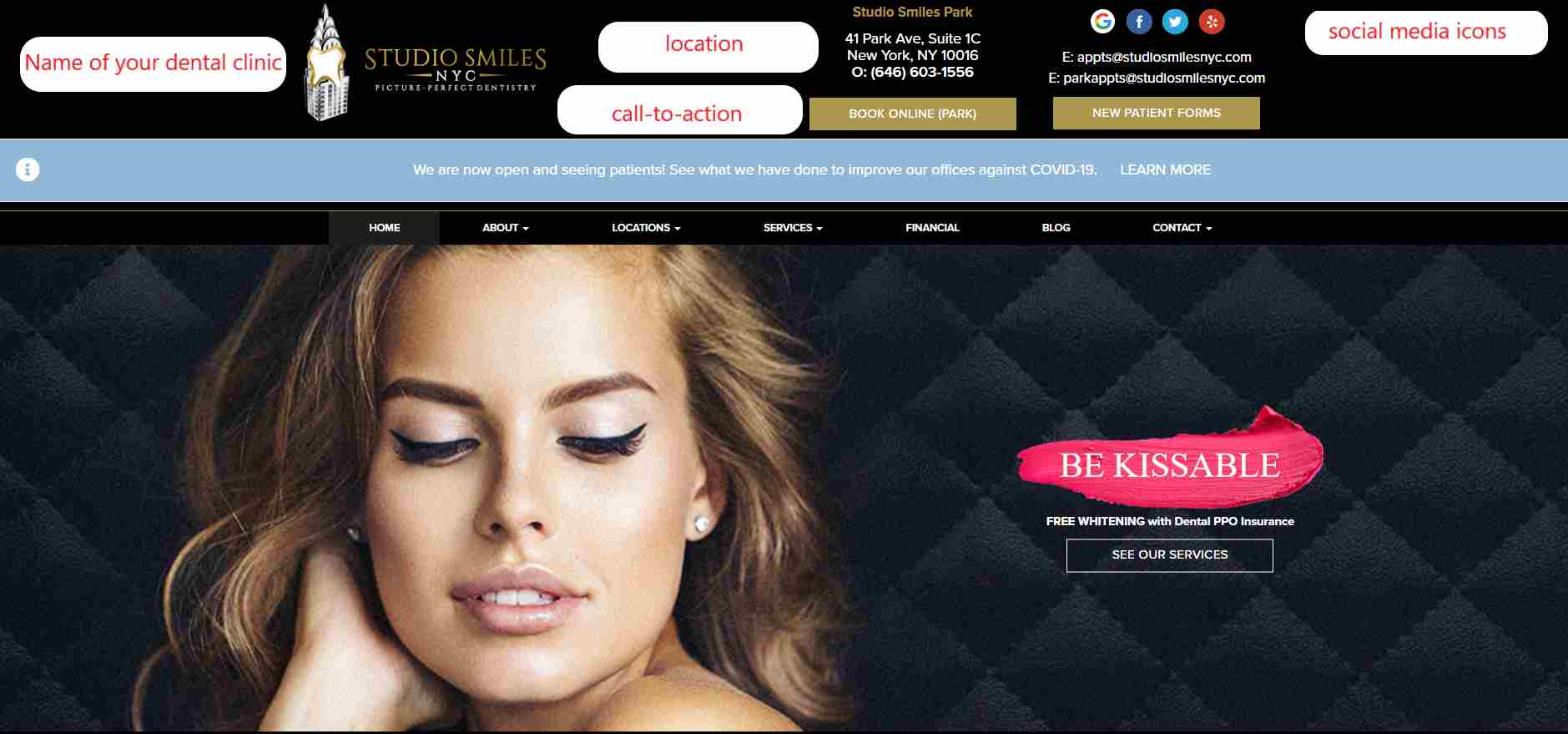 To set up a landing page you can use Elementor, Leadpages, or ClickFunnels.
Prefer to spend more time on your dental patients than figuring out Google ads for dentists? 
Check out the following related case studies from our clients:
Case Study #1: Google Ads for Dental Clinic: How We Got Dr. Chien Extra 26 New Patients In 1 Month From Google Ads!
Case Study #2: Google Ads for Dental Clinic: How We Got A Small Dental Clinic 80+ Additional New Patients In 5 Months With A Limited Budget!
——
Interested in dental local SEO or search engine optimization for a dentist? Check out this SEO For Dentists – Most Comprehensive Search Engine Optimization Guide