Digital Marketing for Tree Removal Services
In this blog, we'll share tips on how digital marketing for tree removal services will help you get more new customers, improve your online presence, and a lot more!
Why Digital Marketing for Tree Removal Services?
Improved online presence
For you to be noticed by your target audience, you have to establish your presence on social platforms where most of your potential customers are. The more frequently your potential customers see your tree service company, the higher the chances of them remembering your business, especially when they need someone to fix their tree issues.
Measurable results
Another reason why you should start marketing your business on digital platforms is that it gets measurable results. With the help of automated and analytics tools, it'll be easier for you to analyze how well your promotional tactics are working which can be helpful as you come up with decisions about the ways how you can improve the current strategies that you're using.
A convenient way of promoting your services
Lastly, digital marketing is one of the cost-effective strategies that you can utilize in promoting your tree service company. Compared to traditional marketing, where you have to print tons of flyers, posters, and other promotional materials that are often ignored by passersby, in digital marketing, you can launch your ads and deliver them to your target audience in just a few clicks!
Still wondering if digital marketing for tree removal services suits your business?
Digital Marketing  Strategies for Tree Removal Services
Now that you have an idea of why you should consider digital marketing for your tree removal company, we'll now proceed with the ways how you can promote your tree service company on digital platforms.
1. Pay-per-click
Pay-per-click (PPC) is another form of advertising but you'll only pay when someone clicks on your ad. Google and Bing are PPC platforms.
Another form of digital advertising is paid social. It's where your advertisements are shown on social media platforms like Facebook, Instagram, LinkedIn, Twitter, and Pinterest. Take a look at these examples:
For Facebook ads, your tree removal company's ads can be shown in the form of image ads, video ads, carousel ads, etc. Some of its best features are (1) it allows you to choose your target audience based on the previous actions they performed toward your page (e.g. watched your recent videos or opened your lead form), life events, and interests and (2) you can send and display advertisements through Facebook Messenger.
When it comes to Instagram ads, your tree service ads can be displayed not just on a potential customer's feed but even on their explore page, reels page, and IG stories.
Here's an example of a sponsored post on Instagram:
Now, if one of your target audiences consists of professionals, LinkedIn ads can help you with that. On this platform, you can create various types of ads such as document ads, message ads, lead gen forms, text ads, image ads, event ads, etc.
You can also promote your tree removal services through Twitter ads which can be displayed in the form of collection ads, dynamic product ads, Twitter takeover, follower ads, and more!
This is what a Twitter ad looks like:
TikTok ads usually take up the entire screen of a user. It also has different ad format which includes in-feed ads, branded takeover ads, top view ads, branded hashtag ads, and more! There are also lots of options when it comes to the call to action button that you're going to use (e.g. get a quote, subscribe, register, get offer, etc.)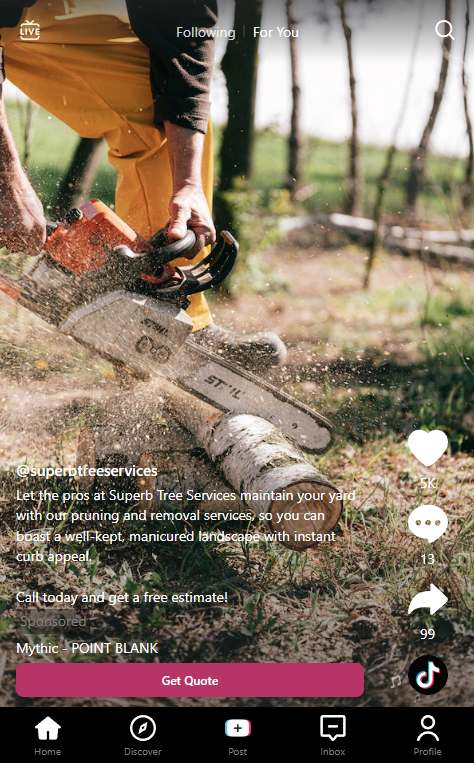 Paid advertising best practices:
Make sure that you're tracking conversions

Account insights usually give you an overview of how many conversions your ad gets in a specific time period. However, if you want to know which platforms most of your customers came from and learn more details about how each conversion occurs, integrating a conversion tracking tool like CallTrackingMetrics will help you maximize your ad spend, give you an idea of which marketing efforts drive more conversions, and a lot more!

Regularly check your account for potential issues

The next thing that you should do is to make sure that you're regularly checking your account. This way you can easily catch up and address issues that need to be fixed (e.g. limited budget or disapproved ads).

Write compelling ad copies

Aside from that, you also have to make sure that your ad copies contain relevant keywords to your tree removal company, add value to your business, contain a call to action, and have powerful words in them. This way, potential customers who see your ad will be encouraged to take action toward it.

Use ad extensions to encourage potential customers to take action

Another strategy is by using ad extensions on your ad copies. This provides your potential customers with an interactive way to engage themselves with your brand (e.g. visit your testimonials page, call your tree care company, or ask directions on how to go to your office).

Always check your search term report

If you are running ad campaigns on Google, you will have access to your account's search terms report. This contains the specific search queries that trigger your ad to show up on Google. The reason why you should also check your ad's search terms report is to monitor if there are irrelevant search queries that trigger your ad, you can add them to your negative keywords list.
Want to know how to create ad campaigns for your tree care company? Check out our blog about Google Ads for Tree Service Companies to learn more.
2. Social media marketing
View this post on Instagram
Social media marketing is when you publish relevant content about your tree removal services on social media platforms like Instagram, LinkedIn, Facebook, TikTok, and Pinterest. This strategy works best especially if your goal is to improve your engagement rate, reach a wider audience, and connect with your potential customers.
Social media marketing best practices:
Establish your online presence across platforms where your target audience are 
Use relevant hashtags for better visibility
Conduct a monthly social media audit (to see how well you're performing)
Be consistent in posting
Repurpose your content based on what's suitable for each platform
Use social media tools to manage your pages in one place
Learn more ways on how you can promote your tree service company by checking out our blog about Social Media Marketing for Tree Removal Companies.
3. Get listed in business directories
Yelp and Google My Business are some of the online directories you want your tree service company to be listed. Having your business listed on these platforms can help potential customers find you, create an impression that you're a legit company, and makes it easier for them to get the basic details of your tree business (e.g. phone number and address).
Tips for managing your business listings:
Make sure to update your business info

Whenever there are changes in your tree company, whether it's your business hours, contact details, or location, you have to make sure to update it on your business listings. This way, not only your current customers will be informed about the significant changes in your business but even potential customers who just heard about your tree service company from a friend, colleague, or family member.

Add relevant photos of your business

You should also add relevant photos about your tree service company on your business listing. This could be a 360° view of the exterior of your office, behind the scene images of your team, and the logo of your tree company.

Respond to queries raised by customers

Since Yelp and GMB have the question and answer section where potential customers can raise their queries about a specific business, make sure that you keep your notifications on for new questions. This way, you prevent other people to send misleading answers and you don't have to keep a potential customer from waiting too long before they get a response from you.

Manage the reviews you're getting

Aside from those mentioned earlier, you also have to make sure that you allot time to manage the reviews you get on your business profiles. This way you'll have an idea if there are specific areas that need improvement, and at the same time, you can keep your tree company's reputation intact.
Looking for a detailed guide on how you can get your business listed on GMB? Check out our blog about Google My Business for Tree Removal Services to learn more.
4. Email marketing
Email marketing is another type of marketing strategy that you can use to let your potential customers be aware of the latest promos, news, and updates about your tree service company. What's great about email marketing is that you're sending campaigns directly to a potential or previous customer's inbox.
Ways to build your email list
Website pop-ups
Opt-in form on your website's footer section
On your landing pages
Types of emails you can send to your potential customers:
Welcome emails – this is the type of email you send after potential customers submit their emails
Monthly newsletters – for the latest news you have in your tree service company
Promotional emails – for when your tree care company is hosting a giveaway, a contest, or has a limited-time offer to promote
Transactional emails – for when a user performed an action toward your business (e.g. receipt or password reset request)
Review request emails – these are usually sent to previous customers which can be helpful in gathering feedback about the tree services you provide
Lead nurturing emails – this is the type of email you send to a potential customer who shows interest in your tree services
Mailchimp and Sendinblue are some of the email marketing software that you can use.
5. Content marketing
Content marketing is the process of creating relevant content and sharing it with your target audience. The purpose of content marketing is to educate, entertain, and attract potential customers to your tree service company. This can be in the form of blog posts, videos, infographics, podcasts, visual content, and a lot more.
These rank over time and go hand-in-hand with SEO and are very effective in bringing you, new customers.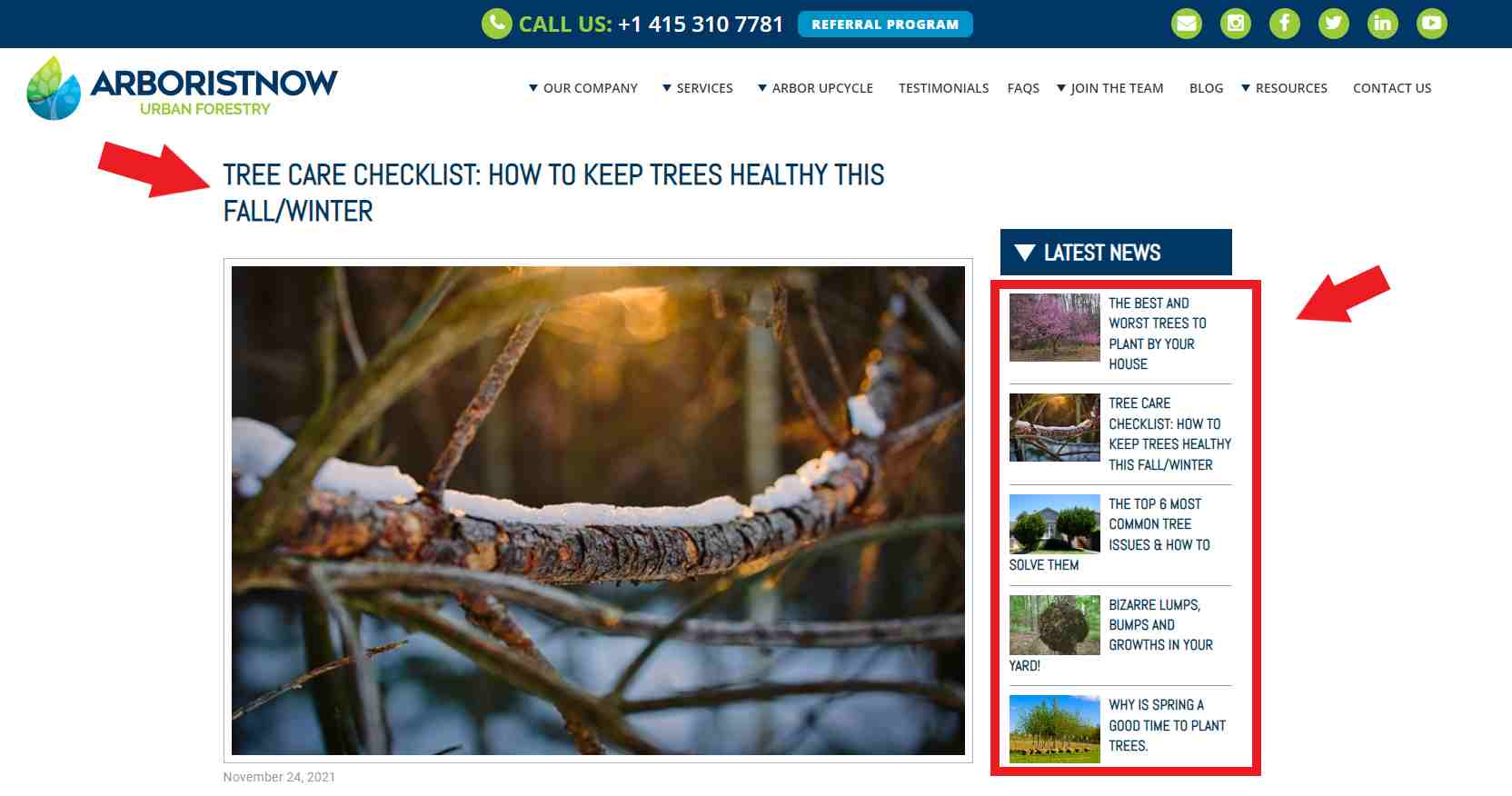 Content marketing best practices
Use headings to make your blog scannable

Most people don't have that much time to spend reading a blog. They usually want to jump straight to the part that they want to learn the most. With that being said, make sure to use headings to divide your content into sections which makes it easier for your audience to read.

Be consistent in publishing content

Use a content calendar so you don't miss out on important dates when you can share relevant posts with your audience.

Create content for each buyer's journey

You also want to make sure that you're creating content for each stage of the buyer's journey which includes the awareness stage, consideration stage, and decision stage.

Promote your content across different platforms

If you're regularly publishing content on your tree care website and you want to get the most out of your content, make sure to share them with your audience on social media platforms like LinkedIn and Instagram. This can help you get more site traffic.
6. Search Engine Optimization
Search Engine Optimization (SEO) is when you improve the quality of your site so that you rank high on relevant search queries. This strategy works best especially if you're looking for a long-term strategy that gives you results!
SEO best practices:
Publish comprehensive and relevant content
Add internal links to your posts
Make sure you have a fast page loading speed
Compress images before uploading
Gather lots of backlinks
Keep track of your website using Google Analytics and Search Console
Optimize your URLs, title tags, and meta descriptions
Use headings to divide your content into sections
Learn more about how you can improve your local SEO by checking out our blog about SEO for Tree Removal Services to learn more.
Need help ranking high on relevant search queries?
Schedule A Free Strategy Session!
8. Video Marketing
View this post on Instagram
Video marketing is the process of promoting your business through videos. As a matter of fact, 96% of marketers have agreed that videos helped their customers get a better understanding of the products and services they offer.
Short video clips like the ones you usually see on TikTok and Instagram are some of the most effective types of video marketing strategies that most businesses use nowadays.
Video marketing best practices
Use the right dimensions for each social media platform
Hook your audience in the first few seconds of your video

If you're planning to share a video that's more than a minute, make sure to grab the attention of your audience by creating an engaging introduction (make it interesting). This could be a summary of what they're expected to learn from your video or give them something to look forward to at the end of the video (e.g. giveaway)

Add a call to action on your videos

You should also make sure to include a call to action in your videos. This way, after a potential customer watches your video, they'll be guided on the next step they should do (e.g. share your video, tag their friends, visit your website, etc.).

Share user-generated content

User-generated content refers to the type of content that's created by your customers. It can be in the form of videos, images, live streams, testimonials, a post from previous customers, etc.
Video ideas for tree removal companies
Testimonials from your previous customers
Behind the scenes of your tree removal services
Meet the team
When you volunteer at events in the community
Debunking myths about tree services
9. SMS marketing
SMS marketing is similar to email marketing but via SMS. You send marketing campaigns through text messages. The advantage is, there are no "promotions" or "spam" boxes in text messages. According to statistics, 9 out of 10 consumers prefer communicating with businesses through SMS.
So, if you want to make sure that the latest updates and promotional messages of your tree service company get delivered in real time and directly to your potential customer's inbox, you should add this to your marketing strategy!
SMS marketing best practices
Get permission before sending your text messages

Before you send your SMS campaigns, you also have to make sure that they have authorized you to send messages. This can be made through your website's opt-in form where you ask them if they would like to receive text messages from your tree removal company.

Send your messages during regular hours

You don't want to send SMS campaigns in the middle of the night or early in the morning when your customers are most likely asleep. It should be on hours when they aren't that busy which could be on lunch breaks. For best results, do A/B testing.

There should be a section that tells them the instructions on how to opt-out

If a subscriber chooses to unsubscribe from your SMS campaigns, there should be easy-to-follow instructions like responding with words like "STOP", "UNSUBSCRIBE", or "CANCEL."

Don't send messages on a daily basis

You also have to carefully plan when you will be sending your messages. You don't want your potential customers to be fed up with your marketing campaigns.
Need help marketing your tree removal services on digital platforms?
Key takeaway
Digital marketing is one of the essential strategies that you should use in promoting your tree service company. Not only will it help you get an improved online presence, but it will also be easier for you to track results, and give you more room for business opportunities!