Waze Ads for Dentists are an effective way to attract nearby patients to your office. By setting up an advertising campaign on Waze your ads can get your business noticed by thousands of drivers in your area. Waze ads are a mobile alternative to billboards that help raise awareness of your location and bring drivers to your business. This step-by-step guide will walk you through the steps of creating successful and effective Waze Ads for your dental clinic.
Why Waze Ads for Dentists?
Ad Manager is Waze's self-service campaign creator. With Waze Ad Manager you can select the goal you want for your ad campaign, create your ad and publish your campaign. You can create and manage your campaigns on any device, mobile, or desktop.
As a Dentist looking to build awareness for your business and bring more patients to your office, Waze can help your business stand out and make it easy for you to get noticed by nearby drivers and potential patients. A key component of Waze ads is that there are lots of different ad types to choose to advertise your dental clinic. This digital marketing method can help your dental clinic reach more local patients who may not be actively seeking a dentist but will remember your clinic once they are in need of one.
Setting up Your Ad Manager Account
To start your campaign you need to create an account. You can do so at biz.waze.com.
Now to start creating your account you will need to enter information about your dental clinics like your business name and a brief description of your business. You will need to select your business type and enter the location of your dental practice. Lastly, you will need to set a daily budget and enter your billing information for your ads.
Read this article to learn more about the ad components of your Waze ads. 
Enter Your Dental Clinic Business Information
To set up your account, first, you will need to enter your business name and a brief description of your business. This could be the services or products you offer and details that could make you stand out amongst competitors. For example, you could highlight that you offer cosmetic dental services that maybe other small clinics do not offer. Or you could highlight that you offer first time patients a free teeth whitening session.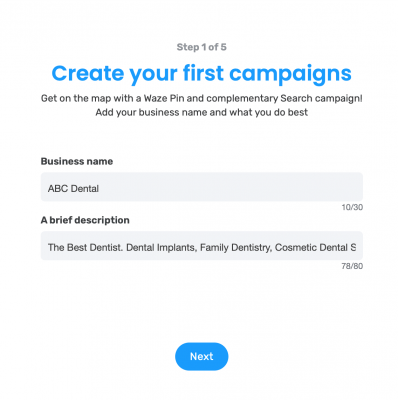 Next, you will need to enter your business location.
After you enter your location, you will need to choose your business type from the options provided, Choose the option that best fits your business as you do not get to enter this manually.
Next, you set your daily marketing budget for your campaign. You will only be charged for your ads that show to users.
Lastly, enter your billing information.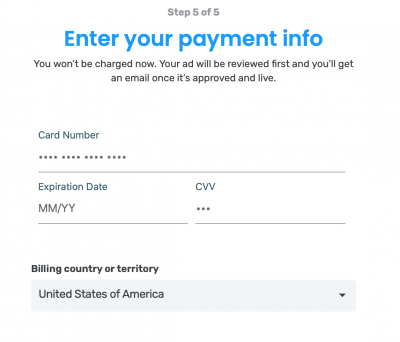 After you first create your ad manager account, your account will have to undergo Waze's review process. This ensures that your account is in line with their policies and ensures that you are accurately inputting your business information.
Once your account passes the review then you will be able to go live with your ads and you will be able to see them on the Waze Map. You will receive the notification in your email.
After you are logged in and your account is approved you will be able to manage and customize your ad campaign settings in more detail.
Ad Type
When you first set up your account on ad manager you will have to indicate certain things. This includes business name, campaign type, business location, and address.
There are four different ad types to choose from on Waze.
Pin ads act as digital store signs that mark your location on a map. Pins inform and remind drivers that your dental clinic is on or near your route. Pins include important business information like your practice's address, phone number, clinic hours, and special deals for dental care. Keep in mind this information is only displayed when drivers click on your pin.
Search ads work when users are typing in a search query and Waze provides auto-complete results for nearby locations matching the characters that the user has typed thus far. So if a user is typing in Dent-and your dental clinic name is The Dental Smile, then it may show up as a suggested location.
Takeover ads are ads that appear when drivers are at a complete stop. It allows them to engage and prompt user action on the go. They will see your dental clinic's logo, headline, and a brief description of your office, and they will also see a call to action, for instance, Drive There.
Arrow Ads appear when someone opens up the Waze app for the first time, These ads highlight your business located nearby.
Not sure which ad type would be the best for your Waze ads for dentists campaign?
Choose Your Goal
The first step in the ad manager is to select your campaign goal. This goal is what you want to get from your campaign. Once you have selected your campaign goal, you can choose the format of your ads and your call to action.
Different Goals & CTAs
Waze has four goals, each with a recommended call to action that align with the goals.
Store Visits-You can choose this goal if you are looking to increase and drive visits to your physical location. Your primary CTA will be set as Drive There and people will easily be able to drive to your location.
Website Visits-If you want to increase website visits, website sales, and encourage users to complete an action. This could be a purchase or a sign-up on your website. The primary CTA will be set to Save for Later, this will give users the opportunity to interact with a URL that they have saved in their Waze inbox.
Brand & Location Awareness-If you want drivers in your local area to know and remember your business location, select this option. The primary CTA will be Save Location, this will encourage users to go to a location that they have previously saved in their location history.
Calls-Choose this goal if you want to increase sales or leads by encouraging customers to call your dental clinic. The primary CTA for this goal will be set to CAll Now, patients will be able to reach you through your business phone number.
Need help choosing the right goal for your Dental Clinic campaign?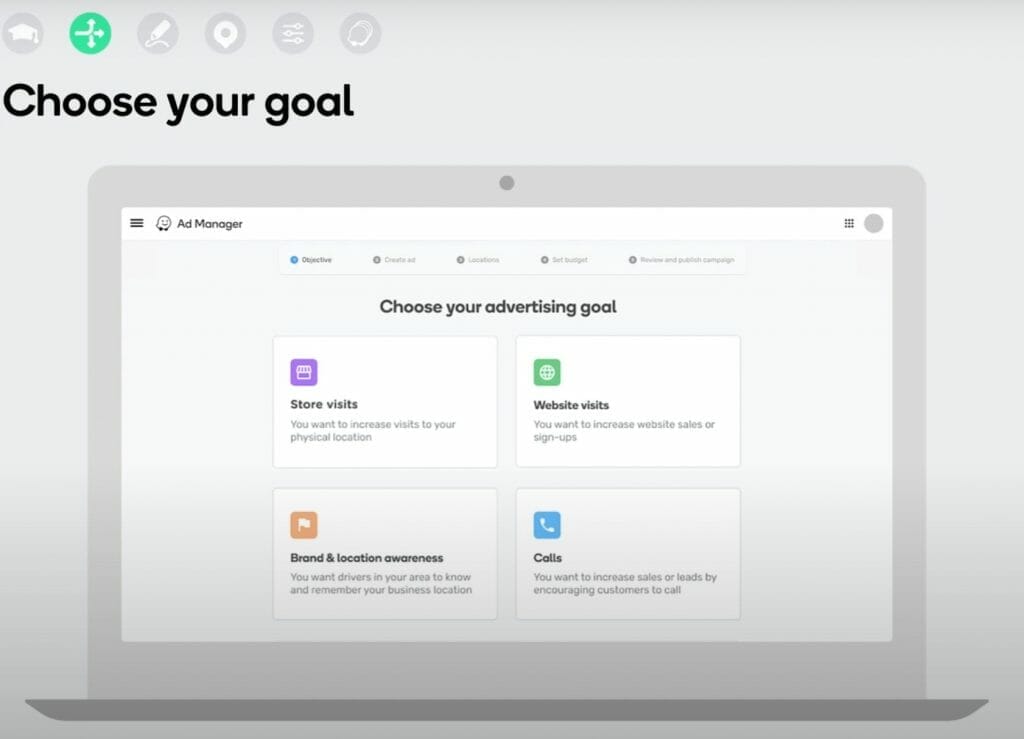 Locations
Locations should be the first indicating targeting layer for your campaign. Locations help narrow in on the type of patients you want to drive to your dental clinic. Most importantly many of them are potential local patients and you want to start connecting with them through your ads. There are two types of locations on the Waze App, Organic locations and Advertised locations.
Organic locations are the locations that are added and edited by the Waze community. These are the locations that show up on search results and across the Waze map. These locations are sourced from two main places. The first is Waze Venues, which is the Waze community. The second is Google Venues. These locations come from Google Maps.
Advertised locations are added by Dentists like you to the Waze map, those who are looking to grow their practice. These locations are added through the ad manager. Advertised locations have benefits and advanced features. With advertised locations, businesses have the opportunity to display their business logo and rich banner to stand out among other dental clinics and competitors.
Another advantage of advertised locations is that they can show a location personality badge. A location personality badge allows you to highlight onsite services which indicate to users what types of service you have in your business. For example, you can highlight that you offer cosmetic dental services or you can highlight that you offer treatments like teeth whitening and fluoride treatments. These businesses will also be able to utilize multiple calls to action.
Learn more about location-based advertising on Waze in this article.
Location Targeting
With Takeover and Arrow ads you have the opportunity to use location-targeting options. The first option is around your business location. This gives you the ability to reach patients in a certain radius around your dental clinic's location. This will alert them when they are nearby. The radius that you set is custom and fits the needs of your business.
The second option is to reach people in a specific region. You can indicate the specific region you want your ads to reach. These are best suitable for non-navigable campaigns since this will highlight what your offerings are across different regions.
Non-Navigable Ads
With Waze, you have the opportunity to run campaigns in which you do not have to drive visits to your business. This can be done if your main goal is to increase website traffic. These campaigns are non-navigable campaigns. You indicate your business location but you do not have to drive folks to your particular business location. In Ad Manager, there is a switch you can set on or off that says Allow Wazers To Drive To Your Location. This helps you focus on your primary goal.
As dentists looking to drive patients to your dental clinic, non-navigable ads are not recommended or the best option for your campaign.
Dental Marketing Budget
Now that you have created your ad, you have chosen your goal, and selected your locations, you can now manage your budget. In the budget section, you can select your campaign's budget, including daily spending and targeting. You can also specify if you want to run your ads continuously or you can specify a start and end date for your ad campaign.
The Waze Ad Manager will provide you with a recommended budget. This budget is based on information that you have already entered. You can also choose a different budget amount or create a custom budget amount. You can enter the budget that you would like to use on a daily basis.
Targeting
Now that you have set your budget you have the option to add on additional targeting. There are two types of additional targeting you can add on which is Opening Hours and Schedule.
With opening hours, you would only like to show your ads when your business is open. The Schedule option allows you to customize your ad schedule.
Do you need help setting up your ads show schedule?
Publishing Your Ads
Now that you have inputted all your information, you have the opportunity to review the settings of your campaign and confirm that the business information you entered is correct. If you need to correct any information or change any of your settings, click on the pencil icon to edit your campaign.
What Are the Benefits?
There are many benefits to running ads for your dental business on Waze.
First, Ad Manager's campaign flow makes it easy and quick for you to set up your dental campaigns no matter where you are. You can set up campaigns while on the go. You can manage your ads whether you are on a desktop or on a mobile device.
You can set up your ads in just a couple of simple steps like selecting your campaign goal, creating your ad, and publishing your campaign. Waze Ad Manager gives you the ability to utilize all different formats and calls to action to reach your potential patients.
How to Measure Success in Ad Manager
Now that you have set up your ad campaign on Ad Manager, let's talk about how you can measure the success of your Waze Ads for dentists. You can find your success metrics on the Manage Campaigns tab. You can break your metrics down by ads or locations. Any Manage tabs will tell you which metrics you should be focusing on.
If you are looking to drive physical visits to your location, the first metric you should look at in the Manage tab is Navigation. Navigations are an indicator that someone is driving to your business and visiting your locations.
Next, to measure Brand and Location Awareness you will need to look at customer engagement metrics and impressions. Impressions tell you how many people have seen your ad.  This is an opportunity for you to understand your reach on the Waze Map.
When measuring website traffic keep in mind this was your Save For Later call to action, where users can save your URL to their Waze Inbox. If your goal was to increase website traffic you will need to look at ad downloads and inbox action clicks. This will help you determine who is actually engaging with your website.
To measure the success of your Waze Ads for dentists if your goal was to drive calls you should focus on the calls metric. You can see this on ad manager and understand how many people are calling your business.
Conclusion
Waze Ads are a great way for your ads to reach individuals who are local and driving around your dental clinic. There are different kinds of ads you can choose from to ensure that your ads reach potential patients. You can choose which goal and call to action is the best option for what your clinic needs.
Did you know that with Google Ads you can also use location targeting to reach local potential patients? With Google Ads, you can also target high-intent keywords to reach potential patients the moment they search for keywords relevant to your dental clinic. Read and learn more about Google Ads for Dentists here.
Or if you are looking for other platforms to advertise your dental clinic read our Yelp Ads for Dentists, Tik Tok for Dentists, and Google My Business for Dentists articles. These will provide you with step-by-step guides to creating effective ads on each of the platforms.