Invisalign is a profitable product that you can offer in your dental clinic, that's why you should apply Invisalign marketing ideas that will definitely get you more patients in your clinic. Also, every transaction nowadays is done online and you must take advantage of the internet's influence on people. In this article, we will list down several Invisalign marketing ideas that can boost your revenue.
Want to market your Invisalign but don't know where to start?
Invisalign is a groundbreaking technology that made a huge impact in the orthodontics industry. It is indeed one of the most profitable procedures that orthodontics or dentists can offer. According to a statistical study, the market revenue for clear aligners (or Invisalign) is continuously growing and is expected to reach 7.7 billion in 2028 from 1.9 billion in 2018.
This only means that you must take advantage of the demand and keep up with the marketing trend that will work for your dentistry or orthodontic practice.
Digital marketing is indeed a powerful tool and we are currently living in a digital world where everything is online. To keep up, you might need to follow these Invisalign marketing ideas that will help you increase your patient stream:
Invisalign Marketing Ideas
Use Social Media
Social media is a powerful technology where you could interact with your audience and or potential Invisalign customers. In fact, almost 60% of the entire global population is using social media, that's almost 5 billion people engaging in social media platforms. That's a huge amount of audience that you can target for your Invisalign marketing.
It is a well-known strategy for businesses to use social media for marketing and advertising purposes, and you can use it for marketing your Invisalign services. There are a lot of benefits that you can get from using social media for your Invisalign:
Make your business personable by interacting with your audience
Build a brand and create awareness
Sell your Invisalign services
Share information and updates about your Invisalign products and services
Answer inquiries from your potential customers
There are lots of social media platforms that you can use and each platform targets a specific audience demographic. Some of the best social media platforms you can use for your Invisalign marketing are:
Facebook
Facebook is one of the most popular social media platforms to use for marketing. In fact, in a January 2022 report trend, Facebook got third place in the social media "favorites" global ranking. This platform has almost 3 billion users as of January 2022 and that's more than half of the global social media user population.
If you are wondering if your Invisalign services will fit the demographics of Facebook users, the answer will be definitely. According to statistical reports, more than half of Facebook users are aged 18 to 34 and that would cover all potential patients for Invisalign procedures.
Here is an example of Invisalign marketing using Facebook: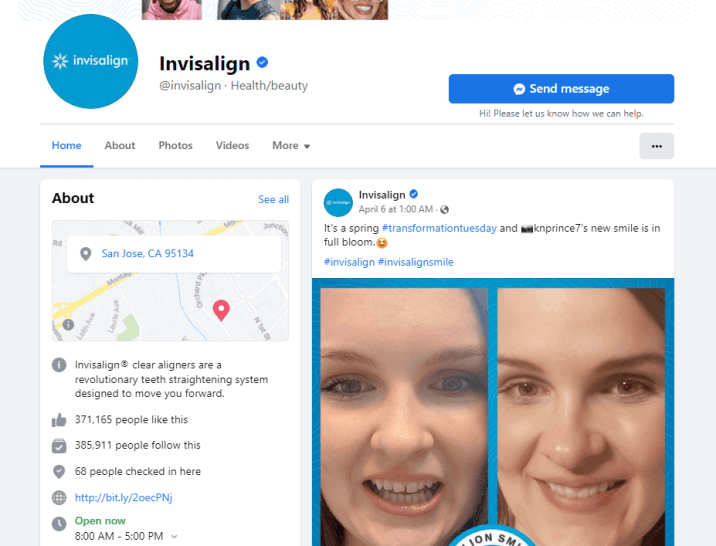 Check out this guide for creating a good dental Facebook page.
Instagram
Instagram is another great platform for social media marketing. Surprisingly, Instagram outranked Facebook and took the second spot on the social media "favorites" global rank.
It is also the perfect platform to post before and after photos of your Invisalign services. Here is an example of Invisalign marketing using Instagram:
If you haven't started using Instagram for your Invisalign services, read this step-by-step guide on Instagram for Orthodontists.
Pinterest
Pinterest is also one of the most popular social media platforms in January 2022. It has currently more than 400 million users and a large portion of this population are aged 25 to 34.
Here's an example of Invisalign marketing using Pinterest:
If you haven't tried Pinterest for your Invisalign services, check out this guide on Pinterest for orthodontists.
Tiktok
Tiktok is a great platform to create Invisalign contents that can make your audience interested in getting Invisalign services. Tiktok placed 6th in the most "active" social media global rank. Also, based on research, Tiktok could potentially reach almost 900 million audiences aged 18 and above.
Here's an example of how other advertisers are using Tiktok for Invisalign marketing:
Check out these 3 reasons why TikTok is great for your orthodontic practice.
Each social media platforms have its own type of audience and we don't recommend relying on just one platform. As much as possible, you want to cover all audiences for your Invisalign marketing.
Show Up In Google Local Map Pack
A local map pack is a feature where your business will be shown on Google's map whenever someone is searching for "[product/service] near me" on Google search. This is a powerful tool that can increase your visibility on potential Invisalign patients that are located near your clinic.
If your clinic is registered on Google's business profile, your patients can leave a review and even post a photo about any of your services. Having reviews is crucial as it can establish trust between your potential customers.
Also, being listed on Google maps can get you more leads for your Invisalign services. This is because Google is the top search engine globally with more than 8 billion searches per day.
When someone searches for "Invisalign near me", Google map pack will show up on the first page of Google search results, along with paid ads and organic results.
In fact, 75% of Google users never scroll past the first page of Google search results, that's why being listed in the Google local map pack is a crucial Invisalign marketing that you should be doing for your clinic. But Google local map pack has a ranking too, and in order for you to be listed higher, you need to optimize your business profile using Google My Business.
Optimize using Google My Business
Google My Business is a tool where you can connect your business profile and make changes to them. Here are some benefits of using Google My Business for optimizing your business profile:
Post updates and content on your business profile
Reply to patient reviews
Upload photos of your clinic
Edit clinic hours
Include a business phone number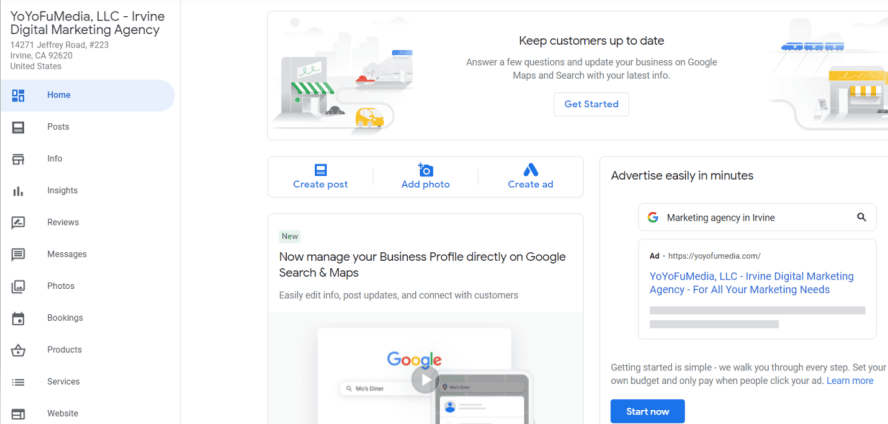 Regularly posting on Google My Business is also a good indicator that your business is active and highly responsive. If you don't know how to set up your Google My Business (GMB), check out this article about the GMB guide for orthodontic clinics.
Don't have the time to regularly post on Google My Business?
Make Your Website SEO-Friendly
Wonder how websites are ranking first on the Google search results page? the answer is SEO.
SEO (Search Engine Optimization) is a marketing strategy where you improve your website so Google can get information and decide if your website page is worthy to be ranked higher in Google search results. It is the best way to get organic traffic to your website.
Why SEO?
As we always mention in most of our articles, Google is indeed a powerful platform and it will definitely increase the visibility of your Invisalign services if you do it right.
SEO is one of the cheapest strategies you could use for Invisalign marketing since it is free. But keep in mind that SEO is not a magic tool that will quickly make your website rank first, it will take time before your SEO efforts are paid off, but nonetheless, SEO is a long-term investment and it is worth it in the long run.
Not convinced? We have this SEO case study where a local dental clinic increased its organic traffic and leads by more than 15x.
If you haven't optimized your website, follow an SEO guide for orthodontists.
Invest In Google Ads
Google Ads is a Google product where you can digitally advertise your Invisalign services. This is the besides SEO and Google local map pack, this is another way to show up and increase the visibility of the Google search result page.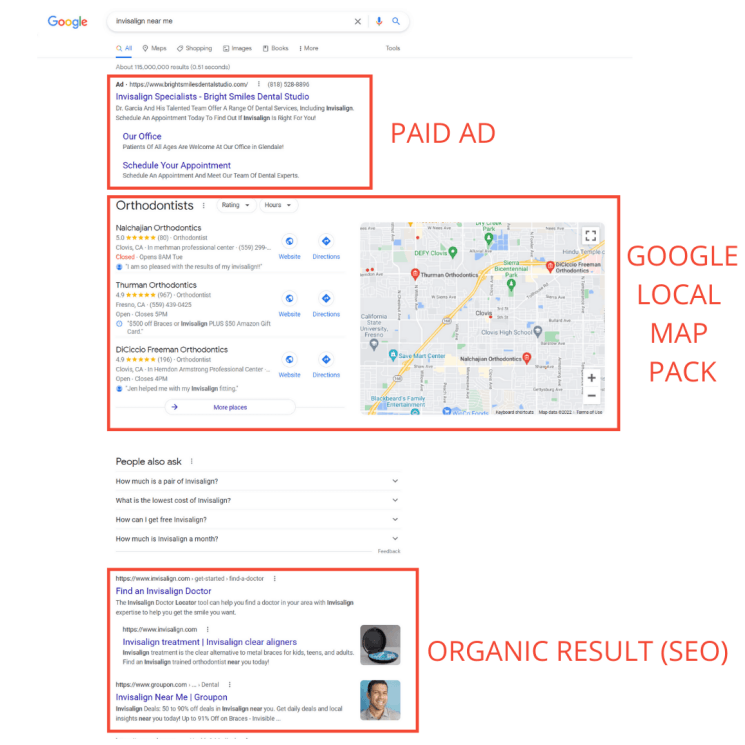 Notice how Google Ads are mostly placed at the top of the Google search results page? With the right Google Ads strategy, you can do it too for your Invisalign services.
Why Google Ads?
Advertisements are everywhere, and while everyone is online nowadays, you have to keep up with the digital world. When it comes to paid advertising, Google Ads is the best platform you can use.
Google does not only rank as the top search engine platform but it dominates the search engine market. In fact, 90% of search queries are done on Google. Some people are just looking for information, and some are looking for products and services they can get. And the best thing here is that your Google advertisement can show up on over 2 million websites and 650,000 mobile applications.
And unlike traditional advertising, Google Ads will only charge you every time someone clicks on your ad.
Is Google Ads cost-effective?
With Google Ads, you decide how much your daily budget is, and you can set how much the cost per click on your ads. Also, you have an option to select which time of the day your ads will show and which audiences (by location, and demographic) you want to target.
This means that as long as you set it up correctly, you'll get the most out of your investment immediately. In fact, we have this Google Ads case study where a local dentist got 10 more monthly Veneer appointments using Google Ads.
How to use Google Ads?
To get started with Google Ads, you need to set up your account on the Google Ads website, then create a campaign for your Invisalign. When you create a campaign, you need to choose a goal, set a budget,  then set a target location and some campaign settings, then write the final advertisement for your Invisalign. Here is a related article on how to create ad copies for dental services.
For a full step-by-step guide, check this article about Google Ads for orthodontists.
Don't know how to manage Google Ads?
Conclusion
Applying these Invisalign marketing ideas will definitely grow your business and get more opportunities for your clinic. All these marketing strategies are worth your time, money, and energy especially if you do it right.
If you want an in-depth Invisalign marketing strategy for your clinic, you can schedule a free consultation with our marketing experts!