Google My Business for Orthodontists is a great way to reach patients that are looking for the services that you provide. Your Google My Business (GMB) listing will show up under the google maps pack for users when they search keywords that are relevant to your business. It will help you grow your practice by bringing in new local patients and generating leads. Follow this step-by-step guide for tips on how to optimize your account so it gets ranked higher on the Google My Business listing results.
What is Google My Business?
Google My Business will be your Orthodontic clinic's business listing in Google's business database. Google My Business works to list information about your practice when people search for services that are relevant to the type of service you offer. This information includes your orthodontic clinic name, business phone number, address, your clinic's reviews from past patients, and your clinic's hours of operation. It will also show visitors where your clinic is located on a map.
The reviews on your Google My Business for Orthodontists give your ortho clinic more credibility and creates trust with potential patients. They can impact whether or not a patient will choose your practice for their Orthodontic needs. Your clinic's reviews will appear next to your profile in Google Maps and Search.
How To Create A Google My Business Account
Log into the Google account associated with your clinic in order to access your Google My Business account.
Then, go to Google My Business and select Manage Now.
In the next step, you will need to enter your Orthodontist Clinic's name to claim your business. If you do not find your Ortho practice then you can add it to Google.
Next, you will need to specify if you have a website or if you sell products online and if you have a location that customers can visit.
Great, now your business is ready to be on Google. Click Get Started. 
Claiming your orthodontist practice on Google Maps will make your practice appear more official and credible on Google when potential patients are looking for a clinic like yours. When your clinic is claimed and verified it is also more likely to be seen by local patients.
Before actually starting your GMB profile check out this article for tips and tricks to keep in mind as you follow the process.
Create Your Orthodontic Practice GMB Profile
To start customizing your orthodontist profile, you will first need to enter your clinic's name and your business category. You will choose this category from the dropdown list that Google My Business provides. You should pick the business category that is most relevant for your Orthodontist clinic.
We highly recommend that before selecting the business category for your clinic, you research your local competitors to see which one they chose so you can choose the most accurate category.
In the second step,  you will be asked if you want to specify a location that your patients can visit choose yes.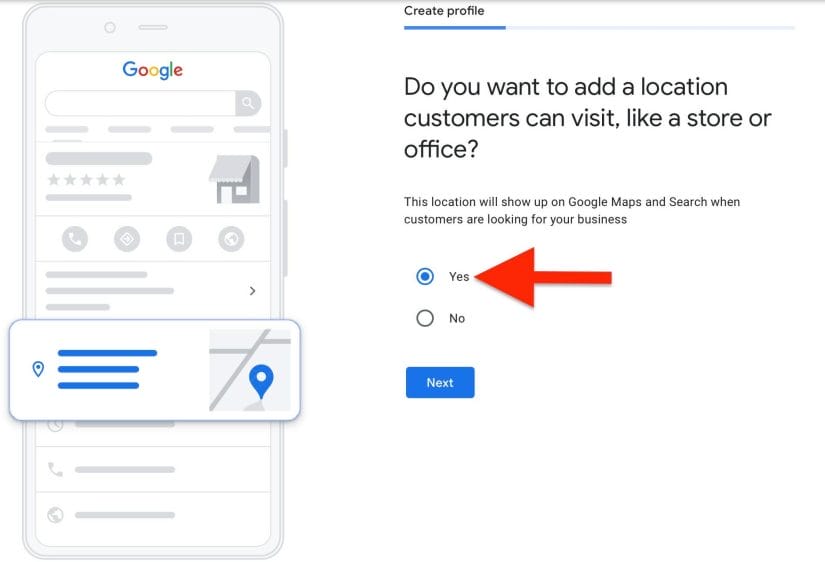 Next, enter the address of your Ortho practice.  As an Orthodontic clinic, it is important to specify a location so it makes it much easier for patients to find your office. Remember, the location you enter will show up on Google Search and Maps when patients are looking for businesses that offer Ortho care like yours, so be sure that the information you enter is correct. You do not want to miss out on patients because they couldn't locate your facility.
After entering your address, Google may tell you that your clinic may already has a Business Profile on Google My Business. If you see your clinic in the list provided, choose it. If it is not on the list, select the "None of these" option.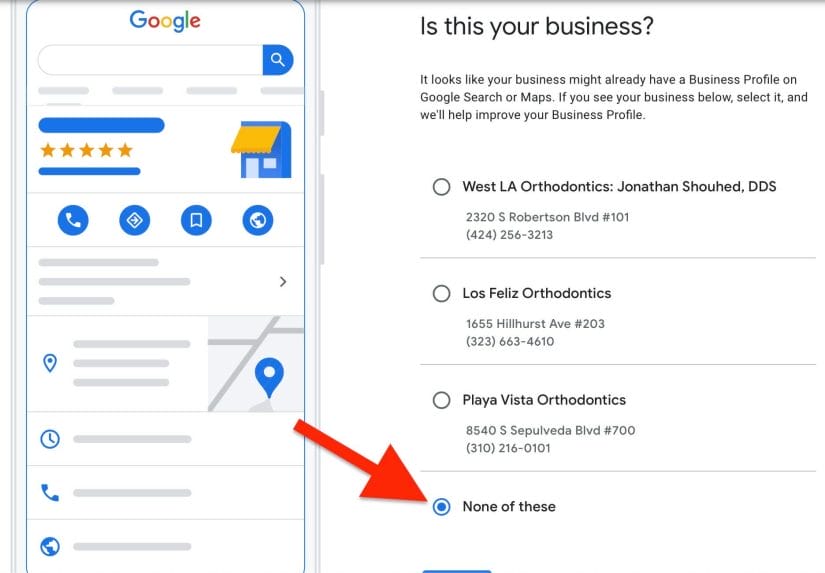 At this point, Google might ask you to pinpoint where your clinic is located on the map. Again, patients will see this pin if they click on your Google my Business profile from their search results.
In the next step of creating your profile, Google will ask you if your clinic offers deliveries or home and office visits?
Choose No. This option is more common in restaurants and fast food places that offer deliveries to the customers home and serve customers outside of their business. Unless you perform home visits as orthodontists perform, don't check "Yes" on that.
You will then need to enter the contact information that you want to display to your patients looking for an orthodontist. This contact information includes your phone number and website URL. Having a website URL that leads to a landing page for your dental clinic can help you generate leads for your practice. Including a phone number makes it easy for patients to get in touch with your practice. This can increase calls to your clinic and appointment bookings.
Google will offer you the option of creating a Google Website to use if your practice does not have a designated website URL.
Next, Google will ask you if you want updates and recommendations for your business on Google. Select yes so that your GMB listing always has a better chance at ranking higher.
Next, you will need to choose the best method to verify your practice. You need to verify your business in order to have control of and represent your Ortho practice on Google. Google will send you a verification number that you will then need to enter on your GMB profile.
There are several ways to receive your code to verify your business:
By postcard (the most common method)
By phone
By email
Depending on your desired method to receive your code, it may take at least 5 days before you get your verification code.
Customize Your Profile
Now that you have entered all your clinic's information and selected a way to verify your business, you can start customizing your profile. You will have the option to customize the pictures on your profile, the description for your ortho clinic and you will also need to enter your clinic's office hours. Remember, you can make changes to any of Google My Business settings whenever you need to.
When deciding on which images to include keep in mind that the images that appear in your profile will influence and attract more patients to click on your business. Also when writing the business description for your clinic should highlight components of your practice that make you stand out from local competitors.
First, you will enter your business' daily office hours. Make sure to enter the hours accurately if your office hours are different some days.
You can then choose to enable messaging on your GMB listing. This will let your patients message your clinic on Google for free. You can skip this step and return to this setting later.
In the next step you will be able to add your business description. This will let patients know more about your clinic by adding a description to your business on Search, Maps and other services.
After you write your business description, you will be able to add photos to your business profile. Or you can skip this step and add them later. Remember, it is highly likely that potential patients will look at the photos in your clinic's profile before they even consider going to your clinic. This means that pictures you decide to upload and represent your clinic will play a major role in turning visitors into actual patients for your clinic.
Next, you can choose to start advertising your business with google ads or skip. To save time, let's skip this step.
But if you want to learn more about Google Ads for Orthodontists read our article for a comprehensive guide.
Next, you will land on main page of your Google My Business account. This is where you will be able to check your GMB profile insights, read patient reviews about your clinic and services, if needed edit your business information, and add photos to your office's listing. If you have not entered your verification code, you will also see a "pending verification" notification.
GMB Profile Settings Optimization
Now that you have entered all your basic business information that your customers will need to know to either visit your physical location, visit your clinic's website, or call your business to make an appointment there are certain settings that you can alter to optimize your account. These optimizations will give your clinic a greater chance at showing up on Google Maps when people are searching for the services that you provide. You can find these on these sections on the left bar under info, reviews, post, and messages.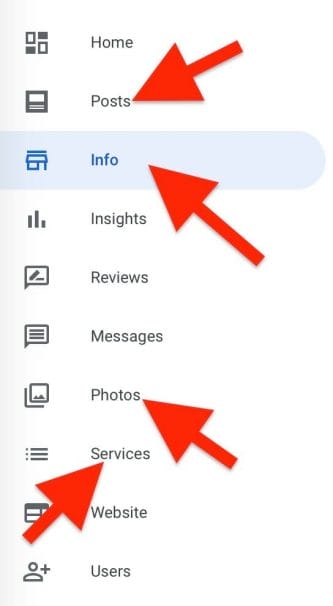 Before we start optimizing your account make sure your business information is up-to-date and correct. You do not want to miss out on any potential patients because your information is inaccurate. The more information you fill out for your profile, the higher your Orthodontist clinic will rank so make sure you fill out as much as possible.
Optimizing your profile will help you drive traffic and it will encourage your loyal patients to follow your clinic on Google Maps.
Want us to take over the optimization portion of your GMB profile? 
Clinic Photos & Videos
Adding authentic and appealing photos and videos to your profile will make people much more likely to visit your practice. The most important photo in your profile is the cover photo of your listing. This is because this is the photo that shows on your business listing and the first photo that visitors will see when they come across your business listing.
The pictures you upload onto your Google My Business profile play a significant role in turning your profile visitors into actual patients for your clinic. Chances are that potential patients will look at your clinic's pictures before they take any action on your profile. Keep in mind, that businesses with more photos tend to generate more clicks as opposed to those with little to no photos.
Pictures are a great way to showcase your clinic's culture and add personality to your clinic. You could highlight some procedures that you performed and even include before and after pictures. Avoid using stock photos in your business's profile as these are not authentic and do not leave a lasting impression on a patient.
Other pictures you can include can be your logo, the outside of your office, your staff, and your patient rooms. You can also include pictures of your desk, or even videos in your office. This can show the friendly and caring environment that you create for your patients. You should also add short captions to your photos.
Orthodontist Categories
An important component of your Google My Business account is the category section. There are more than 3,000 GMB categories you can choose from. The Category section will let you select different categories from the Google database system to describe your business. You will need to search different keywords and Google will give you options of business categories to choose from. You have to find the best categories that relate to your Ortho clinic.
You are allowed to choose one primary category for your business and select at most 9 additional sub-categories. The primary category that you choose for your clinic should be the category that is the most relevant for your practice. The categories you choose will influence your ranking on Google My Business when users are searching for Orthodontists.
When choosing your categories your primary category should be Orthodontists. Your sub-categories could include services like braces or invisalign provider if those are services that you clinic offers.
Read this article for cool tips on how to choose the best category for your Google My Business profile.
Service Areas
To optimize your GMB account it is better to target a more specific and defined area for your ortho clinic patients. When ranking in Google Maps the most important setting for your Google My Business listing is location listings. If you enter locations that are further away from your physical location it will be more difficult for your practice to rank at the top. You have to consider the distance people far from your location would need to travel. Patients that live further from your office may seek orthodontic care elsewhere if your location appears too far.
The area range of where you want to rank will differ depending on the population where your office is located. If the population in your town is small, then you may target locations further out, but if the population around you is much larger then you should focus on targeting areas close to you. You should focus on cities within a 20-mile radius of your location.
It is recommended to keep your service area listing to 20 or less.
Services
The services that you list on your profile will be based on the categories you listed for your business. Google will set your first selected categories as the primary categories for your clinic. Then you can expand on those categories and list the services that you offer that are related to those categories. After you are done listing the services you offer in the appropriate category, you will also have the opportunity to edit the service details describing each service.
When someone visits your Google My Business for Orthodontists listing they can see the types of services you offer based on how you organized your categories. This will make it easy for your patients to know the ortho services you can help them with. For example, if you want to rank for your the different type of braces options you provide then you should list all the different types of braces you have available for your patients. This can include traditional ceramic braces, self-ligating braces, self-ligating ceramic braces, and self-aligners.
In your service descriptions, you should include keywords, common language, and search phrases that are relevant to your Orthodontist clinic. This will help optimize and rank your clinic in the Google My Business listing when patients are using those search phrases and keywords to find an orthodontist.
Need help writing great service descriptions so your business listing reaches relevant patients?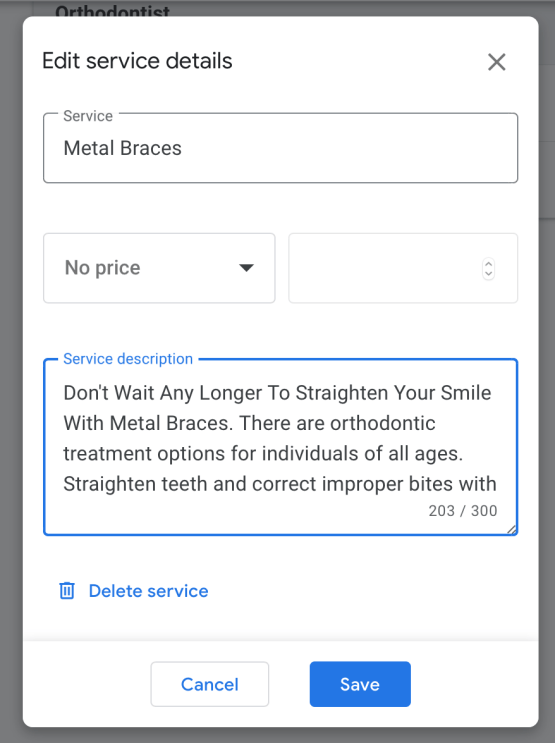 Google My Business Posts
A key component of Google My Business is that posting on your profile allows you to keep patients updated with any changes, promotions, or new services about your business. Constantly posting on your business profile can help you stand out amongst other local Orthodontic clinics.
Some ideas for your posts include posts that talk about something new at your clinic, special events like free teeth whitening sessions on certain days, or you can even post about Ortho products that your clinic offers its patients. To make things easier, remember, anything you post on your Facebook or Instagram you should also post on your GMB page.
Want to learn more about Facebook Ads for Orthodontists? Follow along with our guide to Facebook Ads for Orthodontists.
What you post on your Orthodontic clinic Instagram and Facebook social media accounts, you should also post on your Google My Business webpage. This will allow you to keep patients updated with consistent information across all platforms. You do not want your Instagram following to have different information from your GMB visitors.

Review Ratings
The Google reviews on your business listing work to establish credibility for your Orthodontic Clinic.  The reviews help build trust among potential patients. They also play a big role in the ranking of your listing's position on the Google My Business results.
To optimize your Google My Business listing you should request reviews from patients. The reviews that patients write on your ads are the biggest drivers of clicks in local Google business listings. This is why it is important that you acquire authentic reviews from your patients.
Your clinic's reviews will affect your ranking based on different elements:
the number of reviews you get

The more reviews you get from patients, the higher your profile will rank on Google.

keywords your clients write in their reviews.

The more a patient mentions a product or service in their review, the more likely you will rank for the keywords they mention.

the rating a patient gives you and your services.

The higher rating you get, the higher your business profile will rank on GMB. This is why it is important to deliver excellent customer service so your patients feel confident enough to give you and your office a  high star rating.

the photos you post to your profile

When you take a photo at your clinic, it'll contain information like geolocation data in the picture which is known as metadata. The metadata can also effect how your listing ranks.
So, when asking for reviews from your patients, you should aim to receive both quality and quantity reviews that contain relevant keywords.
Messages
Using Google My Business Messages is another easy and super quick method for you to generate leads for your Ortho office. The messaging aspect makes it easy for your office to reach out to patients that may have questions.
You can download the Android or iOS Google My Business app and your customers will have to opportunity to send you a message to request a quote on a certain Orthodontic procedure. The app allows you to quickly see new messages and makes it easy to reply to any leads that your listing brings in.
If you want even more tips on how to optimize your GMB profile check out this article for more optimizations.
Check Your Google My Business for Orthodontists Profile
After you are done entering all of your clinic's information, you should be checking your Google My Business for Orthodontists account consistently. Frequent engagement on your business listing can help boost your clinic and help you land at one of the top 3 spots in the Google My Business search results. This will also give you a chance to respond to reviews, post any news regarding your clinic, or even reply to any messages from potential patients regarding quotes.
So, if you want to rank better in Google Maps and Google My Business to reach local patients near your practice you should frequently work on optimizing your profile. It can help you grow your practice by bringing in new local patients and generating leads by showing your business listing to users who search keywords that are relevant to your services.
Did you know that Google Ads are also a great way to target patients based on the keywords they search? Read our Google ads for Orthodontists article for a step-by-step guide on how to create effective and profitable ads.
Checkout this article to learn more about how to use Google My Business to Get More Customers.