People mainly use Google Maps to navigate a direction that they aren't familiar with or look for nearby business establishments. But did you know that you can also use it to promote your physical therapy clinic? In this article, we'll share with you the steps on how to set up your own Google Maps Ads for PT along with the benefits you'll gain from using it.
But first, let us give you a little background about Google Maps Ads.
What are Google Maps Ads and how does it work?
In 2013, Google launched a new way of attracting customers to the nearest local businesses in their area. It's called Google Maps Ads. It works the same as other pay-per-click (PPC) ads the only difference is that Google Maps Ads displays your ad on top of Google Maps Search Results of nearby customers.
Since it works on a pay-per-click system, you'll only be charged when someone clicks on your ad to call your PT clinic, know its exact location, or visit your website.
Here's how it works:
Let's say you created an ad for your physical therapy clinic. Then, someone within your clinic's vicinity is looking for the nearest physical therapist. A local search ad will feature your PT clinic to that person as she searched for "physical therapy near me" on Google Maps.
Does the Google Maps Ad seem like a good idea for your physical therapy clinic?
Schedule A Free Strategy Session!
Why Google Maps Ads for Physical Therapists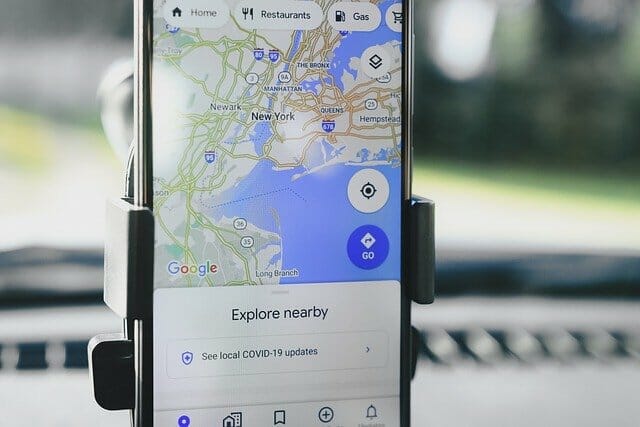 Google Maps has more than 1 billion active users in the world. Imagine the number of potential customers you'll be able to reach out to with that huge population! Other than that, here are two reasons physical therapists should use Google Maps Ad:
1. Increased visibility of your PT clinic
Most people don't scroll down on Google Maps results unless they have a lot of time to compare all of the physical therapy services in their area. And usually, the ones that are at the bottom don't get that much visibility.
But, using Google Maps Ad can give your clinic more exposure by appearing on top of organic results for physical therapy clinics. Since most of the important information that's needed is shown in your ad, people are more likely to notice your clinic instead of your competitors. This feature is really helpful in drawing people's attention to your brand.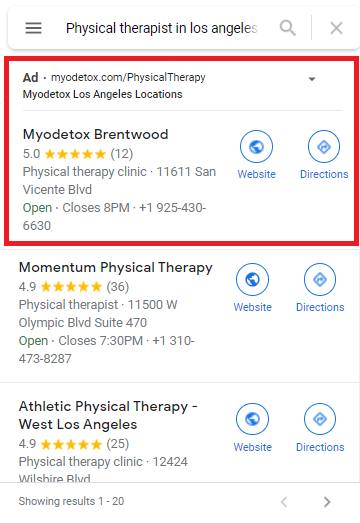 2. Increased foot traffic
50% of mobile users are more likely to visit a business establishment after doing local research. With the help of Google Maps Ads, you'll not only reach out to local residents within your PT clinic's area but also encourage tourists who happened to need access to physical therapy services.
It's because people have a higher chance of visiting a clinic after noticing a physical therapist ad that has all of the needed information over a profile that has incomplete information about them. From there, you'll start getting an increased number of clinic visits. So, whether you're a known physical therapist or not, you will surely benefit from this added exposure!
Interested in Google Maps Ads for Physical Therapists but don't know where to start?
How to setup Google Maps Ads for PTs
Now that you have an idea of what Google Maps PPC is and how it works, let's proceed by setting up your physical therapy clinic's Google Maps Ad. You'll be needing two things:
Google My Business account
Google Ads account
If you already have existing physical therapist accounts on these platforms, that's great! You just have to optimize it for the best results.
But if you haven't started yet, here's what you have to do:
1. Get your PT clinic listed on Google My Business
Creating a GMB profile helps people get to know all of the important details about your physical therapy clinic. From your exact location, business hours, contact details, and more. They can get that useful information in just a few clicks.
Read our blog post on Google My Business for Physical Therapists to start setting up your profile.
If you already have a physical therapist profile, optimize it to see the best results.
Here's how: 
Accomplish all of the sections of your physical therapist's GMB account.
Since not everyone is familiar with your PT clinic. So, you have to make sure that your profile is 100% complete and updated. The more complete and accurate your physical therapist profile is, the higher the chance of attracting more patients to your clinic.
Add photos of your PT clinic

Actual photos (i.e. company logo, interior & exterior of your clinic) are important to every business. It builds the credibility and trust of your potential patients in your clinic.

Answer queries raised by potential patients

Google's Q&A section gives you an opportunity to connect with your prospective patients. Answering questions about your clinic help you set a good impression on your audience and gives them an idea that you genuinely care about them.

Respond to patient reviews

59% of consumers look at patient reviews before engaging with a brand. If it's a positive feedback view, let your patients feel appreciated by sending gratitude and if it's a bad review, see to it that you let them feel heard, understood, and take appropriate measures to resolve their concerns.
Need help managing your Google My Business account for physical therapists?
2. Add a location extension to your campaigns
After creating a Google Ads account, you have to choose a campaign and enable its location extension for it to appear on Google Maps. Location extension is used to encourage potential visitors to check out your physical therapy clinic.
It works by displaying your PT ads along with your clinic's distance from a potential visitor's viewpoint, and other relevant information about your clinic (i.e. your contact number or a call button). Clicking that extension will lead them to a page that includes more details about your physical therapy practice.
Steps to enable location extensions in Google Ads:
On your physical therapist's Google Ads account, go to its left menu and click Ads & Extensions
Click the blue button.  Then, scroll down and select the location
Manually choose your physical therapy clinic's Google My Business Account or quickly choose it from Google's curated location list.
Haven't created Google Ads yet? Check out our blog post on Google Ads for Physical Therapy Clinic to learn the step-by-step process of creating it. You can then use Google Analytics as a PT to view your campaign progress.
3. Choose a target location and bid
Once you are done creating a location extension, the next thing to do is set up your physical therapy clinic's target location. You can do this by selecting the exact area you are targeting (i.e. country, region, or city) or setting a radius for the area you want your physical therapy ad to be shown.
Done choosing your target location? Awesome! It's time to set a bid for the clicks you are willing to spend for your physical therapy ad to be shown on Google Maps.
For example, your PT clinic is located in Washington. Your target audience is the ones that live in Seattle, not the ones living in Tacoma.
To make sure that your physical therapist ad is shown to people residing in Seattle, you'll increase your bid in this location, and since you're not really targeting the ones living in Tacoma, you'll set a bid that's lower than what you've set in the first location. If you feel like changing your target locations, you can still make some adjustments later on.
After setting up your Google Maps Ad, you still have to do several things to do to increase your PT ads' click-through rate (CTR) such as:
Getting high-quality reviews

Remember, Google rewards businesses that get tons of good reviews. So, having 5-star ratings along with good reviews from your previous patients will not only increase Google's impression of your brand but as well as the trust of your prospective patients.

Regularly check consumer behavior on Google Maps Ad

From time to time, see if your Map Ads are shown to the right audience. If the location you've set earlier is too general, try targeting smaller areas like cities or indicate specific zip codes. If it's getting very few impressions, try expanding your target location.
Key takeaway
If you want to make the most of your digital marketing strategies and stand out among your competitors, Google Maps Ads are definitely worth a try! Just don't forget to regularly check your target location and keywords to ensure that your ad shows up on relevant searches within your PT clinic's vicinity.