Getting new patients is hard for any dental clinic, but it's a lot harder when you also have to focus on providing the best dental service. What can you do?
Try Facebook to advertise your dental clinic services, but not just any regular post. Facebook Ads.
If you are new to Facebook advertisements, our Facebook Ads for dentists guide will help you start advertising and getting new patients to your dental practice.
What is Facebook Advertising?
Before we answer the "why" and why you should use dentist Facebook Ads, we need to answer the "what" question and define Facebook Ads.
On Facebook, there are millions of users with different interests and different demographics. Facebook Ads allows you to advertise your dental services to all those users with Facebook's powerful targeting capabilities.
As a dentist, you'll be able to share what your dental practice offers and target users based on their location, age, gender, and other information. This ability allows your clinic to reach the right people at the right place and at the right time.
Since you know what and how Facebook Ads is used, let's get to why your dental clinic should be using Facebook Ads.
Why Facebook Ads for Dentists?
Why do you need to try Facebook Ads for your dentistry private practice?
As time progresses, the means that dentists are using to attract new patients are changing. Before, many would get a new patient through referrals or being found on a yellow page. But now, many dentists are relying on digital marketing strategies like Facebook Ads to meet their needs.
The means that dental practices are getting patients have become more digital, and your dental practice needs to adapt to using digital marketing.
Interested in other digital marketing options for your practice? Our agency specializes in providing quality marketing services for dentists.
Benefits of using Facebook Ads for your dental clinic
Adapting your marketing strategy is one reason why you should use Facebook advertisements. But, there are other benefits of using Facebook Ads for your dental practice. Here are just some of them:
Large Active Audience
If you use Facebook, you'll know how popular it is and how many people are active on it. In one statistic, it was found that there was an estimate of "over 2.7 billion monthly active users" [Statista] on Facebook in the year 2020. Although you don't need to reach all 2.7 billion users, you're still left with a lot of potential patients. Many people near your clinic use Facebook and can become new patients.
More Personalized and engaging 
With Facebook Ads, dentists have the power to create more personalized and engaging content. Dental practices can show an inside look, the dentists that work at your clinic, and how your dental services can help your potential patients get that perfect smile.
The benefit of this is it increases conversion rates and, as a result, increases the chances of people booking an appointment for teeth whitening or dental extraction.
Very Cost-effective
Unlike other marketing platforms, Facebook Ads is one of the best options because of its cost-effectiveness. The amount of money needed to spend to get a new patient has increased over time and the cost per click of other forms of dental marketing has also increased. Although this is the case, Facebook Ads has shown that it is still one of the most cost-effective ads while maintaining an affordable cost per click.
It is way more cost-effective and cost-efficient than mailers, tv ads, or radio ads.
Increase traffic/appointments 
Facebook Ads for dentists can be a great way to increase your brand awareness and show your clinic to a bigger audience. But, the biggest benefit of Facebook advertising is that it works, and it'll increase your revenue.
Whether you advertise with images or a video, Facebook Ads are one of the best dental marketing strategies to choose when it comes to getting the patients that your dental practice needs. To learn more about all services we offer and our successful case studies, visit our page.
Facebook Ads Capabilities
Now that we know a little more about what Facebook Ads are and why dentists use them, let's look at some of the capabilities of Facebook Ads for dentists.
Wide Social Media Reach 
One of the most notable capabilities of Facebook Ads is the ability to advertise on multiple social media platforms. Learn more about why dentists need social media. Here are some platforms that Facebook allows dental practices to advertise on:
Facebook
Instagram (Facebook Ad = Instagram Ad)
Messenger
WhatsApp
This ability gives dentists more flexibility when it comes to choosing which platform to advertise.  In addition, dentists can choose to display their ads to a different audience.
Precise Targeting
But, it doesn't stop at having a wide reach. Facebook Ads has different targeting options that let you target based on various information.  Here are some things your dental clinic can target:
Demographics
Location
Interest
Behavior
People who interacted with your content
Based on your customer (or patient) list
With precise targeting, oral surgeons can choose users who are more likely to engage with their Facebook ads and become potential new patients.
Want to make sure your family dental has the right target audience? Call now for a free consultation, so you target people who are interested in your dental clinic!
Retargeting
Being able to reach your target audience will help you get new patients, but that is not always the case. Some users see your ads, and they interact with them. But, they fall short of scheduling an appointment. That's where retargeting comes in to help.
With retargeting, you can target people who interacted with your Facebook ad or your website but did not make an appointment. This gives way for clinics to make a special offer or remind a user about booking an appointment.
By creating retargeting campaigns, it gives a new dynamic when it comes to your advertising. You won't lose out on any potential patients.
Starting Facebook Ad for your dental practice
We have gone over a lot of what Facebook advertising is and its capabilities, but it's time to learn how to set it up and get those new patients.
Setting Up Your Accounts
Before you even create your first ad for your practice, you need to set up all of your accounts.
One of the first things you need to create is a Facebook business page for your clinic. Having a business page is necessary when creating ads, but it is a good platform to keep engaged with your followers and let them know more about the ins and outs of your practice. Plus, all of this is free.
Landing Page 
Another thing you need to create is a landing page that users will be directed to once they click on one of your ads. Even though this is one of the necessary things to have when advertising, it's also important to get it right. This is because your landing page factors into a user making an appointment.
Here are some things to consider when you create your landing pages:
Relevant to the ad that was clicked on
Easy to follow
Clear message
Easy-to-find call-to-action button
Note: One of the pages of your website can be a landing page, but it should consider the recommendations above.
Want to have a well-designed website or landing pages? Our marketing agency specializes in web design, so your website is user-friendly and will get conversions.
Facebook Manager Account
The next thing to set up is your Facebook Manager Account. This is where you can register for your dental practice.
Then you can start setting up your Ad Manager account. In your Ad Manager, this is where everything happens from your setting up a Facebook ad campaign, targeting, to creating your ads.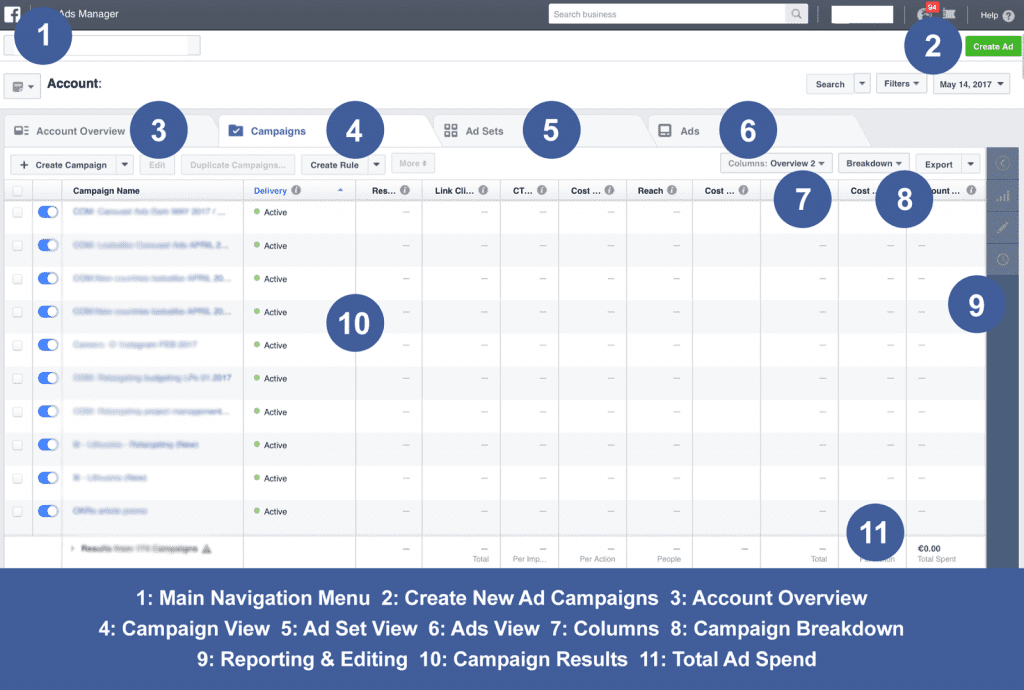 Once you create both of these accounts, you can start advertising and start sharing all about your dental practice. But, there is another thing to set up that is recommended by everyone who uses Facebook Ads.
Facebook Pixel 
When it comes to advertising, you want to base your campaigns on data. That's where Facebook Pixel comes into play. By setting it up, it will take your ad campaigns to the next level by providing important information that can help you with your budgeting, targeting, retargeting, and ad creation.
In addition to Pixel, it's also recommended to install Google Analytics if you haven't already. With both data sources, you can make expert decisions on your marketing strategy.
Having trouble setting up, read these articles on how to install Facebook Pixel and how to set up Google Analytics.
Now that you set up all your accounts, your dental practice is ready to start advertising. To get started on your campaigns, you need to understand your campaign's structure and how it factors in when you create your ads.
Your Campaign Structure
The campaign structure is the backbone of your Facebook advertisements. This will determine where your ads are placed, when it's shown, how it's displayed, and how much they will cost. Your structure will be broken up into three levels: campaign, ad set, and ad level.
Source: facebook.com
Campaign level
The first level is the Campaign level and choosing which type to use for your ads. This choice will influence how your advertisements will be formatted and the amount you have to pay.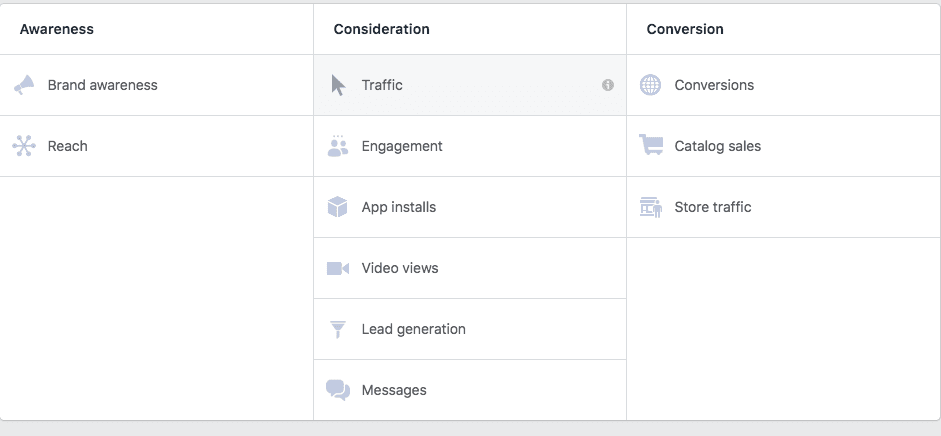 Here are the three categories to choose from:
Awareness: Focuses on generating interest in your practice and/ or service.
Consideration: Focuses on encouraging users to learn more about what your family dentistry offers.
Conversion: Focuses on encouraging people interested in your business to take an action like making an appointment.
After the first three categories, here are the subcategories you can choose:
Brand awareness: Share your brand with users who are interested in dentistry and increase your brand awareness of your dental clinic
Local awareness: Target users near your clinic
Traffic: Increase traffic to your website
Video views: Promote your videos
Lead generation: Creates a form like sign-ups for newsletters that will collect information from your audience.
Conversions: Encourage people to take a specific action on your website (e.g Schedule an appointment)
Store traffic: Drive nearby users to your local dental clinic
For example:
A dentist clinic might prioritize "Conversions" and the subcategory "Store traffic" to increase the foot traffic to their local clinic.
Ad set level
The next level is the ad set level. At this level, you'll be able to set three things, which are your budget, schedule, audience, placement, and delivery.
Budget
This section allows you to choose what type of budget. The two you can choose from are between a daily budget (budget for each day) or a lifetime budget (budget for the whole duration of your advertising).
Note: You will never go over your budget. Once your advertisements use all their budget, it will stop.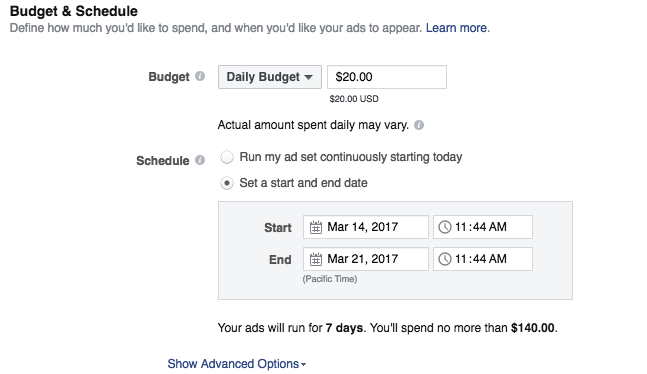 Schedule
Also in this section is your schedule where you can decide to have it run continuously or have your advertisement display for a certain duration. This gives you the flexibility to create ads when you have a seasonal promotion and only want it during a set period.
Note: If you choose a continuous schedule, you can stop and restart it any time you want.
Audience
Another part of the ad set level is where you choose your audience. This will determine your targeting options. Here are the three groups to choose from:
Saved Audience: Include or exclude users based on certain criteria like demographic, location, and interests
Custom Audience: Target users based on a customer (or patient) list or previous interaction with your clinic's website or your content on Facebook
Lookalike Audience: Create an audience similar to your existing customer database and advertise to them
Placement
After you choose your audience, you have to set where your ads are placed and displayed. You have the option to have automatic placement, but you also have the option to choose specifically where you want your ad to be placed. Here are some of the placements settings:
Device Type: Mobile, Desktop, or Both
Facebook Placement: Feed, Right Column, Instant Articles, In-stream video, Stories, Marketplace
Instagram Placement: Feeds, Stories
Messenger Placement: Inbox, Sponsored Messages, Stories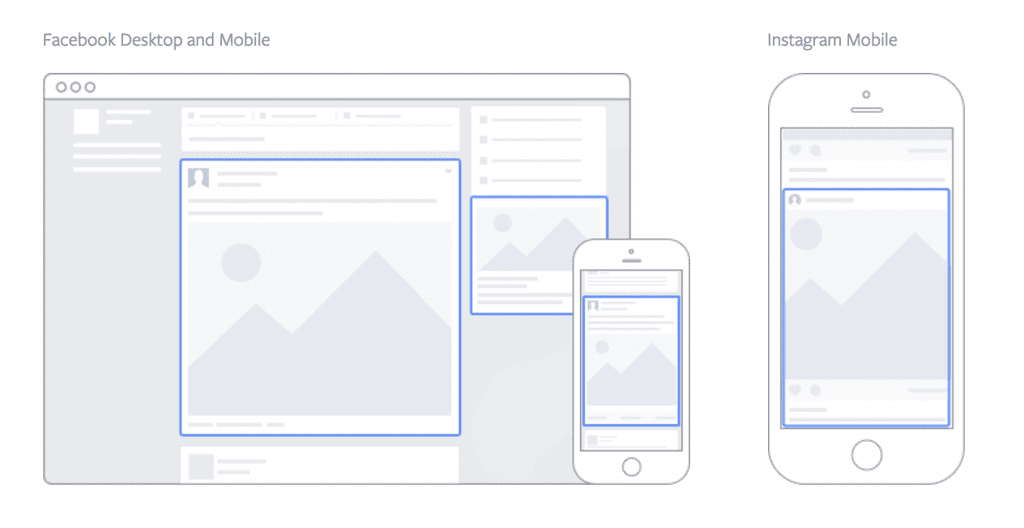 Delivery
Once you set your placement, you can set your delivery. This option determines how fast and frequent your ad is shown at the expense of your budget. Here are the two settings:
Standard Ad delivery – Deliver your ads at an optimal speed based on your budget
Accelerated Ad delivery – Deliver your ads as quickly as possible, resulting in using your budget faster
Note: It is recommended to use "standard" delivery, so you get the most out of your money.
Additional Info
In addition to this setting portion, Facebook Ad has options to help with your advertising efforts, so get the most out of your Facebook Ads. These include:
Bid control
Optimization for Ad Delivery
Ad scheduling
Ad level
At the ad level, you'll be able to format your ad copy. This is where you choose the text for the image or video of your ad.
Depending on your goal, your ad will be formatted differently.
It's recommended to have multiple versions of the same ad to see which combination of image (or video), text, headline, and call-to-action works the best.
Facebook Ad Types
At your ad level, there are different types of ads you can use to show your services.
Image
The first type of ad is an image ad. This is the most common and popular form of Facebook advertisement.  Although it is one of the most simple types, it is one of the most effective when it comes to getting new patients to your dental clinic.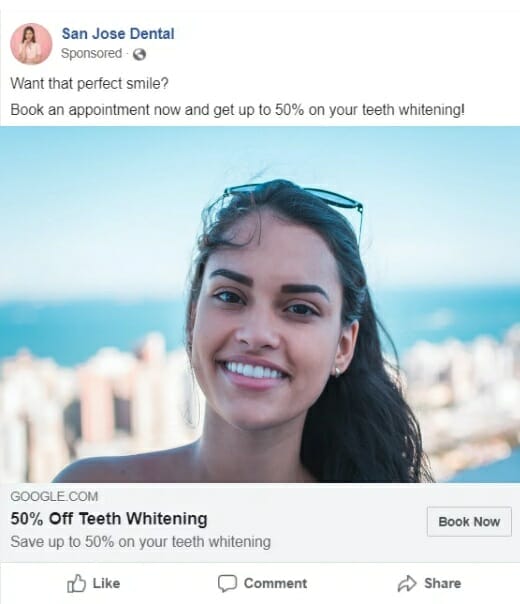 Video
Another ad type is video ads. This is another popular form of advertisement where dentists can show their services, fellow dentists, or the dynamic of the dental clinic.
Tips on Improving your Facebook Ads campaigns
Now that you know how to set up and start using the Facebook Ads platform, here are some tips to help run your advertising efforts for your dentistry.
Have An Ad Copy That Generate New Patients 
Creating an ad is easy, but making the perfect ad that'll generate new patients takes time.
But, there is a formula to help. Here are some tips that will help your dental clinic have Facebook Ads that will get engagement and bring in those patients:
Tempting Offer: Provide an offer that will bring people in (e.g. free whitening for new patients)
Compelling Content: Provide compelling content of why they should book an appointment and make sure to have a good call-to-action (e.g. Book Now!)
Attention-grabbing: Have images and an ad copy that will get people looking.
Wondering what will get a potential patient to engage with your advertisements? We can help you make an ad copy that will get users engaging with your ads.
Knowing your audience and targeting the right people
Knowing your audience is important, especially if you want to have the most effective marketing strategy. Although Facebook Ads has a lot of targeting options, it's important not to target too narrow or too broad.
For a local dental clinic, you should start with a general audience composed of users who are a few miles from your location, and based on age and gender.
For example, you should target these people:
Women (24-30)
Men (24-30)
Males (30-40)
Women (30-40)
After running some tests, you'll find which audience brings in most patients and invest more in those ads. Once you are more comfortable, you'll be able to narrow down your targeting.
Keep Thinking Of New Marketing Ideas
When it comes to using Facebook Ads for dentists, it doesn't just stop with the same few ads you created. As people see the same ads, they may experience burnout which will decrease the likelihood of engagement.
As a result, your dental practice should test out new and unique ideas. It'll prevent users from getting accustomed to the same old ads and are more likely to make that appointment.
Make Sure You Test Your Ads
There are different types of formats that your ads can take and have different effects on your targeted audiences.  That's why you have to make sure to test by using  A/B testing and split testing.
With these two tests, you can test both small and big changes that you want to make to your advertisements. Once you do that, you can start knowing your audience better by finding out what works and doesn't work.
Want your ads to be the best? Our experts will test your advertisements to make sure that they are optimized to get you the most patients and ROI.
Conclusion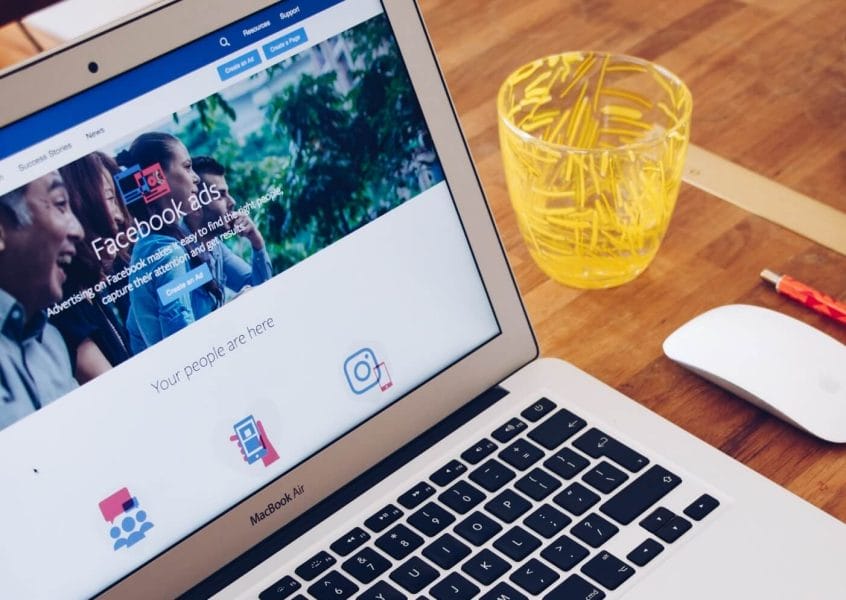 Facebook Ads for dentists can be the digital marketing strategy that can help your practice get new patients. Although starting can seem difficult, it can be well worth the investment. Whether you're a cosmetic dentist or an orthodontist, Facebook Ads help your dental services be known to Facebook users.
Related articles: Marketing Funnel For Dentist: The Ultimate 2020 Guide