Nowadays, the first place people look for a healthcare provider is Google, and did you know that 64% of consumers look up the healthcare provider's Google My Business profile to get contact information? It's because before they book an appointment with a physical therapist in their area, they research to see if it has a contact number, good reviews, is highly responsive, and has an accessible location. But not all local businesses have their clinics listed on the Google My Business map pack.
In this article, we'll give you a little background on what Google My Business for physical therapists is, how to create a profile, and why it's a must-have for physical therapists.
Let's get started!
What is Google My Business?
Google My Business is an online platform where you can get your Physical Therapy Clinic listed on Google for free! When you have your clinic listed here, people will be able to locate your business on Google Maps! It'll also have all the basic information that you have about the services that you offer.
Here's what it looks like when your clinic  gets listed on Google:
Check out the awesome features that Google My Business has:
You can link your website.
There's a Q&A section where potential customers can raise their questions about your business.
Note: It is important that you keep track of your Google My Business Profile so that whenever someone raises a question, you will be able to address it immediately. The more responsive you are, the more likely the clients get highly encouraged to ask a question which increases the chance of them becoming a customer. And the more responsive you are, the higher you will rank on the Google Maps pack.
Here's what the question and answer portion looks like:

You can manually set the operating hours of your physical therapy clinic.
Add your clinic's phone number so customers can directly contact you.
Encourage your lovely previous customers to share their positive experiences by leaving a review:
Or attach a photo if they want to, like this: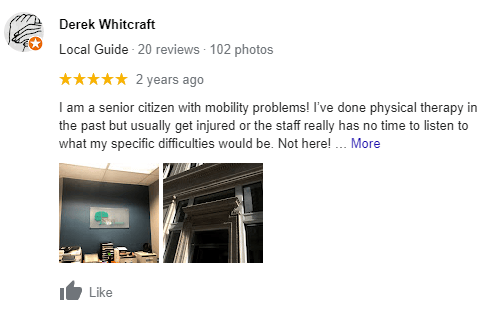 It also shows what specific time and day a lot of people are going to your clinic. This feature is very helpful especially during the pandemic as it gives people an idea of the time they should go to avoid overcrowding and maintain social distancing.
You can also post a maximum of 10 photos of your physical therapy clinic.
As long as it meets the guidelines/ is relevant and appropriate to your business, and does not mislead your customers, it will be approved.
Like this one: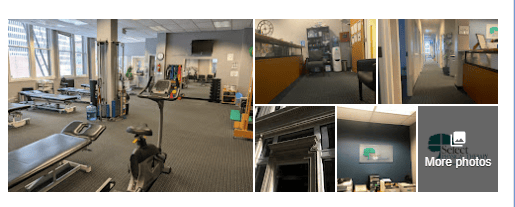 Here's a link to the photo and video policies that will guide you in choosing the right photos or videos for your clinic.
Interested in setting up a Google My Business account for Physical Therapists?
Why Google My Business for Physical Therapists?
If you haven't listed your Physical therapy clinic on Google My Business yet, you're missing out on potential customers!
Below are 4 of the reasons why you should consider getting listed on Google My Business:
It helps you rank higher in Google Search results. 

Ranking higher not only improves your physical therapy clinic's ability to generate traffic and leads but also plays a role in creating the first impression of your physical therapy clinic. This means that the higher your rank is, the more likely it is to get more client bookings!

It draws attention to the location of your physical therapy clinic.

If you accurately pin the location, it will appear on Google Maps, making it easier to find and access. So make sure that you enter the correct one.

It makes your business credible and trustworthy.

When people see a business online, it gives them the impression that it is reliable because it appears in Google Search Results.

It helps you grow your online presence.

You'll attract more patients if you keep all of the information listed up to date.
Once you create a Google My Business account, people will be able to see the important details about your physical therapy clinic in one place such as:
The best way to get to your exact location in Google Maps
Operating hours
Contact number
Reviews from previous clients
Photos of your business starting with the logo and cover of your business, along with the interior and exterior of your physical clinic)
Your website
The link to your other profiles like LinkedIn, Facebook and etc.
Fill out as much info as you can and put up as many photos as you can, it'll increase your rank in the Google Maps pack.
Here's an article that tells you why Google My Business is more important than ever in 2021.
Steps in creating a Google My Business Profile
Here's how to create a google my business profile for your Physical Therapy Clinic:
First, sign in to your Gmail account. Then, go to https://www.google.com/business/
This is what their home page looks like:
Click "manage now."
After that, enter the name of your physical therapy clinic so that it could be added to Google.
For the business category, since you are offering physical therapy services, choose either "physical therapy clinic" or "physical therapy." Then, click "next."
Followed by a question asking if you have a physical location where the customers can come and visit. Choose among the options available depending on the status of your physical therapy clinic. Then, click "next."
After that, indicate the complete address such as the country, street address, city, state, and zip code of your physical therapy clinic. Just make sure it is accurate because this is where your clinic will be pinned once verified. Then, click "next."
If the name of your business appears in the choices, click it to claim. But if not, select "none of these."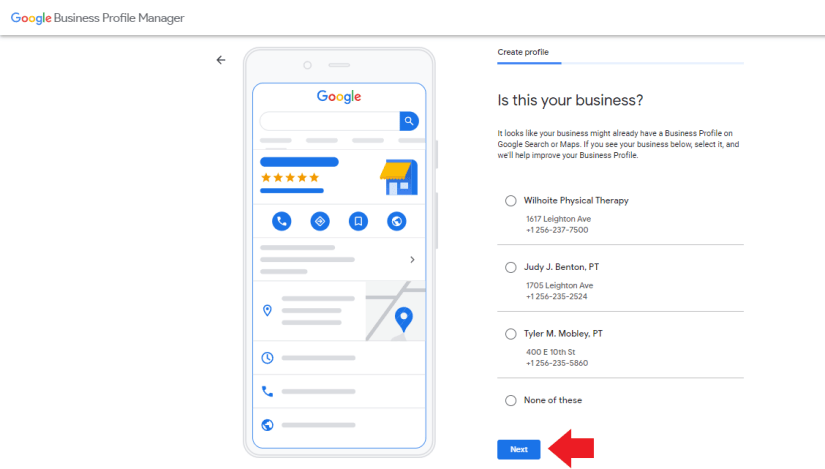 At that point, you'll be asked if you provide deliveries or home and office visits. Select which suits your therapy clinic. Then click "next."
The next step is entering your clinic's contact information and website. Enter the number you'll be using to receive calls. If you don't have a website yet, check the box that says "I don't have a website." Then, click "next." You could add it later if you decided to create one in the future.
If you want to stay updated about the recommendations for your business on google, click "yes."
Then, choose a way to verify your business. It's either through a postcard, email, phone, search console, or video recording.
Then, enter the business hours for your physical therapy clinic. If you're not sure about the schedule, there's also a "skip" button at the bottom of the page. However, we strongly advise that you indicate and regularly update your business hours in order to avoid losing a potential client.
You're almost done with getting your physical therapy clinic listed on Google! When you've finished all of the steps, click "next."
Once you are done creating your Google My Business account, you can continue completing your business profile.
This is what your dashboard is going to look like once you are done setting up your profile:
Congratulations! You are done creating an account. Now, you will be able to access more tools in Google My Business.
Need help in managing your Google My Business Profile?
Now that you have a Google My Business account,  there are three main things that you can do: Create a post, add a photo of your therapy clinic, and create a physical therapist ad directly from there.
What are Google Posts?
It is another feature of Google My Business where you can create posts about your physical therapy clinic. There are different types of posts that you can choose from. It can be about the changes in your business hours due to COVID-19, can be limited-time offer discounts and promos, an announcement on something new, or an event that will be hosted by your physical therapy clinic. While writing, you could also attach a photo that goes along with your post, and even a call to action button.
Creating your first Google My Business Post
In Google My Business, you can also create posts through texts, photos, or videos to promote your clinic. Here, you may include limited-time offers (e.g. promos like 20% off for new patients).  Use this section to feature a special offer that will attract customers based on a limited-time deal. You could also add redeemable coupon codes if you wish to.
Just click "posts."
Then, click the blue button.
A pop-up box will appear where you must choose the type of post you are about to create.
After choosing, you can now start uploading a photo for your post.
You can add up to 10 photos for every post.
Then, start writing about your post.
Optional: You can choose from the call-to-action buttons that are available.
You could also check how it looks when posted by clicking the "preview" button.
When you are satisfied with the outcome, click "publish."
Once published, it will appear on the bottom portion of your Google My Business profile.
If you want to make changes or delete your post, just click the post, click the three dots, and choose the action you want to perform.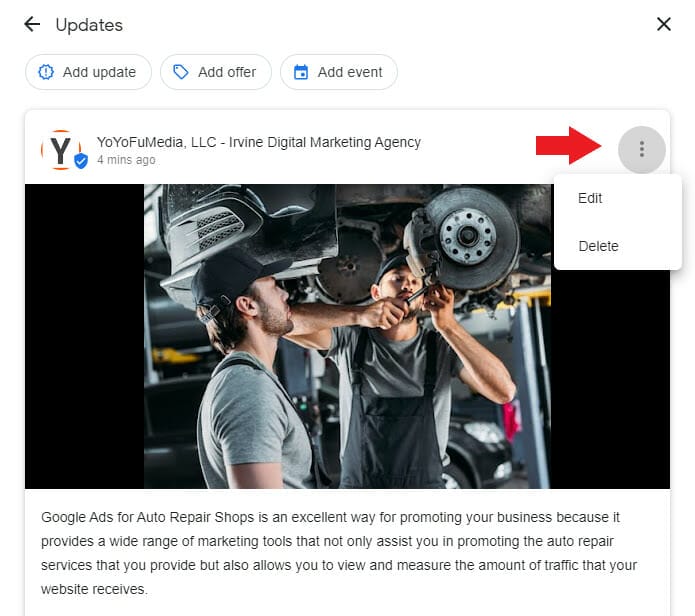 Do you want a convenient way to reach out to your physical therapy patients? Consider using email marketing to update information or share promotions.
Adding a photo to your account
In this portion, you can showcase your therapy clinic by uploading your logo, a 360° photo, or a video of the interior (e.g. receiving area, waiting area, etc.), and exterior.
Just click "add photo"
Then, click the "+" button, choose a file, and press upload.
Creating Google Ads for Physical Therapists directly from Google My Business
You could also directly create an ad for your therapy clinic. Just click "create ad" and it will redirect you to Google Ads' website.
First time creating an advertisement? Check our Step-by-Step guide on creating Google Ads for Physical Therapists.
Here are some of the tools that you'll work on along with brief descriptions.
Info
Here is where you can change all the basic information about your physical therapy clinic starting from the location, service area, and operating hours, add a website, and add an additional phone number and business description.
Insights
Once your physical therapy's Google My Business account gets verified and after some time, charts will be readily available in this section to help you understand the data. It shows how people found your clinic, their actions after finding your business listing (also shows the common actions that customers do on your listing), where they view your business on Google (if it's from a map listing or search listing), the areas where customers request directions to your business from, the number of phone calls you receive on a weekly or daily basis, the number of times your uploaded photo has been viewed in comparison to your competitors.
Reviews
This helps you sort out all the questions people raise on your website because it divides all the questions you received based on which you have replied, and which you haven't yet. It makes responding more convenient.
Learn more about how to get more referrals for your physical therapy practice.
Messages
If you want people to directly send you a message, you could do that by activating the message button of your GMB. Doing this enables the messaging feature for your business.
Services
In this section, you can add more services aside from what you have indicated while setting up your Physical Therapist Google My Business account by typing the service description that you want to be added. If it doesn't appear among the choices, you could create a customized one.
Website 
If you don't yet have a website for physical therapists, Google My Business can do it for you. They have a free website builder that instantly creates a website for you. All you need to do is put in all the details needed and press "publish" when you're done.
Users
You can also invite users to help you manage the account by clicking the "add users" button.
Note: if you are making changes like adding a new number, it will appear as "pending." Google will be screening the new number you indicated and checking if it is really redirecting to your physical therapy clinic. So every time you make changes, make sure to go back and check if it's approved or disapproved.
How to get verified on Google My Business
There are a lot of ways to get verified for your business profile. It can be through a postcard, email, phone, or instant verification.
Note:
If you choose postcard verification, keep in mind that it may take up to 14 days before it arrives at your doorstep.
Don't make changes in your location or else it will get delayed.
Conclusion 
If you are currently looking for new clients in your Physical therapy clinic, Google My Business is a great place to start. It has plenty of tools to assist you in managing your profile. All of the necessary tools can be found in your dashboard, making it easier to navigate and keep track of how things are going. Just follow all the steps above, and the rest will follow
Want us to set a Google My Business profile for your Physical therapy Clinic?