If you just recently opened your veterinary clinic and wondering why TikTok is suitable for your practice, this blog post is for you! Here we'll share with you some of the best practices that you can do to improve your brand's visibility, engagement rate, and more!
TikTok for Veterinarians
TikTok is a video-focused platform that was launched in 2016. It allows users to create, watch, and share short videos. If you're wondering why TikTok suddenly became popular, here are the top 2 reasons why the majority of people use it (1) to find funny and entertaining videos, and (2) to pass their spare time.
What makes it stand out among the rest of the social media platforms is that it has a built-in feature that allows users to directly record and edit their videos without leaving the app. You can also use filters and add music within the app itself (which is not possible on other social media sites). Plus, there are various types of videos you can create to get noticed on this platform this includes tutorials, lip-syncs, and dance challenges. You can even create videos based on trending hashtags, or trending sounds.
Why TikTok for Veterinarians?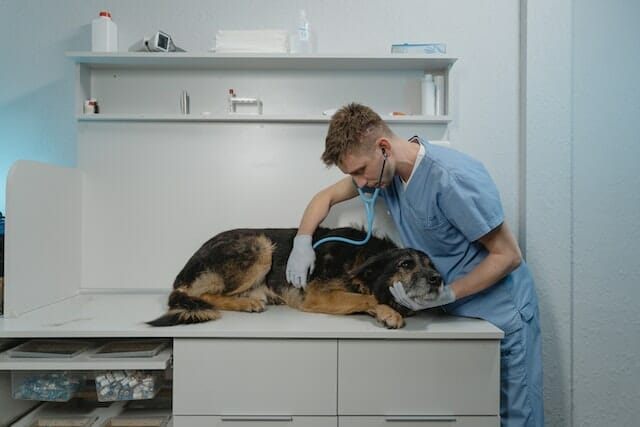 Now that you have a background on what TikTok is and how it works, here are the reasons why TikTok should be included in your Digital Marketing strategy.
Reach a wider audience
With over 1 billion active monthly users, creating a profile on TikTok will surely help you grow your audience!
If we take a look at the user demographics of this platform, the majority of its users are Millenials and Gen Zs. Based on the latest report from the American Pet Product Association, in terms of pet ownership, Millennials are the generation that has the largest group of pet owners. With that information, we can say that establishing your online presence on this platform will surely increase your brand's exposure to a wider audience!
Increased engagement
The main goal of TikTok is to unleash a person/brand's creativity and bring joy to its users. For that reason, the engagement rate on TikTok is 15% higher compared to other social media platforms, specifically if you show up on the For You page. As long as you are using a personal approach to connect with your audience (along with the marketing techniques that we'll go through in the next section), increasing your brand's engagement rate is possible on this platform.
Wondering if TikTok suits your Vet practice?
How to switch to a business account
Step 1: On your Veterinary clinic's TikTok account, click the hamburger menu in the upper right corner of your profile. Then, go to "Settings and Privacy."
Step 2: Tap "Manage Account."
Step 3: Under Account Control, select "Switch To Business Account."
Step 4: Then, choose the category that best fits your Veterinary practice.
Step 5: Add your vet clinic's website URL along with your front desk's receptionist email.
TikTok Best Practices for Veterinarians
In this section, we'll share with you some tips on how to make the most of TikTok Marketing for Veterinarians.
1. Use the Q&A feature
TikTok has this Q&A feature that allows users to interact with other people.
Let's say you're getting a lot of questions from pet owners on your recent TikTok video or maybe you read an interesting question from your comment section. You can use some of those questions and use it as a guide to creating your next content. You can simply create a sticker for a specific question that you want to answer.
Like this:
Here's how to do it if you're already using a Creator Account:
Step 1: On your veterinary clinic's TikTok account,  go to "Settings and Privacy"
Step 2: Click "Creator"
Step 3: Tap "Q&A"
Step 4: Click the Q&A button to enable the feature
2. Respond to comments
Responding to comments from your audience shows that your care about the feedback from your viewers. Apart from that, the more comments your veterinary video gets, the more TikTok understands what kind of content your profile is all about, making it easier for them to decide if your content should be shown to relevant searches.
If you're just new on TikTok, replying to comments you receive helps boost your veterinary clinic's engagement rate especially if you're just starting to build your audience.
But, if you see irrelevant comments under your post, you can adjust the settings of your comment section which gives you an option to close the entire comment section, filter the comments you receive, or hide spam or offensive comments.
Thinking of buying TikTok comments? In this short clip, they have tried to buy TikTok comments thinking that it will increase their chances of them showing up on their target audience's For You page and gaining more followers but ended up losing their followers one by one.
With that, it's better to acquire comments organically as it not only helps you build relationships with real people, who in return have higher chances of being one of your actual customers.
3. Engage with your audience
People love it when brands engage with their audience. It's something that humanizes your brand and shows that you care about what other people think about your vet-related content.
As a veterinarian, it gives you a wider perspective on how people see your vet clinic, if they're enjoying the content you're sharing or what other content would they love to see more of.
Source: Vet Tech Pete
4. Use TikTok Ads
You could also run ads on TikTok. This works best if you're just starting to build an audience and increase brand awareness. In fact, there are several ad formats you can choose from such as:
In-feed ads
In-feed ads show up on a user's For You page. It automatically plays on a user's feed where they can like, comment, share, and follow your vet clinic's TikTok account (just like organic TikTok posts).

What's a For You Page?

The For You page is a section where users can see recommended videos based on a user's behavior on TikTok (e.g. likes, comments, and interests). These videos are usually from accounts that users don't follow yet but provide relevant videos based on the user's watch history. You can also see this as hashtags on TikTok videos where it is used as #ForYouPage #foryou or #fyp.
Types of In-feed ads:
Image ads
Image ads are shown in apps like BuzzVideo and Babe. It typically includes an image, your brand, or app name, as well as your ad text.
Video ads
Video ads can run up to 60 seconds and appear as full-screen videos on a user's For You page. It is usually accompanied by a video, an ad display image, the name of your brand, or the app, along with the text of your veterinary clinic's ad.
Pangle Ads
Pangle ads are only available in several countries. It boosts the reach of your vet ad by displaying it on 3rd party apps. It has various ad formats which include Rewarded-video ads, Banner Ads, Icon Ads, Interstitial Ads, Native Ads, and App Open Ads.
Spark Ads
With Spark ads, you can turn your organic posts (low and best-performing posts) into ads! Here, you don't have to test or create a new vet ad if it works for your audience, you just have to boost the content you've already posted before so that it reaches more people from your target audience.
Top-view ads
The purpose of Top-view Ads on TikTok is to improve brand awareness. It works by occupying the user's In-feed posts after 3 seconds of opening the app. The maximum length of Top-view ads is 60 seconds which automatically plays on a user's screen.
Branded Hashtags Ads
Branded hashtags show up on a user's Discovery page. It encourages users to participate in hashtags used by brands where people can dance or do something to join the trend. What happens here is that whenever a user taps on the hashtag used, a collection of TikTok videos using the same hashtags will show up.

Branded hashtags could be something that's related to the product and services you're selling, your vet clinic's slogan, or the name of your veterinary care clinic.
Branded Effects Ads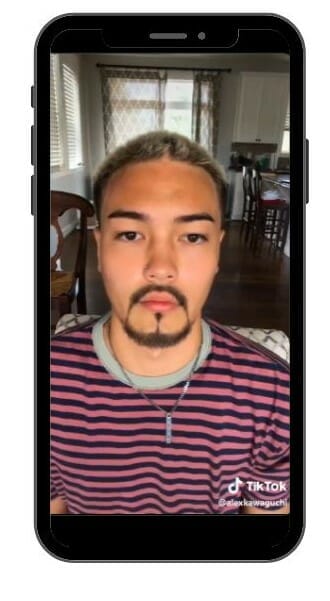 TikTok also allows brands to create their own effects or filters. Its purpose is to encourage users to use your customized filters or effects and usually lasts up to 10 days. This is useful if you want to increase engagement with your brand.
5. Use the right hashtags
As we all know, hashtags are mainly used to increase your post's visibility on search results. On TikTok, these can help increase your views and widen the reach of your videos. For best results, use a combination of hashtags based on your niche (veterinary practice) and trending hashtags.
Take a look at the hashtags used in this example:
See that all of the hashtags used were related to the context of his TikTok video? What's great about using the right hashtags is that it increases the chances of your brand being found by your target audience or potential customers.
Like in this example, if you search #petsafety on TikTok, you'll see lots of safety tips shared by veterinarians and vet techs.
6. Create informative videos
TikTok allows its users to unleash their creativity through short-form videos. Veterinarians like you can share fun facts or trivia with your audience in a way that makes them want to engage with your brand.
Take a look at this example of how the veterinarian accompanied trending sounds to its post. His video has more than 1.7 million views. What he did was add captions and danced his way (joined the trend) while explaining why he doesn't recommend dogs go to dog parks.
See how you can stay relevant with your niche (veterinary services) while staying on trend and sharing valuable information with your audience? You just have to think outside the box!
7. Duet user posts
Duet posts take place when your vet-related videos play side-by-side with a video from another TikTok account. This feature can help increase impressions, reach, and engagement of your vet-related videos.  As a veterinarian, you can use Duet posts to verify, clarify, or say your thoughts as an expert on pet-related information that circulates on TikTok.
Here's an example:
8. Boost awareness by partnering with influencers
If you know influencers who are pet owners, you can also partner with them to create short videos with their pets to promote your veterinary services to their followers. Partnering with these individuals will help expand your customer base and showcase your brand to a new audience.
9. Balance promotion and entertainment videos
The reason why you're using TikTok in marketing your veterinary services is to connect with your audience by posting valuable content to them. With that, you have to keep in mind that your posts on TikTok shouldn't be more about promoting your vet clinic. There should be a balance between promotional posts and entertainment posts.
By creating a balance of promotional and entertaining videos on your veterinary clinic's TikTok profile, you're giving your potential customers a reason to stick around your content.
Funny videos attract more viewers to watch your video. With that, you can create skits, accompany them with captions that your audience will find relatable, and use relevant hashtags to increase the chances of your veterinary videos showing up on feel-good videos on TikTok.
10. Video Format
On TikTok, videos in 1:1 format don't take up that much space on a user's mobile screen. But since it's a mobile-first platform, the majority of the video formats that work best are the ones that have a 9:16 (full-screen ratio).
When it comes to video file format, TikTok supports videos that are in MOV, MP4, AVI, 3PG, and MPEG formats. In terms of the duration of organic videos, you can post ones that don't exceed more than 10 minutes. The recommended dimension for TikTok videos is 1080 x 1920 pixels.
11. CTA
Call-to-action helps you reach your marketing goals (e.g. getting more likes, and views, or new customers). It serves as a guide for viewers to take the next step after watching your video. So, don't miss the opportunity to get something out of your TikTok videos, make sure to add a call-to-action in your captions and at the end of your videos.
Examples of CTA that can be used on your veterinary videos:
"Save this post for later!"
"Follow or like for part 2"
"Share this video and follow for more vet-related content"
"What do you think? Let us know in the comments."
12. Post frequently
The recommended number of times accounts should post on this platform is 1-4 times a day. It's because content on this platform gets consumed easily so you have to keep up if you want to go viral or build your audience. With that, you have to make sure to stay tuned with what's trending on TikTok (whether it's a dance challenge or trending audio). However, as the number of videos you post increases, you have to make sure that you're posting authentic and high-quality content.
Here are some tips that will help you when posting on TikTok:
Set a day when you can film all of your content

If you think shooting content for your vet clinic's TikTok account consumes a lot of your time in the clinic, you can allot a day where you get to shoot several clips and save them in your draft where you can post it later. This way, you don't have to worry when it comes to thinking about what to post next.

Create a schedule of when you're going to post on your Vet clinic's TikTok Profile

Once you've filmed all of your content, set dates on when you plan to post it. This way, you create a consistent online presence for your veterinary clinic. It also gives your followers something to look forward to each week.

Use vet-related keywords in your captions

Just like Google Ads, keywords also increase the visibility of your vet clinic. So, make sure to use the keywords that suit the context of your videos (you don't want your veterinary videos to show up along hashtags that might damage your reputation).

Test which content and hashtags work best for your videos

Once you start posting several videos on your vet clinic's TikTok, you'll be able to gather useful data especially when it comes to the type of posts that gets more engagement from your audience. If you're just starting out, make sure to test different types of content and from there, you'll find a niche that matches your practice as well as your audience's interests.
Also, do lots of research as to what hashtags get more engagement from your audience. If you don't know where to start, you can look at what your competitors on TikTok are using. Then, click that hashtag to see how many people are using it and what type of content goes along with that hashtag.

Listen to your audience

You can also get useful input from individuals who leave comments on your posts. With that, you have to make sure to give time and monitor that section to see their thoughts about your videos.
For example, you might see people saying they want more of this or that, or think that your posts are too short/long. From there, you can use it to improve your future posts so that it fits what the majority is looking for.
13. Add subtitles to your videos
Another way of blowing up your veterinary videos is by adding subtitles to your posts. This makes your videos accessible to a wider audience, including individuals with hearing impairment, or those who can't turn the sound on.
Here's an example of a TikTok video from a vet clinic that uses captions or subtitles:
14. Use TikTok Analytics
TikTok has a built-in feature that lets you see the performance of your videos. Here, you'll see metrics for video views, profile views, number of likes, comments, shares, and followers, as well as the number of Live videos you hosted in your veterinary clinic's profile. It's important to keep track of these metrics because it lets you know whether you are reaching your marketing goals (do more of that) or not (do extra efforts to improve it).
Under the contents tab, you'll see metrics that measure the performance of your veterinary videos such as:
your top 9 trending videos
the total number of times your videos were viewed
total number of likes, comments, and shares
average watch time
where your traffic comes from
top locations where your followers come from
15. Promote your vet-related videos on other platforms
If your follower count on other platforms is higher compared to what you have on TikTok, why not share it on other platforms like Instagram or Facebook? This is one way of maximizing the exposure of your videos not just to your new audience but also to the community you've already built on other social media sites. Aside from that, it also helps generate more views, and engagement, and increases the chances of expanding the customer base of your vet clinic.
Need help promoting your Veterinary clinic? Our experts are here to help.
TikTok Post Ideas for Veterinary clinics:
Educational short-form videos
Showcase your pet patients
Introduce your vet staff/doctors
Humor posts
Before and After a treatment procedure
ASMR
Key takeaway
TikTok for Veterinarians is one of the most effective ways that can help increase your engagement rate and widens the reach of your marketing campaigns. Just remember that for you to achieve the best results, you have to make sure that your content should resonate with your target audience and optimize your videos using the tips we've mentioned earlier.