In this blog post, we'll share with you some tips on how digital marketing for veterinarians can help you get more new customers, retain existing ones, boost your customer base, and more!
What is Digital Marketing?
Based on recent statistics, 46% of consumers use the internet to find nearby local businesses. In addition to that, the first three results get more than half of the clicks. However, if you still haven't established your veterinary clinic's online presence you're probably missing out on a lot of potential customers!
That's where digital marketing comes in. It's the process of promoting your vet business through the internet, making it easier for pet owners to find you. It helps increase your brand's visibility so that you can reach out to your target audience.
Interested in digital marketing for veterinarians but don't have time to manage it?
Digital Marketing for Veterinarians
Now that you have a background in how digital marketing works, we'll share with you several ways how you can promote your vet business.
1. PPC (Pay-per-click)
If you're not getting enough traffic and conversions on your veterinary website, PPC advertising can help solve your problem. It's one of the best ways to market your vet services and at the same time, get more new patients. Another good thing about this type of marketing strategy is that you only pay once your vet ads are clicked on the search engine results page.
Not just that, but you also get to adjust bids depending on your advertising budget as well as your target demographics.
For example, if your chosen keyword is "Veterinary clinic LA" and you've chosen to show your ads only for individuals residing in LA who have a household income of let's say $30,000 USD. Whenever someone uses the search term "Veterinary clinic LA", and fits the criteria for your target audience, your ad has the possibility to show up in that person's search results.
If you want to know an in-depth explanation of how PPC marketing works, Check out our blog post on Google Ads for Veterinarians to learn more.
2. Social Media Advertising
You can also promote your veterinary services through social media platforms like Facebook, Twitter, Instagram, LinkedIn, and Pinterest. In Social Media Advertising, you get to choose various types of ad formats for your vet clinic. This includes photo ads, video ads, story ads, and Messenger ads.
Why social media advertising?
Since almost everyone is on social media, it's one of the best platforms to build your audience. Not just that, but you also get to hyper-target your ads based on the interactions, demographics, interests, and lifestyles of social media users. And lastly, most of these platforms come with a built-in analytics tool, making it easier for you to track the performance of your social media ads as well as your Return On Ad Spend (ROAS).
Here are a few examples of paid social media marketing:
Facebook ads
Linkedin ads
TikTok ads
Twitter ads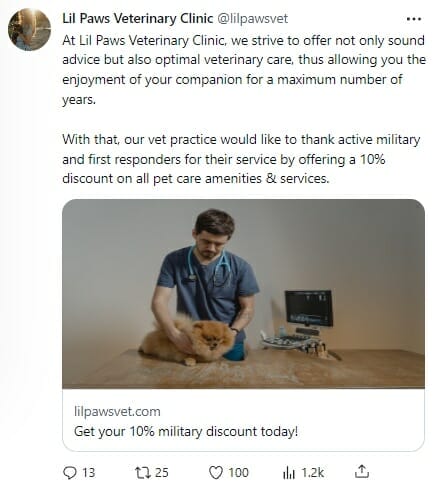 Tips in Social Media Advertising:
Conduct A/B testing
User-generated content
Use relevant hashtags for veterinary clinics
Stay updated with algorithm changes
Use high-quality images
Create engaging captions
Check out your best-performing posts as a basis of your vet ad format
3. SEO
Search Engine Optimization (SEO) is the process of improving the organic (non-ad) content that you've already published. It helps improve your rank on search engines so that your customers will choose you over your competitors.
There are three kinds of SEO. On-page, Off-page, and Technical SEO.
On-page SEO refers to making improvements to the elements on your site that you have control of while Off-page SEO refers to the actions that are off of the site. On the other hand, Technical SEO refers to the process of making sure that your website meets the technical requirements to improve your veterinary website's ranking on search engines (e.g. removing duplicate content, and checking for indexing issues).
Here are a few tips on how to do SEO:
Make your site mobile-friendly

Font size should be readable when your website is viewed on mobile devices (users shouldn't have to zoom in just to read the texts on your veterinary website).
Make the navigation easy and simple (e.g. avoid clutter by using the hamburger icon).

Use appropriate URLs
Speed up your page loading speed

Compress and optimize images to decrease page loading time.
Remove plugins and widgets that aren't used.
Choose the best-performing hosting platform.

Acquire backlinks

Through guest posting
Sponsored posts
Link insertions

Content Marketing – Blogging

If you have extra time and want to share your knowledge with your target audience, you could also try blogging. Blog posts help convert traffic into leads. Especially, if the content is well-written.
For example, if you want to grab the attention of individuals who are in the awareness stage, you could write educational posts that will help solve the problem of pet owners. Some examples include, what should pet owners do if their puppies vomit worms or what types of vaccines puppies need.
If you want to target customers who are in the consideration stage, you can use pet-related infographics (which could include statistics or tackle key points), write how-to blogs, or anything that will provide useful information for pet owners.
And for those who are on the verge of making a decision in choosing a vet clinic that provides the best services, testimonials, reviews, and service rates can help these potential customers in making a decision.
Here are some tools that can help you look at data and improve your veterinary clinic's SEO:
Need help with SEO?
4. Social Media
Aside from those mentioned above, another platform that can help expand your customer base is social media. With over 4.26 billion users worldwide, creating profiles on social media will help bring additional traffic to your site and reach out to a wider audience!
Here you can post cute snaps of your customers along with their pets, share pet care tips, and animal trivia, run contests, and more! Social media marketing for vets, when done right, can surely help increase your engagement rate and turn your audience into your actual customers!
To give you an idea of what your vet clinic's social media pages will look like, here are a few examples of social media pages of vet clinics on different social media platforms:
LinkedIn
Post ideas on LinkedIn:
Photo of your team
Source: Veterinary Care Group
Share your blogs
Showcase your cute patients
Source: Boston Veterinary Clinic
Facebook
Post Ideas on Facebook:
Instagram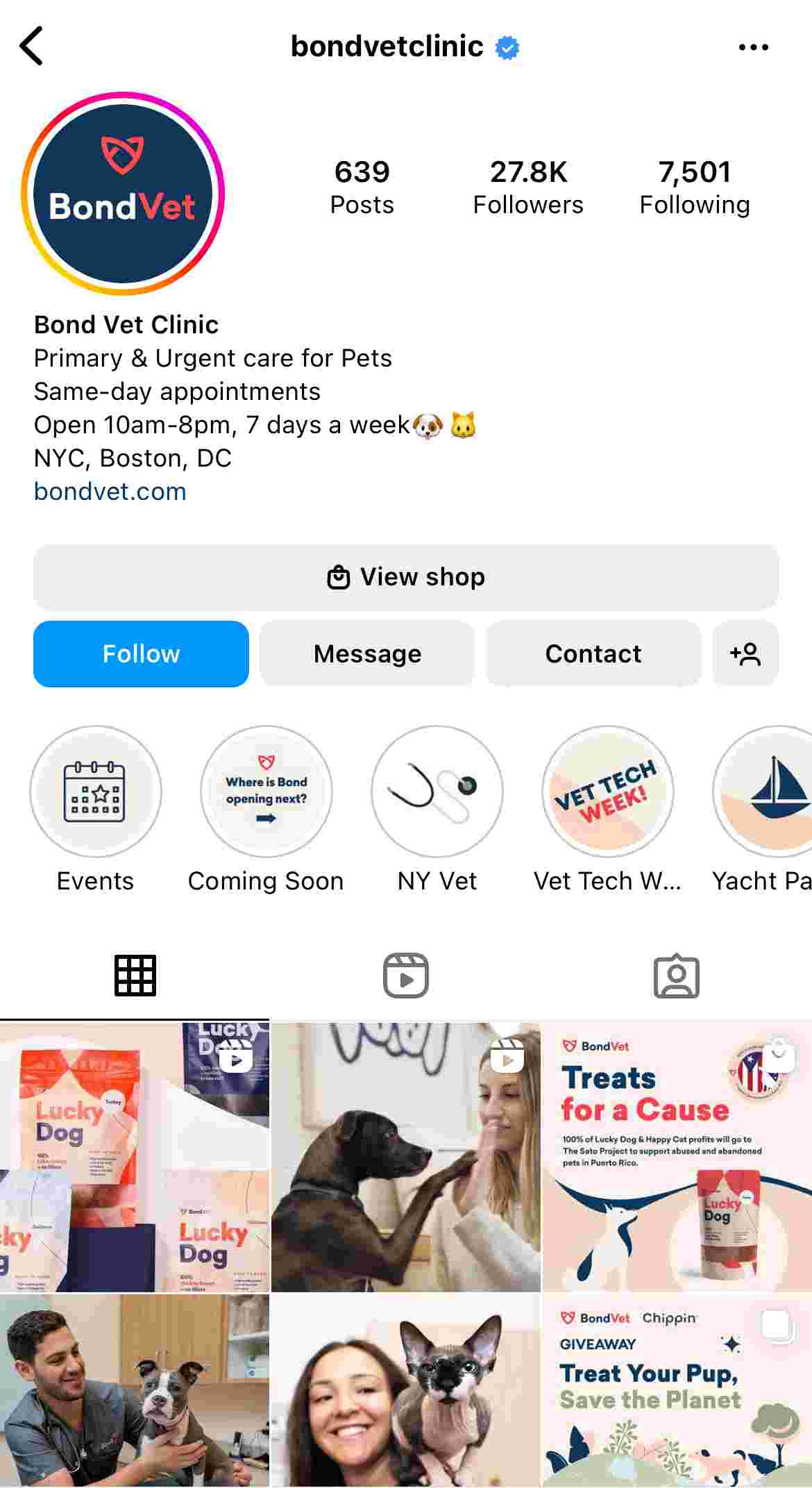 Post Ideas on Instagram:
Fundraising for a cause
View this post on Instagram
Promotional post
View this post on Instagram
National Celebrations
View this post on Instagram
Image of your vet clinic
View this post on Instagram
Freebies
View this post on Instagram
Picture of your staff supporting international events
View this post on Instagram
5. E-mail marketing
Another way to personally connect with your target audience is through email. Here, you can send valuable content when it comes to caring about their pets, soft sell your veterinary services, provide incentives for loyal customers, and more! Sending emails doesn't have to be a daily routine, sending one email per month works, you just have to use the right strategies to stand out in your customers' inboxes.
Here are a few tips for sending emails:
personalize your message
segment your email list depending on your patient's buying journey
avoid cluttered or wordy texts
add relevant and high-quality images
experiment subject lines
use email marketing software like Mailchimp to help you automate your messages
6. Get listed in online directories
Promoting your vet clinic is not that easy especially if you haven't yet established your online presence. But, with the use of online business directories, it'll be easier for your target audience to find you.
Google My Business is one of the best tools you can use to manage your vet clinic's online presence. It's where your target audience can your clinic's contact details, location, reviews, business hours, and more! Creating a Google My Business profile for veterinarians helps you get found not just on the search results page but even on Google Maps!
Here's what it looks like once you get your vet clinic listed on Google My Business:
Yelp is another online business directory where you can get your veterinary clinic get listed online. Just like Google My Business, your customers can also leave reviews, ask questions, and set an appointment. When people search for a local business on Yelp, search results can be sorted based on the most reviewed, recommended, or high ratings.
Here's what it looks like:
Tips for managing your veterinarian profiles on business listings:
make sure to update your contact info and business hours
monitor the reviews you're getting
make time to respond to customer reviews
add images that are relevant to your vet practice (e.g. images of recent pets who visited your clinic, interior and exterior of your vet clinic
don't forget to attach a link to your website so you don't miss out on the potential traffic and customers you get
7. Video Marketing
Videos help trigger the emotions of viewers. In fact, 94% of consumers prefer watching videos to learn more about a certain product or service. This is because it's easier to digest relevant information compared to lengthy articles.
But, what makes an effective marketing video? 
(1) It should be valuable to your customers.
People usually ask themselves "Why should I watch this?" before clicking on a video. So, make sure that your video content is relatable.
Your marketing video should be something that allows your audience to visualize themselves using your services.
(2) It should have a personal approach.
Use a conversational tone, it makes your brand approachable and easier to build relationships with your customers. They'll be more confident reaching out to your brand and opens your clinic to more business opportunities.
Your marketing videos should reflect the mission and values of your veterinary clinic.
(3) Call-to-action
No matter what type of content you use for your veterinary clinic, always include a call to action at the end of your video. This guides your viewers to take action after watching your vet clinic's video (e.g. "Call Us", "Visit Us Today", or "Book An Appointment").
Aside from connecting with your potential customers, videos can help increase the visibility of your veterinary business. The more visible your vet clinic becomes, the higher chances you're about to get more traffic to your site. Social channels where you can post your vet-related videos are Youtube, TikTok, and Facebook.
Tips for creating vet-related videos:
content should be valuable to your future patients
don't forget a call-to-action
give them a reason to stick around
use teasers to hook your audience in the first three seconds
use colors that appeal to the emotions you are trying to convey
use relevant keywords (to increase the chances of showing up on search results)
Here are some marketing ideas you can try:
1. How-to videos 
There are procedures that can be quite hard to explain through texts, but through videos, you can personally show your prospective customers how each procedure works, what they should expect to happen, as well as things to do to prepare their pets before an appointment.
2. Q&A
If you notice that you are getting the same questions over and over again, why not answer those through a Q&A video? It'll add a personal touch to your marketing strategy. Aside from that, you can use it as an opportunity to address questions and concerns from your potential customers.
3. Clinic tour
You could also post a virtual tour around your vet clinic. This helps your potential customers make an impression on your brand because it gives them an idea that your clinic is capable of treating their pets. So, if you have state-of-the-art facilities, you could highlight those on your video as it can be your selling point.
4. Behind-the-scenes
Behind-the-scenes videos are one way of humanizing your brand as they give your prospective customers an idea of how your staff treats your patients. In addition to that, it gives you an opportunity to show your top-notch services and build trust with potential customers who are in the process of getting to know more about your brand.
So, if you are looking for a way to personally connect to your target audience, then, you should definitely try marketing your veterinary practice through videos!
8. Web design
When most people encounter a website that has an outdated and cluttered layout, they will start to question if that website is from a legit brand. What's worse is that it increases the chances of them looking at other websites instead. The reason behind those actions is that 75% of users set their first impression about a company's credibility based on the visual design of its website.
Having a good web design matters because it plays a role in nurturing leads and getting more conversions to your veterinary website. So, if you want your page visitors to stay longer and perform actions on your site, here are some reminders:
Each page should have a purpose.

Your website should address the concerns of your target audience. Before you create a design, you should be able to identify its purpose (e.g. generating leads, establishing your expertise, or building your reputation).

It should be aesthetically pleasing.

Keep your veterinarian website simple
Avoid wordy paragraphs (max. 3 sentences).
There should be consistency when it comes to the colors, images, as well as fonts used.
Readability level should be Grade 8 or below.

 Hemingway Editor can help you determine the readability level of your content along with the highlighted suggestions to improve your sentence structures.

Provide relevant content.

A combination of a good web design and great content has the ability to attract potential customers to your veterinary clinic. Not only that, but it also positions you as a reliable source of information when it comes to treating pets. That's why you have to make sure that you're providing relevant and useful content to your audience to increase their chances of wanting to engage with your brand.

Navigation should be simple.

Navigating your veterinary website shouldn't be complicated for each user.
Make sure to remove elements that aren't that useful and place call-to-actions where they can be easily seen.
Keep skimmers in mind. Use headings to divide your content into sections, making it easier for your page visitors to find the information they are looking for.
Key takeaway
Digital marketing for veterinarians is a great way to improve your brand's online presence. Using the right tools and strategies increases the chances of reaching your campaign marketing goals. If you need help with your veterinary clinic's digital marketing strategy, feel free to consult with our experts, Schedule A Free Strategy Session Today!