Google Ads for Veterinarians is one of the most efficient ways to bring in more clients to your veterinary clinic! When trying to reach new clients, using Google Ads will help your business be seen by as many relevant local pet owners as possible, looking for your products and services. In this article, you will be taught how to create your own Google Ads for Veterinarians, and how to optimize your ad to achieve the best results!
Google Ads for Veterinarians
1. What Are Google Ads?
Google Ads are online ads that businesses pay for, to appear at the top of Google search pages. Using this online platform will help you reach the right people who search for keywords that match the keywords your products or services offer. For example: when searching for the keywords "veterinarian pet exam", it triggered a Google ad offering this specific service to show up at the top of Google's search results page.

2. Why Google Ads for Veterinarians?
Google Ads uses the PPC or Pay-Per-Click system, meaning that you only pay for your Google ads when someone clicks on your ad.
The reason Google Ads for Veterinarians can be so powerful is that there is always a buyer's intent behind specific keywords. Google Ads allows you to target potential clients based on keywords, locations, demographics, and more. When using Google Ads, keywords are valuable because you will be able to reach people who are searching for what you are offering at that very moment.
Unlike social media sites, Google Ads are intentional. Someone who searches "local veterinarians" is probably someone who is in need of a Veterinarian for their animal as soon as possible.
On social media sites like Facebook or Instagram, your clinic's ads may randomly pop up for users. They likely won't buy the product or service that your ad is offering them, because they may not have specifically set out to look or search for a veterinarian.
With Google Ads for Veterinary practices, you can customize your ads to show up only to those looking for veterinarians, and by optimizing your Google Ads campaign performance you can experience the greatest return on investment.
Do Google Ads sound like a great idea but you just don't have time as a Veterinarian?
3. Creating a Google Ads Account
To start your Google Ads for Veterinarians campaign you first need to sign up with your email and create an account on ads.google.com. Then click on Start now.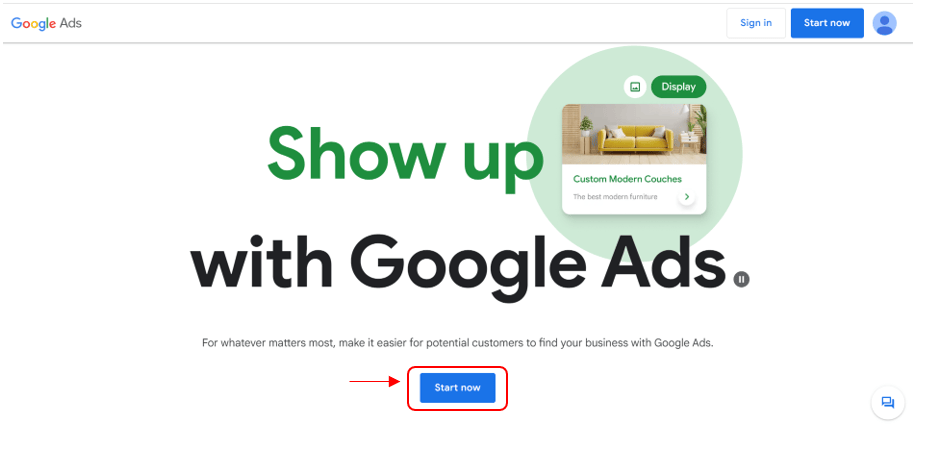 4. Creating a Campaign for Your Google Ads for Vets
When you are finally logged in to your Google Ads account, select "+ New campaign".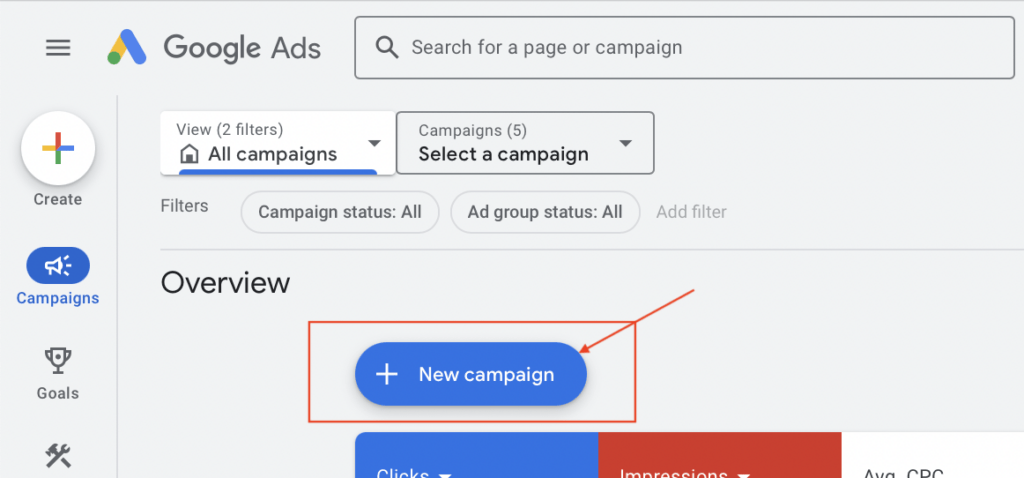 4.1 Campaign Settings
After clicking on +new campaign, you will be asked to select your campaign objective. Select "Create an account without a campaign". Using this campaign objective will allow you to focus on creating your Google ads campaign step by step, and will allow for more control over your ad and specific target goals.
4.2 Campaign Type
Next, select the campaign type for your ad. If you are a beginner at creating and managing Google Ads, it is strongly recommended to select Search type because we want to target potential audiences who are actively searching for your products or services.
Then you want to skip the results that you want to get section and name your campaign before clicking continue. For this Google Ads for Veterinarians, we will name our campaign Los Angeles Veterinarian.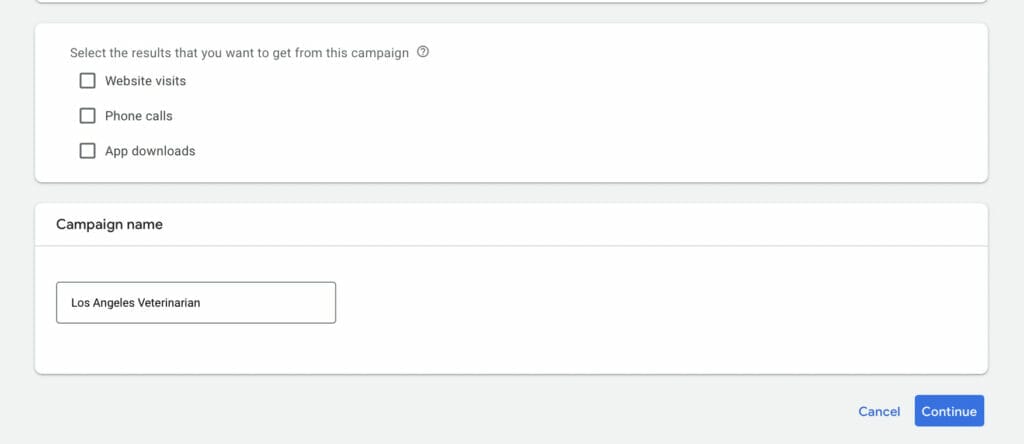 Want us to take over your campaign from here?
4.3 Network Settings
For network settings, don't select any of the options available. This will ensure that your Google ads for veterinarians will only show up on Google search results when people are actively looking for a vet clinic like yours, or for products or services your ad is advertising. This will also help you avoid using your ad spending budget on irrelevant clicks that will not translate to high-quality leads and conversions.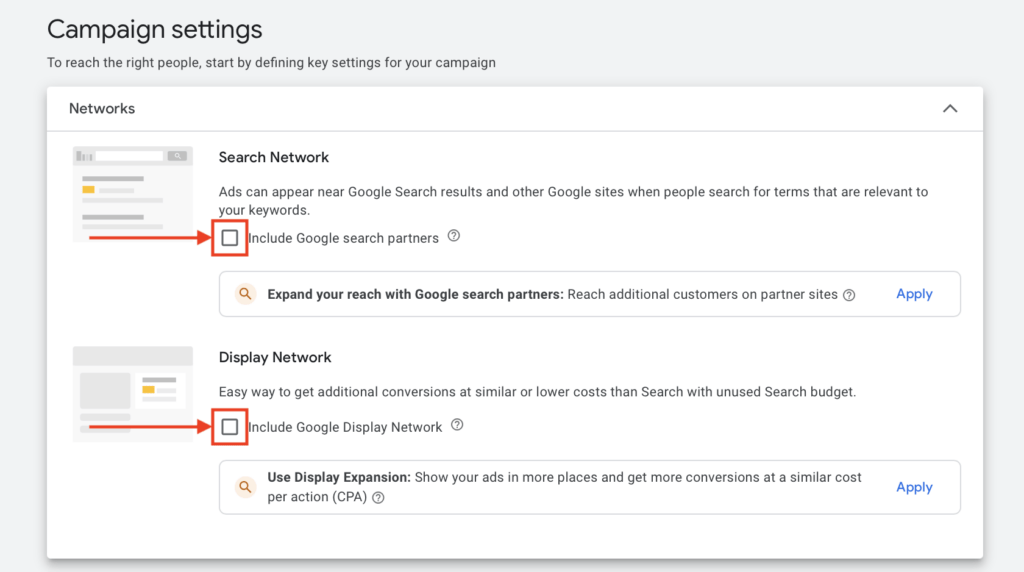 4.4 Location & Language Settings
For location settings, select the city and state of your business. It is important to note, that if you are a Veterinarian with more than one location for your practice, you will need to create two separate campaigns so that you can set as many different locations as needed.
In this guide example, we will select Los Angeles, California as our target location. When selecting location settings, make sure "presence or interest: people in, regularly in, or who've shown interest in your targeted locations" is selected. This will make sure that your ad will only show up on locations people are likely to travel from.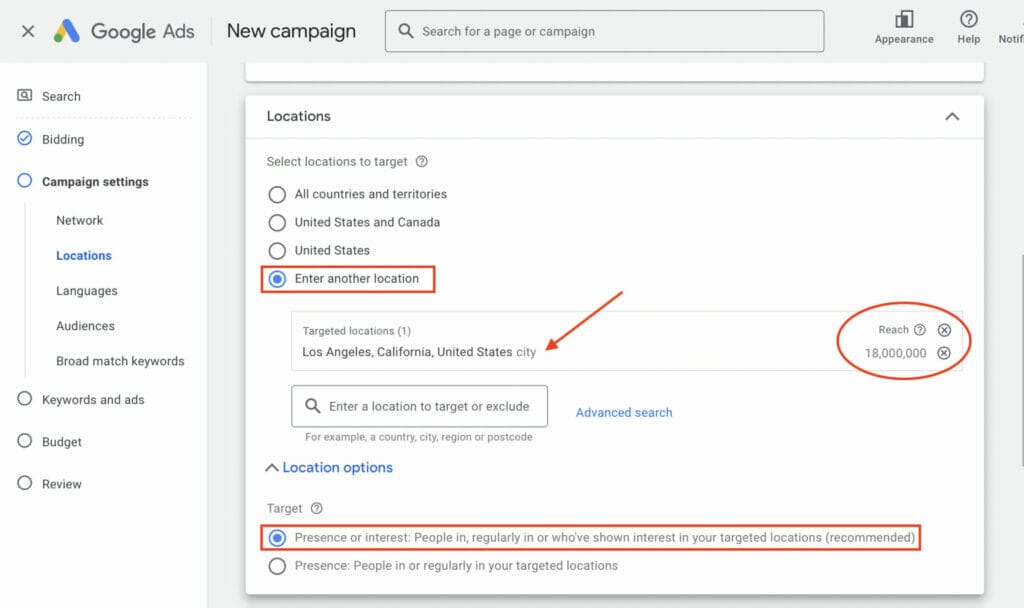 To further optimize your location settings, select advanced search then enter your veterinary clinic location information, and set it up using the radius feature with a 10 miles distance. You don't want to enter a radius setting higher than 15 miles, since many people may not be willing to travel that distance.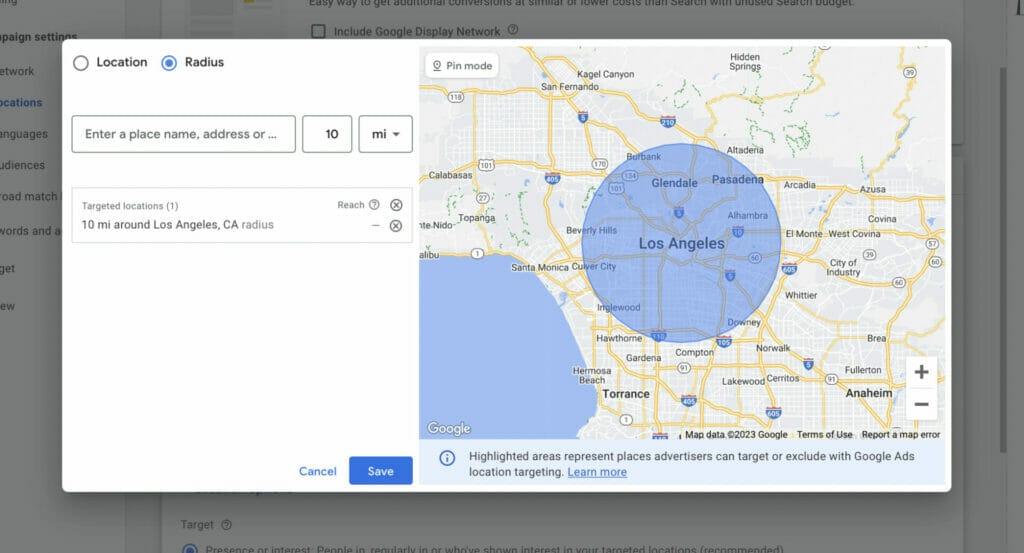 In your location settings, depending on your target goals for your Google Ads for Veterinarians campaign, implementing a location bidding strategy will help optimize your ad performance. You can do this by adjusting your location bidding to be lower the further it is from your medical practice area.
Need assistance implementing location bidding strategies?
Language
Next, select the language of your ad. This should be the language in which your veterinary clinic operates. If you want to add another language because you want to target a specific community that speaks that language, you will need to set up a different ad campaign. For this guide example, we will keep our ad in English.
5. Manual CPC
In this section, you will then need to enter your average daily budget or manual CPC (Cost-Per-Click) for your campaign.
It's important to understand that you should not enter a budget amount that's too low. This is because your ad may not perform the best it can to get the results you want, and with a very low budget, it won't provide you with measurable data insight to understand which keywords are performing the best for your Google ads for veterinarians.
For our Google Ads for Veterinarians campaign example, we will enter a daily budget of $50. Based on the budget you enter, you will get a mini breakdown of the expected performance on the right side of your screen. These are usually the weekly clicks, weekly costs, and average CPC you can expect from your budget, but keep in mind that these are just expected metrics.
These metrics could end up being higher or lower and they will still depend on how your Google ads actually perform, and the strategies you would have implemented when creating your ad campaign.

Need help setting a budget and bidding strategy?
6. Ad Assets
Next, you will be able to include ad assets. It is a great idea to add ad assets in order to boost your clickthrough rate by adding additional information to your ads.
Ad assets will help make your ad stand out, appear bigger, and increase the likelihood of people clicking on your ads. This will also help increase your quality score and have a good ad rank, while decreasing your cost-per-click, therefore increasing your profitability.
As a Veterinarian using Google Ads for your vet clinic, some of the most advantageous ad assets you can include can be sitelink ad assets and call assets.
Pet owners who are in search of a veterinarian may want to call an office directly rather than send a message and wait for a response, especially if the matter is urgent.
Sitelink ad assets can allow pet owners to access information much quicker, like in the example below:
Another important ad asset you can include is lead form assets. This will allow pet owners to agree to receive information about the services your Google Ads for Veterinarian offers.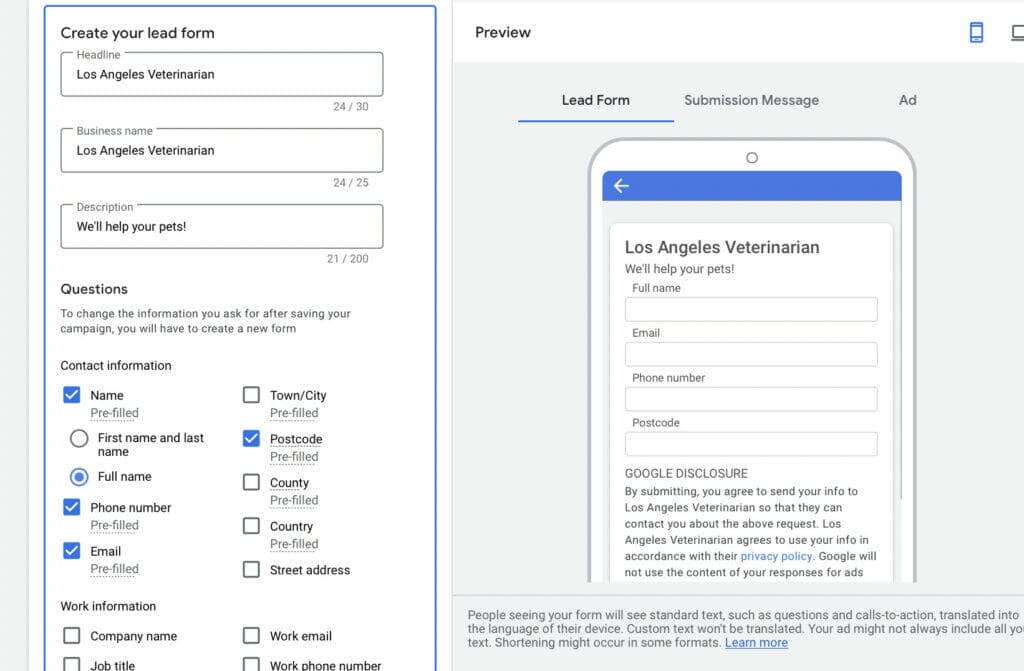 7. Ad Groups & Keywords
One of the most important features when creating your Google ads campaign is your ad groups & keywords. These are the key terms that will determine the words and ads that will be shown to people in relation to what people type into Google's search bar.
Since Veterinarians offer many different services you will want to create plenty of different ad groups with each having a specific theme. This is because when somebody types something into Google you want to give them an ad that relates as closely as possible to what they are searching for.
For example, if someone searches for "vaccinations for my cat", you want to show them an ad that is about vaccinations for cats. This will then lead them to a landing page on your website that is about cat vaccinations, therefore making your ads as customized as possible will be essential to get high-quality leads and conversions.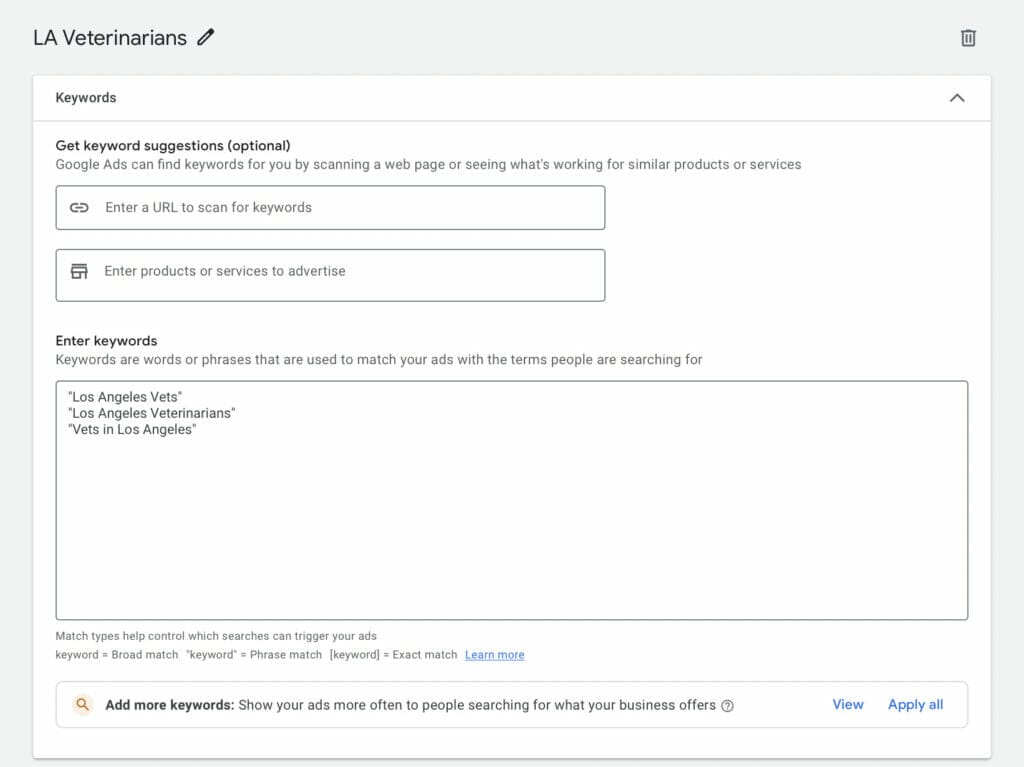 7.1 Keyword Match Types
There are differences in match types for your keywords including:

keyword=Broad Match

A broad match means Google will take that keyword and apply it to keywords that may be similar or relevant. For example, a keyword such as Veterinarians in Los Angeles may also pop up for Adoption in Los Angeles.

"keyword"=Phrase Match

A phrase match uses quotations around your keywords which means that the search keywords need to have that exact phrase in their search or something similar to that phrase. For instance, ads using the keywords "Google Ads for Veterinarians" may also show up for searches using the keywords "Google Ads for Veterinarians Guide".

[keyword]=Exact Match

When using exact match with your keywords you will need to include brackets around your keywords. Also when using exact match, the search terms need to have the exact phrase or something that is extremely similar. For instance, search terms [Google Ads for Veterinarians] will only show ads with the exact match keywords but may also show up when searching [Google Ads for Vets].
7.2 Keyword Planner
Another way you can add keywords to your ad groups is by utilizing Google's keyword planner feature. Using the keyword planner can provide you with insightful information on relevant keywords to the ones you already have in your ad.
These keywords from keyword planner will typically provide information such as their average monthly searches, if they are high or low competition keywords, and their highest and lowest top-of-page bids.
To use this feature just click on Discover new keywords from your Google ads account dashboard, under the keyword planner tab on the left side of your screen.
Then you want to enter specific keywords to help google give you keyword suggestions. For this guide example, we can use keywords such as LA vet, and Los Angeles vet.
When you click on get results, you will find all keyword suggestions that also show up on google searches. On the right side of the table, you can find keywords that are already in your google ads campaign. For instance, veterinarian los angeles is already in our ad group.
You can select which keywords you want to add to your ad group, and you can also select keywords you may want to add to your negative keyword list from these suggestions.
8. Landing Pages for Vet Clinics
Your landing page is the page you will send users to when they click on your Google Ads for Veterinarians campaign. Your landing page should have plenty of call-to-action buttons or other forms of CTAs to encourage a visitor convert into a customer, such as by booking an appointment.
Landing pages should also have a combination of key elements that will make them more effective at encouraging conversion from the website visitor. It's important that your landing pages address the user's fears and hopes, earn the user's trust through testimonials and trust indicators, and multiple points of interaction.
It's important to understand that straightforward, simple headlines and supporting copy will convert better than using creative titles. Keep in mind that your quality score (which is one of the features that help in getting a high ad rank) is affected by landing page ad relevance, so you want to make sure that keywords being used in your Google ads for veterinarians are also being used in your landing pages.
Let's have a look at this landing page example for a veterinary service:
At the top of this landing page, there is more than one point of interaction, which can be seen with the CTA Button at the top right of the corner to encourage calls and messages, and a short form for the user to fill in with basic information and their main concern or question.
This landing page also uses the main keyword in the title, along with Unique Selling Propositions (USP) and Key Benefits that make them stand out from their competitors.
As we scroll down the landing page, it utilizes a hero shot of the owner of the veterinary practice, which visually communicates how hands-on the owner is in providing veterinary services for its customers.
At the end of this landing page, it once again uses a CTA button to encourage the website visitor to convert by taking the next step of either calling or texting for this practice's services.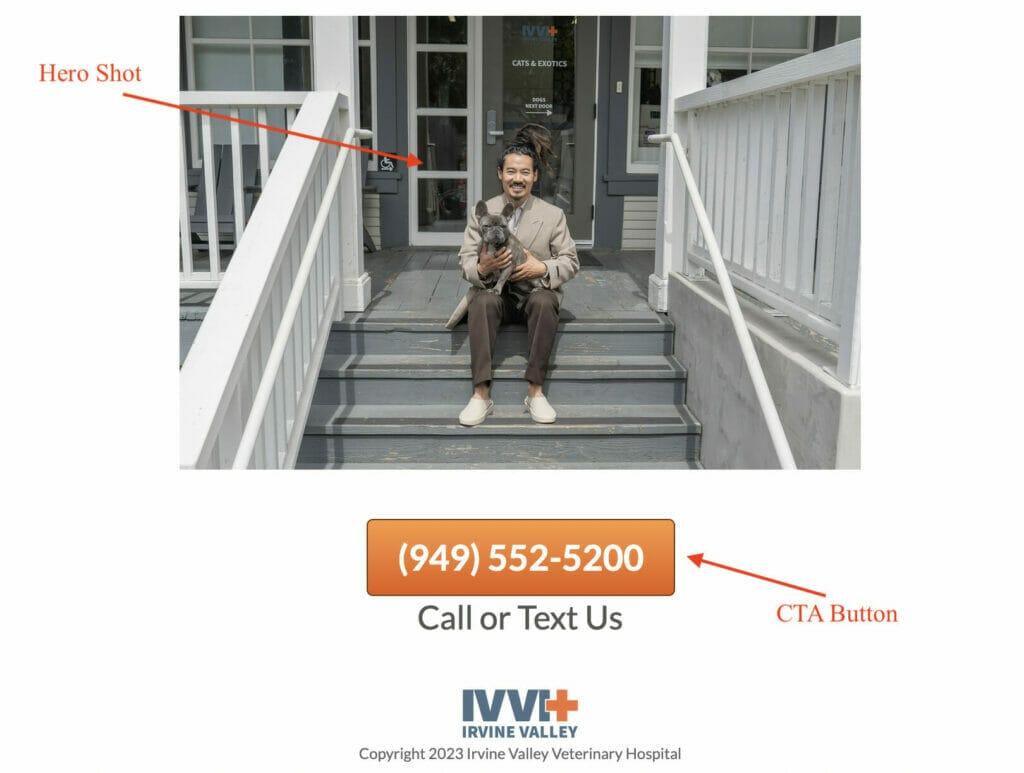 One key element that would help improve this landing page, is by having social proof or testimonials from previous customers about their services and experience with them.
Responding to your leads as soon as possible will be very important to not lose them. Some may have emergencies and may call other Veterinarian facilities to see who will see their pet first.
Do you need help optimizing your landing pages? Our friendly team of experts can help!
9. Creating Google Ads
for Veterinarians
Finally, you will need to create your ads. This is what people will see when they type in your keywords.
9.1 Final URL and Display Path
You will need to fill out the Final URL, Display path, headlines, and descriptions. Google Ads will ask you to fill out multiple headlines but Google only shows a maximum of 3 headlines at a time per ad. Make sure to include at least 3 headlines so your ad will take up as much space as possible.
The first section you need to fill out is the final URL and the display path. The final URL will be displayed to people but it's not necessarily the URL that they will go to when people click on it. The strategy with the final URL and the display path is to use terms that match your keywords for that ad group.

9.2 Headlines
The headlines of your ad campaign should match closely with your keywords, and these should be eye-catching and straightforward. You can have as many as 15 headlines for your ad at no additional cost, but for our Google ads for veterinarians, we will focus on 3 headlines.
9.3 Descriptions
Then with the description section of your Google ads, make sure you use all or almost all the characters that Google allows you. Google allows 90 characters per description. This will help make your ad as large as possible, making people more susceptible to clicking on your ad.
You can even include key benefits in your descriptions or special offers such as "First Exam Free" and "Pet Insurance Accepted" to attract potential customers to click on your ad.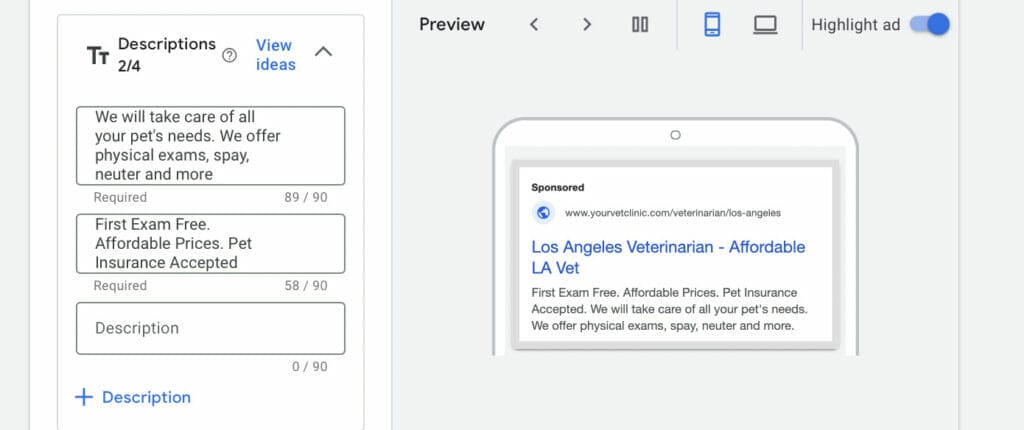 Setting up at least 3 ads per ad group is highly recommended because it allows Google to rotate your ads. This will provide you with data in your Google Ads Account so that you are able to compare which ad is doing the best in your Google Ads for Veterinarians campaign, and which keywords are performing better than others.
An example of what the ads will look like on mobile devices and desktops will then be shown to you on the right side of your screen as you add all your key information.
When you have created your Google ads campaign, you will be able to see a preview of what your ad will look like on Google's search result pages, which should include all your key information and any ad assets you included.
After creating and finalizing your ads, Google will ask you for your payment information. This is where you will be charged for the clicks you are getting through Google Ads. Fill out accordingly.
Google will not run your ads immediately after you are done setting them up because Google will need to approve them first to make sure your ads do not violate any of their guidelines.
Once your ads are approved, they will start running. It may take a couple of days before you receive approval, but if you do not hear back from Google, it is best to reach out to a Google representative for assistance.
10. What To Look For After Your Ads Are Running
With Google Ads, you want to monitor how your ads are performing on a regular basis to understand what is performing well, and what isn't performing well so that you can continuously optimize it.
10.1 Negative Keywords
One way you can optimize your Google ads campaign is by checking which keywords are performing well and by implementing negative keywords.
If there are any keywords you don't what your ad to show up for, add those keywords to your Negative Keywords list.
For example, for your Google Ads for Veterinarians campaign, you may want to avoid your ad showing up for keywords such as "adoption", "boarding", and "doggy daycare". These are services that most Veterinary Practices do NOT offer.
You can do this by going back to your Google Ads Account, selecting search keywords on the left side of your dashboard, and clicking on +negative keywords.
Then, add the negative keywords you don't want your ad to show up to.
Once you click save, your negative keywords will be added to your ad group.

Having negative keywords will help you save money by avoiding ad spending on clicks that will not translate to leads and conversions. This feature will also help target the appropriate audience for your veterinary clinic.
11. Conclusion
Understanding and knowing how to use Google Ads as part of your marketing strategy for your veterinary practice will definitely help you stand out from your local competitors and bring you more website traffic and customers.
Google Ads is an online marketing strategy that will need continuous optimization. This in return will improve the results of your Google ads campaign over time, providing you with the right target audience for your business, an increase in high-quality leads and conversions, and the likelihood to experience a high ROI or return on investment!
Want to see how we helped an Irvine Practice gain 26 new patients through Google Ads?
The exact method translates to your practice and Google Ads for Veterinarians too (we've done it before)! Read more about it here.