Google Ads for Veterinarians is an efficient way to bring in more clients to your office! When trying to reach new clients using Google Ads your message must be seen by as many relevant local pet owners as possible. This article will teach you about how Google Ads are the best way to achieve this and how to create Google Ads.
What Are Google Ads?
Google Ads are ads that businesses pay for to appear on the top of Google search listing. Google Ads reach people when they search for keywords that match the keywords your products or services offer. For example: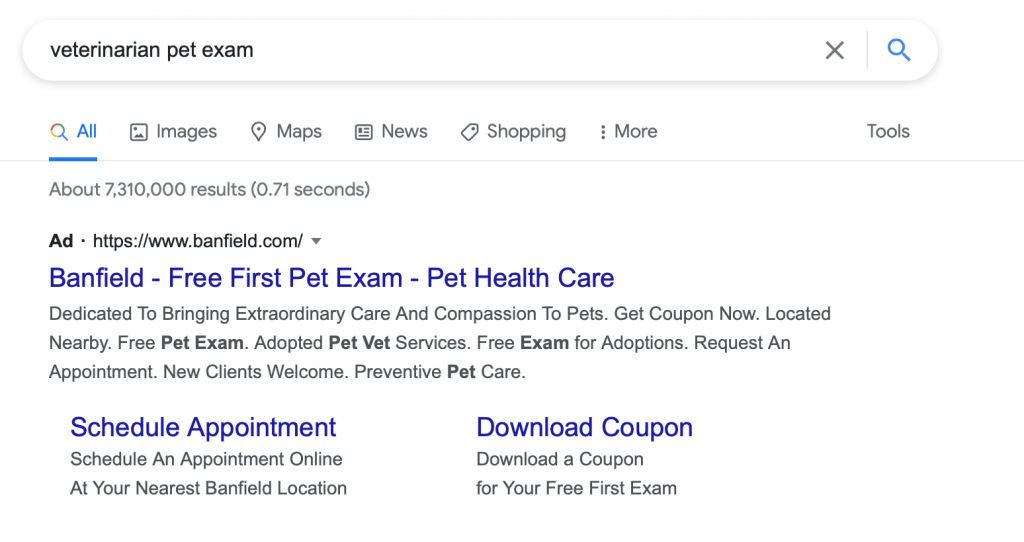 When utilizing Google Ads the business only pays for the ad when the ad is clicked on.
A key benefit of Google Ads is that you can set a budget for how much money you wish to spend on the individual paid ads.
Why Google Ads for Veterinarians?
The reason that Google Ads for Veterinarians are so powerful, is that there is buyers' intent behind specific keywords. Google Ads allows you to target potential clients based on city, zip code, etc near your clinic.
Unlike social media sites, Google Ads are intentional. Someone who searches "local veterinarians" is probably someone who is in need of a Veterinarian for their animal as soon as possible.
On social media sites like Facebook or Instagram, your clinic's ads may randomly pop up for users. They will likely not buy the product or service that your ad is offering them. This is because they did not specifically set out to look/search for a veterinarian.
When using Google Ads, keywords are valuable so you can put your product or service in front of people who are searching for what you are offering. Google Ads allow you to connect with people who at that very moment, are in need of the veterinary services you are offering.
Using Google Ads for Veterinary practices delivers the greatest return on investment.
You can customize your ads to make sure that your ads won't show up for someone who is not looking for a veterinarian.
Do Google Ads sound like a great idea but you just don't have time as a Veterinarian?
Creating a Google Ads Account For Your Vet Clinic
To start your Google Ads for Veterinarians campaign you first need to have a Gmail account. If you need to create one you can do so by visiting ads.google.com.
You will then need to click the blue button that says "Start now".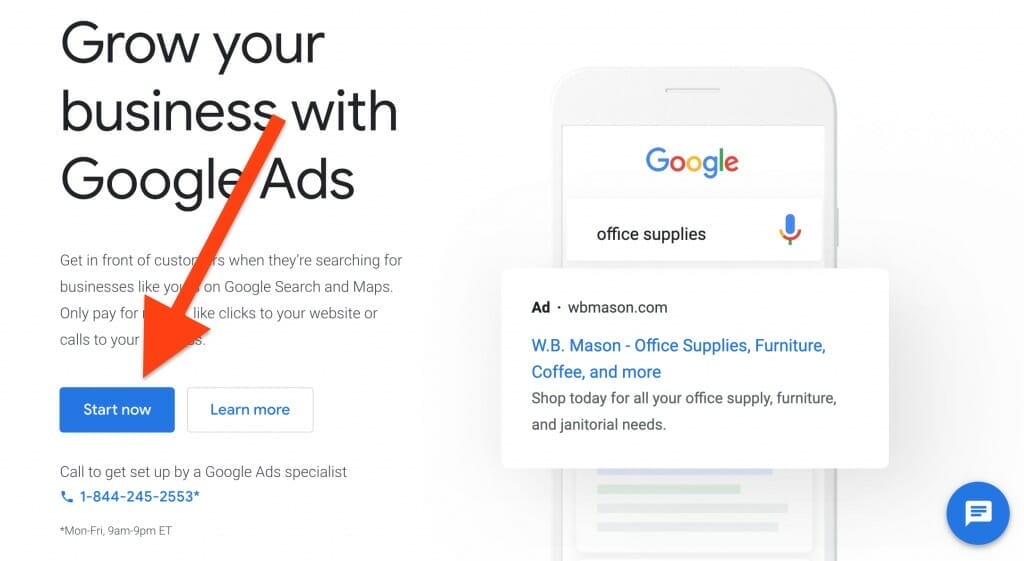 You will be redirected to a page that is asking you "What's your main advertising goal?"
Here you will need to select the blue words on the bottom of the screen that says "Switch to Expert Mode".
We use Expert Mode because the normal mode is very limiting and hinders the effectiveness of your ads.
After switching to Expert Mode, Google Ads will ask you to select a goal that would make your campaign successful.
Here, you will want to select the blue words "Create an account without a campaign."
This will allow you to bypass creating your ad campaign at that moment. For now, we want to focus on creating your account.
On the next screen, you will be prompted to fill out your Business Information, fill out appropriately and click the blue "Submit" button.
Congratulations! You have completed creating your Google Ads account. You are now ready to start your campaign.
Creating a Campaign for Your Google Ads for Veterinarians
Starting from the last page, you will want to select the blue button that reads "Explore Your Account".
Next, select the plus sign that says "New Campaign".
In your campaign, you are able to set and manage your budget and location.
After selecting "New Campaign" you will be asked to choose a goal to make this campaign successful. Select the appropriate option for your business.
Goal
For this example, we will select "Create a campaign without a goal's guidance".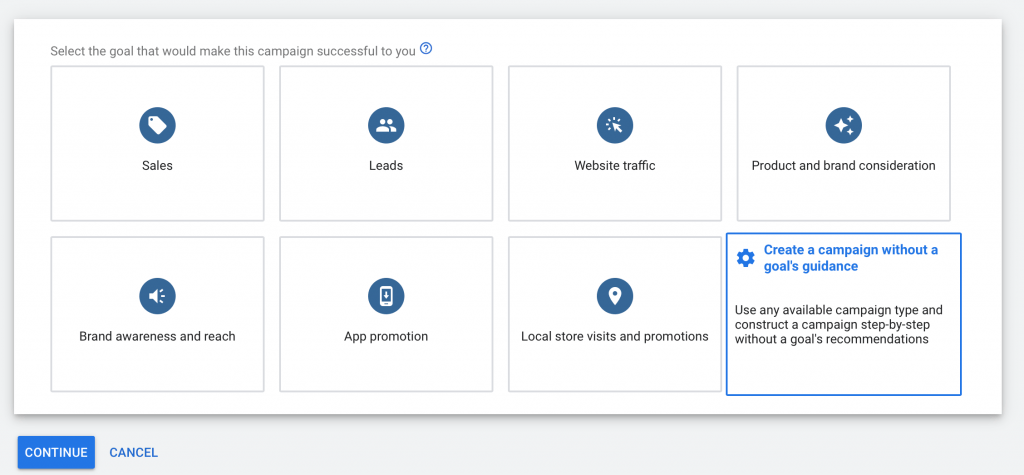 Campaign Type
After you have done that, you will need to select a campaign type. Select the best option for your business. Since you have chosen to go the route of Google Ads for Veterinarians, Search Ads would be best.
Next, you will need to select the results that you want to get from your campaign.
This will be different, you may quantify the success of your Google Ads for Veterinarians campaign strictly by web site visits and phone calls and press "Continue".
Want us to take over your campaign from here?
Next, you can set up to start tracking conversions in which you will need to install the tracking code on your website. You will receive instructions in your Gmail to do so.
Select, "Continue."
Campaign Name
After selecting "Continue", you will need to name your Google Ads for Veterinarians campaign and choose your Network.
For Network, select "Search Networks" only. This will only allow your Google Ads for Veterinarians to pop up for Google Search Results and other Google sites when people search for terms that are relevant to your keywords.
Target & Audiences
Next, you will need to select your target and audience for your ads. In this case, you will select the city and state of your business and practice.
It is important as a Veterinarian with more than one location for your practice, that you will need to create two separate campaigns so that you can set as many different locations as needed.
You will be able to modify your target and location more narrowly in the dropdown "Location Options".
Language
Next, you can select the languages of your ads and will be given the option to modify your audiences, but we recommend leaving the Audience section as is.
Budget & Bidding for Vets
You will then need to set the budget and bidding for your ads.
Need help setting a budget and bidding strategy?
Ad Time & Ad Rotation
Next, you will be able to set your ad schedule. You will be able to pick times for your ads to run. As a veterinary office, it may be best to set your times around the opening and closing time of your facility so you have enough time to get back to any leads.

In regards to your ad rotation, we recommend selecting "Do Not Optimize: Rotate Ads Indefinitely". This means that the same amount will be spent on each ad group until you can analyze which ad is performing better for your campaign.
Then you will be able to adjust accordingly to the ad that is performing better.
Ad Extensions
Next, you will be able to add ad extensions. It is a great idea to add ad extensions in order to boost your clickthrough rate by adding additional information to your ads.
Evidence from tests that show the larger your ad is on the first page of the Google search listing page, the more likely people will be to click on your ads.
This will increase your click-through rate, increase your quality score while also decreasing your cost-per-click, and increasing your profitability.
As a Veterinarian using Google Ads for Veterinarians it may be best to include site link ad extensions and call extensions to your practice.
Pet owners who are in search of a veterinarian may want to call an office directly rather than send a message and wait for a response, especially if the matter is urgent.
Site link ad extensions can allow pet owners to access information much quicker. For example, "Pet Insurance", "Vet Services", and "Service Fees".
Another important Ad Extension is the Lead Form Extension. This will allow pet owners to agree to receive information about the services your Google Ads for Veterinarian offer.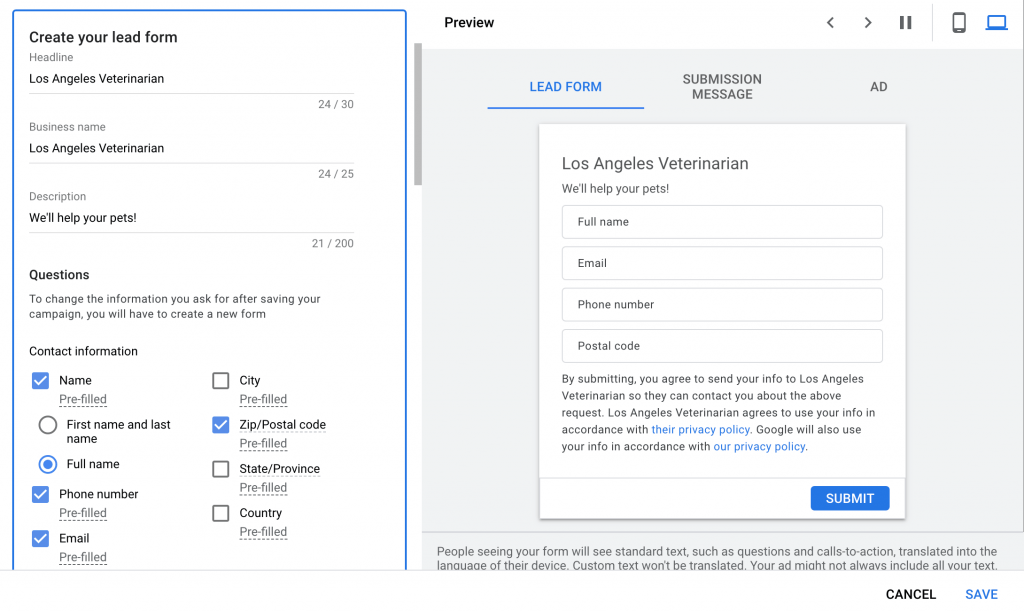 Ad Groups & Keywords
Next, you will be adding your Ad Group Name and keywords to your ads. These words are going to determine the words and ads that are going to be shown to people in relation to what people type into google.
Since Veterinarians offer many different services you will want to create plenty of different ad groups for your Google Ads for Veterinarians' campaign. This is because when somebody types something into Google you want to give them an ad that relates as closely as possible to what they typed into Google.
For example, if someone searches for "vaccinations for my cat", you want to show them an ad that is about vaccinations for cats. This will then lead them to a landing page on your website that is about cat vaccinations. You should make your ads are as customized as possible.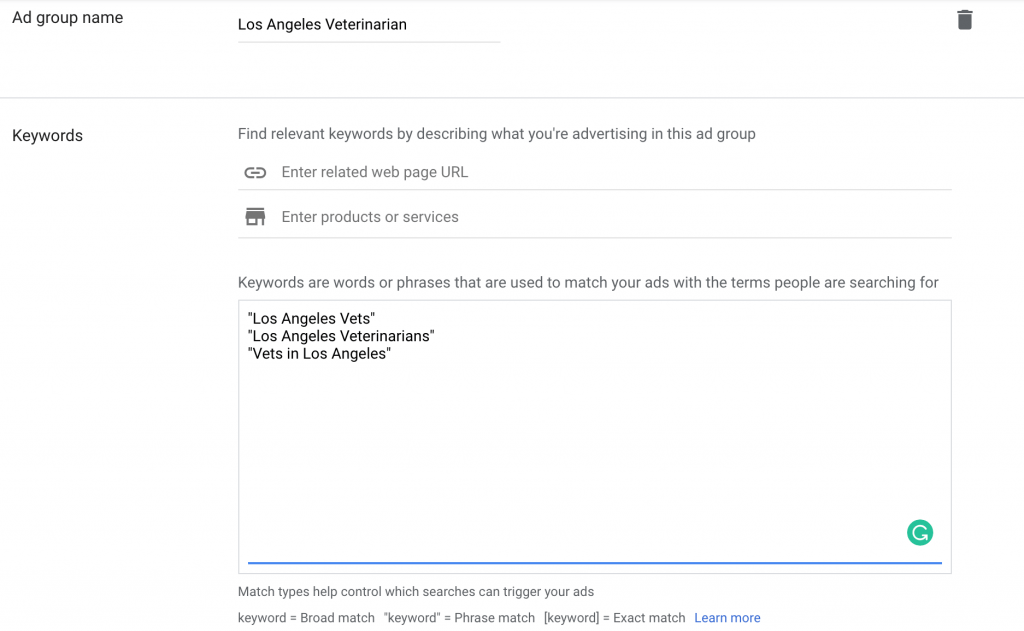 There are differences in match types for your keywords including:

keyword=Broad Match

A broad match means google will take that keyword and apply it o keywords that may be similar. For example, a keyword such as Veterinarians in Los Angeles may also pop up for Adoption in Los Angeles.

"keyword"=Phrase Match

A phrase match uses quotations around your keywords and means that the search Keywords need to have that exact phrase in their search but not necessarily only that phrase. For instance, ads using keywords "Google Ads for Veterinarians" may also show up for searches using keywords "Google Ads for Veterinarians Guide".

[keyword]=Exact Match

When using exact match with your keywords you will need to include brackets around your keywords. Also when using exact match, the search terms need to have the exact phrase for instance search terms [Google Ads for Veterinarians] will only show ads with the exact match keywords.
Landing Pages for Vet Clinics
Your landing page is the page you will send your Google Ads for Veterinarians clicks to. Your landing page should have a call to action that should in turn convert that click into a lead for you.
Your lead is someone who is going to be willing to provide you with their name, email, pet name and possibly their phone number in exchange for receiving information about your Veterinary practice.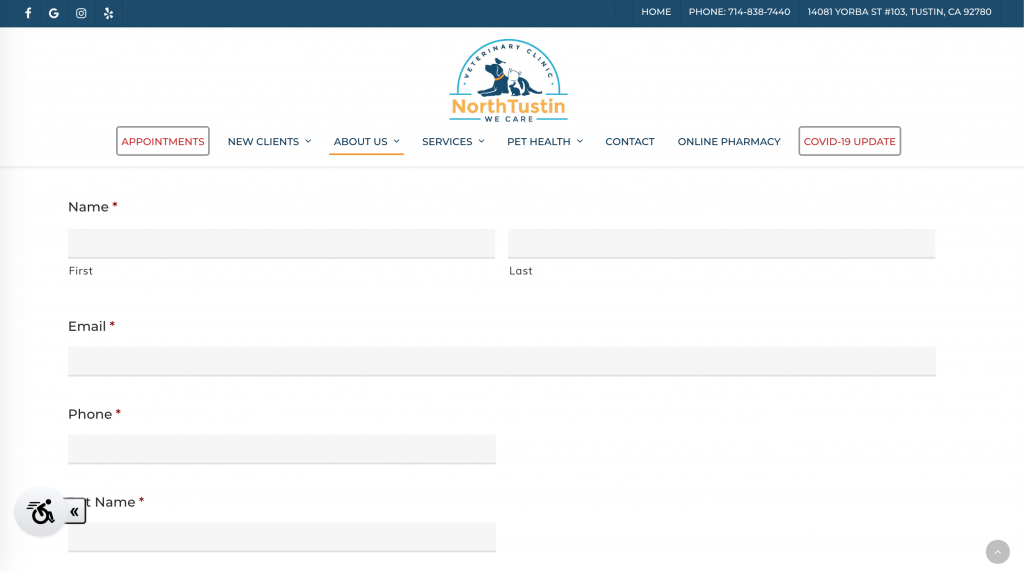 It is important to respond to your leads as soon as possible so you do not lose them. Some may have emergencies and maybe calling other Veterinarian facilities to see who will see their pet first.
Creating Your Ads
Finally, you will need to create your ads. This is what people will see when they type in your keywords.
You will need to fill out the Final URL, Display path, and two descriptions. Google Ads will ask you to fill out Multiple Headlines but Google only shows a maximum of 3 Headlines at a time per ad. Make sure to include at least 3 headlines so your ad will take up as much space as possible.
The Headlines should match closely with your keywords.
The display path is the URL that is displayed to people but is not necessarily the URL that will go to when people click on it.
The strategy with the URL is to make sure it also matches your keyword for that ad group. This will show Google that it is the most relevant. It will also give you a high-quality score, a better rank which will ultimately lead you to pay less money for your clicks.
Then with the description make sure you use all or almost all the characters that Google allows you. Google allows 90 characters per description. This will help make your ad as large as possible, which makes people more susceptible to clicking.
Adding numbers in your description will attract more clients.
Setting up at least 3 ads per ad group is highly recommended because it allows google to rotate your ads. This will provide you with data in your account so that you are able to compare which ad is doing the best in your Google Ads for Veterinarians campaign.
An example of what the ads will look like on mobile devices and desktops will then be shown to you.
If you choose to add ad extensions to your ads they will also be displayed in the preview image.

After creating and finalizing your ads, Google will ask you for your payment information. This is where you will be charged for the clicks you are getting through Google Ads. Fill out accordingly.
Google will not run your ads immediately after you are done setting them up.  Google will need to approve them first to make sure that your ads do not violate any of their guidelines.
Once your ads are approved, they will start running. It may take a couple of days before receiving approval, but if you do not hear back from Google, it is best to reach out to a Google representative for assistance.
What To Look For After Your Ads Are Running
With Google Ads, you want to monitor how your ads are performing on a regular basis.
Negative Keywords for Vet Clinics
You can go back into your Google Ads account and check what keywords your ads are showing up for.
If there are any keywords you don't what your ad to show up for, add those keywords to your Negative Keywords list.
For example, for your Google Ads for Veterinarians campaign, you may want to avoid your ad showing up for keywords such as "adoption", "boarding", "doggy daycare". These are services that most Veterinary Practices do NOT offer.
You can do this by going back to your Google Ads Account and Selecting the "Keywords" tab on the left bar.
Select, "Search Terms" on the left bar.
This will show you all the search terms that your ad has been shown for and clicked on.
To add words to the list of keywords to avoid. You will want to select "Negative Keywords" and click the blue plus sign.
You will then be able to enter all the keywords you wish to block your Google Ads for Veterinarians from showing up for in the box provided.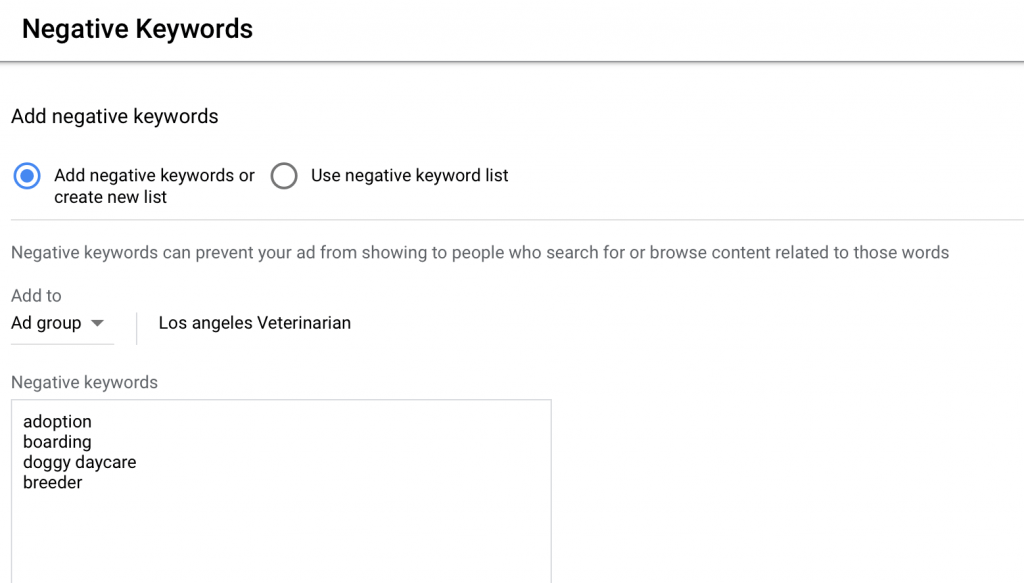 This will help you save money and really target the appropriate audience.
Want to see how we helped an Irvine Practice gain 26 new patients through Google Ads?
The exact method translates to your practice and Google Ads for Veterinarians too (we've done it before)! Read more about it here.