Did you know that having positive reviews can help you attract more patients to your orthodontic clinic? This is because 90% of consumers read online reviews before visiting a business. This customer feedback will not only benefit you but also future patients who are still thinking about where to book their next tooth appointment.
In this article, we'll teach you how to get reviews for orthodontists.
Online reviews for Orthodontists are opinions that are based on the experiences of previous patients. This is where your orthodontist clinic's reputation relies on. If it's a good one, sending a few words of gratitude is a good idea. But if it's a bad review, there's no need to panic, all you need to do is deal with it professionally.
Wondering how reviews affect your Orthodontist clinic? Here's why:
3 Reasons Why Reviews Are Important for Orthodontists
1. It increases trust in your Orthodontic Clinic
Customers always conduct an online search for clinic reviews before getting their teeth fixed. This is because they are more likely to trust a business that has a high number of positive reviews as it gives them the impression that scheduling an appointment with them is worthwhile or if ever they already have an Orthodontist in mind, they would still look for online reviews to validate if it's the right choice.
2. It boosts the number of scheduled appointments
When people see that there are a lot of positive reviews it gives them the assurance that the service that you provide is worth trying. Reviews are important as it serves as a reference to potential customers who are looking for orthodontists that provide excellent customer service.
3. Gives you an idea of what needs to be improved
Let's say that a patient left a review on how long they have to wait before they can set an appointment. Knowing about the experiences of your patients helps you determine what needs to be improved to satisfy their needs every time they visit your clinic. Responding to your patients' needs and feedback is important because that's one way to increase patient retention.
Here's an example of a review on Yelp:
On Yelp, you can upload a photo along with your post. What's good about this is that there's no character limit when sharing your experience. So, you can freely express what you want to say in accordance with Yelp's content guidelines. It also has a feature where other people can vote for the review you posted if they find it useful, funny, or cool.

Here's an example of a review on Google My Business:
In writing a Google My Business review, people can also add a rating to their experience, write their experience and choose a photo that goes along with it. When people find your review useful, there's a like option that they can click under your review.
Here's an example of a review on Health grades:
In Healthgrades, you can also rate your experience and tell others about your visit within 1000 characters. You could also include your name or just rate it anonymously. Healthgrades may require you to indicate your email but it will not appear in your review.
If a negative or fake review is posted, you could click the flag button on the upper right and Healthgrades will investigate and remove the post if it violates the community guidelines.
Interested in getting more reviews for your orthodontic clinic?
Tips on How to Get Reviews for Orthodontists
1. Make your patients happy
Of course, nothing beats excellent customer service. When patients are highly satisfied with the outcome of their tooth/dental appointment, they are more likely to leave a review. This is the very first thing that you should consider before looking for other ways to get reviews.
2. Establish your online presence
Before getting reviews, you must first build your online presence. Of course, it would be impossible for people to leave a review of your orthodontic clinic that isn't found online. Consider using orthodontist ads to rank higher on search results. So, setting up an account on some of these platforms should be the first step that you should do before asking for patient reviews to make it easier for the patients to leave a review about their experience.
It can be any of these platforms:
Google My Business profile like this one:
Haven't claimed your Google My Business listing yet? Read our guide How to Create Google My Business for Orthodontists to learn more.
Yelp Business profile: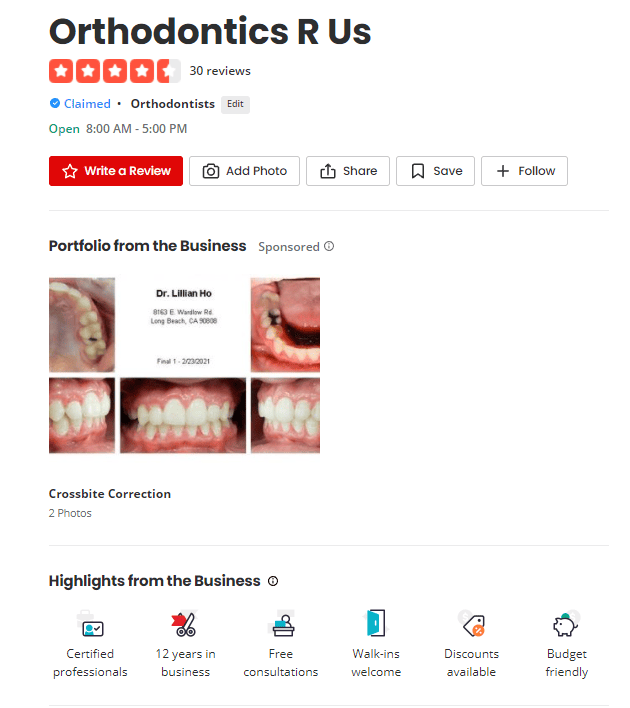 Facebook page:
and etc.
Also, learn more about how to use Instagram to market your orthodontist practice.
Need help establishing your online presence?
3. Encourage your dental patients to leave a review
Let's say you have a long-time patient and you just established your Google My Business profile. By inviting them to leave a review about their experience in getting their teeth fixed at your orthodontic clinic and letting them know how it would help your business to grow could be a stepping stone towards gaining a lot of reviews.
Just make sure to choose the right time when you invite them. For example, before seeing them out, when you see how satisfied they are after getting their teeth fixed, you may ask them stuff like "We'd love to hear your feedback from the treatment."
4. Respond to patient reviews
When people see that you are highly responsive when it comes to the reviews posted for your orthodontic clinic no matter how good or bad the review is, it also encourages and gives confidence to other customers to leave a review.
In fact, 53% of consumers expect a business to reply to customer reviews. Showing that you really care about patient satisfaction also helps in growing the number of patients in your orthodontist clinic.
Dealing with negative reviews for orthodontists
Even though you think that you're doing a good job, there are still people out there who are not satisfied with the service you provide. Most businesses don't usually respond when they get a negative review. So if you want to show that you really care about the welfare of your patients, replying to reviews can put your orthodontic clinic at an advantage.
If ever you encounter a negative review from a patient, keep in mind that you must not take it personally. Instead, deal with it appropriately, because potential customers also base their decisions on the way you deal with these kinds of situations.
Here are some of the things that you should remember when responding to negative reviews:
Don't let your personal feelings get in the way
A bad review may trigger you to respond irrationally but instead, stay calm and let the customer know that you acknowledge them for addressing their concern and apologize for the inconvenience. Then, ask the customer what has caused them to leave negative feedback.  
Acknowledge their situation
Saying things like "We are sorry that you have experienced that… could you tell us how it happened?" or "Thank you for bringing this to our attention…" can help them know that you are not ignoring their concern.
Sometimes, listening to them is the key to resolving the issue. You can try reaching out to them through email or a phone call to get things clear and settled. From there, allow them to explain the situation. Dealing with it this way can help them feel that they are not being neglected.
Empathizing with customers who have a not-so-good experience with your business helps you understand their situation and see it from another perspective. Letting these kinds of customers know that you genuinely care about them, might help turn the negative review into a positive one.
Take necessary action
If the bad review was due to poor service, talk to your team and remind them of the goal of providing high-quality service to patients as the number one priority in your orthodontic clinic.
Then, give the customer the assurance that it won't happen again After you have solved the issue with the customer, you can post a photo or reply under the review that the issue that was raised is already resolved. This way, page visitors will see that you have already dealt with the issue. Therefore your clinic's reputation will not be affected by the negative review.
Want to learn more about how to handle negative reviews?
Schedule A Free Strategy Session!
Key takeaway
No matter how good or bad the review you receive for your Orthodontist services is, make sure to hear out customer feedback. Paying attention to these will not only help you retain your customers but will also increase the chance of getting more customers. So make sure to handle it appropriately and learn from the mistakes (if there are any), because it happens once in a while in any kind of business.