Instagram continues to roll out tools to help business owners succeed on the platform. So if you haven't yet, it's not too late to join Instagram. Learn about making a striking Instagram for Orthodontists and the ultimate guide to orthodontic marketing.
Instagram is already a popular social media platform. It's so powerful and massive that it can be an effective marketing tool for your practice.
On Instagram, you can create a business account by just creating a personal account. All you need to do is convert it after.
You just have to remember that high-quality photos are key. Also, you need to respond to comments and use hashtags wisely to get the most out of Instagram.
This article is intended for orthodontists and small business owners who are interested in learning how to use Instagram for business.
Can Instagram Help My Orthodontic Practice
Starting an orthodontic practice typically costs between 300 thousand dollars and 500 hundred thousand dollars without the purchase of a office. To make things harder, obtaining financing is much more difficult than ever before. With increased competition and a downturn in the market, it would be extremely challenging to make a business in this particular practice work.
You would need all the tricks and techniques you can use to make the most of your money and get your practice off the ground.
The Instagram platform can help you with your business —from gathering insights to selling products. Any business can use Instagram to promote its products and services. It is a tool to build your brand, and increase sales with the right marketing strategy.
Are Orthodontists In High Demand?
What is the job outlook for orthodontists? According to the US Bureau of Labor Statistics, orthodontists' career prospects are expected to improve by 2% between 2019 and 2029.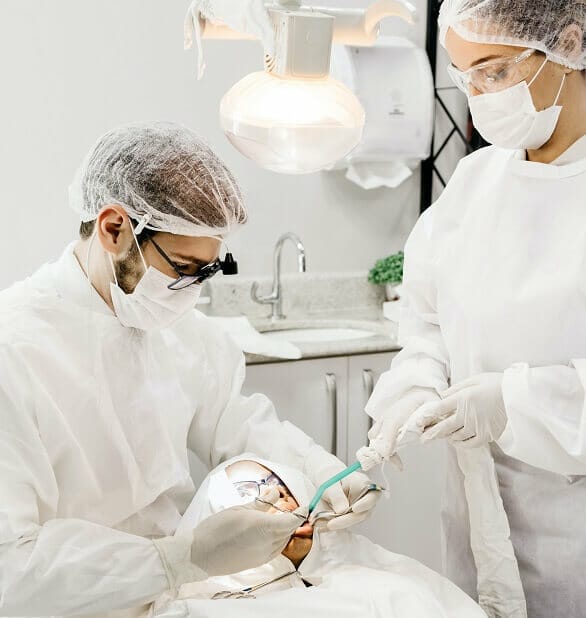 This also means that jobs such as dental assistants and hygienists are expected to grow by 10% to 11% on average between 2019 and 2029.
How Can I Promote My Orthodontic Practice?
It's not easy to expand your orthodontic practice. Especially when you only have a limited amount of time to market yourself.
The orthodontics market is extremely competitive. This means a strong web presence might help to secure commercial success. If you think you need some help, an expert can assist you in developing your orthodontics brand. A marketing specialist like YoYoFuMedia can help build your brand and online reputation.
Do You Want to Build or Strengthen Your Brand?
You will not need to lower your fees to attract new patients if you use the correct mix of orthodontic marketing methods.
Best Digital Marketing Ideas For Orthodontists
Here are the seven best digital marketing ideas for orthodontists you can apply to generate more patient conversions through efficient orthodontic advertising.
Website
Content Marketing
Online Reputation
Email Marketing
PPC
Local SEO
Social Media Community
Website
Making a well-designed website makes a lot of sense for any business. Especially, that it will be the first point of contact for 70% of your new patients. You have to remember to constantly improve your website's user experience with these 2 important things:
Reducing load times. You need to know that reducing load times help you make a positive first impression.
Mobile-friendly. There are currently 6.648 billion smartphone users in the world, it's critical to make sure your website is mobile-friendly in order to support local searches.
Content Marketing
Creating dynamic and engaging original content can add value to your potential and current patients. Don't like writing? Well, You might want to start now.
This is because one of the most efficient marketing methods for orthodontics is to have a regularly updated blog. Your website's blog pieces and FAQs will distinguish you as an industry authority. It aids in the development of trust with your orthodontic patients.
Online Reputation
Speaking of trust, let's talk about how important online reputation is. Before choosing a new healthcare provider, 77 percent of patients look for reviews online. If it was you, you'll also be reading reviews. You can use your current patients and use them to sell to new and potential patients.
Including it into your checkout process will allow your patients to speak for themselves. You can also send out an email with a review link. It's possible that your reputation will aid in the development of the local audience's trust.
Email Marketing
Now that we've mentioned email, it's time to learn about a few email marketing strategies for orthodontists like you.
Email marketing has existed for decades. It could really do you some good to adopt innovative strategies to grow your email list. You can make use of marketing services that can help you streamline your sales funnel. You can use an automated platform to send out reminders and important information through Email.
PPC
Aside from email marketing, PPC marketing can help you boost your business. Any expert will tell you that SEO takes a lot of patience and effort to develop. In this case, PPC is a more direct and faster approach to generating leads and impressions.
A well-executed ad campaign may increase traffic to your website in a matter of minutes. The success of your paid advertising depends on proper keyword research and ad placement.
Local Search engine optimization (SEO)
PPC may not be the best for everyone. First of all, you need a sound budget. If this is the case for you, SEO is pret-ty good option.
SEO is an important part of digital marketing for many orthodontic marketing organizations. In their organic search, 67 percent of potential new patients never go past the first page. You may gain an advantage over your competitors by ranking higher for certain orthodontic keywords.
For your SEO, experts can assist you in conducting successful keyword research.
Need some help with SEO?
Social Media Community
Social media marketing is a fantastic approach to enhancing your connections with new and current patients. Contributing to and replying to interesting posts will enhance your conversion rates. This is because it is key to increasing impressions and leads.
Tips To Maximize Your Orthodontic Practice's Social Media Activity
It's no secret that your orthodontic practice's social media presence is one of the most important marketing tools you have.
However, coming up with the right ideas and putting them on Facebook, TikTok, or Instagram can be difficult. But if you hack it right, there are unique social media ideas for orthodontists like you.
Social Media For Orthodontists
Let's find out social media marketing strategies for orthodontists. For one, you can join in on the latest social media for orthodontist trends. You can even start doing some dancing! Here are some tips to maximize your orthodontic practice's social media activity.
Be updated with the latest trends
TikTok has paved the way for a lot of dance trends. And before you say "I'm too old for that nonsense" there are actually lots of people from the…erm…older generation getting quite a following on TikTok for showing their dance moves.
And when it comes to someone in the field of orthodontics, you can also check out Dr. Ben Winters, "The Bentist" on TikTok.
He has 11.6M followers on TikTok, 2.65M subscribers on Youtube, and 1.1M followers on Instagram.
Give out some freebies!
You can also have a free braces giveaway if you want to generate some publicity for your practice. Make sure that everyone who did not win receives a second-place award. This allows you to enjoy the offer while also making everyone else feel valued.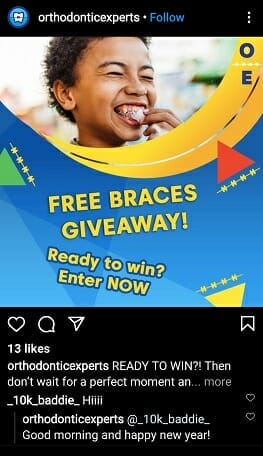 Your giveaway does not, however, have to be tied to braces all the time. You can give away anything that has nothing to do with orthodontic treatment. You can take a break talking about orthodontics. Think about giving away something that anyone —even you— would possibly like. Don't be surprised to find yourself in front of a lot of new potential patients.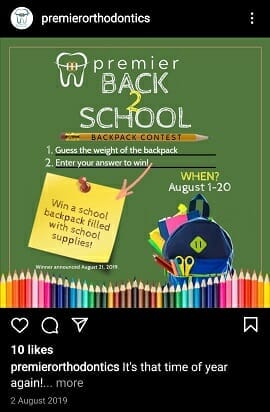 Social Media Marketing Strategies For Orthodontists
In terms of sales, leads, and branding, social media produces quantitative results. It won't be such a surprise that social media and orthodontics are a great mix.
So, are orthodontists in high demand? How do I promote my orthodontist?
You can post an image promoting your giveaway, sale, or contest. You can then invite people to enter by reposting it with a specific, personalized hashtag. Then, using that hashtag, you can see who has reposted it and choose a winner.
Gimmicks like these allow your clients and followers to promote your brand for you by sharing it on their personal accounts. This generates more traffic to your profile. If you do decide to hold a contest be sure you follow all of the rules and regulations.
Social media also allows a business to reach out to a big number of consumers at a minimal price. The worth of your brand is influenced by how many followers, shares, and reach (the number of people who have seen the post) you have.
Instagram For Orthodontists
Instagram is unrivaled when it comes to using photos and videos to market an Orthodontists' practice. The popular mobile app enables you to show a more personal side of your practice. Who likes boring and boring nowadays? Of course, this still means showing your audience that you are an expert in giving them their dream smile.
Using Instagram for orthodontists is your chance to connect with patients locally, and even network with industry leaders globally.
A lot of orthodontists out there may be hesitant to include Instagram in their marketing strategy. However, there are tons of reasons why getting your practice on Instagram could mean significant growth for your practice.
Can Instagram Help My Orthodontic Practice
Instagram offers a plethora of potential marketing tools. These are in the form of posts, ads, and stories. But before jumping into the abyss of this social media platform, you should know how to create your profile and understand common Instagram jargon.
Bio: The bio means biography. A part of your profile talking about your Instagram for orthodontists. As a business, you can use the bio to include a call to action.
Direct messages (DMs): Direct messages are also called DMs. Users can privately communicate with each other through DM's, so if a customer has a complaint or question, it's best practice to chat with them via direct message to keep the conversation private.
This is MUCH better than a mad customer ranting in your comments. Yikes!
Filters: Filters help enhance a photo's features and colors, especially since Instagram is all about photos and images.
Follow: When you follow another person on Instagram, you'll see the things they post on your timeline.
This also lets you see their Instagram Stories at the top of the app.
Followers: Followers are people who will see your pictures in their timelines.
Hashtag (#): When you click on a hashtag, you'll see other similar posts this is because it indexes words and phrases. You can throw in some "#" braces Instagram captions. You can also find influencers with braces, or give a huge discount to an influencer planning to have braces so you have exposure with their followers.
Highlights: A highlight reel of your Instagram Stories shows up on your profile above your photo gallery. Because it stays until you remove it, you can use this for promotions and updates.
Home: The Home screen is your timeline or feed. Here you'll find images from the people you've chosen to follow.
IG: IG is an abbreviation for Instagram.
Instagram handle: Your Instagram handle is your username. You must use a user's handle, which always begins with the @ sign, to mention them on Instagram.
Instagram Stories: One of the most popular features on the app is Instagram Stories. After 24 hours, these photos and videos vanish. Read on to learn more about Instagram Stories.
Tag: If you are collaborating with someone, you can tag them on Instagram on a caption of a photo, Instagram Stories, and photographs. All you need to do is use the @ symbol. This is also a great way to engage with your followers.
Can Instagram help my orthodontic practice? Let's take a look at the current Instagram user base. Here is the percentage of US adults who use Instagram now.
71 percent of those aged 18 to 29
30–49 years old makes up 48%
Those aged 65 and up make up 13%
How to grow on Instagram
Okay, so you're now sold on using Instagram. What's next? How do I promote my orthodontist expertise on IG?
If you are new to Instagram, we have come up with a guide that will help you get started. We'll walk you through the best practices when using the platform. If you're asking, "How can Instagram help my orthodontic practice?" Here's how.
To maximize Instagram for your business, interact with other users, use hashtags wisely, post quality photos, and use Stories.
But first, you need to create an account. Just follow these 4 easy steps:
Create your account for Instagram for Orthodontists
First, you need to download the Instagram app for your smartphone or tablet.
Next, click "Sign up."
Enter your email address. It's a good idea to use your business email. You can also use an email designated specifically for your business's social media accounts. You can also log in with your Facebook business account.
Choose a username and password.
Congratulations! You have now created a personal Instagram account that can be converted to a business profile. And it is as easy as 1-2…and that's it!
Convert your Instagram for Orthodontists account to a business profile
Press the three bars in the upper right-hand corner of the app.
Select Switch to business profile from the Settings menu.
It's also a good idea to link your Instagram for Orthodontists profile to your company's Facebook page. Include information about your company, such as your name, username, profile picture, website URL, and a brief biography.
Don't forget to add contact information so that your followers can get in touch with you.
Marketing Your Orthodontic Practice With Instagram
When you've got your Instagram for orthodontists account all set up, it's time to find out the best practices in marketing your orthodontic practice with Instagram.
Define your personal aesthetic.
Set a few standards for your Instagram account. This will help it to look a lot more professional. They also make it easy to create content —fast.
Create a list of postings that you can reuse. This can be a patient, hygienist, doctor of the month, office photos, or branded quotations.
Will you be employing filters?
Do you want to share everything on Facebook?
Establish a posting schedule that is consistent.
It's crucial to post on a regular basis to keep your followers interested.
To establish your practice and begin getting followers, strive to publish once a day. It can also be at least every other day when you first start off.
Engage with other Instagram users.
It's critical to engage and communicate with your Instagram followers. It is just important with any other social media network. Here's how to do it.
Like and comment.
Liking a post is a simple way for you to connect with other users. Double-tapping a photo or tapping the heart button beneath the post will be like it.
Next to the like button is a button that looks like a dialogue bubble. Tapping this brings you to the photo's comments page. This includes a text field where you can type whatever you like. When you're finished, click Post.
Imagine how your followers would feel about being noticed.
Incorporate polls and other interactive elements into your Stories.
Instagram has a lot of interactive features that you may utilize to start discussions and create relationships online. In Instagram Stories, for example, you can utilize the interactive questions sticker.
Followers can submit questions for you to answer using this feature. This is a simple and enjoyable way to communicate with your followers and perhaps get ideas about which treatments are on demand.
Make use of reels.
Reels are short-form videos that are no more than 15 seconds, that you can edit with audio, effects, and creative tools. Reels can be used to highlight new products, personnel, or current work, as well as communicate directly with customers.
Orthodontic Instagram Posts
Posts make you relevant in the world of Instagram. Ensure that your posts are relevant to your brand. Because food, fashion, and animals are popular on the site, it can be enticing to post them. However, if your company has nothing to do with those topics, it may make you appear fragmented and cause your followers to become confused.
Incorporate Instagram postings into your website. You can receive an embed code from the desktop version of Instagram to add certain photographs and videos to your company's website.
Simply choose the photo you want to embed, then click the ellipsis in the bottom right corner and select Embed. This brings up a popup containing the embed code and the option to show or hide the caption. Then copy and paste the code into the desired location on your website. This lets others know you're on Instagram and can help you earn more followers.
Directly share posts to your story. Instagram for orthodontists can use this tool to communicate with their followers while promoting their products or services. You can share a client's snapshot of your product directly to your story to emphasize the product and your client.
Use hashtags sparingly and strategically. Hashtags are an important element of Instagram posting, but it's easy to go overboard. To increase engagement, use anything from 3-10 hashtags for each post. To attract patients in your target area, focus on local hashtags.
Use hashtags like #orthodontists, #smileexpert, #LAortho, #happysmiles, #kidsortho. As you noticed, it's a great way to make yourself visible in your target area or your specific expertise.
Orthodontists Instagram Captions — Braces Instagram
In Instagram for Orthodontists, the captions, links do not work. Your profile is the only location where you can share a working link that directs users to a website. What you need to know is that links don't work in captions or photo comments.
So if you want to lead people to a specific webpage, you can use the link in your bio to a landing page and remind them about it in your orthodontists' Instagram captions.
Make an effort to make braces captions for Instagram interesting.
Don't miss out on your share of patients!
Guide To Orthodontic Marketing – Why Should Orthodontists Consider Instagram?
Knowing the best method to use social media platforms like Facebook, Twitter, and Instagram might feel like a moving target. This is with all the new features launched every year.
Instagram is used by a lot of people for personal reasons, but it is also used by a lot of businesses. Use this to establish a connection with local companies and dental clinics, especially with the right braces captions for Instagram.
These connections may aid in the formation of relationships and the generation of referrals for your practice.
Social media may be an easy and successful approach to reaching new audiences. You are bringing them relevant, educational, and amusing material. However, doing it properly takes time. If you need help, get the services of a professional.
With time, patience, perseverance, and consistency, your investment will pay off.
Using various social media channels like Instagram for orthodontists to distribute unique, quality information suited to your target audience can help you raise brand awareness. It can also create trust with your audience, and set your practice apart from others. Find out more ways to promote your orthodontics practice.