Google Ads is a great way for orthodontists to gain awareness of their practice and build their patient list online. Anytime anyone wants to find anything, they Google it. By using Google ads, your orthodontics practice can be at the top of the results page. This will increase the number of leads you can get and the numbers of patients you serve. Through this guide, you will understand how to begin running Google ads for orthodontists.
What are Google Ads for Orthodontists?
When searching something up on Google, you receive two kinds of results: paid and organic. Any sort of ad on Google is marked with a little box that says "ad" on the side of the search result. People want to find their information quickly and easily, so most only click on the first few results. This makes marketing on Google super important for your orthodontics practice. Very few people scroll through pages of search results on Google to find their answers. 60% of people can't tell the difference between Google Ads and organic search results. Google makes 70.9% of there revenue from ads so you know a lot of people can't tell the difference between ads and organic results. If you are looking for organic ways to improve your rank and are willing to dedicate your time to long-term results, read our guide on SEO for Orthodontists.
It is very important that you create the best Google ads for your orthodontist practice to rank at the top. Google works on a PPC or pay-per-click system. This means that you will only be charged for running your ad each time someone clicks on it. Thus, Google Ad, formerly known as Google Adwords, offers a unique way to boost your patient list.
Can't wait to start using Google Ads to attract new patients? Our experts are ready to start your ad campaign today!
Google Advertising Structure (PPC)
Before you begin, it is important to understand the Google Ads account structure.
When you create your account and start, most settings you choose will be at the campaign level. These are broad umbrella topics that have many subcategories or ad groups. Within the ad groups, you have keywords that are specific to the ad group. Lastly, you have ads that should be relevant to the keywords, ad group, and campaign they are under.
An example of this would be a campaign for dental appliances. An ad group would be for Invisalign. The keywords and ads should revolve around the keyword "Invisalign". There are many other ways you can go about this too. Yet, thinking of how your services relate and group together is best. You can also target keywords that are questions, like "do I need braces?" All types of search queries are targetable to try and obtain leads through advertising.
Creating a Google Adwords Campaign for your Orthodontics Office
Once you create your Google Ads account, you are able to choose campaign settings. We will use the example of the dental appliance campaign from earlier to begin.
You are first asked what your main advertising goal is. It is best to click "switch to expert mode" to gain more control of your ads from Google. Next, you will create a campaign without a goal. By choosing this over one of the predetermined goals, you are choosing to start from scratch. The other options allow for Google to set up campaigns that they believe are best based on the goal. This does not consider the specifics of your campaign.
After that, you get to choose a campaign type. There are 7 different campaign types and each can be beneficial for a different course of action. For Google Ads for Orthodontists, we are going with search ads. We want to show up at the top of Google's results page.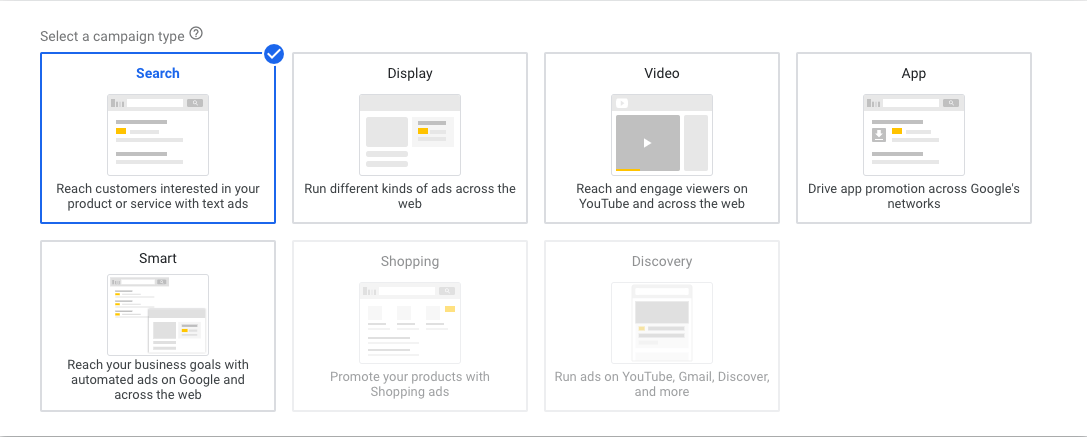 Once you click search, you will skip the question below regarding the results.
Campaign Settings
This is where you will set up the settings for your first campaign. You should name it something like "Dental Appliances." It is best to deselect Google search partners and display network options. The display network and search partner settings take away from the main goal of your ads which is to generate leads from search. Instead, your ads would be split between being shown on the results page and across other sites, videos, and apps. These will also drive up the cost per click and bid rate from your ads.
Have more questions about setting up your campaign or about Google Ads? 

Audience Demographics
Another feature of Google Ads is that you can target based on location and language.
Since most of your patients are locals, it would be best to target the surrounding area of your practice.
You should click "enter another location"
Type in your city/town and click include
Select advanced search
Click radius
Enter in your orthodontics office's address and type in a 5-10 mile radius
Save
Select "people in or regularly in your targeted locations"
Enter any locations you would like to exclude from your advertisements
You may determine the size of the radius you will target based on the size of the town/city you are located in. Or base it on the population density. If you are located in a city with a large number of people, you can target a 5-mile radius. If you are in a more rural area, a 10-mile radius is best. You can also look at your patient list to determine the farthest a patient is willing to travel to you.
The "people in or regularly in your targeted locations" setting means that those who live in another city or state, but are searching for your keywords will not be shown your ads in search results. This will make your ads more efficient in your Google ads for orthodontists' experience.
Once done with your location settings, you get to customize your language settings. You can leave English as your only selection. Or choose another language the surrounding community of your business speaks. Only users who have their default Google settings in that language will see your ad. If someone whose default settings are in English and they type in a search query in Spanish, your ad will not be shown to them.
Budget and Bidding Strategy
It is best to start at around $20-$50 a day for your ads. This will allow you to steadily accumulate data on your keywords and ads to see how they are working. About $20 is enough to target and bid on 1-2 keywords. The key here is to not spread your bid budget too thin in advertising. If you were to spend $20 a day on 10+ keywords, your data accumulation will slow down significantly. Google Adwords likes to give each keyword the same amount of exposure, so you might not even end up with useable data for your orthodontics practice.
In the budget and bidding section, you will input your daily budget and select a bidding strategy. The bidding strategies Google offers are:
Target CPA (cost-per-acquisition)
Target ROAS (return on ad spend)
Maximize clicks
Maximize conversions
Maximize conversion value
Target impression share
Manual CPC (cost-per-click)
With premade bidding strategies, Google takes control of how your bid budget is spent. Since this is a Google ads for orthodontists beginners' guide, it is recommended to choose the Manual CPC bid option. This will give you the most control over your spending, and Google will not go over budget.
Advertising Extensions
Ad extensions offer you more real estate (space) on a Google search page. With these, your ads will appear bigger. It allows you to offer more information to prospective patients. It is best to put more relevant information to the search queries and keywords you are targeting. This will enhance the performance of your ads since Google appreciates relevancy. It will also help deter irrelevant traffic from your ads and give you more probable patients.
There are 6 ad extensions you may use to help the relevance of your ads:
Sitelink extensions: Clickable links to other pages of your website that can provide more information to a searcher.
Callout extensions: Highlights benefits and features of services/products you offer.
Structured Snippets: Provides headers to showcase what you offer. (For the difference between structured snippets vs callout extensions, check out this article here.)
Call extensions: Provides a clickable phone number to call.
Message extensions: Allow searchers to send a message through email or text.
Promotion Extensions: Adds promotional deals to ads.
Can't keep track of which extension does what? Let the experts do the work.
Structuring your Ad Groups for Search Ads (Invisalign, Braces, etc)
The next step in creating your first Google Ads campaign is to structure your ad groups. Your ad groups need to be related to your campaign. With a dental appliance campaign, you should think of any sort of dental appliance service you offer at your practice. For example, in Invisalign, you could create an ad group for that service.
To be more specific in your ad groups, you can think about your audience as well. Who are you trying to bring in as patients? Are you trying to bring in more adults for Invisalign? Or targeting high schoolers for your Invisalign services? Trying to bring in more patients for dental braces? You can create ad groups based on the audience you would like to attract. Make sure to structure your ads based on what makes the most sense for your business.
You also have the option of adding in your keywords at the ad group level. This means any ads you input for this ad group will already be targeting the keywords you input here. You should research and plan these out, which this advertising guide will explain how to do later on.
On this page, you can add a bid price of how much you think this keyword is worth to you.
Google Ads Text and its Structure
Now that you have completed structuring your first ad group, you can begin creating your first ad for Google Adwords! You need to think of something eye-catching and unique. What makes your orthodontic practice stand out? Have you been recognized for any achievements? Do you have any rave reviews from Yelp or Facebook that you could quote?
Think of things that will set your ad apart from the rest and will want to make people click on your ad. Any testimonials (which must be true), will serve as a great addition to your ad. You can make this a headline or description.
When brainstorming and inputting your headlines you should aim to write 3. It is uncertain how they will show up on Google. Or if these headlines will even show up together, but it is good to have the option. More headlines = more space for your ad on the results page. Keep in mind that there is a 30 character limit for these in Google Adwords, so you must keep it concise.
Your description is another chance to persuade the audience to click on your ad. Include relevant keywords and a call to action. You need to tell people exactly what they should do after seeing your ad. Something vague like "click here," isn't a good call to action. Be specific with what you want.
In this example, the ad is highlighting that they are a family-owned business and can help people achieve a better smile with their orthodontic professionals. It has a call to action where it asks viewers to call and provides a little more insight into the uniqueness of the practice.
In these Google ads for orthodontists example, a dentistry business with orthodontic services in Irvine created an Invisalign ad. This is a great example because their headline grabs searchers' attention with a mention of an affordable price. Their description has a clear call to action, instructing readers to schedule a consultation and offer some personality by mentioning they have 30 years of experience. This ad also uses sitelink extensions with relevant links to their Invisalign and gallery of their work pages.
Would you rather spend time seeing patients rather than guessing what's the best ad headline? 
Hire the experts for your business!
Keywords in your PPC Orthodontist Ad
This is the most crucial part of your Google Ads. In order to do well with any type of SEO marketing, keyword research and planning is necessary. If this aspect of your ads is wrong, the entire strategy fails. The keywords you choose let Google know what search queries to trigger your ad for. Please take your time with this part of advertising and plan accordingly.
Think about how other people would search for your services online. How would a potential patient search for an orthodontist? Put yourself in the patient's shoes. Everyone doesn't search for things the same way. Some people might type questions into Google. Others may just type in "orthodontist," and let Google sort out the rest. Figure out how others will look up your industry. There are many resources out there for keyword research to get started.
Type the keyword you are thinking of using, and look at what Google suggestions show and related searches online
These resources will allow you to look at search volumes, competition levels, and CPC or bid rates.
Considering that your target audience is people local to your orthodontics practice, it would be great to target keywords like "Service/Product + City/Town name." This is a simple formula that will allow you to be at the top of the search for orthos in your area. The quality of the keyword in terms of the searcher's intent is more important than the quantity of the search volume. If a keyword has a search volume of 100 and expresses the intent to book an appointment, it is good.
Remember that broad keywords like "Invisalign" will not generate clicks from your ads. You will be competing with the actual Invisalign company for the top spots on Google. Think of keywords like hashtags. The most popular accounts who use these keywords always show at the top. The smaller ones rarely show up when scrolling through the hashtag.
This screenshot is from Google Keyword Planner, where the keyword "orthodontist New York City" was searched. It gives you a search volume of 100-1k per month and a CPC bid range of $5.27-$12.79. It also offers suggestions for related keywords.
If you need help searching for the best keywords and want to learn more about our services, visit our YoYoFuMedia.
Keyword Types
There are 5 keyword types you can use for your campaigns in Google Adwords. These will help filter what type of search queries will trigger your ad to be shown to searchers. Each keyword has a symbol you must accompany it for Google to register the type of keyword you would like to use in your advertising.
Broad:
Your ad will be shown for the keyword, synonyms, variants, related terms, different phrases, different words, and different concepts. This is the most general of the keywords and will give you a lot of irrelevant clicks and traffic. These are the hardest type of keywords to drive conversions and brand awareness.
Symbol: none
Example keyword: orthodontist
Examples of what queries your ad may be shown for with this keyword type:

orthodontist near me, what is an orthodontist, orthodontist vs dentist, orthodontist school
Broad match modified:
Google will only trigger your ads for queries that contain your keyword. However, the order of your keyword doesn't matter.
Symbol:+
Example keyword: +Invisalign
Examples of what queries your ad may be shown for with this keyword type:

Invisalign Irvine, Irvine Invisalign, where to get Invisalign in Irvine

Example keyword: +Braces
Examples of what queries your ad may be shown for with this keyword type:

Types of Braces, Knee braces, back braces, braces and retainers
Phrase:
Searches that contain the exact phrase, with appended and/or prepended words will trigger your ad.
Symbol: ""
Example keyword: "best orthodontist"
Examples of  what queries your ad may be shown for with this keyword type:

best orthodontist near me, best orthodontist in Irvine, Irvine best orthodontist
Exact:
Your ad will not be shown unless your exact term is searched the way you inputted it. Exact match types generate the highest CTR (click-through rate) and CPC (cost-per-click). If your budget is super constricted, then the exact match will be best.
Symbol: []
Example keyword: [Orthodontist Irvine]
Examples of what queries your ad may be shown for with this keyword type:
Negative keywords:
Negative keywords are words that will be excluded from a search. You can include these for cities you don't want your business to show up for, services you do not offer, etc.
Symbol: –
Example keyword: -Dentist
Landing Pages
Landing pages are where the searcher will end up after clicking on your ad. This is the goal of your ads, to get people onto your landing pages and turn them into real leads. The landing page is where you will need to do more convincing to get these potential patients to schedule a consultation or appointment.
To do well with obtaining leads from your landing pages, you need to keep them relevant to your ads. Use similar language and wording in your landing pages as you do with your ads. Your landing page should correspond with your ad and the keywords associated with it. Everything needs to tie together with Google Adwords.
You should include:
A header/title of the page
Your practice's name
Testimonials from Facebook, Yelp, etc
Address
Phone number
Call to action
Images of your practice
Keep everything relevant and concise. There are resources that can help you create your landing pages like Elementor for WordPress and LeadPages.
Need an expert's help on running your PPC ads?
If you need help with this type of marketing and advertising, contact us. As you can see, we know what we are talking about. Schedule a free strategy session with us today to start growing your patient list online.