There is no doubt that South Korea has established itself as a forefront in the skincare industry. South Korean beauty is well known for its extensive skin care routine, often consisting of anywhere from seven to ten plus steps. As Korean skincare becomes more popular internationally, there has been a push for Korean skincare products in the Western market. Soko Glam, a popular retailer for Korean beauty and skincare products in the US, closed the divide between the Western and Eastern sphere for nearly a decade. In addition to Soko Glam, the site also markets its blog to customers in order to learn more about different skincare products.
In this article, we will delve deeper into The Klog's marketing strategy and why the integration of both Soko Glam and the blog work effectively. But first, it is also important to learn more about the Korean skincare industry and their prevalence in the Western market over the course of several years.
Taking a Look into Soko Glam
Soko Glam is one of the most popular sites to get your hands on all things K-beauty.
Korean beauty, although appealing, has been hard to come by in the Western market. Korean beauty no longer has to feel so far away and consumers do not have to worry about expensive shipping costs of getting products from overseas, or an extremely long delivery time. Free shipping is offered for purchases over $35, and a flat fee of $6.95 for purchases under that total, with an estimated shipping time of five to seven business days.
However, jumping into Korean skincare can seem a little intimidating at first.
Due to the nature of an extensive routine, there are so many products and the consumer often will not know where to begin. From AHA's to BHA's to essences and ampoules, there is so much information that the consumer may feel inundated with.
Luckily, Soko Glam has come up with a perfect marketing solution just for that: The Klog.
What is The Klog?
The Klog is a skincare blog that was also created by Charlotte Cho, one of the founders of Soko Glam. Charlotte Cho is a licensed aesthetician and has curated many popular products with various different skin care brands (AKA, she knows what works).
It was started in 2012, around the time that Soko Glam launched as an editorial platform for Cho to write about skin care tips.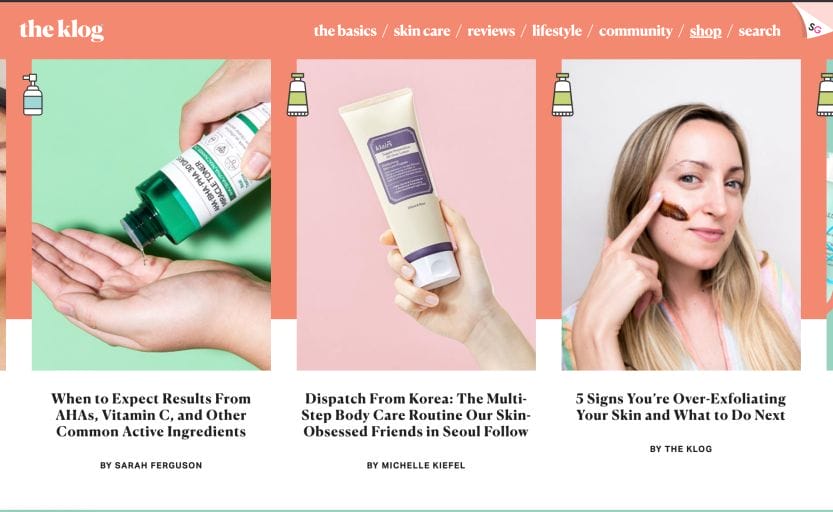 Eventually, in 2016, it was rebranded and launched as a separate website that can easily be accessed within Soko Glam. The Klog focuses primarily on skincare education and teaching consumers about ingredients and how they impact the skin. Before the relaunch of The Klog, Cho used the site primarily to talk about her own skincare tips due to her background of being an aesthetician which helped her to gain a dedicated audience of readers.
As Soko Glam established itself as a reputable company to distribute Korean beauty goods, so has The Klog. The Klog is essentially an extension of Soko Glam, just under a different domain name. They work interchangeably together in order to provide a one-stop shop for all of your skincare needs. If a consumer is unsure of what products to use depending on their skin type, the answer is most likely on The Klog. Or perhaps the consumer has heard of a particular product and wants to know if it is something that is worth a purchase, they can search up product reviews for whatever they are looking for.
Instead of doing extraneous research, Soko Glam and The Klog provide an environment that makes shopping for skincare a lot easier. As information is concentrated between the two sites, it makes it easier for the consumer to compare certain products.
Korean Skincare in the West
The "Hallyu" Wave, or insurgence of Korean media and influence, into the West is not a new concept. We have seen its prevalence through early instances of K-Pop in the early 2000's due to groups such as Wonder Girls, Girl's Generation, and Big Bang becoming popular internationally, as opposed to being confined to the scope of purely Korean entertainment. However, Korean culture has made an extremely evident impact in Western culture over the last few years due to the sudden international popularity of BTS. As BTS became more and more popular on a global level, the influences of Korean culture inevitably followed them wherever they went.
Korean beauty is known for being very innovative. It bolsters a multi-billion dollar industry, which is not a surprise considering that Korean products are often years ahead of its time. The Korean skincare industry is a prime example of this, as Korean beauty emphasizes skincare first above all else. The idea of taking care of one's skin first is a very popular belief that many Korean people live by. They would much rather prefer having a nice canvas to work on rather than having to apply a lot of heavy products to cover blemishes. This is why we see that a lot of Korean products lack full coverage, or just give a very natural appearance. The purpose of Korean beauty is not to hide or shape certain features, but by enhancing what is already there to give the appearance of a healthy, youthful glow.
Korean packaging is also very unique and playful. Packaging for these products are often colorful and exhibit a cartoon-ish design that makes it appealing and interesting to look at. The use of color is particularly interesting as color is often used effectively, and never too overwhelming. Fun packaging attracts customers, and it works particularly well. To read more about the use of color in branding and marketing strategies and to learn more about how it applies to Korean beauty, you can read more about it here.
Popularity of Korean Skincare
Korean skincare is very different from skincare in the West. Korean skincare often uses more natural ingredients and are not afraid to play with new ingredients to see what benefits they may have for the skin. Some peculiar ingredients to many Westerners that are common in Korean skincare include products such as snail mucin or bee essence. A lot more research is put into the development of Korean beauty and skincare products as the market is quite oversaturated and everyone is competing against each other.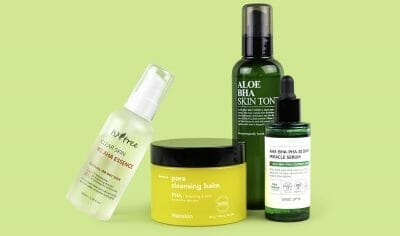 Although a seven step routine seems a little excessive at times, the entire purpose is to feed the skin good ingredients. Korea is known for the "glass skin" which bolsters glowing, perfect skin. For the most part, glass skin is achieved through an extensive routine, as a mixture of different ingredients play a vital role in addressing all different skin issues in order to create even results throughout. Within the last few years, many more people have become interested in the Korean beauty industry, not only due to the Hallyu Wave, but also due to a more natural approach to beauty which has begun to become more popular.
Analyzing the Klog
The Klog has a very user-friendly interface that particularly catched my eye. The design of the website is quite interactive that is very engaging to customers and people who want to learn more about skincare and Korean beauty. In the top right of the navigation bar, a little tab with the Soko Glam initials is evident, showing that the user can easily navigate to Soko Glam to browse through products or make a purchase.
The Klog also uses a nice, almost pastel looking color palette. The colors are not identical to Soko Glam persay, but the family of colors used, in this case pastels, are both used. This shows a slight similarity across both sites, but it is not a major similarity that is super evident.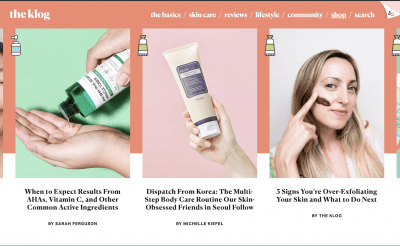 Although The Klog and Soko Glam are different domains, they still exhibit a similar feel throughout both their sites. They are cohesive in their design, which includes very clean geometry and a neat color palette. Because they are similar in their design, there is not a very distinct disconnect between the two sites. It is obvious that they are two different websites, but it does not feel awkward navigating between the two.
The most obvious way in why it works regards the ability to purchase a product on Soko Glam after reading about it on The Klog. It makes it much easier to answer questions and buy the products that are a result of your answer. The consumer is able to toggle between the websites with ease, as around 75% of the products that are mentioned in The Klog can be bought on the Soko Glam website.
However, the idea of integrating a blog onto a skincare website is not only unique to Soko Glam and the Klog. Peach and Lily, another popular skincare distributor in the US, also has something similar called Pibuu (which – cool fact – means "skin" in Korean). However, in my opinion, I feel like The Klog is easier to navigate which is particularly why we decided to dive deeper into The Klog as opposed to other skincare blogs. The idea of skincare education is an important part that pertains a lot to The Klog, and this main feature alone sets it apart from many other skin care companies.
Why the Klog's Content Marketing Works
Because The Klog started off as a sort of personal skin care blog of co-founder Charlotte Cho, it helped Soko Glam gain a lot more potential customers. As consumers are being more educated about skincare, they begin to more effectively understand how to use products to get the most of their skincare routine. Due to The Klog, the Soko Glam's website reaches millions of unique viewers a month. 
Initially, people had told Cho that launching The Klog would not be a very good idea and would negatively impact Soko Glam. The argument was that The Klog would lead people out of the checkout experience and into a rabbit hole of information. However, The Klog provides a more authentic and personable experience as it is not presented as an e-commerce site. It does not feel as if products are constantly being advertised to the consumer, which is mainly due to the strong educational undertone of the site. Above all else, the blog is aimed towards better educating people about skin care and how a better education in the topic will lead to better skin.
With the Korean skin care industry being an oversaturated market, companies must be able to stand out amongst the crowd. Soko Glam is an excellent example as it is one of the top search results with you Google "Korean skincare." By investing the time and space into the idea of educating consumers, Soko Glam provides a unique upper hand to other companies who do not prioritize skincare education.
Final Thoughts
As someone who has switched from Western skincare to skincare routine full of only Korean skincare products, I definitely see the appeal. I have been an avid shopper with Soko Glam and I have learned a lot from The Klog when I was just starting out in the Korean skin care scene. Jumping into anything headfirst with no prior knowledge will always seem daunting, but by educating myself, I felt more at ease with my stark transition. Everyone can adapt a basic seven step routine if they want to, but having a refined knowledge about different ingredients in skincare and how they affect the skin is not a skill that everyone has. By encouraging more education in the realm of skincare, Soko Glam and The Klog has made the distant idea of getting glass skin much more achievable.