WordPress plugins are great for helping you Construct, Personalize, and Enhance your WordPress blog. With thousands of free WordPress plugins available to install, picking the right plugin is crucial. Choosing the wrong plugin can lead to slow load times, security compromises, and even website crashes. In this post, I will show you the 7 Best Free WordPress Plugins for Blogs in 2020.
What are WordPress Plugins?
If you've never used WordPress plugins for your blog or don't know what they are, don't worry! A WordPress plugin is a piece of software containing a group of functions that you can add to a WordPress blog. Think of them as applications on a smartphone.
One thing to keep in mind when looking at WordPress plugins is that independent providers develop them. Because independent providers develop them, pretty much anyone can create and publish a plugin in the WordPress plugin directory. It is because of this that the quality of WordPress plugins can vary a lot.
Teams of developers working for big companies make some WordPress plugins, while independent self-employed programmers make others. You must do the appropriate research on a plugin before you decide to install it. Installing the wrong plugin to your WordPress blog can cause a lot of headaches for you down the road.
Before we look at some of the best free WordPress plugins for blogs, we recommend you follow these simple rules when using WordPress plugins:
1. Limit the number of plugins you install.
2. Disable plugins you're not using as they will slow down your blog.
3. Update one plugin at a time in case one of them crashes your blog. 
Following these rules is the best way to ensure your blog is both safe and efficient.
First on our list is a free WordPress plugin called Rank Math SEO. This powerful tool will help your WordPress blog rank better in search engine results. This free SEO tool will give you real-time analysis and feedback on how to search engine optimize your blog posts.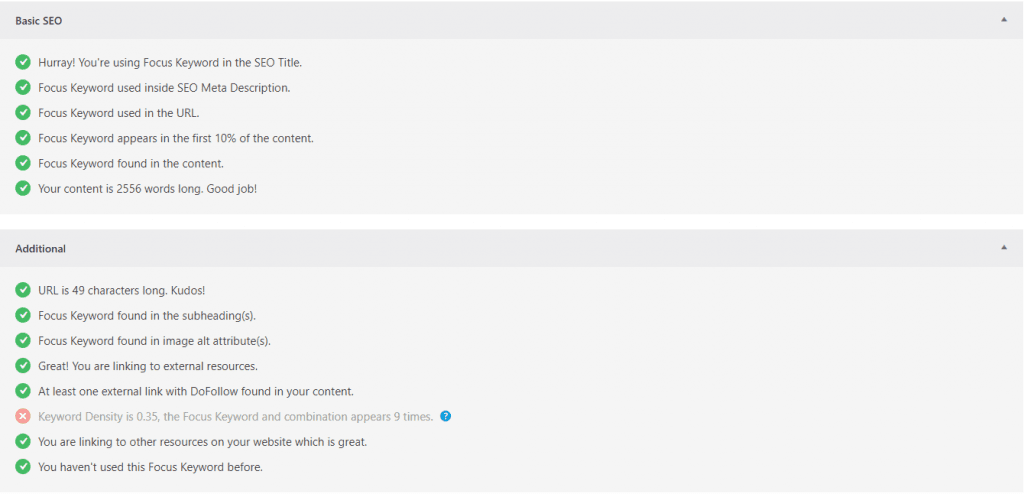 When writing a blog post in WordPress, this plugin will first ask for the focus keyword you would like to target. Rank Math SEO will then give you a set of criteria to meet to optimize your post for that focus keyword best. These criteria originate from the best practices you can do to improve your SEO. Once you fulfill each suggestion, you will see a green checkmark indicating that you completed it. We recommend that you try to receive as many green checkmarks are you can for every blog post that you make.
The Rank Math SEO plugin will also give you an overall SEO score that directly correlates to how many of the guidelines your blog post meets. The higher the score you receive, the better your page will rank in search engine results. We highly recommended installing this free WordPress plugin for blogs as it's smart automation features will save you precious time optimizing your posts.
By installing this plugin, you will have more time to improve other areas of your blog. If you would like to learn more about the powerful features this plugin provides, we recommend checking out the video below.
Insert Headers is a simple yet essential plugin for your WordPress blog. Installing this plugin will allow you to insert any code or script, including HTML and Javascript, into your blog. The ability to enter code into your WordPress blog's headers and footers gives you access to critical third-party tools that will improve your blog.
This free WordPress plugin is quick to set up and easy to use. This tool allows you to insert Google Analytics, Facebook Pixel, or any script of your choice into your blog's headers and footers. You can also add custom CSS code across any WordPress theme. To do this, simply navigate to your WordPress blog's settings, select Insert Headers and Footers, and copy and paste your script.
Next on our list is a WordPress page builder plugin named Elementor. This tool enables you to drag and drop widgets quickly into your blog. The free version of this tool allows you to choose from 30 widgets that you can implement into your WordPress blog.
Elementor makes webpage building easy with instant live edit and page load. This WordPress plugin allows you to immediately see what your blog will look like after implementing a widget. We highly recommend using the free version of this tool because the widgets it provides are handy for building and designing your blog.
If you are satisfied with the free version of the tool and want to have even more features at your disposal, you can upgrade to the pro version of the plugin. The pro version of Elementor will provide you with 50+ advanced widgets. You can also easily change the theme of your WordPress blog to one of several options available. A comparison of each version's price and features is below.
While it's typically best to keep your WordPress plugins and themes updated, there are times when you need to revert to a previous version quickly. WP Rollback is the plugin to install to ensure you can return plugins to prior versions when your blog is encountering errors. WP Rollback works just like the WordPress plugin updater, except you're rolling back (or forward) to a specific version.
Being able to rollback a plugin to a particular version is extremely valuable when it comes to running a WordPress Blog. Often when you update plugins, you can encounter errors that can break and crash your blog. When these errors occur, you need to be able to revert the broken plugin to a previous version that works.
After installing WP Rollback, you will see a rollback button next to each program on the plugins page. Reverting to an earlier version of a plugin is done by simply clicking the rollback button. You will then be prompted with a window asking you which version you would like to rollback. If the plugin broke your blog, select a previous working version, and click rollback. In a few minutes, your blog will be fixed and using the prior working version.
One of the best free WordPress plugins for blogs that you should install is Smush. This powerful plugin will decrease the time it takes for a user to load your blog page. It optimizes your images by resizing, compressing, and turning on lazy load to improve your Google page speed.
This award-winning image optimization plugin for WordPress will compress images on your blog without a visible drop in quality. The Lazy Load feature this WordPress plugin provides will prioritize loading your blog's text first and load images in the background. Lazy load dramatically decreases the time it takes users to load your WordPress blog, providing them with a better experience. This tool also improves your blog's SEO as Google factors in page load time when ranking search results.
Smush will optimize all of your images up to 5MB in size for free. You can also optimize up to 50 images at a time using the plugin's Bulk Smush feature. For images that you choose to compress, you can set a max-width and height. Any large images that you uploaded will scale down as they compress.
Advanced noCaptcha & invisible Captcha is one of the best WordPress plugins for blogs available on the internet. This functionality of this free WordPress plugin is great for keeping your blog safe and secure. By installing this tool, you can implement noCaptcha or invisible captcha into any form on your website.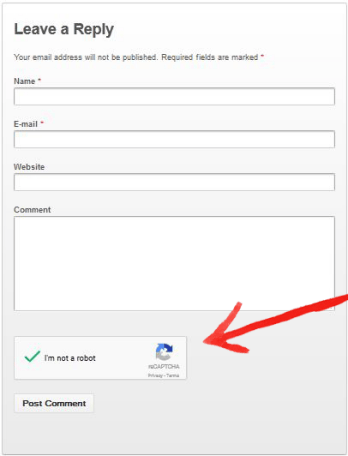 If you utilize forms a lot on your WordPress blog, then this is the plugin for you. The plugin allows you to insert multiple captchas on a single page. This feature is beneficial when you want to have various forms on your blog page. This plugin also allows for conditional login captcha. Within the plugin's settings, you can set after how many failed login attempts login captcha will show.
For those of you who don't know what reCaptcha is, this is what most people typically see and recognize it as. It's the box that requires you to click on it and asks you to click on images to see if you are a bot. Many websites utilize this tool at the bottom of their login pages and contact forms.
One of the reasons this free WordPress plugin is one of the best is because of the security it provides your blog. Sometimes your website will get spammed with bots who submit your forms with spam. Integrating reCaptcha into your WordPress blog via the Advanced noCaptcha & invisible Captcha plugin is a great way to prevent spam from bots. You must learn which reCaptcha version you should use and how to add it correctly before you integrate this plugin into your blog.
If you currently have forms on your website but are only receiving just one or two spam submissions, we recommend ignoring it. It's better to ignore it in this scenario because adding captcha will slow down your site even though it's just a few milliseconds. Having a website that loads even a little bit slower will hurt your blog's SERP keyword rankings.
Before we reveal our top choice, we wanted to include an excellent free WordPress plugin called Duplicate Page as our honorable mention. This plugin is excellent for blogs as it allows you to duplicate pages, posts, and custom posts easily with a single click. When you copy a page, the plugin also allows you to save it as either a draft, private, public, or pending.
This simple plugin can save you hours that it would take to rebuild a similar webpage. Duplicate Page works great for creating templates on your blog to have pages look a certain way. This plugin also currently offers a premium version of the tool that lets you allow user roles to access Duplicate Page, the option to change duplicate post link title, the choice to redirect after clicking the clone link, and more. The price and full list of features available with the premium version are below.
Last on our list of the best free WordPress plugins for blogs is Autoptimize. This plugin is extremely versatile and makes optimizing your blog or website easy and fast. Autoptimze has an abundance of features that will improve your website's performance.
You can use this tool to aggregate, minify and cache scripts and styles, and inject CSS in the page head by default. This free WordPress plugin can also inline critical CSS and defer the aggregated full CSS, move and defer scripts to the footer, and minify HTML. If you want to improve the performance of your blog more, you can also optimize and lazy-load images, optimize Google Fonts, async non-aggregated JavaScript, remove WordPress core emoji cruft, and more.
After installing Autoptimize, navigate to settings in your WordPress blog, and click Autoptimize. If you want a quick and easy optimization, you can select the different options in the Main settings tab. To get more out of this plugin, you can click the advanced settings tab for a more extensive list of options. I will walk you through what each setting will do for your blog below:
HTML Settings:

Optimize HTML: Check the box to minify the HTML, remove white space, and unnecessary characters.
Keep HTML comments: Keep or remove comments in place.
Javascript Settings: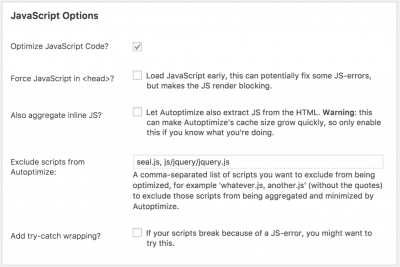 Optimize javascript code: Enable or disable Autoptimize for javascript.
Force Javascript in: This will load the javascript early on, which can fix problems with page rendering.
Also, aggregate inline JS: Pulls inline javascript out from HTML files and combine it into a single file, which improves page speed.
Exclude scripts from Autoptimize: If you have a malfunctioning script, exclude it from Autoptimize here.
Add try-catch wrapping: If a JS error is preventing your pages from rendering correctly, check this option.
CSS Settings:
Optimize CSS Code: Enable or disable Autoptimize for CSS.
Generate data URIs for images: This option lets you encode small images into your CSS files instead of having to download individual images.
Remove Google fonts: If you don't use Google fonts in your WordPress blog, uncheck this box.
Also, aggregate inline CSS: Removes CSS from your HTML and aggregates it. Check this if your blog has CSS on a lot of pages.
Inline and Defer CSS: Allows you to put some CSS in the HTML file if it is required to load the page. The rest is deferred and downloaded afterward.
Inline all CSS: Works well for low traffic websites.
Exclude CSS from Autoptimize: CSS files Autoptimize shouldn't touch.
If all of the features listed above aren't enough, there is also extensive API available to enable you to tailor Autoptimize to your site's specific needs. If you would like help using this WordPress plugin to improve your blog's performance, you can purchase the Autoptimize Expert Configuration. With all of the available functions this plugin provides, it's easy to see why we included it on our list of the best free WordPress plugins for blogs.