For practices such as Pediatrics, Google Ads is a great way to increase the number of patients and new trusted relationships. It provides an ideal way to drive traffic and grow your medical business in a short amount of time. The first thing you must do as an online medical marketer is to understand your target market.
Though your patients are below the age of 18 years old, it's the parents who you must target with your marketing expertise. Through this successful guide for medical marketers, you will learn more about marketing to your audience and structuring your ads using the Google Ads platform.
1. What Are Google Ads For Pediatricians
Pay-per-click is an online advertising model that uses platforms like Google Ads to drive traffic to focused websites. Advertisers pay for this system to rank their websites towards the top of people's search queries, so a person will click more on their site.
The advertisers (you) are charged for the ads only when someone clicks on them. That's why it's called pay per click. You are paying per each click.
Google Ad, the former name Google AdWords, not only can increase the number of patients but can improve your overall healthcare practice. It gives you the control that most other platforms would not usually give, such as offering customizable cost per click, audience demographic, and the ability to apply distinct keywords to your ad. Google ads can easily get you the results you need all from the click of a button.
Aside from PPC, there are other online marketing strategies that marketers tend to use such as Search Engine Optimization. This marketing tactic provides a way to improve the quality and quantity of traffic to a focused site. Regardless of the low cost, most medical marketers that use SEO method can spend anywhere from 4 to 6 months before seeing any results. If your goal is to generate an influx of patients right away, the right platform to use would be Google Ads instead.
Want to use Google Ads but don't have time? We can do all the work for you!
1.1 How to Create a Google Ads Account For Your Ped's Practice
To sign in to your Google Ads account, you first need to login into your Gmail account.
Create another Gmail account if you do not want to link your main Gmail account to your Google Ads. Next, to officially create your account with Google Ads search up https://ads.google.com/home/ and on the homepage click on  "Start now" to begin your experience.
2. Creating a Campaign For Your Pediatric Healthcare Facility
What is the main goal of your advertisement? Is it the patient's education or grabbing the parent's attention? Within this section, you'll be guided on how to create an advertising goal for your campaign along with selecting your audience's demographic and much more. Through this complex field, we will break down each section so it is easy to understand and follow along.
2.1 Choosing Your Advertising Goal
On the first page of Google Ads, it'll have you select your main goal for advertising. Go ahead and skip this area. Instead, click on "Switch to Expert Mode" to unlock extra features that Google ad has to offer for your medical practice.
After selecting "Next", there will be a new page that pops up called "New Campaign". Here, there will be a series of questions per drop-down menu. Answering these questions helps you to create a structure for your medical campaign.
Complete These Steps Before Proceeding Forward:
Select "create a campaign without a goal's guidance"
Click on "Search" on the next tab
Next, select "website visit" 
On the last tab go ahead and explain your campaign, then select on "Continue"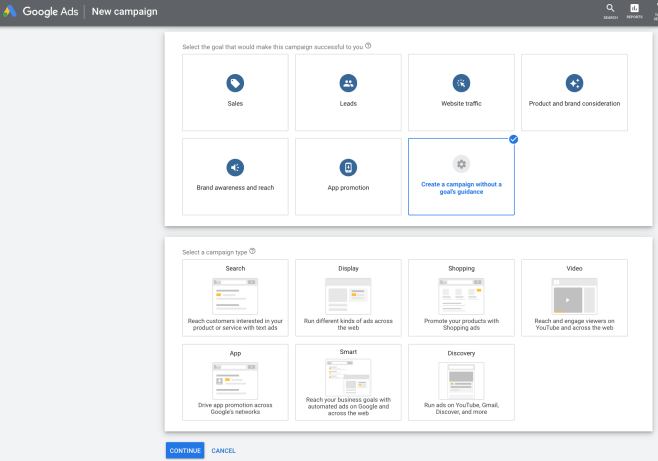 2.2 Selecting Your Patients' Demographic
It's that time to add your campaign name. Having a name for your campaign helps to organize your platform. If you have more than one campaign under your AdWords account, then things are bound to get messing without some type of organization. Think of each campaign as a folder, each folder needs an appropriate name that signifies the overall project within it. Since we are wanting to advertise our pediatric private practice, let's name the campaign "Pediatric".
Now, when targeting your audience, you want to keep in mind who might be interested in your practice. Since the targeted patients are below the ages of 18 years old, this would be a special case where you would need to target parents or guardians of the patients. Your audience demographic will consist of physical living location, the language they typically speak & understand, and if they have a child.
In the image above, we will imagine that your Pediatric practice is located in the U.S.
For this selection, under "Targeting and Audience", you will select "The United States".
After choosing your patient's geographical location, click on "Location Options" to reveal more location options.
To target your ideal patients within a 5-10 mile radius from your ped's clinic, click on "People in or regularly in your targeted location".
Below this section, you will come across an area called "Exclude".
Under this area, select "People in your excluded locations" to exclude people within your geographical area that you do not want to advertise to.
This simply means that within your 5-10 mile radius you can select specific areas or people that you don't want to advertise to, such as people that do not have kids or that don't live with their child.
After finalizing your location details, you will need to pick a dominant language that your audience would most likely speak and understand. Since our location was the United States, the most dominant language would be English in most states.
Go ahead and select "English" for this part before moving on.
2.3 The Audience and Budget For Your Private Practice
For your private practice, you want to recruit a broad population. Any parent looking for a pediatrician will have a different reason for searching for one for their child. It's typically not good to get too specific because you will weed out too many patients.
In the section labeled "audience" do not make any further changes to this area and move on to "Budget".
In this area, you will input the amount that you'd like to spend for each ad. Always double-check that your currency matches the country's current currency flow.
Focus your "Bidding" on "Clicks" since your ultimate goal is to get as many patients as to sign up for a consultation.
Below this section you will see "Ad extensions", fill out any area that applies to your pediatric campaign.
Once you finish, click "Save and Continue".
Need help setting up your daily budget? Call and we'll help!
3. Constructing Ad Groups For Your Medical Practice
We will start constructing your ad groups here in this section. Ad groups are structural components that present a way to organize your ads by their different themes. They are an important aspect of your campaign containing different categories that focus on your overall campaign.
3.1 What are Ad Groups in the Medical Field
For every ad group a different theme arises, which can eventually lead to more traffic to your medical site. Even though we have diverse ad groups with their ongoing theme, you need to keep in mind that these ad groups have to have some relationship with each other and with the campaign. Having specific keywords for each ad group can help with the organization of your overall campaign.
We will go more in-depth about the different types of keywords and how they can help increase traffic later in section 7.1. For now, just try to follow along since after you complete your ad, you can always go back and edit your keywords section.
Things to Keep in Mind When Creating Your First Ad Group:
What type of audience are you try to attract
Come up with synonyms per keyword and include them in the appropriate ad group.
What kind of services or products are you are trying to sell
When going about your medical ad groups, you want to design them in a way that will grab a variety of people's attention. It's recommended that you create anywhere from 1 to 5 ad groups per campaign.
For instance, having a campaign such as "Pediatric", it would need ad groups such as Infant & Toddler Care, Brain & Behavior Care, or even Cardiac & Pulmonary Care.
After choosing what name should be the title for each ad group, a drop-down menu will appear giving the options to include keywords. Go ahead and click on "Keywords".
You want to pick keywords that best fit with each category.
For example, for ad group 1 ("Infant & Toddler Care"), some keywords that might be good to include are "Pediatric Care, Infant clinical care, Infant clinic near me, Pediatric Care Near Me, Baby Clinic near me, Pediatrician Office Near me, etc.". You'll want to include as many keywords and their synonyms as possible to get the best results.
After adding all the keywords you can think of per ad group, click "Save and Continue".
4. The Anatomy of Google Text Ads
When you write a Pediatric Text Ad, it can be tricky at first. But with a few helpful tips, you should be on your way to creating one of the best PPC text ads yet seen. We will dive into this section, dissecting each component of what a text ad should look like. By the end, you should have a clearer understanding of how important each of these parts is to the overall ad.
Down below is an example of what a Pediatric Text Ad should look like:
4.1 Headline(s)
When writing your headlines, remember that each will consist of a 30 character limit. Most text ads won't care if you fill in all 3 headlines but as a side note, the third headline is optional. Keep in mind that keywords are a must since that will be one of the only ways how the ad will appear on someone's search query.
For instance, if your ad is about a pediatric practice, then you'll want to include some medical terms that most viewers would search up such as "Best Pediatrician, Top Peds Specialists, or even Top Pediatric Specialists Here".
The audience will most likely search for related topics concerning treatment for their child and what pediatrician is most appropriate for the job. It's important to research what keywords would stand out best towards your audience if they were put in the situation where they need a pediatrician.
4.2 Display Path(s)
For this section, you can add a display URL which is also known as the "Fake Url" since it's not a real URL that will take you to a different domain. What I mean by this is that display paths are meant to describe to the audience where the final URL will take them after they click on it. Having a description like section, navigated the viewers to most likely pressing on the final URL.
Remember, each display path allows up to 15 characters per each. You will have up to 2 display paths per text ad.
The first path you can describe the main page, if it's an article or blog you can fill in the section with "article".
For the second path, if there was some kind of link that took you to treatments or services you can fill in that section with "services".
4.3 Description(s)
Going about your description section, you will have max 90 characters to fill in per description box about what your service or product is and how it's useful to your patients. Be concise with your wording and remember to make an offer to your audience.
Just like your headline(s), keywords are extremely important in this section too. Don't forget to include numbers and symbols since those are things that can capture your audience's attention. Viewers are typically drawn towards signs like $ and % since they tend to represent discounts in ads.
4.4 The Final Url
The final URL is the ultimate goal where you want your viewers to click on after viewing all your ad content. This URL will take your patients to the main landing page where they will hopefully sign up for an appointment or even give a call to the clinical facility.
You need to make sure that the URL link is correct and that everything on your landing page matches up with what you're advertising.
If the two do not match then this can raise some red flags with Google, resulting in disapproval and shutting down your ad campaign.
You want to make sure the landing page is relevant to what you're advertising.
Double-check that the URL transfers you to the correct domain page.
You want to maintain trust with your audience by advertising reliable information, so they are more likely to refer friends and family to your business.
For more information on Google Text Ads visit our article on  Further Tips on Delivering an Outstanding Pediatric PPC Text Ad.
5. Combining All the Ad Parts
Now that your pediatric ad campaign is up and running make sure to check that all your ad parts are working properly. If there are any areas that you need to edit and fix, you can easily modify them whenever.
Google Ad Metrics to Monitor on Your Account:
Cost Per Conversion
CTR by Ad Groups & Campaign
Average Cost Per Click
Conversion Rate
Impressions per Campaign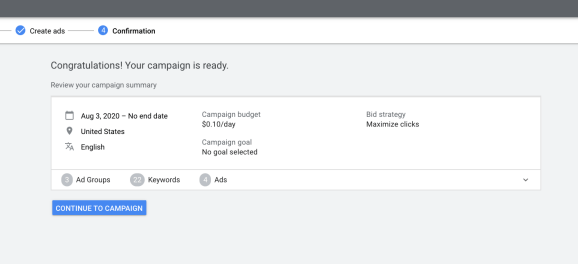 6. Tracking Conversions & Results of Your Pediatric Page
6.1 Keeping Track of Measurements
Many parents before scheduling an appointment for their child do research. Some searches can include the type of care a doctor provides for an infant, pediatric specialists that are within their radius, and even the best treatment programs that clinical facilities offer. One way to see what parents look for first in a site is to "Tracking Your Conversions".
There is something that's called a snippet code that we will use to track all the activity that goes on in your landing page. These activities might include, purchases made, signing up for an appointment or consultation, and even messaging out to someone on the site. After tracking your conversions, you can view the results and make any adjustments you'd like based on the activity that occurred on the site.
Areas That Might Need Some Revision Are:
Text Ad Content
Optimization of Keywords
Cost Per Ad or Campaign
Landing Page Text or Call to Action
6.2 Adding Google Ad Conversions to Your Pediactric's Website
To create a conversion for your pediatric site, follow the series of steps below:
Click on "Tools and Settings" that will be located towards the top right-hand corner of the page.
After the drop-down menu appears, click on "Measurement".
Next, click on "Conversions".
Then, click on "+ Conversions".
Finally, you will land a page called "Start tracking conversions".
On this page, you will have the option of picking from one of the four conversions to track. If our goal is to track the activity happening on our webpage, then the best option to choose is  "Website".
To finish putting our conversion outline together, follow the series of steps below:
Under "Category", select "purchase", to track your audience's purchases on your site.
Under "value" & "count", go ahead and input the amount that you would like to spend per conversion action.
6.3 Generating a Tag For Your Peds Private Practice Site
As we progress with setting up your conversions, the final step to include is the snippet code. This code will be tagged on the web page(s) that you would like to track. By tracking the selected page(s), you will be able to view the activities that take place on your site and have the option to modify any actions.
To set up this tag, go ahead and select one of the three ways to install your code. For this example, let's pick "use Google Tag Manager".
A drop-down menu will appear, with some instructions on how to set up your tag using  Google Tag Manager. Copy the "Conversion ID" and the "Conversion label". You will use these codes later in Google Tag Manager.
Go to Google Tag Manager, and click on "Start For Free".
Login in using your Gmail account. The account should link to your Google Ads account.
After landing on the Google Tag Manager home page, click on "New Tag".
Afterward, click on "Tag Configuration", and then "Google Ads Conversion Tracking".
Now, on the Google Ads Conversion page, you will finally paste those snippet codes that you had copied earlier.
After you have finished filling in the other blank sections, click on "Triggering".
To begin a new Trigger on the "Triggering Configuration" page, click on the "+" button.
A different tab should pop up, look for "Trigger Type" and then click on "Page View".
Now, you can select the pages of your pediatric site that you'd like to trigger.
Once you finish selecting the pages, click on "Page URL" to add your pages URL that will be triggered.
Once you finished editing everything, save your changes and the Google Ad Conversions should launch right away.
7. Keywords to Include in Your Pediatrics Ad
When we talk about keywords, some keywords might dominate the others. What I mean by this is that certain sites and brands like WebMD and Healthline are more likely to increase traffic to their page due to the reputable information, while still including keywords that most medical marketers use.
One way to go about this is to include different types of keyword matches. Keyword matches, help to eliminate unwanted traffic, while still increasing conversions. These types of keywords can help guide your patients to your ad, while simultaneously helping them get the information that they have been searching for.
There are 3 Keyword Matches to Understand:
Exact Match Keyword
Negative Match Keywords
Broad Match Modifier
7.1  Keywords That Vary in Meaning
Exact Match Keywords: These keywords tend to have the most restrictions out of the three types. When using this match option, you need to be aware that Google will only show for the exact keyword and not its close variants like misspellings or plural forms. Having exact match keywords is crucial for advertising your ad since you are guaranteed to have an audience that is looking for similar items based on their keyword search results. This option gives you the most control over your ad and who views it.
Example 1: Keyword [Neuro- Developmental Treatment], Search Neuro-Developmentalmarketer Treatment
Example 2: Keyword [Peds Specialists near me], Search Peds Specialists near me
Example 3: Keyword [Best Pediatric Practitioner (city you are in)], Search Best Pediatric Practitioner (city you are in)
Negative Broad Match Keywords: These keywords draw out any irrelevant terms that you put under this category. If you put a "-" sign in front of the term that you would like to exclude from your ad then the term gets added to the negative broad match list. These keywords do not include their close variants like common misspellings and plural forms. Now the catch is if someone were to search up one of the words within your negative broad match keywords, it will most likely not filter out and the ad will pop up on their search results.
Example 1: Negative Broad Match Keyword -pediatric residency program
Possible Searches:
Pediatric clinic                                 WOULD SHOW
Residency program                        WOULD NOT SHOW
Pediatric residency program      WOULD NOT SHOW
Residency                                            WOULD SHOW
Example 2: Negative Broad Match Keyword -private practice license
Possible Searches:
Private practice license       WOULD NOT SHOW
Ped's practice license            WOULD NOT SHOW
License                                         WOULD SHOW
Pediatric license                      WOULD SHOW
Broad Match Modifier: These keywords usually save users time when researching all keywords and their close variants. Broad match modifier tends to be every marketer go to keyword match type since it takes very little effort and time. Your keywords may appear on a lot of peoples' searches, so try to use this with terms with caution. Think of terms that are most likely used within your department or industry such as "pediatric" or "development" since these terms are usually related to children. To use this match type, add the "+" sign in front of the keyword. These keywords may appear in a variety of variations depending on the context that the audience searches.
Example 1: Keyword +Delay +Development, Search Developmental Delay
Example 2: Keyword +Diet +Restriction, Search Dietary Restrictions
Example 3: Keyword +Pediatric +Specialist, Search Pediatric Specialists
8. Restricted Keywords Not to Include in Your Healthcare Online Marketing Ad
Within the medical industry, Google has helped many individuals with their company's sites. Even though Google Ads is a free platform to advertise businesses, there are a few policies that we need to keep in mind about. We will go further in-depth about these restrictions and policies in the next two subsections
8.1 Staying Within Boundaries of Google Ads Policies
Google has had the experience where individuals have tried to take advantage of their platform by advertising experimental drugs and procedures that could potentially harm others that were not well aware of the side effects and dangers. For this reason, Google has implemented these policies so every individual using their site can have a positive experience.
Not all drugs and procedures are harmful however since they vary between people, Google rather not take the risk in accepting these contents. Of course, even if there are policies in place, this does not guarantee that some individuals might try to go around these regulations. If Google finds out that you tried to go around the rule, then it will discontinue your ad and report it back to you that it was disapproved of. For further information about how to stay within boundaries of Google Ads policies, read Google Ads Policy for Healthcare Marketers.
8.2 Keywords to Avoid For Your Pediatric Private Practice
As you are probably aware of there are over a thousand different medical & pharmaceutical terms in the medical dictionary. Google Ads sadly does not approve of many to be used in its platform. When using Google ads be careful of what terms you might include in your advertisement since some might be located in the banned list of keywords that you cannot use.
Google has stated that with a board-certified license or pharmaceutical license, you may use certain banned terms. But even then some licensed doctors have gotten their ads disapproved. If an issue like this arises and you feel that you followed all guidelines, you can appeal to their site.
Want to target the right people with the right message? 
9. What are Landing Pages
The landing page is the ultimate goal of what we have been talking about since the beginning of this guide. This is the area where you want to turn your viewers and visitors into leads for a service in exchange. Typically for a medical-related landing page, you are trying to get your audience to sign up for a consultation or an appointment. Capturing their information, whether it be a phone number, email or even them communicating with someone over chat is the key goal.
Key Items to Include in Your Landing Page:
Main Header of Home Page
Company Brand or Name
Testimonials or Reviews
Support Button
Contact Information
Contexts That Goes Over the Audiences Problem and How Your Service Will Fix It
Clear Call to Action such as "Get A Free Consultation Today"
Visuals That Represent Your Context
Side Note: For a great landing page you need to provide a clear-cut message about the kind of service you are offering. Maintain focus and minimize all distractions by stating only the main points and eliminating all unnecessary details. Don't forget to include some eye-capturing images that can potentially help your readers to understand the context better.
9.1 Top Landing Page Builders for Marketing Healthcare Practitioners
Unbounce: This landing page builder will help you increase overall sales & conversion rates while giving you the flexibility to customize your pages. Unbounce is programmed to assist individuals without a coding or web design background.
Medical marketers like this software since it offers a 14-day free trial to test out the software. Most end up signing up after the 14-day trial since it offers a lot of cool features such as A/B testing, along with some integration of WordPress. Using their drag and drop feature you can easily build a page with one of their 100 templates that are available to users.
Instapage: This landing page builder with the assistant of A/B performance testing, has been known to help medical marketers in creating eye-catching landing pages without any prior knowledge of coding or graphics design. Instapage has over 200 different templates to work with including their drag and drop feature that you can use on each template.
While most landing pages have similar features and objectives, Instapage has a tool called Heatmaps (only available with the premium plan). This tool allows you to track your visitors' behaviors, which you can see where most spend their time on, regarding your landing page.
Leadpages: This landing page builder's main objective is to help you get more subscribers, without you needing to send lots of spam emails. It's an easy way for medical marketers to connect with their patients and collect sales. Leadpages offers features like drag and drops and even has over 350 different templates to choose from.
This software makes it easy for non-coders and non-graphic designers to use and increase traffic to their page(s). They are constantly updating and adding new features, so they can provide a positive experience to their users.