What is Instagram?
Instagram is one of the most used social media platforms by businesses around the world. In fact, more than 25 million businesses are using this platform to promote their products and services. Some of the interesting features that Instagram has is the ability to pin up to three posts on your feed (which is great for important announcements or giveaways), pin comments under your posts (if you want to highlight a specific message from your audience or a call to action under your post), and reels (which is great in helping you get discovered and boost your engagement rates).
Why Instagram for Chiropractors?
One of the reasons why you should consider using Instagram to promote your chiropractic services is that it can help you get more patient bookings. By crafting a compelling bio, posting consistently, utilizing IG highlights, and more of these optimization strategies (which we will share with you in a bit), your chiropractic clinic will have a chance to stand out among your competitors and create an impact with your target audience. When done right, this could even help page visitors convert and become your actual patients!
Next that, this platform is a great way of improving your customer engagement rate. Instagram is loaded with features that will help you connect with your target audience. You can share static images, carousel posts, and Instagram stories, go Live, conduct polls, start a hashtag challenge, host giveaways, and more!
Lastly, it has built-in insights which will be helpful in giving you an idea about the performance of your Instagram posts, follower growth, and other metrics that are essential in measuring the results of your marketing efforts.
Does Instagram sound like a great idea for your chiropractic clinic?
Instagram post ideas
Now that you have a background on what Instagram is and how it can help your chiropractic clinic get more patient bookings, here are some post ideas that might inspire you in your future posts.
1. Behind-the-scene posts
One way of building your potential patients' trust and loyalty is by sharing behind-the-scenes content on your Instagram profile. What's great about these posts is that it shows your target audience a sneak peek at your company's culture and values. It's like you're sharing the authentic side of your business (which is a good way in humanizing your business).
View this post on Instagram
2. Patient reviews
Reviews matter not just to business owners but even to your potential patients. Patient feedback makes your chiropractic clinic credible because it creates a positive impression on your potential patients, especially if they see genuine reviews from your previous patients.
In addition with that, consumers are more likely to engage themselves with businesses that have lots of good and high-quality reviews (and a few negative reviews) compared to those that have low ratings or no reviews at all.
View this post on Instagram
3. Carousel post about FAQs
Carousel posts usually have up to 10 photos per post. This type of post encourages engagement because users can view carousel posts by clicking the arrows (for desktop users) or swiping left (for mobile users). One advantage of creating carousel posts is that it creates an immersive experience for your target audience, because the more interesting the content is, the more likely they are to view the next photos that can be found on the post.
View this post on Instagram
4. Milestones achieved
Another post idea is by sharing your clinic's achievements. So, if your chiropractic clinic received an award, one of your chiropractors got nominated in prestigious ceremonies, or you just opened a new branch of your clinic, sharing them on your page is a great way of building a connection with your target audience, and making them feel that they are a part of your success.
View this post on Instagram
5. Promotional offers
People love gettings discounts and availing promos from businesses. So, if you have ongoing promos that you have on your chiropractic clinic, sharing them with your audience on Instagram will help attract potential patients to your clinic!
View this post on Instagram
6. Giveaways
Now, if you are looking for a sure way to boost your engagement rate as well as the number of followers you have on your chiropractic clinic's Instagram page, hosting giveaways can help you with that! All you have to do is carefully plan the mechanics of joining your giveaway, think of a compelling prize, as well as how you will announce the winner.
View this post on Instagram
7. National celebrations
Another way of sharing relevant posts with your target audience is by incorporating national holidays in your social media strategy. You can find holidays to celebrate with National Today and create posts that best fit your target audience. Some of them could be National Chiropractic Month, Mother's Day, St. Patrick's Day, Thanksgiving, and Physical Wellness Month.
View this post on Instagram
8. Fun facts
Aside from promotional posts, you can also share fun facts, useful tips, or educational posts about chiropractic care. This type of post can be helpful, especially to individuals who are in the awareness stage of the buyer's journey.
View this post on Instagram
Still thinking if Instagram marketing will work for your chiropractic clinic?
Instagram Marketing Best Practices
1. Optimize your IG bio
With a curated Instagram bio, your chiropractor profile will look more professional to your potential patients. Your bio should contain basic info about the chiropractic clinic.
To increase your chiropractor clinic's visibility on Instagram search, here are a few things that you have to keep in mind:
your bio should include your clinic's exact location
your contact details (phone number and email address)
indicate your business hours
should include a short tagline about your chiropractor clinic
use relevant keywords for your business
you can also add the link to your website
2. Create Instagram highlights
To create an "aesthetic vibe" and highlight relevant stories on your chiropractic clinic's IG profile, there's this feature called "Instagram Highlights." Page visitors can see this whenever they visit your profile. You can use this feature to showcase the reviews you got from your previous patients, and specific services you offer, share clinic announcements, or provide answers to frequently asked questions (FAQs).
Here's an example of a chiropractic clinic that uses IG highlights on its profile: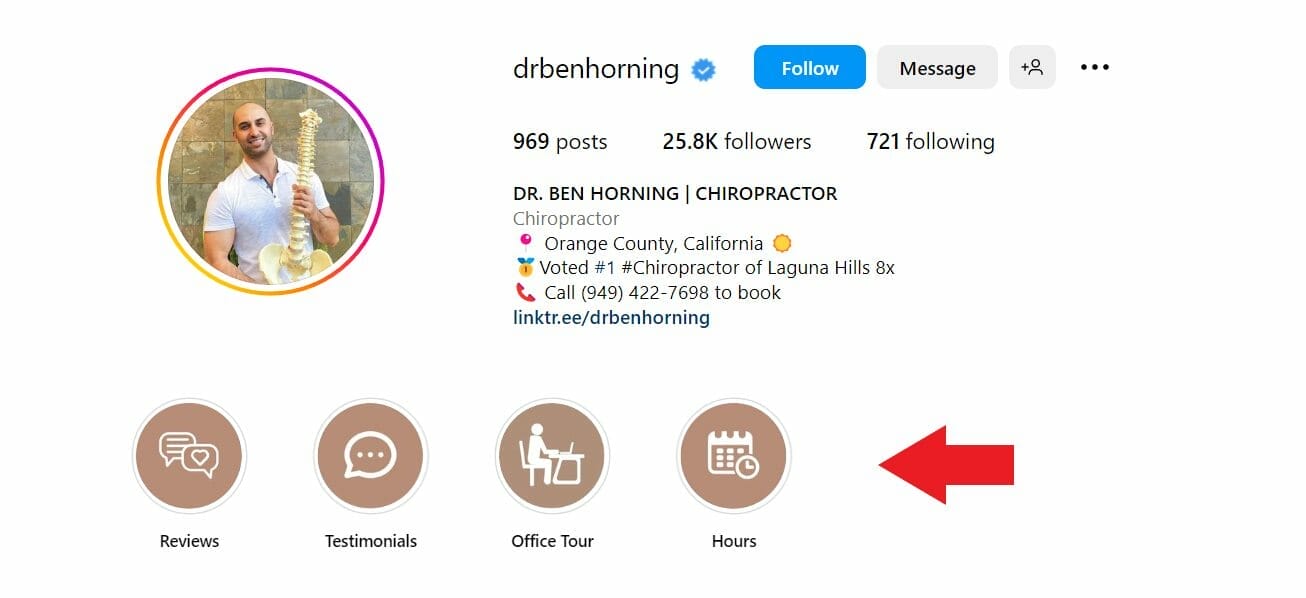 3.  Write engaging captions
One of the factors that drive engagement is by using compelling captions on your Instagram posts. With that, here are some tips that you should remember when writing your captions.
Make sure to mention the important details of your post at the beginning of your captions. Instagram hides the rest of your caption that exceeds 125 characters.
Include a call to action
Tell a story
Add emojis to highlight a phrase
When it comes to the length of your captions, do an A/B test to see which works best for your target audience
4.  Share reels
View this post on Instagram
IG Reels are made up of short video clips that are used to entertain or educated your target audience. A user's IG feed is based on the type of accounts they interact with as well as the type of videos they watch. So, for example, if most of the videos that you like on Instagram are more on ASMRs and satisfying videos, then the rest of the videos that will show up on your reels page are ASMR and satisfying videos.
Tips when creating reels:
use portrait mode
save time and effort in creating reels by using templates
stay updated with the latest algorithm with IG reelseco
use a trending sound
ideal length: short reels perform better but it still depends on the type of content you share
should be relevant to the interests of your target audience
5. Engage with your audience
[Source]
Engaging with your target audience plays an important factor in keeping them engaged and retaining the current patients that you have.
There are several ways how you can engage with your audience. It could be by resharing tagged posts and stories, leaving a comment under tagged posts, conducting polls through IG stories, or having a conversation under your chiropractic posts. When done right, it can also help them recommend your clinic to their friends, family members, or colleagues who are looking for chiropractic services!
6. Use relevant hashtags
Hashtags are effective in improving the presence of your chiropractic clinic. In fact, you can use these not just on your regular posts but even on your IG stories.
There are different types of hashtags that you can use on your posts. This includes branded hashtags, product or service hashtags, industry hashtags, user-generated hashtags, and community hashtags.
branded hashtags – can be the name of your chiropractic clinic
product or service hashtags – include the specific services you offer to your patients
industry hashtags – refer to the industry to which your chiropractic clinic belongs to
user-generated hashtags – these are specifically made for your patients that usually contain unfiltered and unsponsored posts about the services you offer
community hashtags – help you reach a wider community (specifically those individuals who don't follow your chiropractic page)
7. Use relevant audio
Audio used in your posts also plays a role in grabbing the attention of your potential customers. When done right, it could even help you go viral especially if it resonates with your target audience! But that is possible if you combine this step with the rest of the strategies we've mentioned so far.
Tips when adding audio to your Instagram Posts:
Use original audio (if it's an ASMR of the cracking and popping sounds)
Use trending audio from the charts (to get more views)
Should be something that suits the content of your video/reel
Check out what audio your competitors are using (to get inspiration)
8. Post consistently
If you want to get recognized by your target audience and stay on top of the minds of your potential patients, you have to be consistent when posting on social media. Although it takes a lot of planning, posting consistently can help you build momentum with your chiropractic content. To help you stay on track with your posting schedule, using a content calendar can help you with that. Some of the social media calendar tools that you can use are CoSchedule, Trello, and Google Calendar.
However, when we say "consistent" it's not just about posting regularly, it also refers to the way you write your captions, the way you present your visuals, and interact with your audience. So make sure to proofread your captions and images before posting them on your feed!
Tips on how to post consistently:
set SMART goals
brainstorm content ahead of time
create a spreadsheet that contains all of the topics or posts you plan to share with your audience
post at least once a day
test to see what time of the day helps you get more engagement and drive more new customers
schedule your posts (so you don't forget important dates when you should be posting new content)
9. Share high-quality content
Since Instagram is a visual-focused platform, you have to make sure that the images, videos, and stories you are posting are high-quality. Some tips that can help you in posting high-quality content include creating original content, conducting comprehensive research about the hashtags that work for your chiropractic clinic, evaluating the length of your captions, and doing competitive research about marketing strategies that work for your competitors.
10. Regularly check your built-in metrics
With Instagram's built-in analytics feature, you'll have an idea about your follower growth over time, the number of accounts you've reached and interacted with, audience demographics (top cities, countries, age ranges, and gender), impressions, profile visits, and the percentage of engagements you got from your followers and non-followers.
Here are some of the key performance indicators that Instagram analytics will provide to its users: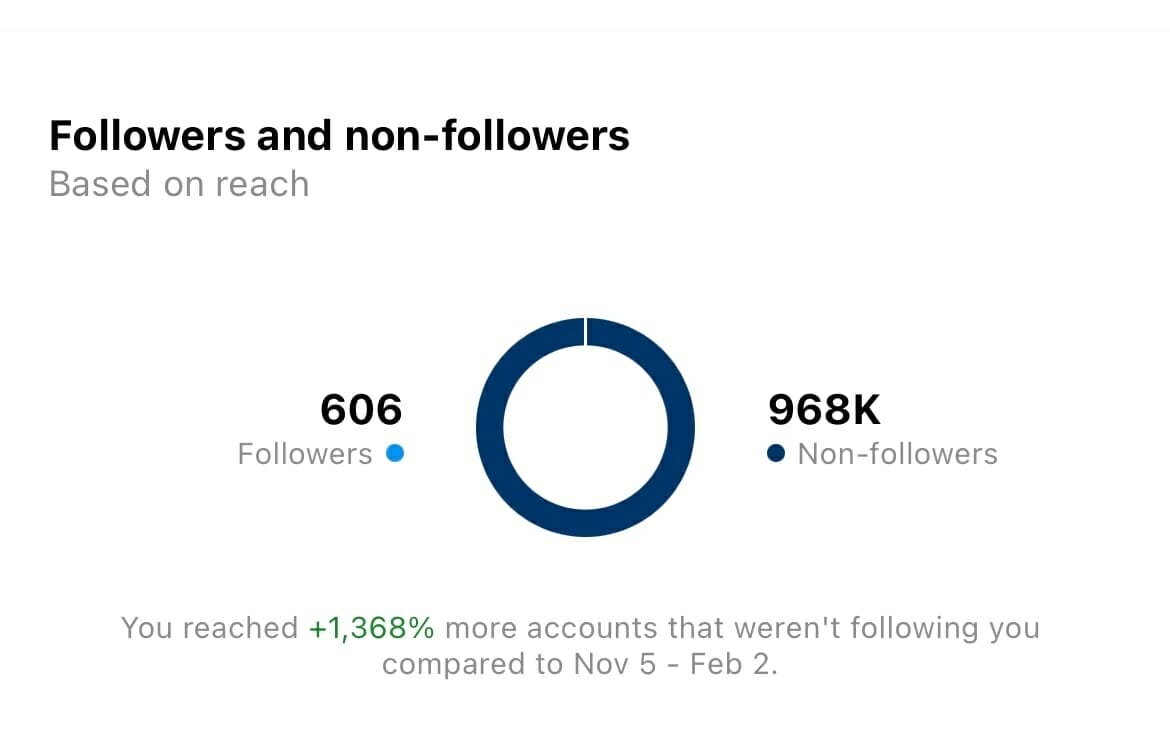 Want to learn how to boost your rank on search engines? Check out our blog about Google Ads for Chiropractors to learn more.
Need help creating advertisements for your chiropractic clinic?
Key takeaway
Instagram is one of the most effective platforms that businesses use to promote their products and services. It has tons of features that can be helpful not just in helping you get more patient bookings but even in improving your engagement rate. Make sure to follow the tips we've mentioned earlier and you will start to get results in no time!