If you are reading this guide, you are learning the importance of Google Ads for chiropractors. This Google Ads for Chiropractors guide will tell you why you need Google Ads, the benefits of using them, and a step by step guide when creating your first ad. As a chiropractor, you do not have the time to learn the complete ins and outs of a complete marketing mix. You need something that is quick, easy to use, and extremely cost effective. The ROI you can expect to see from creating a few simple Google Ads will have you wondering why you did not start using this advertising form earlier.
Do I Need Google Ads?
There is no other place where you can gain such qualified leads as through Google Ads. All advertisement services have their own pros and cons, but nothing comes close to how excellent Google Ads for chiropractors is. Google Ads is extremely successful at putting your chiropractic practice in front of potential new patients right as they are searching for the services you offer. This means your ads are going to show up when potential new patients are searching for terms such as 'chiropractor near me.'
Also, you are only charged for your ads by Google when a potential new patient clicks on your ad in the search results. These factors make Google Ads the best means of advertising your chiropractic practice. Let's look at a few more reasons why Google Ads for chiropractors is important.
Don't want to set this up alone?
Local Competition
Chiropractors know how fierce competition can be for potential new patients. In your local area, there can be dozens of clinics potential new patients can consider going to. You need your clinic to stand out. How can you do that? Allow Google Ads to walk you through the incredibly user-friendly process of creating your first ad.
In case you are wondering, there is a very high chance your competitors are already running Google ads. You can always check this by searching for chiropractors in your local area and look at the top of Google search results where ads display. If your competitors are already running ads on Google, it is not too late to start running an ad for your chiropractic clinic.
You will be bidding on search terms, such as 'professional chiropractor', and will need to outbid your competitor for your ad to have priority above theirs. Local competition can be fierce, meaning a higher cost per click for more relevant keywords or search terms. Be sure to monitor the effectiveness of your ad and that it has the correct information of your chiropractic clinic.
If your ad is not bringing it's A-game, potential new patients will easily click on a competitor's. And do not forget, if a potential new patient is searching for a chiropractor, they are in the immediate market for your services and are close to paying for these services, whether from you or a competitor.
Budget
Some chiropractors may feel that spending money for online ads is a waste. Word-of-mouth and referrals are the bread and butter of many practices. But skipping out on digital advertisements is doing a disservice to your practice. Google Ads makes it extremely budget-friendly for your chiropractic practice to advertise.
As mentioned above, Google Ads runs on a pay-per-click model. This means that if you are being charged, you are seeing results. As long as your website is highly optimized and can seal the deal, Google Ads is paying for itself. Creating a budget for your ads is a great way to make sure you are maximizing your ROI. When creating your first ad, Google will recommend daily and monthly limits for your budget. You can use these presets or customize your budget further.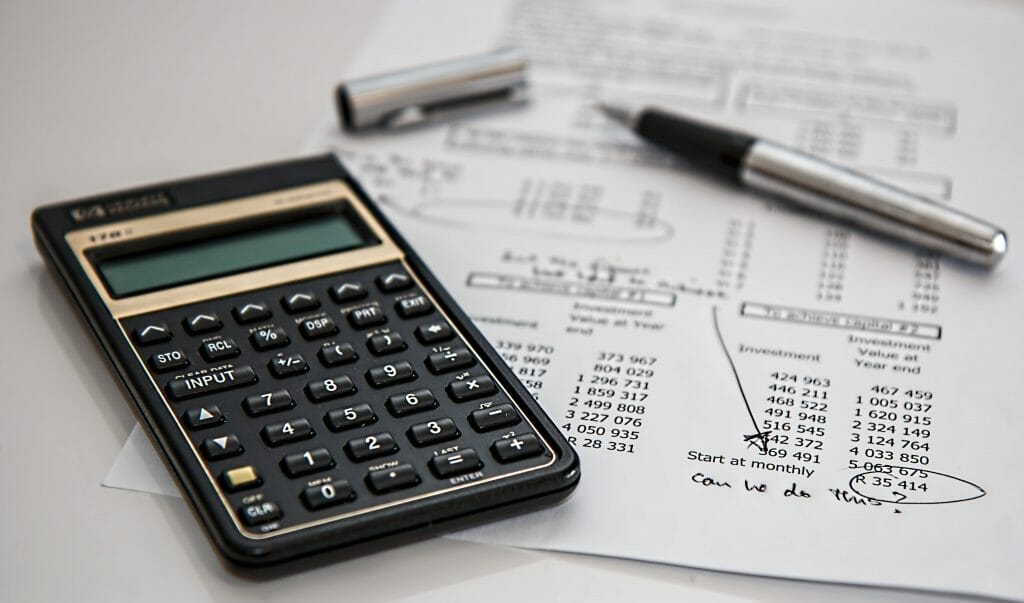 Google will allow you to choose whatever you want as a daily budget, and will even provide some insight around what budget competitors are spending daily. If you are still on the fence about spending money on Google Ads, you should think about the cost of ads compared to the value of a permanent patient. If you provide excellent care and service to your patients, a one-time $25 ad that brings in a new customer means you will easily make your money back after the first visit. The ROI from a clicked on Google Ad is astronomical. Establish a healthy budget per month and watch the new patients come flowing in.
Population and Volume
When creating your ad, you will be able to choose where your ad will be targeted geographically. Most chiropractors will choose to target their local area, within a few miles. After all, you chose this area to practice in for a reason, right? Well, Google does not restrict you to targeting in an area based around your practice's location. If the town or city next to you has more ideal potential new patients, you are able to target that area. Maybe your area is tapped out and no one is looking for a new chiropractor or the town over has a higher average household income.
Being able to fully customize where your ad will show geographically will allow for the right people to see your ad. Customize the content of your ads and match it up with specific parts of your local area to see what works best. Not all patients are perfect for your practice, but Google makes it easy to find the perfect patient.
What Are Some Benefits of Using Google Ads?
Now that you see the importance of a Google Ads campaign, it is time to think about the benefits. More than any other form of advertisement, Google Ads makes it very easy to track the results of your ad and how effective it actually is. This takes the guesswork out of wondering how and where you are gaining new patients. Were they referred by a current patient? Or did they see your name scrolling on social media? Google Ads will tell you exactly how effective an ad is at creating a new patient. After seeing why Google Ads is important for your chiropractic clinic, read further to see some benefits of the premier advertisement service.
Rather skip this and just have us set it up?
Results Show Up Fast
Once you finish modifying your chiropractic ad and submit it, Google will immediately have it ready to compete with competitors. This means potential new patients and high quality leads can be gained right away. Do not forget, you are bidding against competitors for your ad to show up, so you may need to better optimize your ad. Fixing up your chiropractic ad is very quick and very easy. If something is not working, Google allows you to fine tune it and get it back up and running as quick as you can. Fast results from Google will get your chiropractic practice new patients fast.
Highly Targeted Ads
Being able to pinpoint your ideal new patient is incredible. Using Google Ads means Google will use an individual's account information for demographic purposes. Criteria such as estimated age, household income, parental status, and gender are all targetable with your ad. If your chiropractic practice wants to bring in older patients who need a bevy of services, you can target a specific ad to this demographic. Maybe higher-income, single individuals are the new target.
Create a very specific advertisement focused just on this demographic to tap into a potential lifetime patient. This process of targeting specific demographics all revolves around keyword bidding. Combining target keywords, the correct text on your ad, and a matching landing page on your website means potential new patients will become highly sought-after permanent patients.
Easily Trackable Results
Similar to all other aspects of business, you need to be able to track ROI on your advertisements. Google makes that a breeze. Each successful new patient signup through a clicked ad is tracked and categorized, so you know exactly what works. Google provides easy-to-understand reports to analyze which ad is performing as expected. If a click on an ad costs $15 and you are not seeing a positive gain on that click from a conversion,  you will need to make adjustments.
Optimizing your ad campaign may seem like too much work, but if the money made is not above the money spent, do not just give up. Take some time, read the reports from Google, and fix what is not working. Use these reports to refine the content of each ad, and start collecting higher-quality leads.
Also, consider using call tracking for chiropractors to refine the most likely patients out of all the calls to your practice.
10 Steps To Setting Up Your First Google Ad
When creating your first ad, Google will walk you through it. But to provide more detail, this guide will also show you the steps of creating an advertisement through Google. All you need is a Google account, website, credit card, and a little creativity. Google Ads allows you to choose to make ads in the standard basic mode, or in the more advanced Expert Mode. When setting up your Google Ads, Expert Mode allows you to choose more precise settings.
If you want to learn more about our services as well as our success stories, check out our YoYoFuMedia page.
The following 10 steps will walk you through Google Ads in its basic mode.
1.  After you arrive at the Google Ads homepage, you will be prompted to click 'start now.' Your Google Ads journey is about to begin, but do not worry, it will be super easy.
2. Google is now going to ask what is the goal of this first-time ad campaign. Choosing specific goals will allow Google to recommend certain features further on. If your chiropractic clinic wants to attract potential new patients to visit your site where you want people to sign up, choose 'Get more website sales or sign-ups.'
3. Now you will enter the name of your chiropractic clinic. Make sure there are no grammatical errors. You can not afford to have your Google Ad be incorrect at this stage.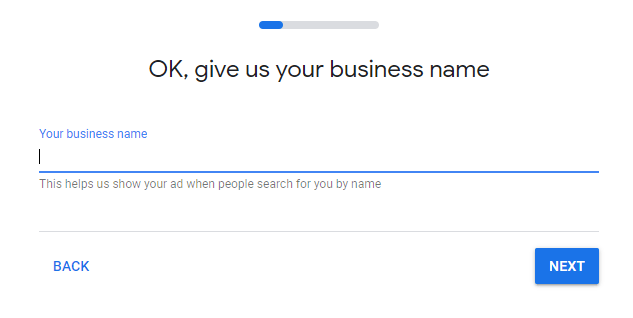 4. Input your website's URL. If you want your ad to direct to a specific landing page, put that URL here. The text on the ad should match the text on whatever page you are linking to for better results. If you are advertising a specific service, make sure your Google Ad will link the URL of a matching page on your website that talks about this specific service.
5. Google will now show you what page will show up after the ad is clicked. Mobile and desktop pages are both viewable. Do not forget, that many Google searchers are utilizing their phones for searching online. Make sure the mobile version of your site is properly optimized for phone viewing.
6. Now comes the creativity aspect. Google provides suggestions, but you can customize the headlines of your ads. Make sure these headlines are what potential new patients are searching for. You will also be able to make changes to the two descriptions on the ad. Be sure to include a call to action to make your ad competitive. Also, always include a call button with a phone number that will be answered from your practice. Many search users will click this call button on their phones.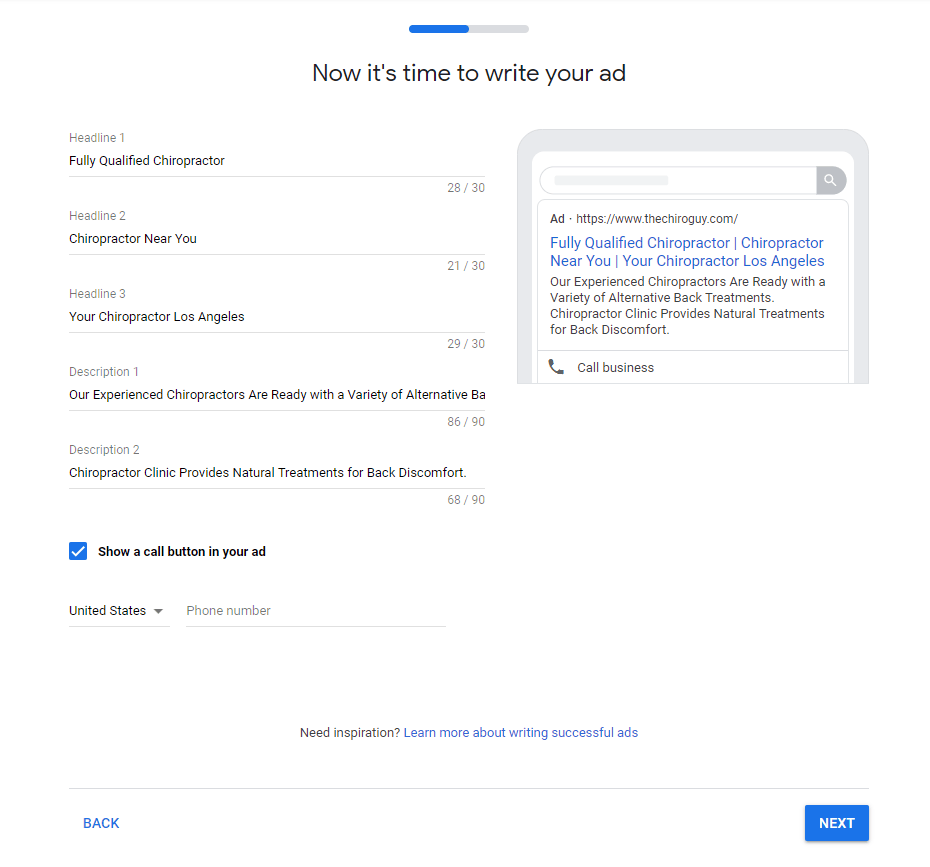 7. Adding keyword themes means searching keywords that are similar to the theme will have your ad show. If someone searches for a similar word or phrase to 'sports chiropractor', your ad has a chance to show up in search results. Having around five to ten keyword themes will help your ad out the most. If you need some more information about keyword themes, check this out.
8. Geographical targeting is the next step. This is where you can choose where your ad will show. Remember to target specific areas with certain text in the ad. Find the perfect patient.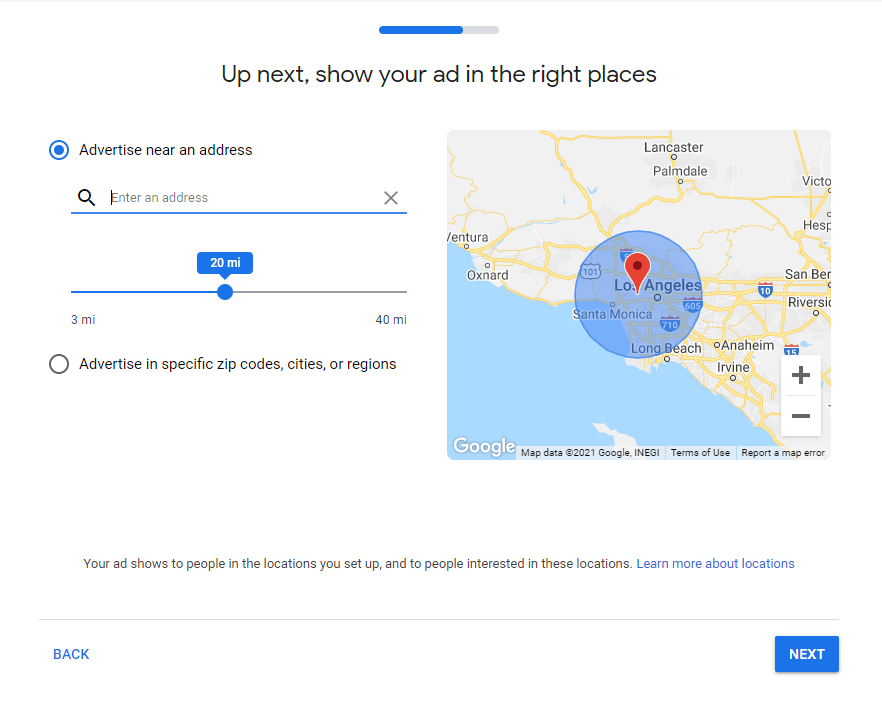 9. If you have not decided beforehand on a budget, now you can look through Google's recommendations. Estimated ad clicks is also included and will provide a slight glimpse into what you could expect from your budget and overall competition.
10. And now you can review all the aspects of your new ad. If you need to make any adjustments or changes, go ahead and do that now. If you are satisfied with how your ad looks, click 'Next', which brings you to the final step of confirming payment. Fill out your billing info, and you will have a functioning ad.
The following 10 steps will walk you through Google Ads in Expert mode.
1. When you initially begin your Google Ads campaign, this is what you will see. When you are interested in using Expert Mode, you can choose that option at the bottom of the page.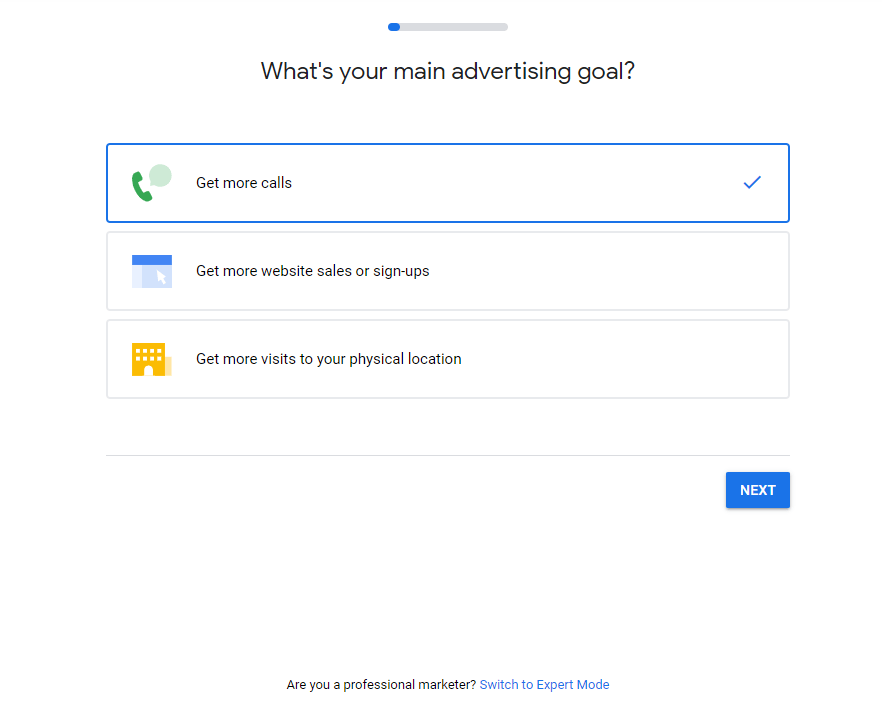 2. Once in Expert Mode, you will be prompted to select what outcome you are trying to achieve with your campaign. For your chiropractic practice, you may want to generate new leads or gain increased website traffic.
3. When you are directed to select a campaign type, choose search. This is how you want potential new patients to find your practice.
4. Next, you can review the campaign General Settings to customize features such as networks, start and end dates, and ad schedule. You will want to make sure you have search network selected.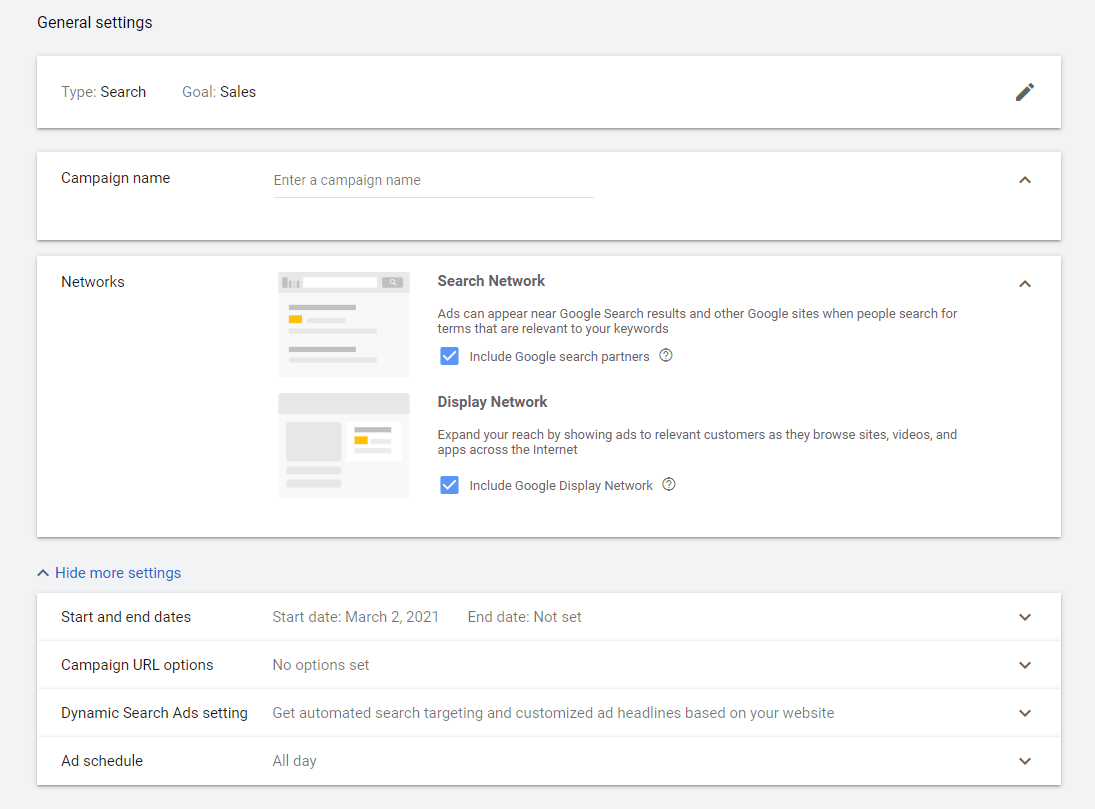 5. The next step is to articulate your targeting and audiences. You can filter with locations and languages. Also, you can browse for keywords to look for applicable audiences. Depending on your knowledge of your ideal audience, you can either narrow the reach of your campaign with intended Targeting or keep your reach wider with the Observation option.
6. After determining your audience, you need to establish your budget and bidding strategy. Here, you can also enable conversion tracking and set your ad rotation preferences.
7. Be sure to set up and include ad extensions. These will generally increase your clickthrough rate and show more information on your ads. Google will only include these extensions if they think they are beneficial to searchers. There is no reason not to include them in your chiropractic ads.
8. Next, you will create ad groups. You will keep ads and keywords for each product or service focused within an ad group. Relevant keyword choice is imperative so that your ads get shown to an audience that is actively looking for your services.
9. Then, you will create your ads. This section will include a tool that determines your ad strength relating to your chosen keywords. You will fill in the headlines, descriptions, and URL.
10. The final step in the Expert Mode process is to confirm your ad and payment information. Congratulations, you just set up a chiropractic ad like a marketing expert!
When comparing basic to Expert mode, you can use the basic mode when setting up your first ad to get more acquainted with the Google Ads process. That will still be effective for a chiropractic ad. Ultimately once you get more comfortable with the method of ad development, you will want to advance to Expert Mode to get the most control over the chiropractic ads you are putting out.
Recap
As you can see, Google Ads for chiropractors is not only very important but also very easy to get done. If you are trying to gain more high-quality leads and potential new patients, Google Ads is exactly what you are missing and need. Google Ads allows you to avoid overly-expensive and ineffective advertising solutions and focus on what is most important; new patients flowing into your chiropractic practice.
Still not sure if you need Google Ads?