Have you ever wondered if you're getting a good ROI based on the calls you receive in your chiropractor clinic? In this article, we'll share with you why chiropractors need call tracking software, how it works, and tell you some of the best call tracking software that you can use to maximize your digital marketing efforts.
What is Call Tracking?
Call tracking allows you to get useful information about your customers and show reports on how effective your digital marketing campaigns are based on the calls you receive from customers, also known as inbound calls. In short, it is used to track phone calls from your prospective patients and see how your marketing efforts are going so far.
How does call tracking work?
1. Call tracking works by designating a specific number to your chiropractor clinic's phone line.
2. Then, a code will be installed on your chiropractic website from the call tracking software that you are going to use.
3. When a new number calls, it'll forward them to your chiropractor clinic's phone line and you'll see where the call came from (i.e. Google Ads, Google My Business, your chiropractic website, etc.)
4. The call tracking software will analyze the calls you receive and give you data such as where the duration of the call, recording (if you allow it), and keywords that your chiropractic customer clicked before calling your clinic.
5. From there, you'll be able to come up with a marketing strategy that works best for your chiropractor clinic's campaigns.
Interested in using call tracking but don't have time and resources?
Why do chiropractors need call tracking software?
Now that you already have a background of what call tracking is and how it works, here are 5 reasons you should be using call tracking software:
1. It tells you which campaigns are doing well
Due to the wide range of advertising platforms that local businesses use nowadays, it would seem to be impossible to track where your calls are coming from without asking your customers. In some instances, your receptionist might have forgotten to ask your callers about it.
To avoid situations like that to happen, a call tracking software like CallTrackingMetrics can help you find out where your leads are coming from. This way, you'll be able to make the most of your marketing strategy and improve the campaigns, such as Google PPC for chiropractors, that you think need a little more work.
2. You can monitor calls at any time
Since chiropractors don't have much time to stand by and listen to every phone call, call tracking software can help you listen to recorded phone conversations or read call transcripts with your customers during your free time. This way, you'll be able to monitor if your receptionist is doing a good job in answering calls and guiding your patients into scheduling an appointment in your chiropractor clinic.
From our experience with clients, most receptionists have a lot of room for improvement, to say the least. And most owners don't realize it until they hear it for themselves.
3. You get to know more about your customers
Previous call history and customer demographics are some of the information that you may not completely know while talking to your customers without using call tracking software. But, with the data and filter that a call tracking software provides, you'll be able to gather useful information about your potential chiro patients and gain a better understanding of your customer's behavior.
4. You can easily integrate it with other platforms
If you are already using applications like Google Ads, you can easily see the conversions made from the calls received from Google Ads directly on the call tracking software that you are using for your chiropractic clinic. Tracking calls is made more convenient because you don't have to switch between two tabs of different platforms to check how your conversions are going.
5. Saves time and resources
Call tracking software also helps you save time and resources. You no longer have to manually jot down notes to identify patterns about the important details said by/about the client. Instead, a chart that contains all of the calls you received along with the details you are looking for will be created by a call tracking software.
Want us to set up a call tracking software for your chiropractor clinic?
Information you get from call tracking software
By using a call tracking software, you'll get a lot of rich information such as:
1. Top-performing chiropractic pages
By simply assigning a phone number to specific landing pages you'll be able to determine which among your chiropractic campaigns are doing well and which need to be improved. This is important because you have to know which suits the interests of your chiro patients and which does not.
Want to learn some tips to make your chiro site mobile-friendly? Read our blog post on Mobile Friendly Site For Chiropractors – Why You Need It In 2023 to learn more.
2. Trends and patterns based on the calls
With the help of call tracking software, you'll be able to identify where most of your budget and content is being consumed. For example, you noticed that most of the calls you receive are coming from your chiropractor's Google My Business profile. When you listen to the calls, most of them are asking for your clinic's exact location. With that, you want to complete your chiropractor's profile and fill out the missing details that people are usually looking for.
See how the patterns from the calls help you identify the issue that might be causing you to get a lot of calls recently. You can also use call tracking to confirm appointments with scheduled patients and reduce your chiropractor no-show rate.
3. Peak hours
Call tracking software also provides you with information about the time when you usually get a lot of calls. From there, you'll be able to adjust the time you implement your marketing strategy in Google Ads and other digital marketing tools.
4. Keywords that bring out high-quality calls
Learning the right keywords is essential in every digital marketing strategy. Not only does it help you save your budget from being wasted on bad keywords, but you can also use it to bid higher on keywords that are driving calls and traffic to your chiropractic site.
5 Best call tracking software for chiropractors
You're probably overwhelmed by the long list of call-tracking software that is available online. Don't worry because we've summed up 5 of the best call-tracking software that you can choose from.
1. CallTrackingMetrics
CallTrackingMetrics offers a one-month free trial where you can manage all of your calls, use toll-free numbers, text messaging, forms, live chat, and integration with 40+ applications including Google Analytics, WordPress, and more.
But, if you want to have access to its advanced features, plans start at $39.
Check out our blog post on Google Analytics for Chiropractors to learn more about its best features and why you should use it.
2. CallRail
CallRail is also one of the best call tracking software that allows you to use 10 local numbers, form submissions, 10,000 minutes of call transcripts, and more! You can try those features with their 14-day free trial.
If you wish to continue using it, rates start at $45-$145 depending on the package and tools that you'd like to use.
3. Hubspot
In Hubspot's call tracking software, there's predictive lead scoring that will guide you on which caller is more likely to convert. It also allows you to place calls using your browser to reduce the time spent dialing numbers and more time selling your chiropractic services.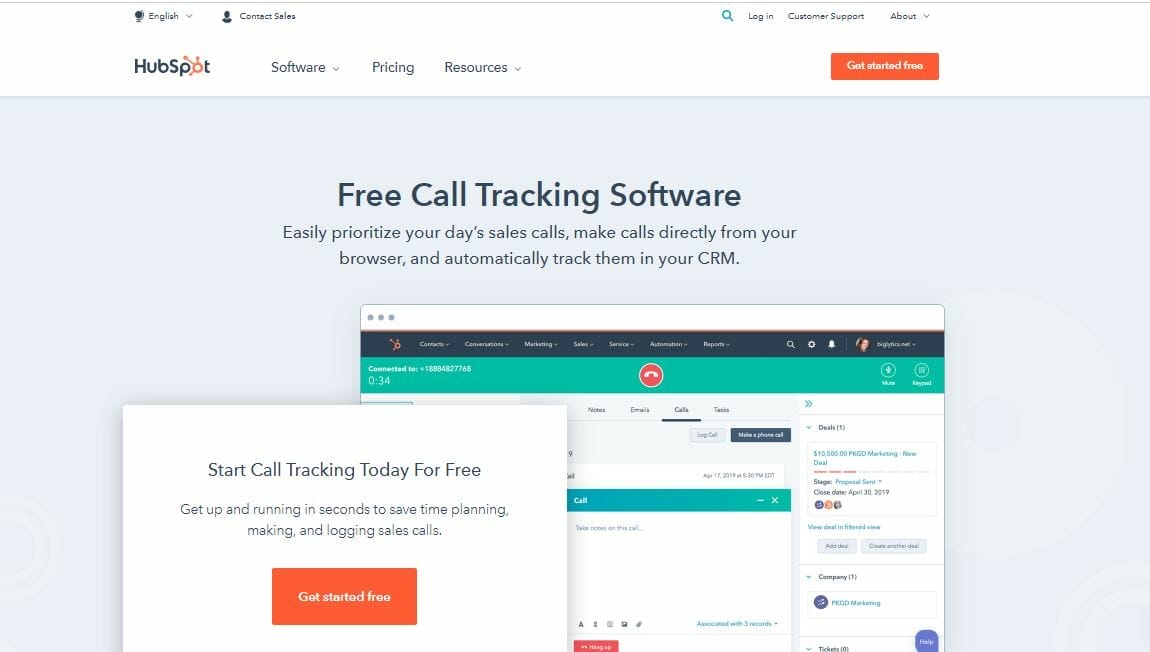 4. Invoca
Invoca is an easy-to-use call tracking software that allows you to visualize, personalize, and understand every call you receive from your prospective patients. It also assists you in getting calls that help you generate revenues based on the client data that was captured before/during the call.
Note: Rates for Invoca depend on your annual subscription plus usage.
5. Phonexa
Phonexa is another call tracking software that authorizes API and third-party integrations, automatic voice recognition, and a sophisticated filtration system where you can come up with custom filters, create your own restrictions, and set up route calls.
Need help deciding which of these call tracking software works best for your chiro clinic?
Key takeaway
The key that will help you make the most of your phone calls is via call tracking software. This not only makes the task easier but also gives you insights on how to improve customer experience and determine the return on investment on each of your campaigns. So, if you haven't set up a call tracking software with your chiropractic campaigns, you don't know how many leads you are missing out on!