A patient no-show takes place when one of your chiropractic patients didn't arrive during his or her designated schedule or failed to inform you beforehand.  When this happens, chiropractors aren't the only ones who'll be affected. It can also delay the improvement of that patient's health condition.
Before we proceed with the ways to reduce chiropractic no-show rates, let's take a look at the factors that cause patients to miss their appointments.
What are the factors that influence patient no-shows?
As a chiropractor who aims to restore the normal functioning of your patients' joints and muscles, you want them to be free from pain through regular chiropractic treatment sessions. But in some cases, your patients skip their appointments.
You might be wondering, "What causes them to miss their appointments?"
According to a study, the reasons patients miss their appointments is either they forgot to attend or cancel, having issues with transportation, work obligations, personal reasons, weather condition, financial issues, and expected long clinic waiting times. While some get scared, thinking that they'll go through excruciating pain while their backs are being adjusted, especially first-timers.
Impact of no-show appointments at your chiropractic clinic
Having tons of missed appointments in a year can cost you a thousand dollars or more. Not only that, but it could also hinder your chiropractor clinic's growth, lose the chance to get reimbursement for chiropractic care expenses, and affect your staff's productivity due to the time that was wasted waiting for that patient to show up. Worst-case scenario, it may lead to a significant loss in revenue if you are not able to address the issue earlier.
Need help to see if your chiropractic clinic has a good or bad no-show rate?
7 ways to reduce chiropractic no-show rates
Worrying about how to deal with missed appointments? Here are some strategies you can use to prevent having a high no-show rate for your chiropractic patients:
1.  Ask your patients their preferred channel for communication
The best way to reach out to your patients is through their chosen mode of communication. Some may prefer texts over email, while some prefer calls. It's important to gather this information to prevent them from missing out on the reminder about their schedules.
So before setting an appointment, you have to make sure to ask your patients about their preferred communication methods. Want to know which marketing campaign most of your calls come from? Check out our blog post on Why Chiropractors Need Call Tracking Software to learn more.
Interested in using a call tracking software for your chiropractic clinic?
2. Cut down the waiting time
Long waiting times also have a negative impact on your patient's experience. It may affect not just your patient's perspective about your brand but also the overall treatment that you provide. Here are some of the things that you can do to provide a flawless waiting time for your chiropractic patients:
Gather patient information prior to their appointment schedule

Filling out forms on paper right before a patient's turn can be time-consuming. To save time, and provide a hassle-free transaction, consider using patient portal software instead.

Inform your patients if there will be delays

There are instances where the current patient has lots of questions which sometimes causes the next patient's schedule to be pushed. If that happens, let other patients know so they don't get frustrated or annoyed.

Use a Queue Management System

Some of your patients probably have lots of things to do (e.g. attend meetings, classes, do phone calls, etc.) other than getting their chiropractic treatment session. To prevent wasting time waiting in line, you can have them wait outside or in their cars and they'll be notified when it's already their turn. Qminder and QLess are some of the digital queue applications you can use.
3. Give incentives to chiropractic patients who arrive on time
Adding incentives through giveaways, raffles or gift certificates could be a good idea if you want them to be punctual on the day of their appointment. You could also give patients discount coupons like $20 off on the next chiropractic visit or a 10% off any chiropractic treatment. Ready-to-use coupon templates can be found at Canva or Zazzle.
If you want to offer freebies, make sure that it's aligned with your patient's condition. For example, let's say the patient who arrived on time has Plantar Fasciitis. You could give them sock night splints or heel seats.
4. Use automated patient reminder software
In this digital age, almost every task is made easier with the use of software. From paying bills down to scheduling an appointment. To prevent your patients from not showing up, consider using automated reminder systems. This will help you disseminate the needed information about your patient's schedule through SMS or phone call.
Simple Practice is practice management software that gives you a secured patient portal, simplifies patient billings, and even lets you send reminders about your patient's appointments. It also allows you to manage schedules using their mobile app and put the documents about the patient in one place.
Here's an example of an automated reminder from Simple Practice: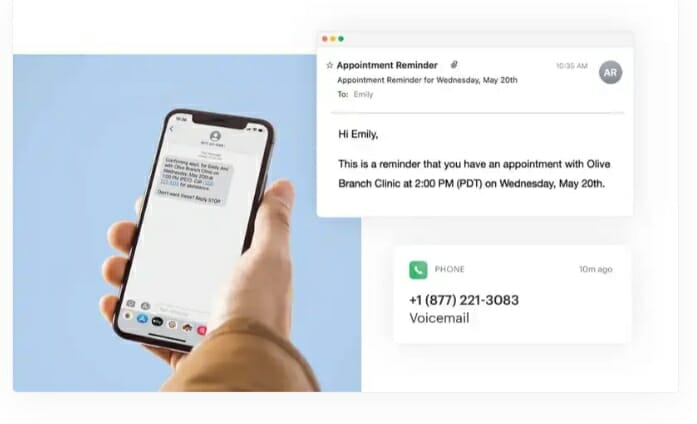 And here's another example of a HIPAA-compliant message you can send using the same automated patient reminder software:
Want to learn which tools can help you get the most out of your digital marketing strategy? Read our blog post on 23 Best Digital Marketing Tools For Chiropractors to learn more.
5. Let your patients know about the no-show fee
Having a no-show fee is a standard practice in almost every industry, especially in healthcare. So, before a patient sets a schedule, you should inform them about your chiropractic clinic's policies like the no-show fee. It could be posted on your website, front desk, or verbally mentioned by your clinic receptionist during the call. This way there's no excuse for them to tell you that they are unaware of the policy.
By doing so, your patients will learn how to respect everyone's time.
6. Establish a late and cancellation policy
Noticed that some of your patients usually arrive late or do last-minute cancellations during their appointments? If it's their first time, you can give them a warning and waive but if it becomes a repeat behavior, your practice will be negatively affected if you don't take action.
Once you've created your clinic's policy, you can share it on your social media pages, such as TikTok, so that even your potential patients will be informed. Like in this Facebook example:
Or you can add it to your page's information so they'll see it immediately when they visit your page like this:
For more patients to visit your website, also consider implementing Google Ads as a chiropractor.
7. Do follow-ups
Notifying your patients (in the form of emails, calls, or text messages) a day before their appointment is a good opportunity for them to let you know in case they are not available on their scheduled appointment.  Knowing the chances of them showing up or not should be one of your strategies so that you'll have enough time to open a slot for other patients who wants to receive chiropractic care on that day.
For patients who have missed their schedule, here are some templates you could use to communicate with them:
Template A:
Hi, [your patient's name], you missed your appointment with [name of your chiropractic clinic or chiropractor]. Kindly call us at [your receptionist's number] so we can reschedule your appointment. We are looking forward to seeing you.
Template B:
Hi, [your patient's name], this is [name of your chiropractic clinic], you missed your appointment last [date of appointment]. If you wish to cancel, kindly inform us at least 24 hours in advance so that we can use it to open a slot for others. If you still need to reschedule, call us at [receptionist's phone number].
Template C:
Hi, [your patient's name], you missed your appointment with [name of your chiropractic clinic]. In the future, kindly call us a day ahead of your schedule at [receptionist's phone number]. Failure to do so will cost you a $30 no-show fee that must be paid before you set an appointment with us. Reply with 1 if you wish to be connected to our clinic.
Want to know how to be #1 with digital marketing for chiropractors? Check out our blog post on How To Grow Online Presence For Chiropractors to learn more.
Don't have time to manage your chiropractic clinic's Facebook page?
Key takeaway
Whether a patient shows up or not, you still have to pay your chiropractic clinic's monthly dues such as rent and utilities. Minimizing no-show rates is the best way to prevent your practice from going downhill. Just follow the tips we've mentioned earlier, and you'll notice a decrease in your clinic's no-show rate.