If you are new to digital marketing and have no idea which marketing tool can help you get more new patients, this blog post is for you! In this article, we'll share with you the best chiropractic marketing tools for chiropractors that will help you step up your game to boost the number of customers in your clinic.
But first, here's a short background about digital marketing.
What is Digital Marketing?
Digital marketing refers to the online strategies you do to improve your brand's visibility. This includes Pay-per-click (PPC) campaigns, Social Media Management, Search Engine Optimization (SEO), Email Marketing, and Content Marketing. Its main goal is to increase brand awareness, boost local SEO, and generate more leads.
However, having a digital marketing strategy alone doesn't give you an assurance that your chiropractic brand will show up on top of the search results page. You should also use it along with the best marketing tools (which we'll share with you in a bit).
Want to start digital marketing for chiropractors?
Schedule A Free Strategy Session!
22 Best Chiropractic Marketing Tools
In this section, you'll get to know which tools can help you improve the number of chiropractic patients visiting your clinic.
Pay-per-click advertising
Pay-per-click allows you to show your chiropractic ads to individuals who are searching for the nearest chiropractic in the area. It is one of the best tactics that should be included in your digital marketing strategy especially if you want to target a specific customer demographic. Here are the platforms where that work under the PPC system:
1. Google Ads
Google Ads is one of the most effective advertising platforms that is used to display your chiropractic ads on search engines, websites, mobile apps, and videos that are consumed by your target audience. Here, you set up your own ad copies, choose a target location, and adjust bids for a specific keyword.
Read our blog post about Google Ads for Chiropractors to learn more about how to use it.
2. Facebook Ads
With over 2 billion Facebook users, reaching out to your prospective patients is made possible with Facebook Ads. Here, you can promote your chiropractic services directly to Facebook users and set your preferred budget, format, and audience. It doesn't end there, you can also manage, keep track of your campaigns, and get real-time insights with the Facebook Ads Manager.
Check out our blog post on Best Facebook Ad Strategy To Grow Your Chiropractic Clinic to learn more.
Need help in promoting your chiropractic services to your target audience through these platforms?
Social Media Management
Handling more than one social media account for your chiropractic clinic can be a daunting task. You have to switch to different tabs or platforms just to check insights. With the use of a social media management tool, your task becomes bearable.
From sharing posts, responding to feedback, and keeping track of the results, you can do all of those in one dashboard!
1. Sprout Social
Sprout Social helps you save time in managing all of your chiropractic social media accounts on one platform. Here, you'll be able to understand what your customers are saying about your brand, plan on when you should publish your next content, as well as analyze how your social media marketing strategies are working so far.  You can do all of those with their free trial or subscription plans which start at $89.
2. Hootsuite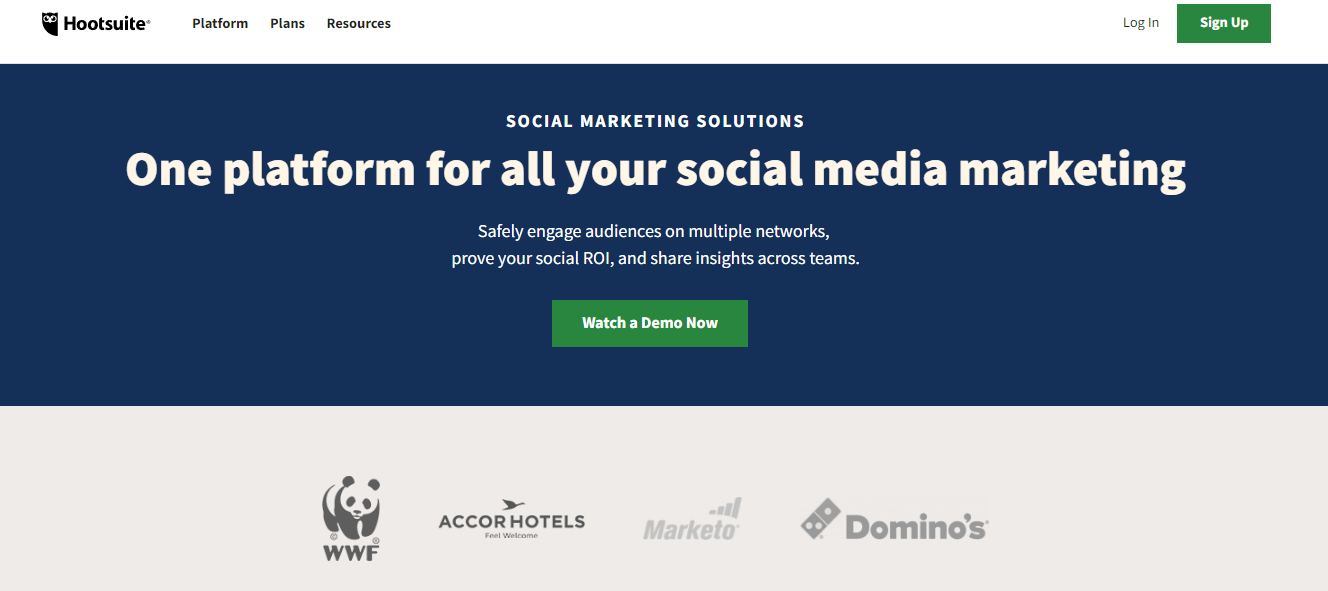 Hootsuite also has lots of features that can help you with social media marketing. From publishing content, responding to your customers, monitoring your competitors, and managing your advertisements, down to analyzing your strategies. It even allows you to collaborate with your team, making it easier to resolve issues and improve communication.
Wondering what's the best time to post on your socials? Check out our blog post on How Often Should A Chiro Post On Social Media to learn more.
SEO
Search Engine Optimization is used to increase the exposure of your chiropractic brand. To increase your ranking on Google's Search Engine's Results Page, here are some of the best tools that can help you improve your chiropractic website:
1. Semrush
SEMrush helps you analyze your competitor's backlinks, run SEO audits, and monitor your SERP positions in one dashboard! Not only that, but it also helps you create content that ranks, get ideas from the tactics used by your competitors, help you with your PPC campaigns, and improve your overall social media strategy.
3. FullStory
FullStory helps you distinguish the potential errors in a customer's buying journey as they visit your site. It lets you know what website each page visitor came from, if there are rage or dead clicks on your site, and more through FullStory recordings. It's like you are watching the customer's journey based on their perspective which gives you insights into if there's something that needs to be fixed in your chiropractic site.
4. Keywords Everywhere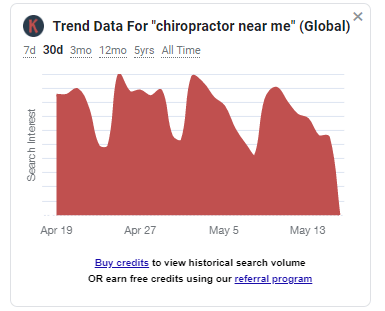 Wondering how many monthly searches your chosen keyword gets? Keyword Surfer is a browser extension that gives you the opportunity to find long-tail keywords, relevant terms people also search for, and also see the global trend of your chosen chiropractic keyword.
5. Keywords Surfer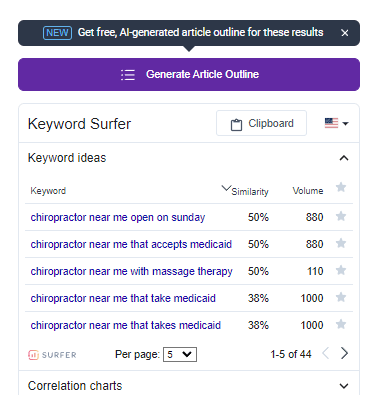 Keywords Surfer is another browser extension that allows you to generate an outline for the chiropractic article that you want to publish. It also provides correlation charts for you to check the estimated search traffic as well as the number of words and keywords to use which can be helpful in increasing your chiropractic site's visibility!
6. Google Search Console
Want to know if your chiropractic page is ranking on Google? You can find that out through Google Search Console. This platform helps you check the indexing status of your posts or pages and at the same time, gives you detailed reports to fix the issues on your website. Check out our blog post on SEO for Chiropractors to learn how to do on-page and off-page optimization.
7. Rank Math
Rank Math is a WordPress plugin that helps your posts rank high on search engines by crafting SEO-friendly content. You just have to implement the tasks below throughout your chiropractic content (get as many to green or light green as possible).
Don't have enough time to do search engine optimization for your chiro website?
Email Marketing
Have you recently decided that you want to promote your chiropractic brand via email? Here are some of the best email marketing software for you to personally reach out to your prospective patients:
1. Mailchimp
Mailchimp is one of the best email marketing software which allows you to step up your email marketing strategy. This helps you personalize your emails depending on the type of customer you have and stand out among your competitors with their Subject Line Helper.
Learn more about how to get chiropractor patient referrals using methods such as email marketing.
2. Hubspot email marketing
Another email marketing tool is the one from Hubspot. It lets you tailor your emails to each recipient. You can also optimize your email marketing campaign through A/B Testing and Analytics.
Content Marketing
The content of your chiropractic website is what makes your page visitors stay longer and become your actual patients. Content marketing should be one of your tactics if you want to increase conversions, expand your chiropractic brand's reach, and build trust with your audience. Here's a list of content marketing tools that will help you in promoting your chiropractic posts:
1. WordPress
WordPress is an easy-to-use platform where you can customize templates, publish chiropractic posts, pages, and build websites. It also has tons of plugins that you can use to make your chiropractic site more functional than ever. This is very popular and suitable, especially for those who are not well-versed in coding.
Are you into blogging but running out of ideas to write? Read our blog post on 7 Easy Chiropractor Blog Topics You Can Use
2. Grammarly
Grammarly polishes your spelling, and grammar, and provides suggestions to make your chiropractic content quick and easy to read. This also tells you what tone your page visitors may perceive while reading your chiropractic content. You can use it either as a plugin or a browser extension.
3. Hemingway Editor
Hemingway gives you insights into the sentences that are hard to read, gives suggestions on words that have simpler alternatives, uses the passive voice, as well a level of readability. We recommend making it grade 8 and below because the easier the content of your chiropractic content is, the more shareable it becomes.
4. Canva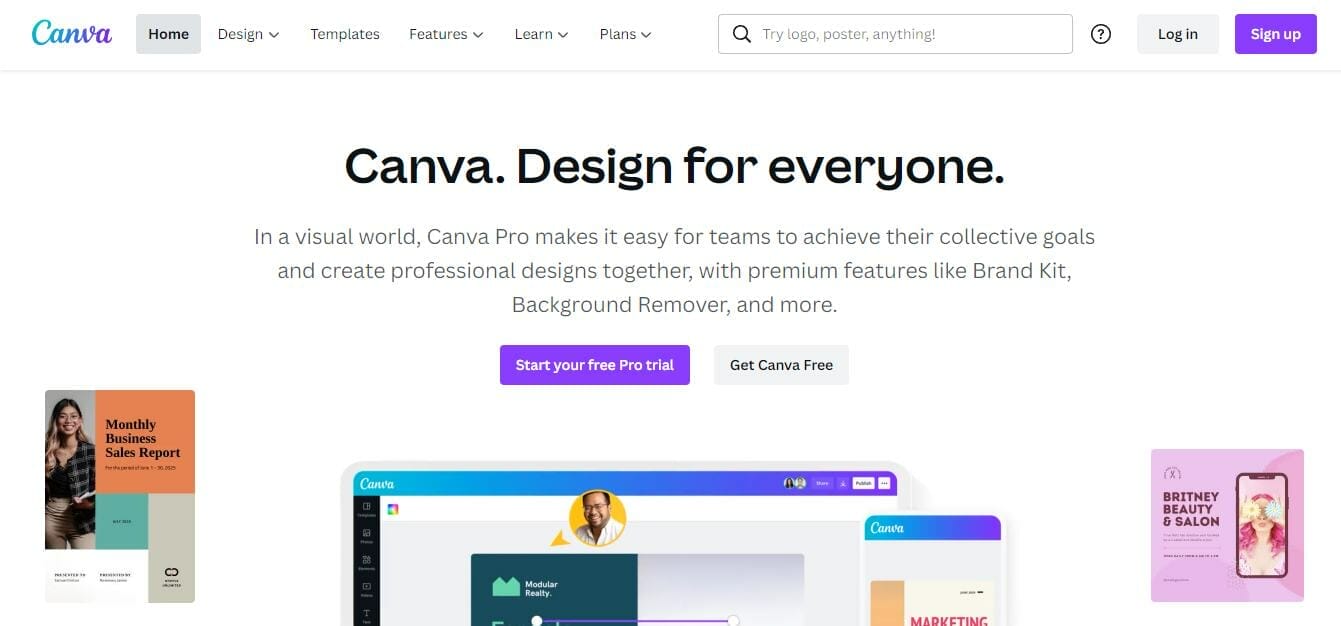 Canva is a graphic design platform that helps you format your images depending on the aspect ratio of your preferred social media platform. Here, you can also create infographics, posters, and postcards, too! You can even get design ideas if you are looking for inspiration for the next physical therapy content you want to publish.
Additional digital marketing tools
1. Trello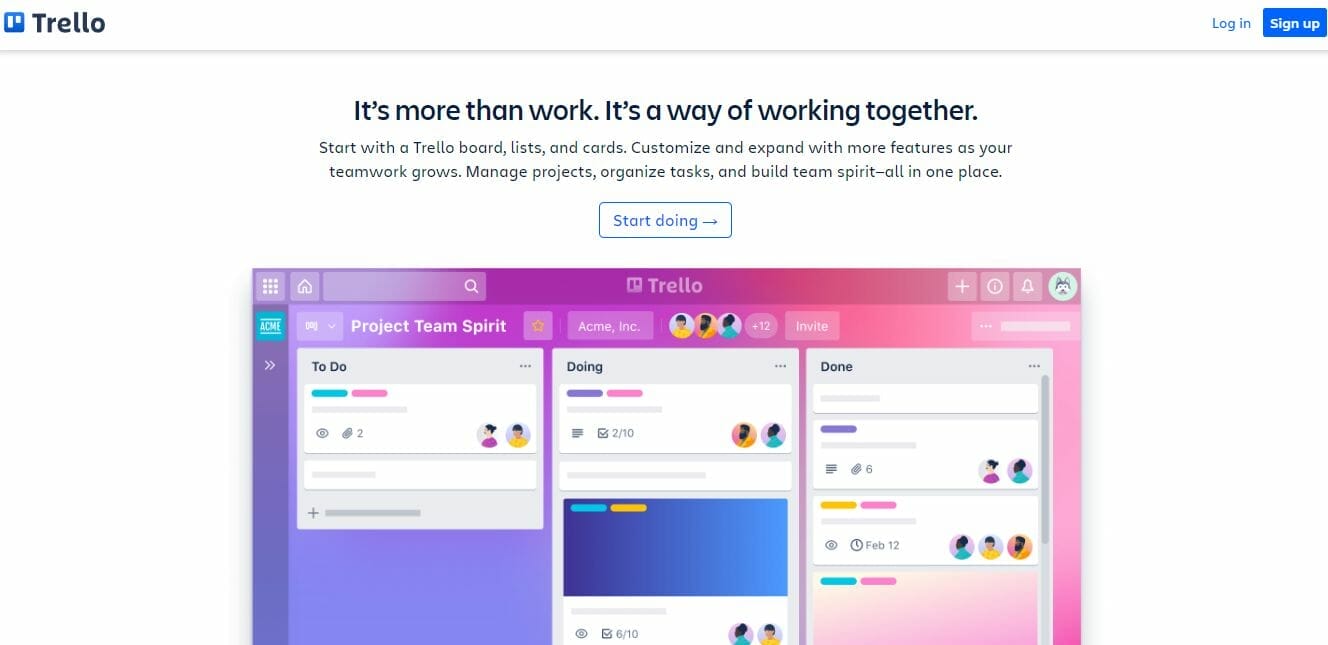 Trello is another management tool that allows you to assign and organize projects, attach files to make things accessible to your team, set deadlines, and also has a progress meter checklist to keep track of the tasks that need to be done. It functions as an all-in-one tool that makes collaboration with your team a lot easier.
2. Unsplash
People love seeing images on websites they visit. It's because it helps them understand the message you want to portray. Aside from that, it also triggers emotions, which helps draw attention to your brand.
Wondering where you can download and use chiropractic images for free? Unsplash is a website that has lots of chiropractic-related photos captured by professional photographers which you can use on your website.
3. Deposit photos
Now, if you are looking for royalty-free images (e.g. photos, vectors, illustrations) and videos, you can also find good ones in Deposit photos. One thing that sets this apart from other websites is that you have to choose a plan before you can download a photo. Subscription plans vary depending on the number of images you use on a monthly basis.
4. Pixabay
Another website where you can get high-definition photos is Pixabay. Here, you can also find chiropractic-related images, videos, and sound effects. The only difference is that you can get all of those for free!
5. CompressNow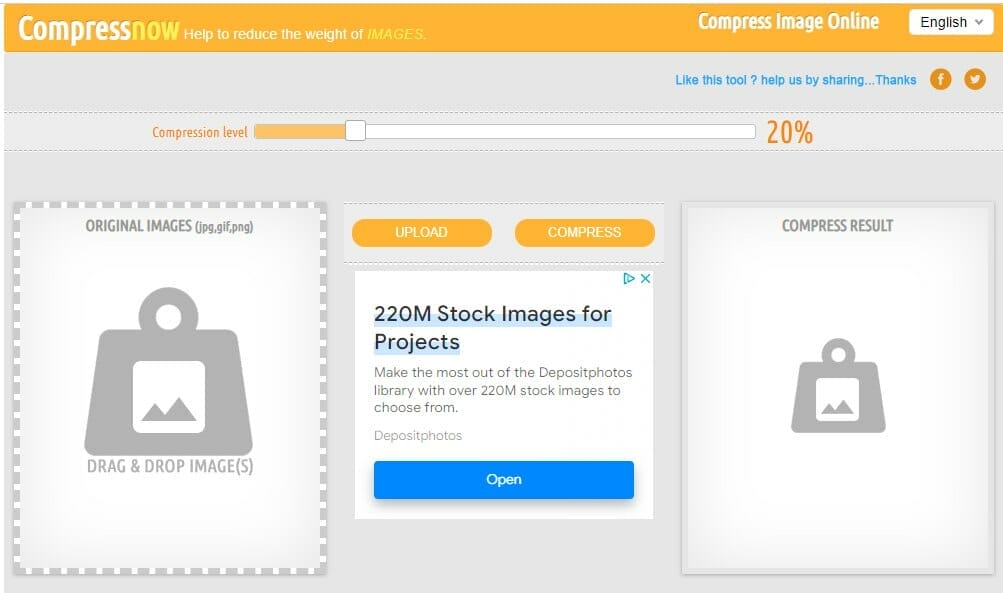 High-quality images may take too much of your page visitor's time before it fully loads on your chiropractic website. To prevent your site from running slow, Compress Now can help reduce the weight of your images without affecting the quality of your chiropractic images. You could even select the compression level according to your desired preference.
6. CallTrackingMetrics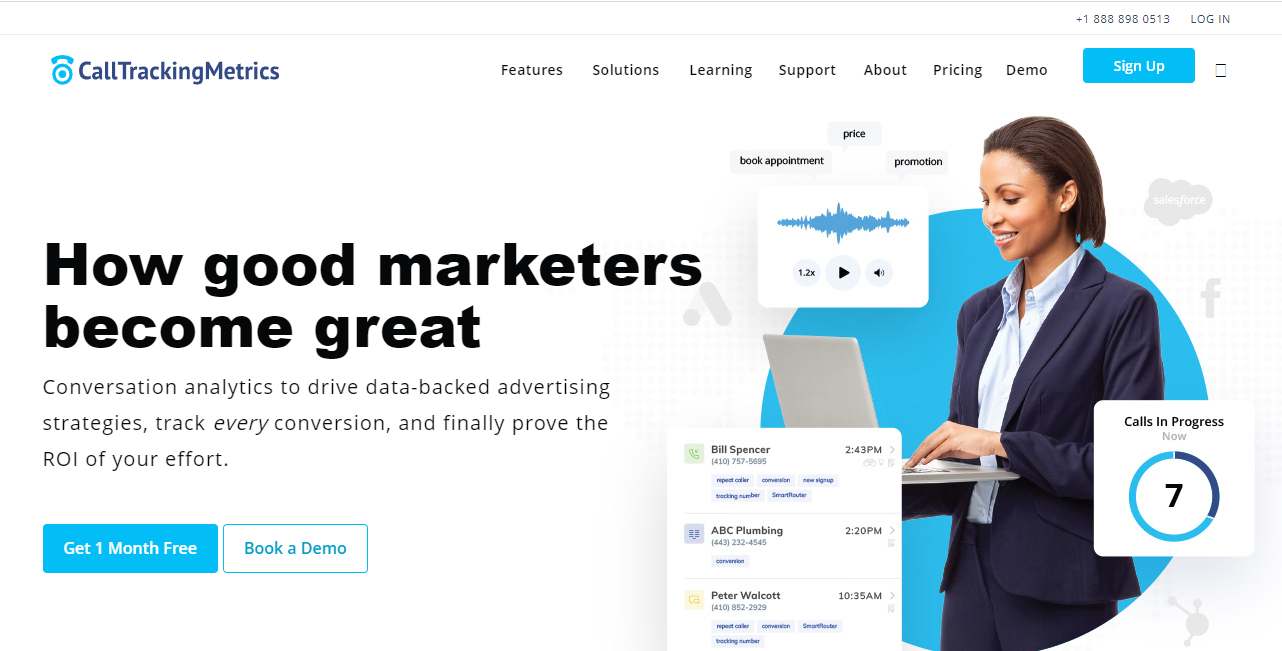 Call tracking is used to get to know more about which among your digital marketing efforts are paying off and which are not. It gives you various information about your marketing campaign as well as customer behavior. From the best-performing ad copies, and keywords, down to tracking sales.
A call tracking software like CallTrackingMetrics can help you analyze the calls, messages, and forms you get from your customers. It provides transcriptions, and insights about your marketing efforts, and even has reliable customer service that can guide you in case you need help.
Want to start tracking calls from your chiropractic clinic?
Conclusion
Starting your online marketing strategy can be quite overwhelming because of the wide range of digital marketing tools that can be found on the internet. But, with the combination of the right digital marketing tools and strategy, you will surely get the results you want in no time.