Page Optimizer Pro is an online website ranking tool that helps marketers gain exposure to their content. It's an amazing tool that helps you understand what aspects of your website you need to optimize to rank higher on Google.
In this blog, we'll be running you through setting up your page and finding your SERP competitors the right way. Let's dive right in:
Step 1: Launch Page Optimizer Pro
When you launch Page Optimizer Pro, your screen should look like this:
It's not very intuitive at first, but that's why we're here. To create your first project, click on the blue "New Project" button on top of the page. We circled it in red up above for you.
From here, you'll be inserting the link to your website you want to optimize. The link I've used is one I've covered in one of my blogs: Marketing Funnel for Dentist: The Ultimate Guide 2020.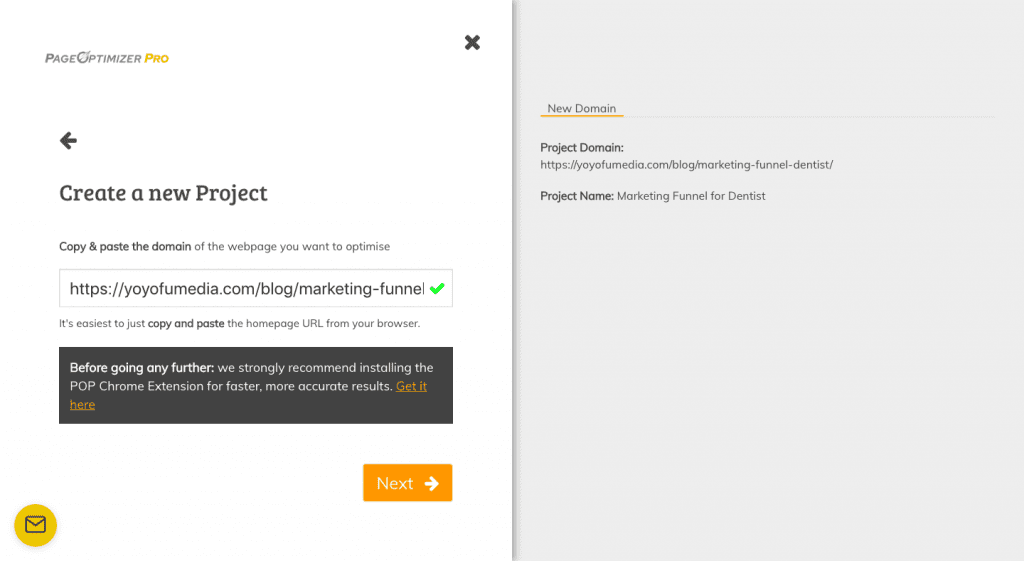 You should also see a popup asking for the domain name your website you are optimizing for is under. Simply type in your domain website link and press "next."
Step 2: Set up Your New Project
Immediately, you want to start a new project. This is where you'll be managing your domain you want to optimize. Remember to title your project.
After you've titled your project and stated your domain name, you now need to create a page to optimize! Your screen should now look like this:
Step 3: Creating your Page
Notice how the box containing your project says you have zero pages. What you want to do is click "View Pages" on the bottom of the project box. Then it should bring you to a page where you can press "New Page".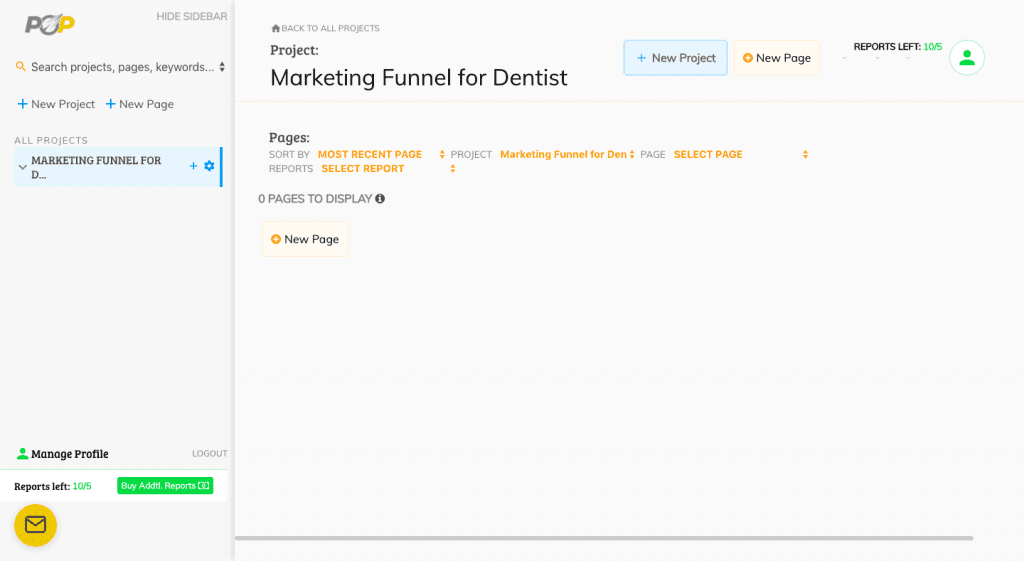 After clicking "New Page", your screen should display two options. Here, you can choose if you want a full report or an express report depending on what your goals are for SEO. In our case, we'll be guiding you through the full report. Feel free to explore your options with the express report!
Step 4: Target Keywords and Variations
After clicking "Full Report", input the target keyword you are optimizing for. We'll put in "Marketing Funnel for Dentist".
Next, for your target language and region, input what your goals are for your audience. For us, we'll be putting in English and the US region.
After this point, simply click "Next" and Page Optimizer Pro will scan for variations and competitors to your page. At this point, the software will look for websites that have a similar build and layout to yours, which will help you analyze how you can beat your competitors. Once Page Optimizer Pro has finished scanning, it will ask you for any other keyword variations it might have missed and if you would like to add them.
Our recommendation is that you add only words that are relevant to your topic. Ask yourself if you see a customer looking up a word variation displayed on your page. If yes, then add the variation.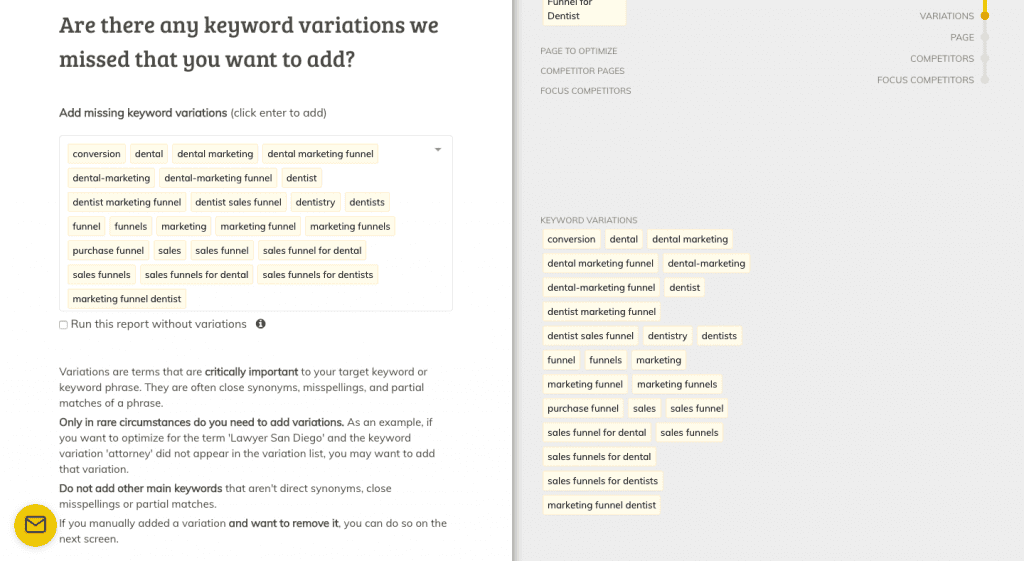 Next, we'll see the opposite process. Are there words that you don't want to optimize your page for?
Here you have a chance to take those words out. Try and remove words that are extremely vague and other terms that don't relate. For example, we took out the word "sales" because it can lead to unrelated topics, and "dentist" because it's too general for our topic.
Next, copy and paste the full URL of your page. You can find it by looking at the search bar of your web page you are optimizing for. Then, simply copy and paste the URL over.
Read through the checkboxes and see if any of the conditions apply to you. For us, we'll be leaving them blank.
Step 5: Choosing Competitor SERPs
You made it to the most important part!
From here, we'll teach you how to properly choose competitor focus groups. Your page should ask you whether you want to choose your own competitors or let POP do it for you. Assuming you are trying to get the basics of ranking with SEO, we'll be letting POP choose for us. Then, we'll go through the list and add/remove websites to optimize our list. For now, click the second box.
Page Optimizer Pro will then scan for competitor websites. Here, Page Optimizer Pro is scanning Google's SERPs based on the keywords chosen from earlier. The software will choose websites to compare based on these keywords to see which ones are similar to your website's content, layout, and keywords.
Once Page Optimizer Pro is finished scanning, your page should look like this: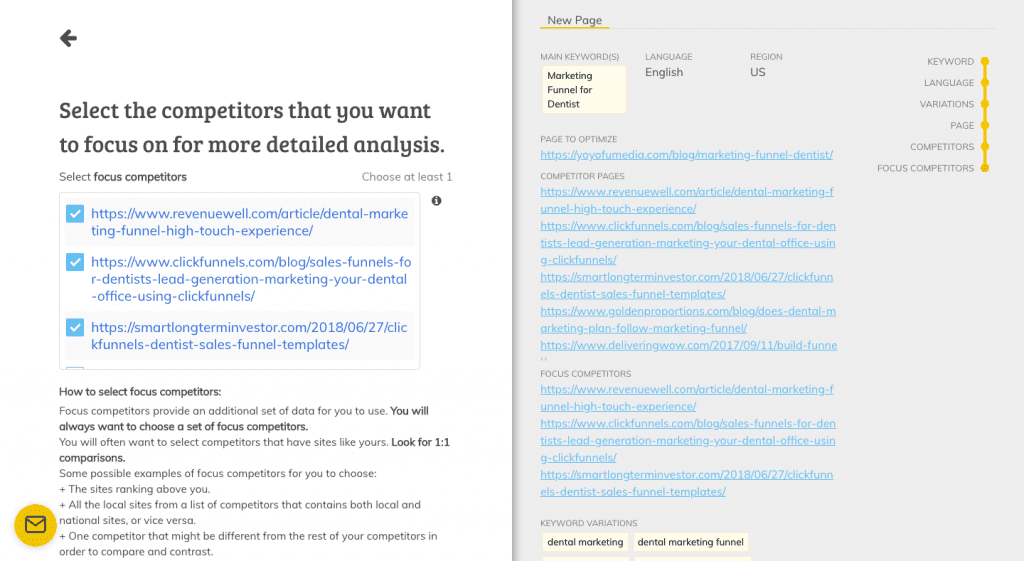 Focus competitors should be sites that resemble your own. They are websites that Page Optimizer Pro uses as a subset of data that allows you to see how websites similar to your's ranks compared to all other sites with the same target keywords.
When you're choosing focus competitors, you want to aim for 3 websites that are similar to yours in terms of content, layout, and word count. These are factors that Page Optimizer Pro looks for when comparing your site to your competitors.
It's important that you only have 3 focus competitors because it allows Page Optimizer Pro to run comparative statics on what your page is and isn't doing well compared to your close competitors.
Another important thing to note is you will probably run into local sites versus national sites (like Facebook, Yelp, and Twitter pages). You do not want to input focus competitors from national websites. They aren't your true competitors. It wouldn't be useful to have them in your competitor SERP list, and in fact, might even make your list even less accurate.
Instead, choose focus websites from the local basket – particularly, websites that look like yours.
Another thing to avoid is ads. These aren't organic search results, and only show up because of their on-page optimization, and aren't optimized for long term ranking. Same with map packs – they have a different ranking algorithm and aren't organic results aimed for long term ranking.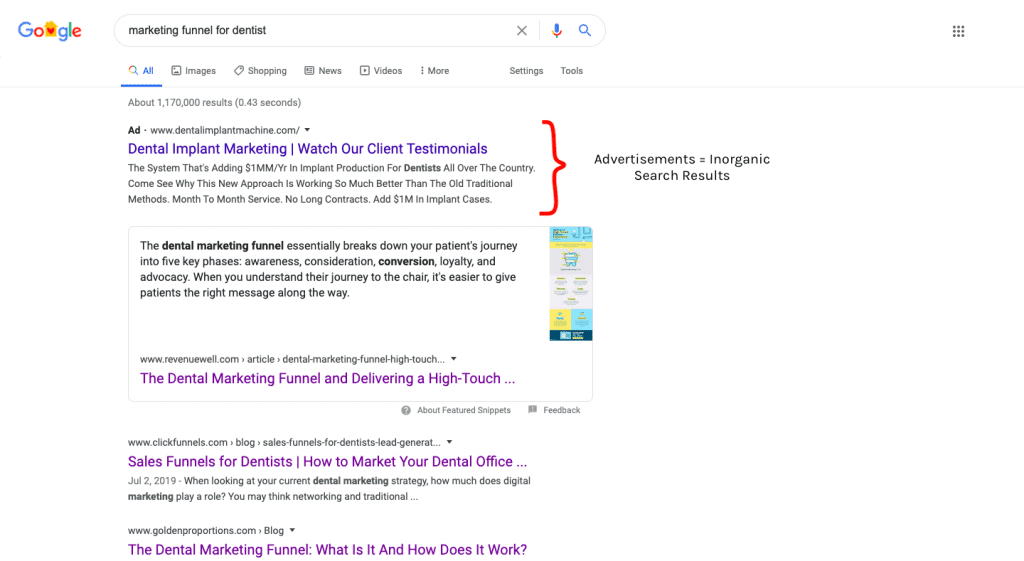 We want to put the top organic search results on Google onto Page Optimizer Pro. This way we can create an on-page road map for us to follow to optimize our target keywords.
From here, go ahead and click next. Page Optimizer Pro will immediately start scanning your competitor SERPs to see where you rank. Finally, you should see this page pop up:
Congratulations! If you've set up your page on Page Optimizer Pro like this, you're bound to get the best results. Our next blog on how to optimize your webpage effectively using Page Optimizer Pro will be coming out soon. We'll be covering how to read the charts and what to look out for when accessing these indicators.
Did we miss anything? If so, leave a comment down below!