We've found Google Ads for Landscaping Business to be extremely effective. It's one of the most consistent and profitable ways to gain new customers for landscaping services. In this article, we dive into how it works, and how to set up your campaign for your business.
So what is Google Ads? Google Ads (also known as Google Adwords) is an advertising platform used to display content, services, and advertisement to drive traffic or fit customers your way, while they are browsing for products or services related to the ones you are offering.
1. What Are Google Ads
Google Ads falls under the area of marketing which is known as Pay-Per-Click or for short PPC. When typically dealing with PPC you pay only when someone clicks on your ad.
We will focus this article on Google Search Ads which has to deal with you paying for your ad to show up on Google Search. The reason targeting Google is so effective is because you get to be in front of people who are actively searching for your service. Showing that they are in the market for services that you are selling. The main objective is to target keywords to show ads to these customers doing google searches.
1.1     What's the Difference Between SEO and Google Ads
SEO is the act of maximizing your website to achieve more organic search results. Higher organic quality content is usually seen towards the top of the page if relevant to your searches.
While using SEO is a long-term way to drive traffic to your site, there is no guarantee that you will be on the top. And SEO takes a lot of time and effort to build up. It also takes a lot to write content that ranks. When using SEO you know everything is organic and someone simply can not pay for their site to be put on the top of the result page. It's a long term plan that takes a minimum of five months to start seeing effective results. Whereas with Google Ads, you can run an ad, and immediately that ad will be shown that very day.
If you need customers NOW, Google Ads is the way to go. If you want to build a long term plan, SEO is a great way to do so. A lot of our clients who have never done digital marketing start with Google Ads first and love the results. Then once they have confidence that digital marketing works, they start doing SEO and work on the long-term plan for their business.
Google Ads is a platform that is designed for advertisers to promote their product or service when they want to grow their brand awareness and increase conversions.
Google Ads is a fast way to advertise your business since you pay to guarantee your ad will pop up on user's searches when they encounter certain keywords. By having active management and budget over these ads, you are ensured for immediate traffic and results
Want to increase traffic to your website? 
1.2     How to Create a Google Ads Account
You'll need some sort of account with google whether that being a google Gmail, to use that to log in to your Google AdWords account.
If you would like to use a different email, separate from your account, you can simply create a new Gmail to link the two together. Next, you'll want to search for www.ad.google.com to create an Ad Words account. Once you arrive on the homepage Click "Start now".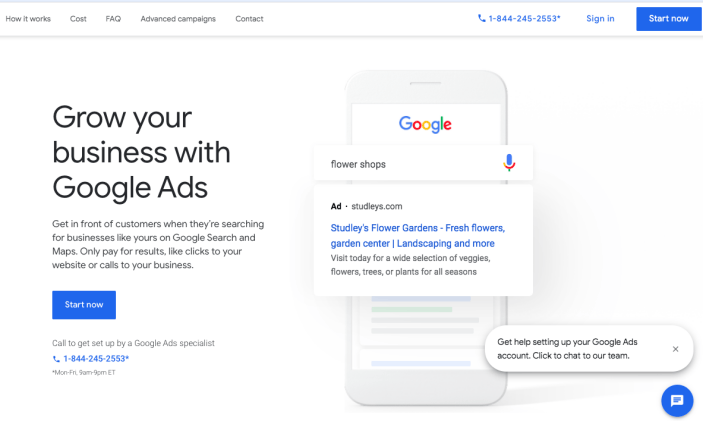 2. Creating a Campaign For Your Google Ads For Your Landscaping Business
Here are a couple of Easy Steps to start your Google Ads Campaign.
2.1     Step 1: Choosing Your Advertising Goal
Now that you set up an account, you'll need to fill in a couple of questions such as "what's your main advertising goal" and pick one of the three options unless you already know what google ads are and then you can click on "switch to the expert mode or experienced with google ads".
For the fun of it, let's just click on "switch to expert mode" since with this route you'll be shown how to create ad groups along with your campaign. Go ahead and click on this option to continue onto the next page.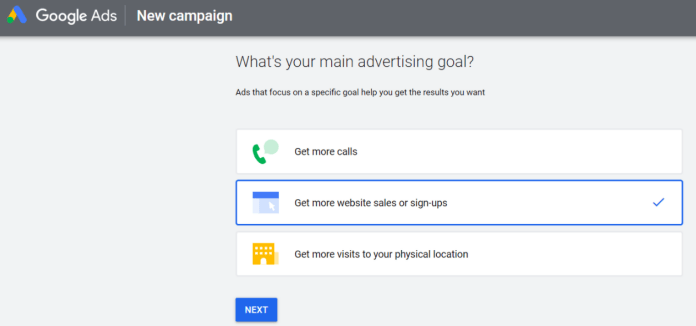 For your new campaign let's say you want to run a Landscape business.
You want to click on "create a campaign without a goal's guidance". A second box will pop up and then you'll want to click on "Search".
After clicking on the "Search" button another menu will appear below and it wants you to pick out of the three options which result for your campaign you'd like. In this case, you will want to press on "website visit".
Next, it'll ask you to input your campaign description such as the website. Finally, you will then click on the "Continue" button.
 2.2    Step 2: Choosing Your Demographic
On this page, you will start adding your actual campaign.
Here you have to mark down where you want your ad to appear, if you are in the US, pick "The United States".
Along with picking your target location, you have to add a language preference of what your customers might speak such as "English" in this case.
2.3     Step 3: Selecting Your Audience and Creating the Budget
Similar to above when picking your key demographic location, you'll want to include the type of audience that you are marketing to such as "home and garden or home and decor".
Selecting your audience is crucial in the sense that this would ensure that your campaign will drive traffic to those individuals and help increase impressions when users type in certain keywords.
Afterward, you can input your budget that you'd like to spend per day on your ad. You'll want to change your currency depending on your location if it gives this option.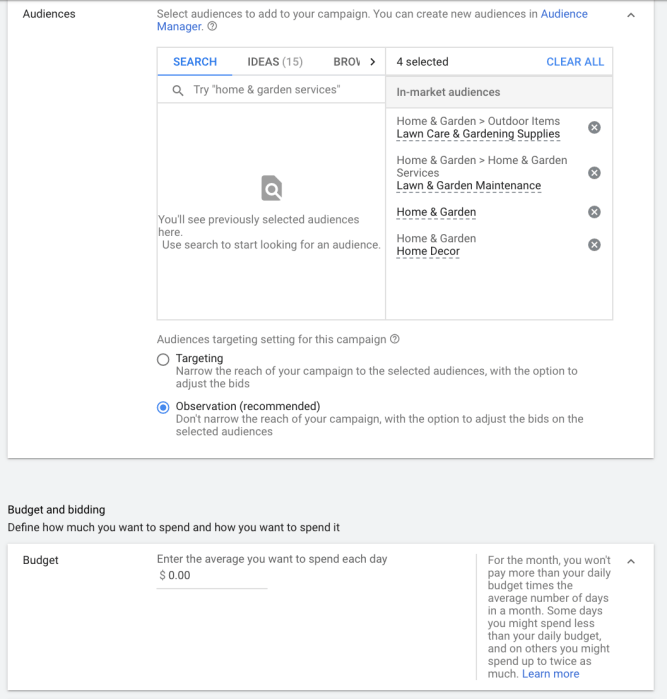 When creating this campaign you also have the option to focus on a certain area such as click, conversion, or impressions.
Once you have input all the necessary details you may proceed to the next page.
Stuck on how to set up your budget or bidding the right amount?
3. Creating Ad Groups for Your Campaign
Here are a few ways to go about your Ad Groups.
3.1     What are Ad Groups
Ad Groups are structural components that are targeted to related keywords. They are an essential aspect of your campaign where you can create several themes and group certain keywords.
When creating your Ad Group you want to decide:
Who are you targeting
What your ad will contain
What landing page will your visitors be taken to (if they click on your ad)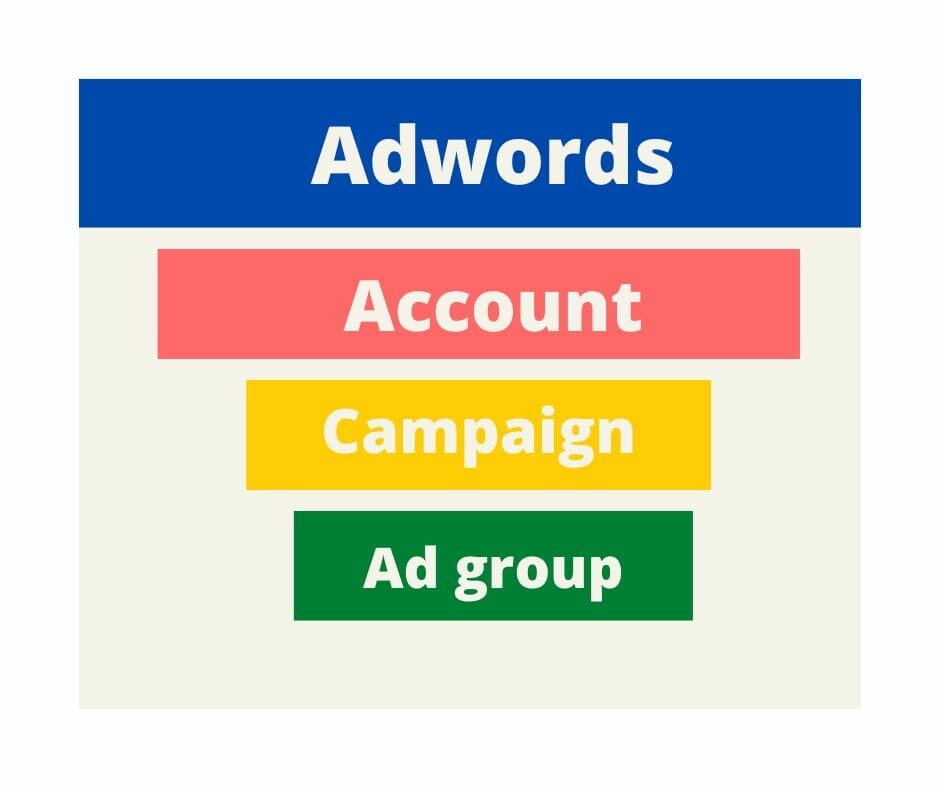 On this page, we will start adding our ad groups.
You'll want to have 1-5 ad groups preferably 3 if you can. These ad groups will be related to the campaign which will have different themes according to their keywords.
For instance, using the campaign example "Landscape", good ad groups would be lawn, garden, and walkway. Starting with the first ad group we will name the title "lawn".
Down below it gives the option to add a couple of keywords related to this theme. Good keywords would be" Bermuda grass, buffalo grass, etc." You'll want to do this with all your ad groups and afterward Click "Save and Continue".
4. The Structure of Google Text Ads
Here are a few ways to go about your Ad Groups.
4.1     Headlines
There will be 3 headline options, you may use just the headline 1 or all three.
When writing your headlines make sure to include your keywords and phrases that you have been coming up with during this walkthrough. You will see that you can include up to 30 characters so use them well and attract the searcher's attention.
4.2     Display Path
There will be 2 display path options, you may use just the pathway 1 or both of them.
When coming up with your display URL, know that you will only be given up to 15 characters for each display path. These display URLs are meant to show the content of where the user will be led to if they clicked on the ad.
4.3     Description
You will be given up to 2 description boxes where you can describe the product or service you are trying to provide or promote.
When writing your description you will have a max of 90 characters, so make sure you include content that reflects the search purpose. Use techniques such as "Call to Action" where you are driving and urging customers to click on your ad.
4.4     Final Url
This is the official URL that customers will click on and transport them to your landing page or destination site.
Be sure with this URL that you specify the address of the site you will be leading the searchers. Make sure that the landing page is consistent with the search query and provides a good experience to users.
If you want an even more in-depth explanation and guide on what to write in your text read our article on best practices for creating a successful google text ad.
5. Putting Your Whole Ad Together
Congratulations on completing your first ad campaign! Now that you have completed your campaign, you can review your account to make sure everything is in good check.
Things to Keep Track of on Your Account:
Impressions
Search Phrases
Google Analytics
Clicks on Your Ad.
Unsure how to put everything together?
6. Tracking Conversions and Results
6.1     Why We Measure
Without having conversion tracking installed, there is no way for you to see how many clicks are resulting in sales.
Having this application installed gives you the ability to see all the action going on behind the scenes when a customer clicks on your ad such as:
Total Revenue
Click-Through Rates
Cost Per Click
Total number of calls generated
Lead Conversions
Sales Conversion
6.2     How to Add Google Ad Conversion to Your Website
You'll want to have an understanding of what your main goal is here.
Go to "Tools and Settings", Go to "Measurement", Click on "Conversions"
After you click on "+ Conversions", you will end up on a page called "Start tracking conversions".
4. Here you will be given 4 categories, depending on what you want to track, you might need one or multiple conversions. Let's start with the "Website".
5. Let's say your goal and priority are purchases, go ahead and click on "purchase" for the category.
6. You need to set up a specific "value" and "count" which are appropriate for your "purchase conversion action". After doing this click "create and continue".
7. These steps will be similar to the other groups aside from the "website".
6.3     Creating Your Tag
Adding a tag creates this code that will allow you to collect information on users' actions on your site and send the information back to your Google Ad account.
You can customize these actions in order of what is important for you to see when a user is on your site.
To set up your code snippet, you'll need to copy and paste two codes to your website.
You have two options going about this, you can either install codes yourself or use google tag manager to install the codes.
Let use google tag manager since it requires fewer steps.
Create a Google Tag Manager if you do not have one, open the application, and then click on "New Tag".
Once you are in New Tag, Click on "Tag Configuration" and then go down and click on "Google Ads Conversion Tracking"
You'll want to input all the necessary information on this page along with the conversion ID and conversion label.
Once you are all done, click on "Triggering" and click on the "+" button to create a new Trigger.
In Trigger Configuration, click on "Page View" and then click on some pages you'd like to trigger.
Click for Page URL and add the url.html that you'd like to trigger.
Once you have finished putting in the information needed, you can save and what will happen is that it'll fire this google ad conversion on all your pages that you inserted the code in.
7. What is a Landing Page
To put things simply, a landing page is a stand-alone-page where you land on after clicking on a link.
Landing pages are mostly created for marketing or different types of advertising campaigns. These pages might include:
Home Page
Blog Post
Brief Description of What You Are Advertizing
Supporting Images or Video Content
A good landing page focuses on a single goal known as "call to action". This is why most should have a landing page devoted to their influx of traffic coming from a campaign ad.
The key difference between a home page and a landing page is that homepages tend to have many distractors that could be bad for conversion. To increase conversion, we must have fewer links on the landing page.
Here is an example of what a landscape landing page looks like:
You tend to have a clear call to action such as "Get a quote today!"
Must have a hero shot in which are eye-catching images or text.
State possible audiences' problems.
Deliver a solution and why your audience should use your service or product.
Have a listed phone number, location, or email for the audience to reach out to you.
8. Keywords to Include in Your Landscaping Ad
When creating your landing page, there are a few key areas to know before jumping into your website creation.
8.1     Different Types of Keywords
Exact Match Keywords: These are keywords that Google found to have matches entirely (word-for-word) what the user googled. Having exact keywords are crucial for advertising your ad to customers that are searching for similar or your exact keyword and phrases.
Exact keywords give you the most control over your ad and who views it. Even though you might not get as many impressions or clicks, you will end up with higher click through rates (CTR).
Example 1: Keyword [cemented walkway], Search cemented walkway
Example 2: Keyword [landscaper near me], Search landscaper near me
Example 3: Keyword [best landscapers (city you are in)], Search best landscapers (city you are in)
Negative Keywords: These keywords exclude your ad from being triggered by particular words. This is necessary when you only want your ad to reach the best likely audience. For these keywords, you'll need to put a "-" sign in front of the term.
This improves your CTR, by ensuring that the ad will only be shown to potential audiences and won't run into any irrelevant queries. Your bounce rate goes down as you weed out the customers that aren't interested in your site and helps to save money in the long run.
Example 1: Keyword -landscaping education, Search botanical garden
Example 2: Keyword -landscaping school, Search sport grass lawn
Example 3: Keyword -landscaping license, Search walkway pavement
Broad Match Modifier: These are keywords that Google analyzes to determine which terms your ad is eligible to match for in its exact or close variant form. For these keywords, you'll need to put a "+" sign in front of the term.
The order of the word for BMM does not matter as much and can match for a wide variety without causing traffic to unrelated searches.
By setting up the keyword option, this helps your ad to pop up whenever users search for related keywords.
Example 1: Keyword +landscape +garden, Search botanical garden landscape
Example 2: Keyword +walkway + gravel, Search gravel for a walkway
Example 3: Keyword +lawn +maintenance, Search maintenance for lawn
Want help finding the right keyword for your business?
9. Best Landing Page Softwares
9.1     Instapage
Creating a landing page without a web designing background can be hard, but it doesn't have to be. Using software like "Instapage" can be the solution to all your problems.
When using Instapage, you simply pick out a template you'd like to use for your landing page and then start adding the context for each block.
Once you have finished adding text and images you can save and click on preview before launching your site.
Instapage allows you to keep track of conversion rates, while at the same time keeping track of A/B performance testing which could increase metrics like paid traffic.
While most landing page software has the same objective as similar tools, Instapage has a tool called "Heatmaps" (only available with their premium plan). Heatmaps allow you to track visitors' behaviors. You can see which page or area they spent the most time on and with this information you can improve your site.
9.2     ClickFunnels
This is a sales funnel software, in which you can create a series of landing pages for your visitors to acquire a certain goal. ClickFunnels takes you to step by step in creating your sales funnel so you can save time and effort.
When using Clickfunnels you first start by picking a sales funnel template that is already pre-designed.
Afterward, you will pick your page diagram style and then add your contexts to it.
Finally, you'll click save and publish your page.
Pros:
Along with building a page, you can create a marketing funnel too!
You can share your sales funnels with your members
Create and customize eye-catching pages
Con's:
Does not contain CRM (customer relationship management) like other marketing tools do.
When setting up your funnel for the first time can be difficult
9.3     Elementor Plugin for WordPress
This is a drag-and-drop page builder where you don't need any prior knowledge of web development or designing to build a page.
Elementor is heavily known to focus more on websites and landing pages. With this being said using Elementor as a starting base for your pages you can sign up for their free version.
Perks using Elementor:
There are 4 different Elementor plans, one of them being the free version!
Elementor contains dividers, spacers, and google map to add to your page
The pro version of Elementor allows you to add testimonials, animated headings, and a gallery
Elementor is a great way to save on cash and time to create your web page.
Here's a guide on "how to create a landing page using Elementor".
If you want us to run your Google ads for your landscaping company, schedule a free strategy session with us.