Wondering how Nextdoor for dentists works? Can local businesses like a dental practice leverage Nextdoor for their advantage? To understand how you can bring in new patients and market your dentistry, you should understand the purpose of Nextdoor.
Understanding Nextdoor
Nextdoor is an app for communities to share local information. All people on the app have to verify their address, so only real residents can post and see anything posted on Nextdoor.
Since this is an app to help the community and only has actual members of the community, recommendations, and reviews of businesses are heavily trusted.
On NextDoor people are always asking for recommendations for all types of things from restaurants to plumbers. This is where your dental practice steps in. You can be the dentist that locals recommend to their neighbors. For this to happen, you are going to need a Nextdoor business page.
You should:
Create a business page
Add all information for your profile (name, address, etc)
Begin obtaining recommendations
When registering for a Nextdoor account you will click on the professional business option. You will then be asked for the name of your business and address so Nextdoor can search to see if they already have it in their database.
Once you type in your dental practice's name and address you can scroll through the options to see if your business is already there or can click "create a new business page with this name."
You can then add in your contact information:
Email
Phone number
Website
Then, you can pick the dentist category.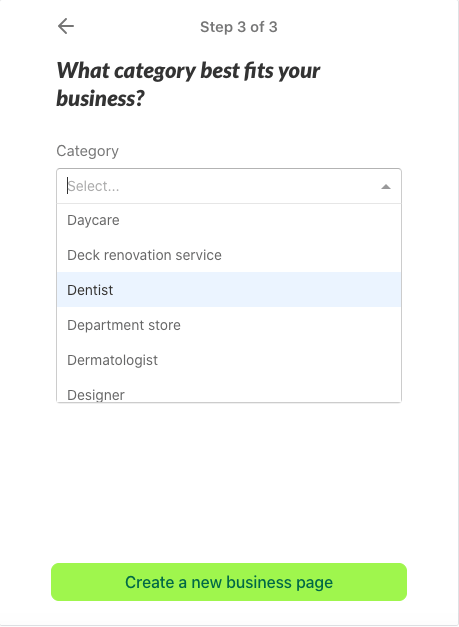 Your account will now be ready to start leveraging Nextdoor for dentists! Make sure that you:
Upload a profile picture
Add subcategories to your business page (Ex: Orthodontist)
Add in your business hours
Fill out the "Our Story" bio
Your page will look something like this once you fill it all out. It is recommended that your profile photo is of you, so that way neighbors can see who they will contact for services.
Nextdoor allows its users to search for local businesses there. However, it is important to note that your page will only be shown in the search after you have 3 recommendations.
Need help setting up your account for success?
Benefits of Nextdoor for Dentists
Nextdoor can be an amazing tool for your dental practice. Since they have a verification process in place to make sure that only real people are on there, you can trust that your efforts there will pay off.
Recommendations
The most important aspect of using Nextdoor for dentists or any profession is recommendations. These are highly valued by neighbors on Nextdoor. It is completely different from having recommendations on Yelp or Google My Business because these come from the community. Neighbors are more likely to trust a review from someone in their neighborhood rather than a random one from someone who may not live in the area.
Your business page and the recommendations you receive serve as social proof. Read SEO for Dentists to optimize your page's rank in search results. This is very important today for all businesses. People want to see what services they are going to receive, where they will be going, and who they will be supporting. If you work on getting recommendations, you will gain the trust of your surrounding community.
To ask neighbors for recommendations, you must go to the "your reputation" part of your account.
On this page, you should copy the link given and post it to all your other social media accounts. You should answer and email it to your patient list to ask for them to post recommendations for your practice. Consider using dental QR codes for quick access to your accounts.
Make sure that every recommendation is responded to whether it is good or bad. Neighbors will see your response or lack of it and will factor that into whether they would consider your dental practice.
Posts on the Newsfeed
With a Nextdoor business page, you are given 2 free posts a month. You should use one at the beginning of the month and the other in the middle to remind people of your dental services.
Make sure to use photos of the actual dentists at your office. You can also use photos of patients receiving services as well. (With their permission of course). In these free posts, you should let people know who you are, what you offer, and where you are located. You can also use these posts to offer updates, such as holiday business hours or your Coronavirus procedures.
It is highly important that you respond to every comment on any of these posts. This shows that you value what your neighbors have to say.
Paid Ads
Nextdoor for Dentists' best practices may include using ads. Nextdoor has two options you may use:
Local Deals
Neighborhood Sponsorship
With local deals ads, you can run a promotion like a discount on a service for a limited amount of time. Prices are based on the zip code you would like to show this local deal to. Nextdoor claims that the price per zip code can be as low as $3. Realistically it can cost on average $75. You can pick multiple neighborhoods to target. You aren't just limited to the one your dental practice is located in.
With a local deal ad, you can create it similar to Facebook ads. Include real photos that were taken of you or that you took, have a great offer, and captivating ad copy. Include a call to action and how to redeem this deal. Learn more about creating the most optimal ads, including Google Ads. Be sure to choose the best Google keywords for your ad campaign. For more information on local deals, check out this guide.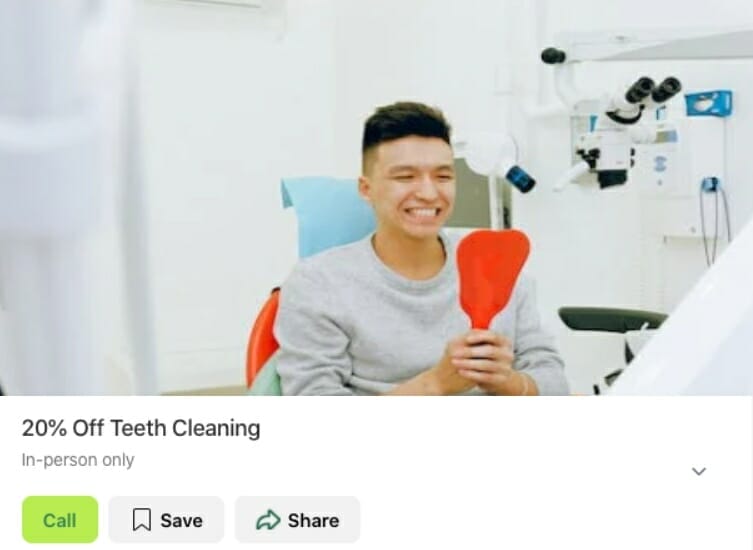 Neighborhood sponsorship is another option for ads. By utilizing a neighborhood sponsorship, your 2 free posts are more customizable. You have the ability to do polls and more. This feature also allows you to run two types of ads:
Tips and Advice
Conversation Starter
These are very versatile, however, Nextdoor only offers a set amount of sponsorships per neighborhood. If they are already taken up, you will not be able to run your ads for them.
Want to start running ads on Nextdoor?
Overview of Nextdoor for Dentists
To summarize:
Nextdoor is an app for communities to post local information
Create a Nextdoor business page
Get recommendations from current patients
Use your 2 free posts every month
Consider investing in paid ads
Nextdoor is a platform like no other. With a verification process based on confirming residences or neighbor invitations, it is a very saturated app ripe for gaining new patients. Start the process of building your business page immediately to tap into this market.
If you want to spend more time with patients and less on social media, book a free strategy session.