Entering dental marketing but unsure of how to choose the right keywords for Google Ads for your dental clinic? Follow this guide for dental keywords ideas and tips.
Need help with your dental marketing?
Haven't started a Google Ads account for your dentist yet? Check out our step-by-step guide.
Using Google Keyword Planner
To access Keyword Planner:
1. On your home screen for your Google ad campaign go to the upper right-hand corner and click "Tools & Settings". Then, in the drop-down menu click on "Keyword Planner".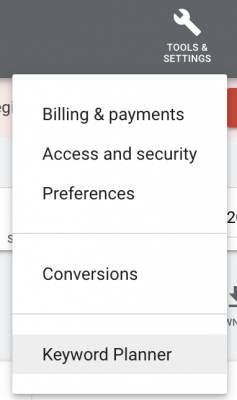 2. Then, click "Discover New Keywords".
3. Google will then ask you what products or services are closely related to your business, type in "dental services". Feel free to add another keyword. Make sure to change the location setting to your specific area, for instance: Irvine, CA. And then click "Get Results".
On the results page, Google will give you a long list of related dental keywords.
For each of the displayed keywords, Google will tell you the average monthly searches, competition, ad impression share, top of page bid (low and high range), and account status. Google shows you how your competitors are bidding for different keywords.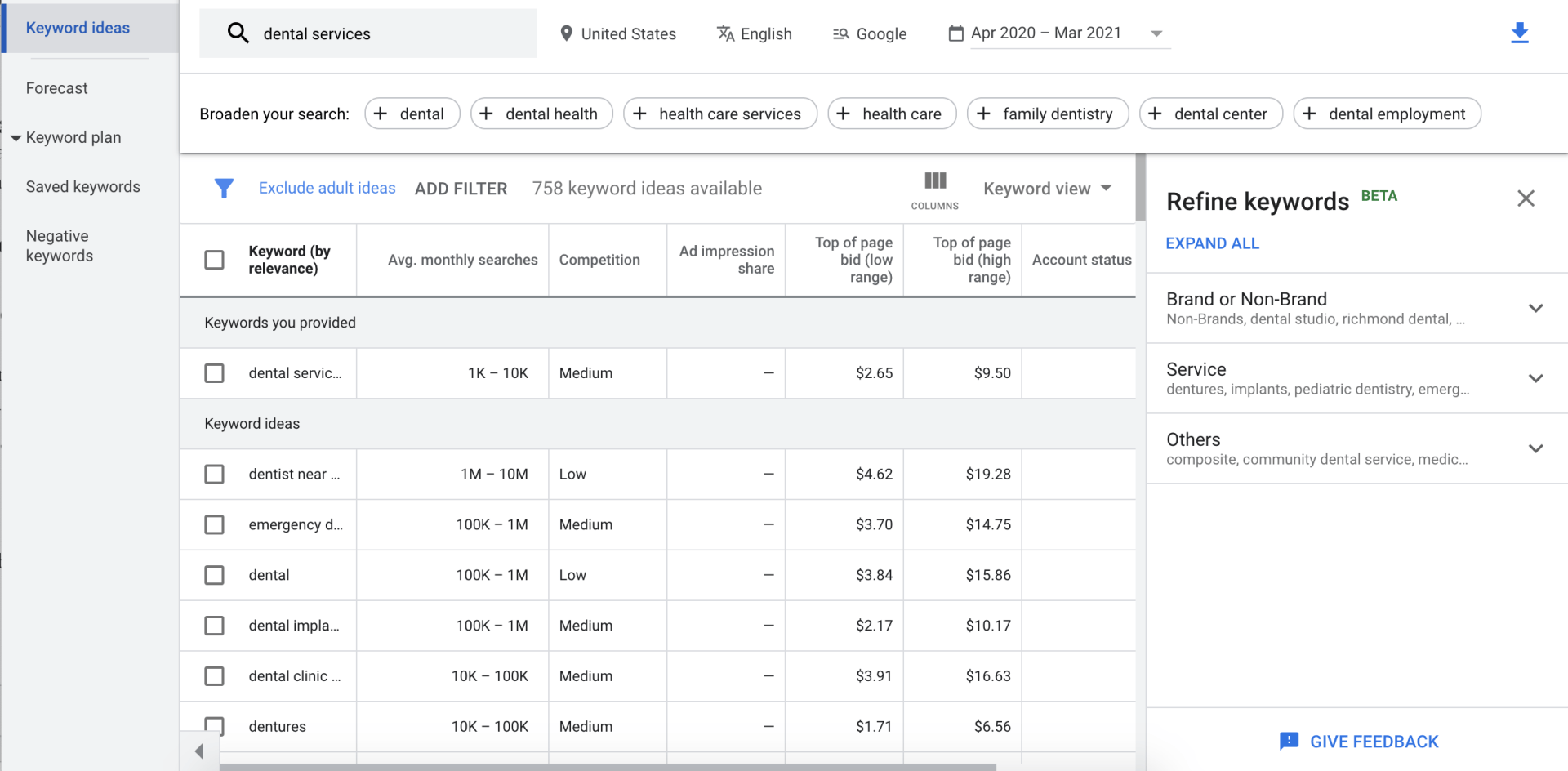 You can then go through and add keywords from the list that you want to include in your dental campaign. On the very left-side of each keyword will be a box that you can check.
Adding Your Keywords to an Ad Group:
When you are finished choosing all of the keywords that you want, go ahead and click on the blue taskbar "New Ad Group" and insert a title that you want your selected keywords to be grouped as. I chose my ad group to have keywords related to "Children Dentistry".
Then, you can set the keyword type for your selection. I chose "Exact Match" and then click "Add keywords to create plan".
To view your selection from the keywords list, on the left-hand side go to "Saved Keywords". On this page, you will be able to configure your keywords for this ad group.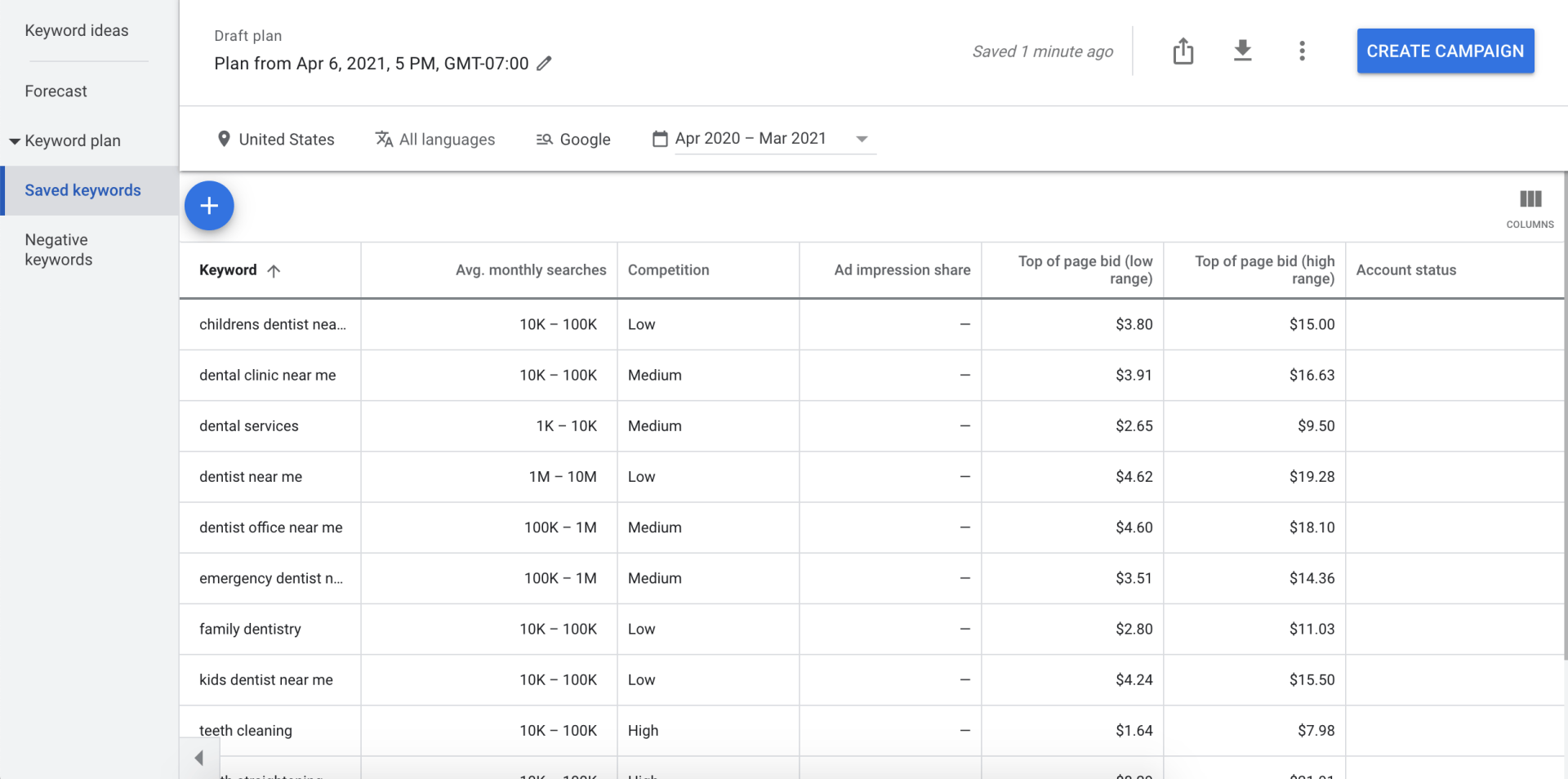 Remember, this is a draft that you will later incorporate into your newly created campaign.
Want help on your Google Ads keyword research for dentists? Let Our Marketing Professionals Help! 
Keywords
The overall structure of a Google Ad starts with a campaign, and within this contains several ad groups. Within the ad groups, there are many keywords that are relevant to each specific ad group.
Keywords are very important to campaigns because it determines when your ad would be shown during Google searches.
Another aspect is that you can set daily bids for each of your keywords. You can also adjust the bidding value for any keywords at any point in your campaign. This will be important to keep in mind while researching dental keywords as you want to make the most of your money. For a further discussion on keyword bidding and successful strategies check this out.
Remember, you will be charged only when a user clicks on your ad. Therefore, an effective keyword strategy is important to be selective of prospective viewers of your site.
Having an effective keyword strategy will help your dentist save money in the long run! 
To have a more efficient keyword strategy you should incorporate the different types of keywords:
Broad Match
Phrase Match
Exact Match
Negative
Broad Match
In a broad match type, it will allow your dental marketing ad to be shown for a wider range of search terms. This keyword type comes with advantages and disadvantages to consider.
Advantage: Broad match allows your ad to be shown for a wider range of search terms. This will help your dentist gain an understanding of what users are searching for. From this, you can go back to your keywords and adjust bidding or edit your words or phrases.
Disadvantage: This keyword type can get you to spend money quicker because Google is showing your ads to users who search for any words or phrases similar to your keywords. Using broad match keywords alone is not suggested if you are on a tight budget.
How it looks: Dental Braces
A broad match keyword is shown with no signs or quotation marks.
Phrase Match
Phrase match tells Google that you only want your ads to show to users if they type a phrase that is in the exact order as your keyword phrase.
Advantage: This type gives you a little more control than a broad type match.
Disadvantage: You may be losing out if a prospective user types a search term in a different, but close, order as your keyword phrase.
How it looks: "Dental Brace Services"
The phrase match will be signified to Google through the use of quotation marks (") around your phrase.
Exact Match
For exact match keywords, your dental ads will show if a user searches for the same or similar phrases.
Advantage: Your dental ads will still show if the user misspelled, reworded, or typed a synonym to your exact match keywords.
Disadvantage: Your ad will not show if a user adds more words or does not type all of the words to trigger your keywords.
How it looks: [Dental Braces]
Exact match keywords are indicated to Google by using brackets ([]).
Negative Keywords
Negative keywords are important because it allows you to be strategic with your keyword matches. You can create a negative keywords list within Google's Keyword Planner by going to the left-hand side column and clicking "Negative Keywords".
Advantage: Utilizing negative keywords will also help you save more money as Google charges you whenever someone clicks on your ad group. If someone searches for 'benefits of wearing braces', you would want your keyword to exclude this phrase. You don't want your ad to show for this phrase because you want the ad to display for people who are actually looking for dental services.
Disadvantage: Must be careful not to exclude potential keyword matches that could have brought more prospective users to your site.
How it looks: -Benefits of wearing braces
Google understands keywords that have a minus sign (-) in front to be classified as a negative match type.
Recommended negative keywords can include your competitors' clinic names. Negative keywords basically act as a filter to only attract prospective consumers who are looking for dental services.
Don't have time to manage your dental marketing?
Alternative Free Keyword Research Tools
Besides Google Keyword Planner, there are numerous helpful keyword research tools available.
Soovle
A great alternative to Google Keyword Planner and a free option is Soovle. Soovle is unique because it provides you the similar search terms on different platforms for your keyword ideas. For instance, Soovle finds the words or phrases searched on Amazon.com, Yahoo, Bing, YouTube, Answers, Google, and Wikipedia.
This is a great tool because you can get lots of ideas for your keyword research and planning. For instance, let's say I set my keyword as dental braces. The Soovle report shows that users are searching for terms related to dental brace maintenance or cost. This indicates that I will need to revise my keyword for dental braces to avoid my ad from displaying to users who do not need the actual dental service. Instead, try dental braces services in Irvine.
Google Autocomplete Suggestions
Looking at the autocomplete suggestions when typing in the Google search bar can also be a helpful keyword research tool. This is useful because it will allow you to gain insight into what relevant search terms many users have looked for. From there, you can start to understand how users are thinking and what they are looking for. Show up in results with a convincing page by getting reviews from your dental patients.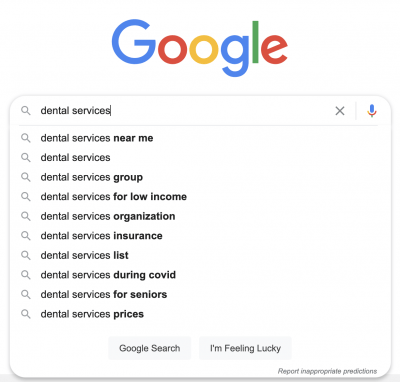 Another place where you can look for Google's suggestions is at the bottom of the search page in the category titled: Related Searches. Within this section are search terms that other users have recently searched.
Family, Friends, and Coworkers
To help you come up with keywords for Google Ads for your dental clinic, you can also ask any family, friends, or coworkers. The people around you may give some great ideas and a different perspective on what users would search for. There may be a chance that your friends or family share a common theme when typing in the search bar for dental services.
The act of asking people about dental search terms helps you get into the mindset of trying to understand a user's thought process. Additionally, talking with other people may help you see ideas or trends that you have not noticed before. Consider the location of your patients when thinking of keywords. Apps like Nextdoor for dentists will promote your practice within your community.
Unsure of how to build your dental keywords? Chat With Us! 
Paid Keyword Research Tools
When looking for Google Ads keyword research for dentists, you can also look into more premium options that offer more features than free keyword tools.
Semrush Pro
A good tool for keyword research is Semrush Pro because of its wider range of features compared to its lite version. In Semrush Pro you can gain insight into how your competitors are ranking. You can also get updates on keyword metrics every month.
This keyword research tool costs about $119.95 per month. Additionally, Semrush provides free trials before you decide to buy.
In the free version of Semrush, you can get basic keyword analytics such as domain logistics and keyword potential.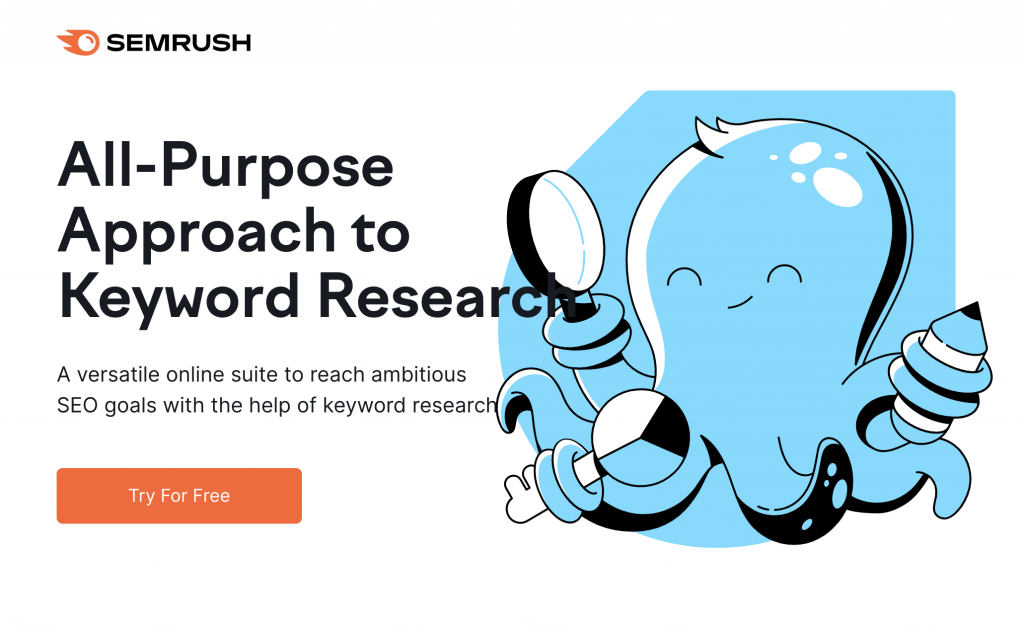 For professional consultation and tips on Google Ads for your clinic, check us out!