Magic Spoon is a cereal brand that reimagined childhood cereal to now be high-protein, non-GMO, and keto-friendly. Magic Spoon influencer marketing has allowed the company to experience triple-digit growth year-over-year. They focus on social media and influencer marketing to reach a wider audience and to appeal to younger consumers. To reach a more mature audience they focus on popular podcasts and pay for sponsor spots. As a result of Magic Spoon's aggressive social media marketing efforts, the company is experiencing significant growth. Currently, Magic Spoon is primarily focused on investing money in continuing to grow brand awareness and its social media presence through influencer collaborations. They also use platforms like Facebook to run ad campaigns to promote their product.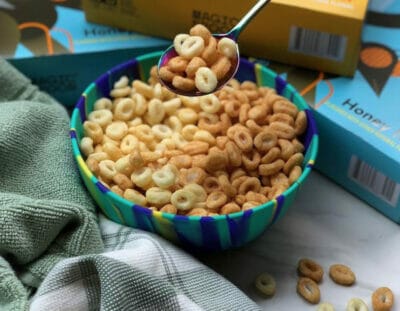 Magic Spoon's Unique Value Proposition
Unlike traditional cereals, Magic Spoon is a much healthier alternative while also creating a nostalgic feeling for traditional cereals. Magic Spoon spent over a year working through hundreds of formulations in a quest to recreate our favorite childhood cereals without the junk. The cereal is keto-friendly, non-GMO, and free of any artificial flavors and preservatives. The cereal is also grain-free and gluten-free. Unlike Magic Spoon, other healthy cereal options still contain loads of sugar.
Magic Spoon's Target Market
Of course, Magic Spoon's target market is cereal lovers, but to be more specific they target millenials who are more self-aware of their health and are also on certain diets. Magic Spoon is the "keto-friendly," low-carb cereal, reimagining a childhood staple for adults, replete with word searches and mad libs on the back of the box. It targets millennials whose growth charts could be measured in bowls of cereal, but as adults pay more attention to their sugar intake. For instance, they are targeting individuals who are keto or on low-carb diets. They look to work with influencers who share their keto journey and even look for individuals who are keto to join their affiliate program.
Magic Spoon targets Millenials in an effort to create a nostalgic feeling of the popular cereal these young adults ate as children, in an effort to resonate with these consumers. Magic Spoon targeted health-conscious millennials with keto-friendly ingredients, whimsical packaging, and flavors that harken to childhood favorites: fruity, frosted, cinnamon, cocoa.  Because millennials are health-conscious individuals this means they are also willing to pay a premium on healthier foods. This is important because while the health benefits of Magic Spoon significantly outweigh the already infiltrated cereal market, their prices are also significantly different.
Magic Spoon Price Vs. Traditional Cereal Prices
Did you know that Millenials are willing to pay a premium for healthier food options? As the more health-conscious generation they find it beneficial and worth it to spend more on food options that will keep them healthy.
Compared to traditional cereal Magic Spoon is much pricier. More commonly known cereals range anywhere from $3-$5 while the Magic Spoon is drastically more expensive at $39. Magic Spoon is sold in packs of four that are either delivered all at once or on a monthly basis. While the cereal is much more expensive than traditional cereals, Magic Spoon looks to educate consumers about its products. They advertise the health benefits of their products and why consumers should choose their cereal over those of cereals we are all accustomed to eating as a child. Magic Spoon has managed to successfully educate consumers and persuade them to spend $40 on their healthy cereal alternative through the internet like social media.
Magic Spoon Marketing Strategy
Magic Spoon uses various outlets to promote their product in an effort to increase brand awareness. However, they attribute most of their company's growth to influencer marketing. They collaborate with fitness, lifestyle, and even family influencers to promote their products. Similarly, they have an affiliate program in which individuals who fit their target market, can apply to promote the products and receive a commission. They also run ad campaigns on Facebook to create creative ads and target individuals who have shown interest in their products before.
Magic Spoon Influencer Marketing
Influencer Marketing is a form of the social media marketing that relies on endorsements and product mentions from influencers on social media. The company manages to educate consumers and convinces them to spend $40 on cereal from the internet, by using influencer marketing as well as social media and podcast advertising. However, Magic Spoon does not pay influencers to promote its product, instead, they send them free boxes of cereal. While they do not pay influencers, they do pay for sponsor spots on popular podcasts to reach an older audience.
Magic Spoon relies heavily on influencer marketing to spread the word about its product. They utilized a digital marketing agency to help implement the influencer marketing strategy they wanted for their company. When we launched, we had a bunch of influencers of various sizes who spoke about the launch of Magic Spoon with amazing captions about how it was the first time they'd had cereal in a decade and they felt so good about it. That really propelled us to a different level. They worked with influencers who created unique and interesting content for their own audience. Magic Spoon's intention with an influencer marketing strategy was to take their company to another level, increase revenue, and improve their ROI.
Working with influencers who have different niches allows Magic Spoon to reach different audiences. This means that Magic Spoon's cereal has the chance to reach audiences who are interested in fitness, lifestyle, or even family content. They worked with influencers in different niches, including fitness, lifestyle, health, foodie, family influencers. These influencers created content for their social media audience that highlighted Magic Spoon's unique value propositions. Did you know that "Millennials rely heavily on websites, bloggers, and social media fitness professionals for health information? According to research by the Center for Generational Kinetics, millennials will try a snack based solely on an online rating, review, or social media post?"
Through their influencer marketing strategy, they got to see creative advertisements, videos, or photos about their cereal that highlighted its benefits. They even got to repost modify and those ads, photos, or videos to create social media posts for the company's social media profile.
There are also a lot of influencers who are investors of Magic Spoon who liked the idea of the company and felt it was something they could get behind. The first round of financing we did, pre-launch, about half of that round was through health and wellness influencers all writing small checks for the business. They were people who loved the idea, loved the brand, loved the initial product samples, and wanted to get behind it in a really meaningful, authentic way. After the launch, they helped promote the company by advertising and posting about it on their own social media accounts for their followers to check out too.
Facebook Ads
Magic Spoon also uses Facebook as a way to reach a large audience while also increasing its sales. They partnered with an agency to execute their Facebook Ads campaign. Magic Spoon showed their ads to a broad audience across all Facebook apps and services. They also targeted their ads to users who had previously visited its website or made a purchase, those audiences with an interest in health, diet, and fitness, and those with similar characteristics.
 To increase online sales, the direct-to-consumer cereal brand used Facebook video ads and several of Facebook's automated ad features and saw a 2.1X lift in purchases. Through their Facebook ads, they wanted to create a campaign of ads and short videos that would capture the attention of cereal lovers across Facebook. They stuck to Facebook's automated campaign features and they focused on creating fun, visually appealing, and eye-catching ads.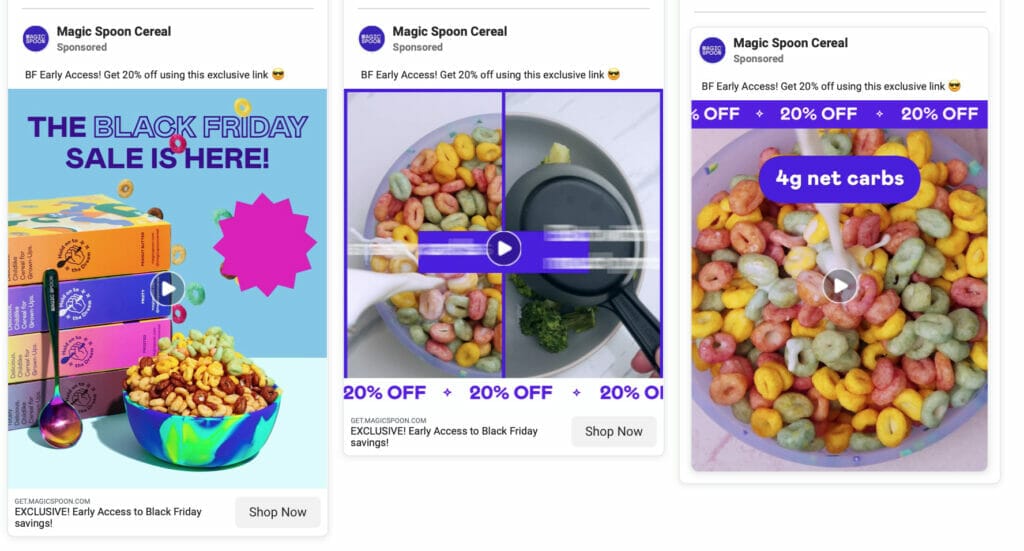 Comparative Advertising
Comparative advertising is a marketing strategy that makes a company's brand or product look superior when compared to the brand or product of its competitor. Magic Spoon used comparative advertising in their Facebook ad campaign. In these ads, Magic Spoon compared its cereal to its competitor's cereal using bright GIF-type videos. These ads highlighted the health benefits of Magic Spoon versus the unhealthy ingredients mainstream cereals contain. "One ad showed a split cereal bowl with Magic Spoon on one side and another brand on the other to clearly compare the amounts of protein and carbs in each. Other creative focused on Magic Spoon's flavors. Text overlays touted that the cereal is Keto-friendly, with high protein, low carbs, and zero sugar."
Magic Spoon Affiliates
Magic Spoon also uses affiliates to promote their cereal. They look for affiliates whose social media highlight and focus on health and fitness. They also look for individuals who are on a keto diet or low-carb recipe creators. Magic Spoon is Keto-friendly, with high protein, low carbs, and zero sugar and these content creators and fitness advocates would know how to highlight the health benefits Magic Spoon and these specific types of diet best.
Not only does Magic Spoon profit from its affiliate program but Magic Spoon affiliates make a 20% commission on each sale they make. Their customers get referred to the site, from a custom $5 off code and link that affiliates promote on their website or social media profiles. There are some requirements that affiliates need to follow. Affiliates are required to meet minimum quotas. They must sell 10 cases of cereal or bring around $400 of revenue each month. Magic Spoon does not demand any specific type of advertising from its affiliates. They leave the creativity of their promotion up to them.
Magic Spoon Direct-To-Consumer & Amazon
When Magic Spoon first launched buying groceries online, let alone cereal was not usual. However over the past years and also as a result of the pandemic more and more consumers have learned and adapted to purchasing different products, even groceries online.
Magic Spoon is a direct-to-consumer brand with its products only available on their website and through their Amazon storefront. The company is not primarily focused on going into traditional retail stores just yet. Instead, they want to keep their focus on their cereal, which currently comes in eight flavors with limited-edition flavors dropping every few months. The company decided to stick to a direct-to-consumer model because they wanted the freedom to be able to adjust their products based on the different feedback they would receive from their customers. However, since its launch, the company has also expanded to Amazon.
The company decided it would be in its best interest to launch on Amazon because they quickly became aware of the search volume there was on Amazon for their brand and products. They found that because they were not on Amazon competitors were beginning to profit offer of their brand name searches. Some people may be hearing us on a podcast ad and then searching for us — some of those searches would happen on Amazon.. [and] we wouldn't be there — but one of our competitors would be there, and they would bid on our brand [thus capturing] that sale that we were actually doing the advertising for.
So to avoid free promotion for their competitors they felt it was would be beneficial and profitable for the company to sell on Amazon. On Amazon, Magic Spoon also runs sponsored ads that promote their products across shopping results and on pages of similar products.
Conclusion
Magic Spoon's aggressive social media and influencer marketing have allowed the company to experience steady growth over the past two years, with demand growing more as a result of the pandemic. This is because there was a demand to buy food online. This has also allowed the company to experience triple-digit growth year-over-year.
This is partially due to relationships with influencers the company has created. These influencers promote the product's unique value proposition of their products to their followers. Magic Spoon is also looking for different ways and outlets to reach more customers. They have been trying out new advertising channels like popular podcasts and television ads.
Want to read about another brand that has used influencer marketing to increase brand awareness. Check out our article Halara's TikTok Advertising Strategy.