One of the fastest ways to build your brand digitally and get new patients is via video marketing. This article will show you what great video marketing for orthodontists looks like and how to do similar effective videos to increase your conversions and increase your production.
What is video marketing and how does it work?
Video marketing is a way of promoting your orthodontic practice in a video format. This type of marketing strategy is suitable for orthodontists who wanted to create brand awareness, boost customer engagement, and drive more conversions towards your digital marketing strategies.
Does video marketing for orthodontists seem like a difficult task for you?
5 Reasons Video Marketing Works for Orthodontists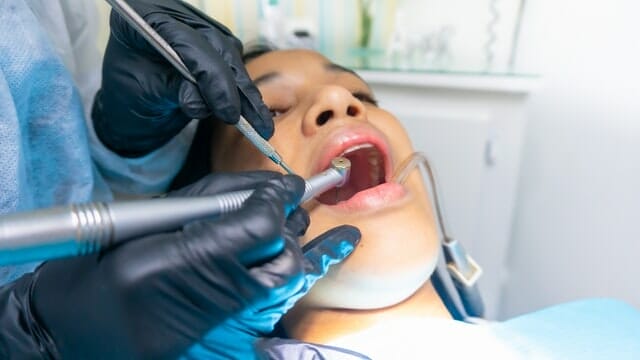 1. Drives more engagement and conversions
According to Wyzowl, more and more local businesses nowadays are using videos to market their brand. Why? Because people love to consume videos entertaining and informative types of videos.
As a matter of fact, consumers would prefer watching a video about a certain product or service rather than reading lengthy details about it. Video content makes it easier for them to understand the services that you are offering (i.e. braces, retainers, fixing overcrowded teeth).
Here are some useful statistics that you should know:
Based on that data, you can tell that videos are really effective when it comes to grabbing a viewer's attention. So, if you're an orthodontist and haven't tried marketing your services using a video marketing campaign, you might consider the use of videos in promoting your orthodontic practice.
2. It helps increase search engine ranking
Google is currently showing videos that are relevant to one's search query on the main results page. This gives your orthodontic practice more visibility and exposure to your audience. So that means, having a video on your orthodontic site or social media pages can help you rank high on Google's SERP. If used properly, it could even dominate your competitors' current rank!
Here are a few tips to help you increase your orthodontic video rankings on Google:
Choose the right hosting platform. Videos take up a lot of space compared to images and servers usually have very limited storage to transfer and store data. So, if you are thinking of storing videos on your web server, it will negatively affect your users' experience.
In choosing a topic to feature on your orthodontic videos, conduct keyword research first. This way, you'll be able to identify the search volume and competition of your chosen topic. Here are two of the best keyword research tools that you can use as an extension in your browser to make things easier to look at:

Surfer SEO
 It'll show you the estimated search volume in your country, the cost per click (CPC) for Google PPC campaigns, and the estimated monthly traffic of that orthodontic keyword in your location. Like this:
Use transcripts on your orthodontic videos. Transcripts are very useful for individuals with hearing impairment or unable to listen to audio due to external factors. You could also benefit from it as it can help Google to better understand the content of your orthodontic video and at the same time, index its content.

These transcripts can be accessed in three easy steps:
Click the three dots below a Youtube video
Select "Show transcript"
The transcript will appear on the upper portion of the relevant videos that can be played after the video you're watching is finished.

The title and description should contain relevant keywords to your orthodontic practice

Note: Instead of stuffing your title and description with a lot of keywords, use LSI keywords instead. This will not only help increase your video's exposure but also makes your sentence appear naturally.
Like in this example:
Create an appropriate thumbnail for your orthodontic video. This is the first thing that your audience will see so customize it in a way that it'll encourage viewers to click on it.
Here's an example:
Note: Make sure that when creating your orthodontic thumbnails, it shouldn't be a clickbait. Misleading your viewers to something that they will get nothing out of it which results in disappointment and may also ruin your orthodontic brand's image.
Usually, viewers abandon a video if they feel that it doesn't contain the information they are looking for. But with the use of timestamps, viewers will be guided if there's a reason for them to tune in and watch your orthodontic videos.

If you're not that familiar with timestamps, those are links that contain a short overview of the topic that's being discussed in your orthodontic video on Youtube. This is helpful for your viewers part as it lets them understand which section of your orthodontic video is most relevant to them.
Here's what it looks like on Google's Search Engine Results Page: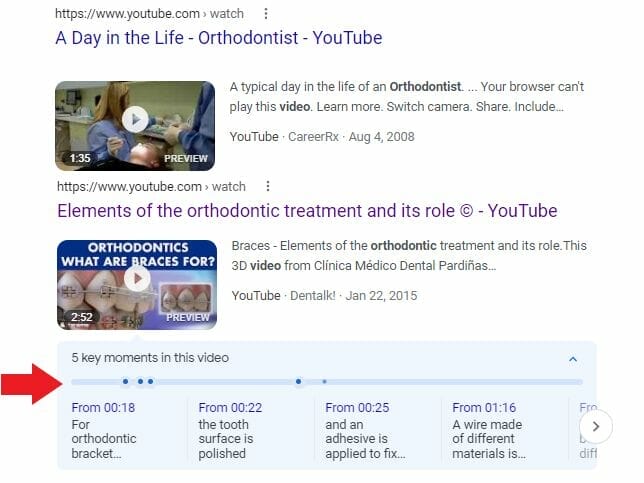 And here's how it looks when you add timestamps in your orthodontic video's description section on Youtube:
3. Good ROI
Video marketing gains a lot of attention no matter what industry you are in. And if you are looking for a marketing campaign that'll give you a good Return on Investment, a video marketing campaign can help you with that. In fact, 89% of video marketing professionals say that videos give them a good Return on Investment.
So, if you want to boost your website's traffic, social shares, and profit, producing high-quality orthodontic content for your audience would be an ideal plan for you.
4. Gives you more traffic
87% of marketers say that they noticed an increase in their site's traffic after using videos. This is true because when your page visitors stay until the end to watch your orthodontic videos, it means that they find the content of your videos relevant to what they are looking for.
The volume of the traffic you receive from your orthodontic videos also gives Google an idea that your videos provide reliable content to your audience. When that happens, you have a higher chance of ranking up on search engines and accumulating more traffic to your orthodontic website or social media pages.
5. Gains the trust of your patients
Consumers are more likely to buy a product or service after watching a video about it because videos help them make wise decisions when it comes to choosing the right orthodontist. So, if you want to form a connection with your audience, you could share your clinic's advocacy, film patient testimonials, or interview how your orthodontic staff loves working in your clinic to humanize your brand. Showing the soft side of your practice in return will help you gain the trust of your patients and increase their confidence that choosing you as their orthodontist is the best choice.
Don't have enough reviews for your orthodontic practice? Check out our blog post on How To Get Reviews For Orthodontists to learn more.
Want to know an in-depth explanation of how your orthodontic practice can benefit from video marketing?
How to start an orthodontic video marketing campaign
You can't just immediately shoot an orthodontic video, post it on social media, and expect that a lot of people will watch it. That's why we've created 6 steps to guide you in crafting a successful orthodontic video marketing campaign.
1. Define your goal.
The first thing to do is to define your goal. What do you want to get out of your orthodontic videos? Is it getting a lot of conversions, traffic, engagement, or raising brand awareness? In the beginning, you should identify which of these are you aiming to achieve so that it'll be easier for you to identify if you're reaching the goal of your video marketing campaigns or not.
2. Choose which platforms to use
There are plenty of videos that get a lot of engagement on social media platforms like YouTube, Facebook, TikTok, and Instagram. Each of these sites has its unique way of reaching out to your prospective patients. For example, if you want to film very short orthodontic videos, that run less than a minute, you could create Instagram Reels or Youtube Shorts. Check out our different guides to each platform, including TikTok for Orthodontists.
The type of social media site to choose depends on what your goal is. If you want to get more tips on choosing the right platform to post your orthodontic videos, read our blog post on Social Media for Orthodontists.
3. Identify the type of videos you want to create
After choosing the platform to showcase your orthodontic videos, it's time to choose what kind of videos you want to share with your audience. To give you some ideas, here's a list that you can base your orthodontic content:
Video marketing for orthodontists topics to choose from
1. How-to videos
Patients usually feel a mix of emotions before getting orthodontic treatment like braces. Because of that, they get curious and do a lot of research to know what to expect when they fully decided if they're ready to get an appointment with an orthodontist. That's why creating step-by-step orthodontic treatment videos can help provide assurance on the things that your patients should and shouldn't be worrying about.
2. Educational videos about orthodontic services
You could also showcase your expertise in orthodontics through means of creating educational videos. It could be a 2-3 minute video that briefly explains how braces work, what to expect after getting an Invisalign, or anything that will help your potential patients to gain more knowledge about a treatment that they are planning to get in the future.
 3. Best practices
Visiting an orthodontist from time to time is a good habit but you still have to stick to a routine to maintain healthy teeth and strong gums. So, another content idea that you can create is a video on how to properly brush and floss your teeth.
Like in this example:
4. Answering frequently asked questions (FAQS)
Even though people do research, they still have doubts especially if they weren't able to find the answer that they're looking for. To fill in that gap, you could create a video that answers the questions that you usually get as an orthodontist.
Here's an example of an informative video from an orthodontist who briefly answered the questions that people usually ask when getting braces:
5. Clinic tour
Filming a tour inside your orthodontic clinic can help you drive more patients to your orthodontic clinic. It's because one of the factors that most people consider when choosing an orthodontic clinic is interior design. There are patients who get nervous especially if it's their first time getting their teeth fixed, so the ambiance should have an accomodating feel where patients can calm their nerves before their tooth appointment.
4. Plan with your team how the production will take place
Now that you have an idea of what kind of video you'll create for your orthodontic practice, it's time to brainstorm with your team when it comes to filming your orthodontist videos.
Here are some of the things that could guide you in planning for creating your orthodontic videos:
script preparation
equipment to use
date of filming
people to be featured
music to use (don't use copyrighted music without asking permission from the owner)
editing the video once it's done
duration of the filming and post-production process
5. Schedule when to post
Already finished editing filming and editing your orthodontic videos? You should start plotting your calendar on the dates you'll be posting your videos.
Remember, if you filmed a lot of scenes, you shouldn't dump all of those on your chosen social media platform in just a day. Too much information would be overwhelming to your audience so set a date where you'll be posting orthodontic videos so that your audience will have something to look forward to from time to time.
6. Monitor
Let's say you started uploading your orthodontic videos. Do you think that's where your marketing campaign ends? Of course not.
Your orthodontic video marketing campaign doesn't end in posting a video. You should regularly check how your orthodontic videos are performing. Check to see if you are close to reaching the goals that you've set at the beginning of the campaign.
If it does, keep it up. But if it's not, try looking for the reasons it's not meeting your goals and optimize it. Google Analytics can provide you with a lot of useful information about your video marketing campaign.
Coming up with a video marketing strategy for orthodontists can be quite challenging. Our team is here to help.
Conclusion
You've probably used Google PPC, Facebook PPC, and Google My Business to reach the target audience of your orthodontic clinic before. If you want to step up your digital marketing strategies and widen the reach of your orthodontic practice, video marketing for orthodontists is definitely worth a try!