Looking for ways to get more patients? In this article, we'll share with you some tips on how to get more chiropractic patient referrals in no time!
What are patient referral programs?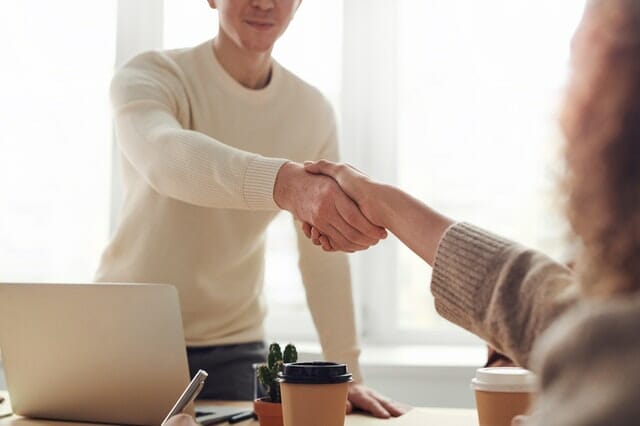 There are a lot of ways to captivate the hearts of your new and existing patients. And one of the proven ways is through patient referral programs.
A patient referral program is where chiropractors use various techniques to increase the number of patients that go to their clinic. What chiropractors mostly do in referral programs is that they provide incentives for patients who will refer their chiropractic services to their friends, colleagues, or loved ones.
As a matter of fact, 89.8% of patients are willing to recommend a healthcare service to their family and friends if they are highly satisfied with the care they received. This is because existing patients commonly recommend a chiropractic professional when they can attest that you can provide one of the best chiro services in their area.
Interested in creating a patient referral program but don't have time?
Importance of getting more patient referrals
Adding a patient referral program to your chiropractic marketing strategy is a cost-effective way of advertising your chiropractic services. You don't have to spend a lot of money to get new and repeat patients, all you have to do is provide excellent service and think of creative ways to incentivize your patients.
Another factor that patient referral programs contribute to your chiropractic clinic is that it helps you set a good impression. When people see that your chiropractic care is being recommended by a lot of people, this gives them an idea that your chiropractic services are one of the best in the field.
Patients always value the quality of services they get from every healthcare service they receive. If it doesn't match the level of their expectation towards your chiropractic services, they won't mention you to other people (and we don't want that) but if it does, it makes your brand a trustworthy one.
How to Create a Patient Referral Program for Chiropractors
Step 1: Brainstorm ideas
The first thing that you must do when creating a patient referral program is to plan everything out. You must talk with your team. Starting from the email referral template or verbal script down to the incentives that you are willing to provide your patients.
If you have already tried to ask some of your satisfied patients to refer to your chiropractic clinic but failed at your first attempt, it's fine. But that is no reason for you to stop.
Take your time to think about what went wrong. Are you using the right words when asking for a referral? or Is it bad timing when you talked to your patient? There might be a lot of reasons why your first attempt hasn't worked out.
Patient Referral Script
You just have to widen your perspective and try again. This time, use the right words. You can even come up with a script or email referral template like this one:
Sample referral script:
You have this customer who frequently comes to your clinic every month and notices that the reason that she keeps on coming back is that she sees how effective your chiropractic services are. Here's what you can say when asking for a referral:
You: If it's okay for you, can I ask you a favor?
Patient: Yeah, sure
You: I am so happy to see how satisfied you are with the results of our chiropractic services. With that, I would like to ask if you know someone who is also going through the same back pain as yours.
Patient: Hmm. My co-workers are also complaining that their back hurts during our 8-hour shift.
You: Awesome! Is it okay if you introduce our chiropractic clinic to them? We love working with patients like you and would really appreciate it.
Patient: Sure, I'll tell my officemates about your chiropractic services.
You: Thank you so much! We have this referral program where if one of your referrals turns into our actual patients, you'll receive a 10% discount on your next visit.
Or if you are planning to reach out to your previous patients through email, here's a sample template to guide you:
Email referral template sample:
Good day [Customer name],
We hope you are doing well. 
We are so glad that our chiropractic services have been working well for you.
With the progress/positive improvement in your back pain issue, We are wondering if you know a friend, colleague, or someone who is also looking for a chiropractic clinic near your area. We would love to have them achieve the same results that you got from us.
Best Regards,
[Name of your chiropractic clinic] 
Need help working on your referral script?
Schedule A Free Strategy Session!
Incentives
If you are offering incentives for every referral that you get from your patients, here are some ideas that you can use as a guide to your chiropractic clinic:
Giving discounts to every successful patient referral that comes from one of your patients is one of the great ways to encourage them to tell other people about your chiropractic clinic. For example, if your patient's friends (new patients) come to your clinic. Because these new patients were referred by your existing patient, she will receive a 10% discount on her next visit.
You can also collab with other practices if you want to use gift coupons. Think of this collab this way: Let's say you are giving away gift coupons to patients who have successfully referred a family member to your chiropractic clinic. As a reward, you are going to give him a gift coupon from another practice, and in return, that practice whom you got the gift coupon from will refer your clinic to their patients who also need chiropractic services.
You could also give freebies to patients who have successfully made a patient referral to your clinic. People are attracted to getting free stuff. As a chiropractor, some of the freebies that you can provide to your patients are free chiropractic consultations, 30 mins. free treatment, or give useful items that have your chiropractor clinic's logo on them!
If you are going to use coupon codes to determine which patient the referral came from (I.e. NAMEOFPATIENT10) it would be easier to know where the referral came from without asking the new patient. This is applicable to those who are going to pay prior to their appointment or prefer paying online.
Want to get more patients to your page? Consider using chiropractor Google Ads to appear in more search engine searches and Google Analytics to track your campaign.
Step 2: Decide on how you will promote your patient referral program
After creating a blueprint of your Patient Referral Program, it's time to decide on who and where will you promote your referral program. Are you going to deliver your message to people through print, digital media, or both?
If you are going for print media, you could print out flyers, invoices, business cards put up a poster outside your clinic, or postcards.
If you are going for digital media, there's your chiropractor website, digital ads, patient emails, and social media posts.
Since 8 out of 10 people use the internet when looking for healthcare information, why not use your chiropractor's social media pages when setting up a patient referral program?
Creating social media posts about your chiropractic clinic's referral program or encouraging your existing patients to share it with someone they know could also help widen the reach of your patient referral program.
Here's an example: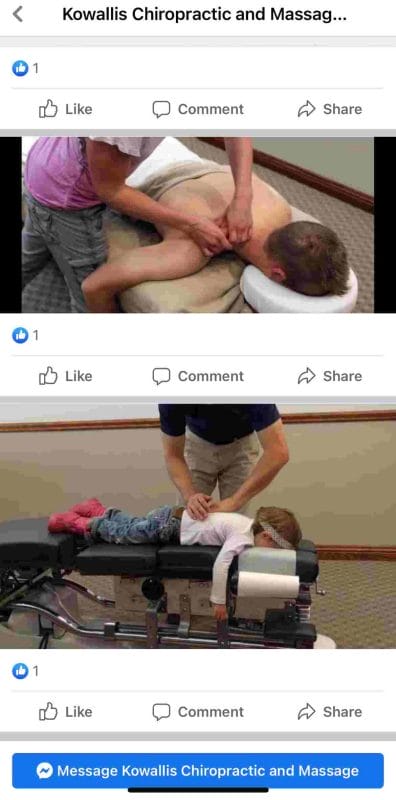 See how they briefly explained how their referral program works. Sharing it with the social media community also helps you get more patients. If you want to know more ways to advertise your chiro clinic aside from patient referral programs, here are 13 Tips For Promoting Your Chiropractic Practice.
But for a wider audience reach, a combination of both platforms works best.
Step 3: Assign a receptionist for your patient referral program
Since your clinic receptionist is the first person that your patients see and talk to every time they visit and leave your clinic, it is important to constantly remind them to mention to your patients about the patient referral program. You can simply track their progress through means of setting goals for them.
For example:
To see if your receptionist is effectively informing your patients about your clinic's patient referral program, you'll start by giving her a quota to reach which is 10 referrals per month. When you notice that there's progress in the number of appointments that you get on a monthly basis, it means that your clinic receptionist is doing her job well.
Want to effectively market to potential patients? Use our guide on marketing tools for chiropractors.
Step 4: Be patient
Although you won't receive results immediately, you just have to give them some time to process. Your existing patients might be busy or their friends aren't available yet. In the meantime, keep on giving excellent chiropractic services and you will eventually, receive referrals from these people.
Step 5: Don't forget to thank your patients
The last step of your patient referral program is to express gratitude towards your patients who took the time to share their experiences with their folks who are also interested in chiropractic services. Tell your patients that you appreciate their gesture through means of sending them an email expressing your gratitude or by simply sending a gift coupon that they can use.
Want us to help in creating a patient referral program for your chiropractic clinic?
Additional Tips in establishing a patient referral program
Your existing patients usually forget to refer you to someone they know because you aren't persistent enough to remind them verbally or through emails, because of that, you have to continuously remind your patients every time they visit your clinic.
When you see a great opportunity to ask your satisfied patients, grab it. How would you know if it's the right time? It's when your patients keep on telling you how grateful they are after finding your chiropractic clinic or when they tell you how effective the results are.
Summary
Directly asking to be referred by your chiropractic patients might seem awkward at first but how would you know if your patient referral program is effective if you're not actually implementing it? With the right strategies, proper planning, and providing high-quality services you will surely get more patients in the long run.