If you are a chiropractor who owns a website and wanted to know how well your online marketing efforts are performing, then, you've come up with the right article! In this blog post, we'll share with you how important Google Analytics for Chiropractors is in today's time.
What is Google Analytics?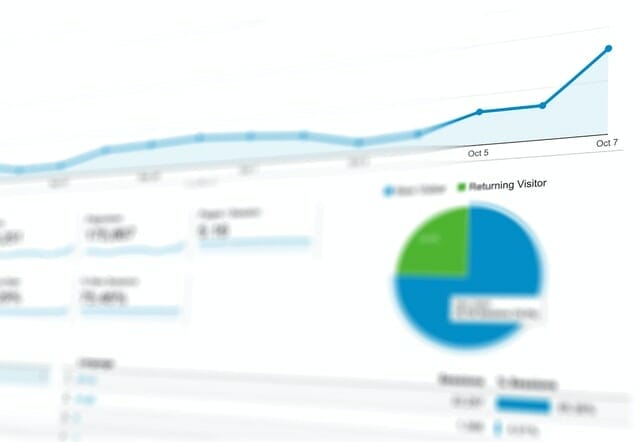 Google Analytics is a must for local businesses owned by chiropractors like you who offer chiropractic services. It is a valuable tool if you want to learn more about how much traffic your website is getting, what specific pages cause your site visitors to leave so quickly, what pages get a lot of views, what keywords from your Google Ads are having a lot of clicks and conversions, and so much more!
This SEO tool helps you to discover and understand if there are issues when it comes to like for example, how long a specific page in your website loads, which campaigns are getting a lot of impressions, which aren't along with the conversion, and click-through rates.
It has a wide range of features that you can access for free. But if you want to get the advanced features, there are additional fees that you must pay in order to obtain them.
Aside from that, it can also help you grasp certain issues that your chiropractor's marketing strategies are going through. It is important to solve these issues on your campaigns at an early phase so that they won't negatively impact the impression of your chiropractor website and the digital experience of your page visitors.
Haven't created a Google Ads Account for your chiropractic website? Read our blog on Google Ads For Chiropractors.
Why Google Analytics for Chiropractors?
Google Analytics is the most frequently used search engine optimization tool and is preferred by marketing professionals.
This is because it provides meaningful insights to chiropractors such as the number of users you had on a certain week, where you get your users from (i.e. if it came from website referrals or from your ad campaigns), and helps you understand how the trend is going, analyze the content of your top pages, further understand user behavior, breakdown of new and returning users, and other technical performances of your website.
Google Analytics is the best SEO tool out there that's suitable for monitoring your website's performance which you can check in real-time or when you have free time. Here, you can get charts that contain reports such as what specific pages your webpage visitors frequently visit, what actions they are doing towards your website (i.e. watching a video, reading a blog post, scrolling through the pages of your website, and the list goes on), and how long it takes them to do that action.
What's good about Google Analytics is that it's free to use! Google Analytics for chiropractors is one of the useful tools that you can use to improve your chiropractic website's search engine optimization ranking and performance.
Aside from that, it can greatly help your chiropractic online marketing become one step closer to your success because it gives you an idea of which among your marketing campaigns are the best-performing ones and improve the ones that are not performing well.
In the Google Analytics dashboard, you can see an overview of the most important data reports for your chiropractic website. Like this one:
As you can see, Google Analytics makes it easier not just for marketing professionals but also for business owners who want to get the gist of the behavior of their customers. Like if the content of your chiropractic website is suited to what they are looking for or not and it doesn't suffice with the data displayed in graphs or charts, you'll be able to pinpoint what needs to be enhanced so that you will gain a lot of new patients and retain the ones that you currently have.
Interested in using Google Analytics for your chiropractor website?
Also, consider using Google My Business for Chiropractors to appear more credible and show up above your competitors.
Best Features of Google Analytics for Chiropractors
 The volume of traffic –  In Google Analytics, you'll be able to see how much volume of traffic your website is getting on a daily, weekly, and monthly basis, which you can customize according to your preference. Understanding the volume of traffic that your chiropractor website is very important as it helps you identify the issues that negatively impact the performance of your website and solve it immediately.
Here's an article you can read if you want to know more about the importance of tracking website traffic.
Determine the source or medium the traffic comes from – Knowing where most of the traffic that your chiropractor website is coming from allows you to understand if you are getting a good ROI from your online marketing campaigns. In Google Analytics there are four basic traffic sources:
Search traffic – comes from people who directly searched for your chiropractor website's URL in browsers like Google Chrome, Yahoo, Microsoft Bing, etc.
Direct traffic -where page visitors might've arrived at your site after they manually typed in the URL or searched for your brand or received an email that contains the link to your website and from there, they clicked on it which sends them directly to your site.
Referring sites –  where page visitors ended up on your site through another link or another domain. If you need help getting more patient referrals, refer to our chiropractor guide.
Campaign Traffic – where people arrived at your after clicking an ad campaign or after being shared from other social media platforms.
As you can see in this example, Google Analytics shows you data for new users, the number of sessions, bounce rate, average session duration, conversion rate, transactions, and revenue.
You can also change the way you want to see the data for your chiropractor's website. For example, if you want to take a look at the data in a less complicated format, you can use a pie chart.
In this example, you will see that the majority of the traffic comes from direct traffic.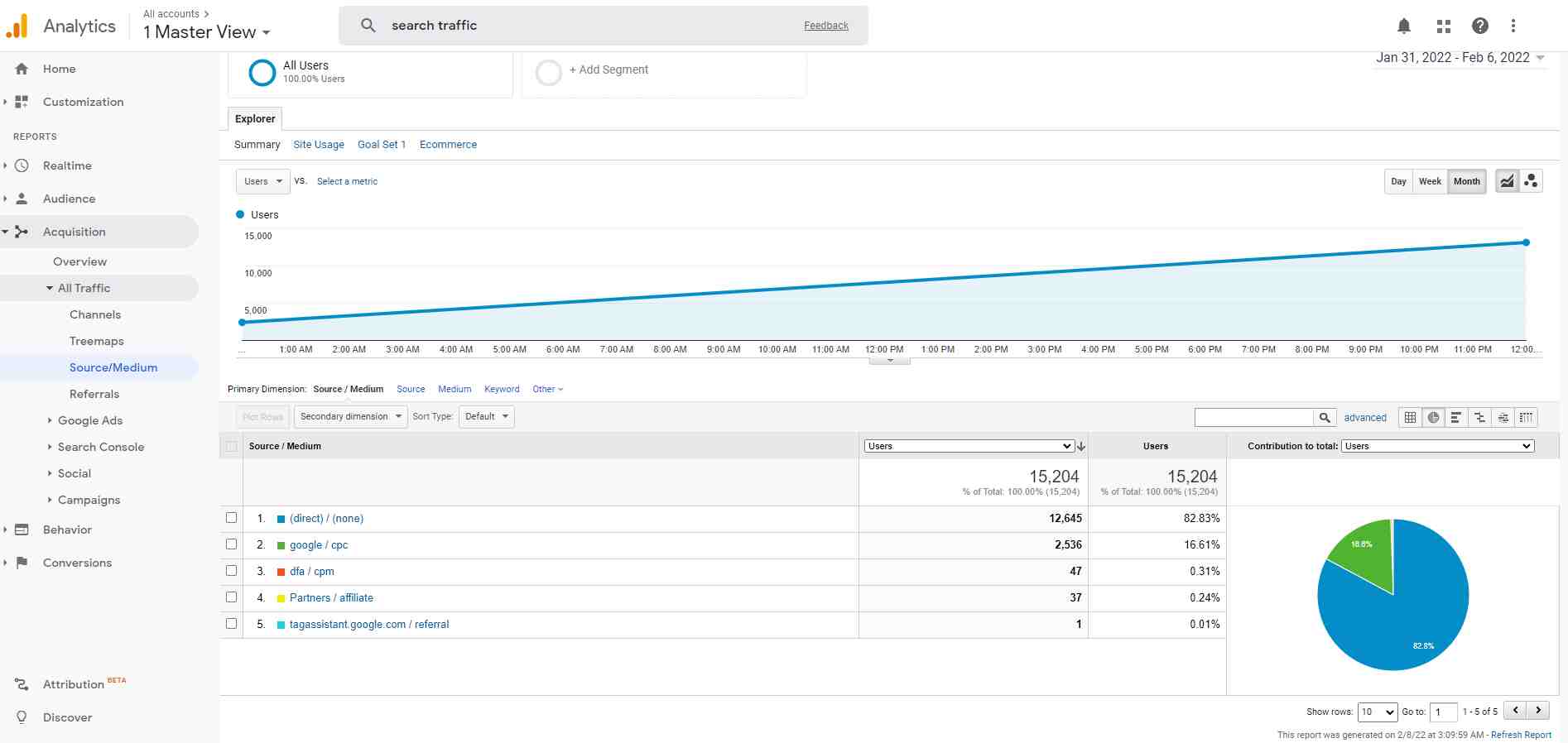 Number of users your website gets at a specific time of the day – Getting this kind of information from Google Analytics helps you strategize on what time you should display your advertisements or update posts on your chiropractic website. It'll be more effective if you post chiropractic-related stuff when people are mostly online.
Real-time reports can also be useful especially if you are testing out a new campaign and wanted to see if it's effective for your target audience. You see, having access to real-time reports is one of the vital tools that Google Analytics has because it helps chiropractors in the decision-making process of their business.
Bounce rate happens when people leave your chiropractor's website after viewing a specific page. It's like a one-time visit. As a chiropractor, you should consistently monitor your site's bounce rate every other week just to know if the content that you are showing to people is still relevant or not.
Link your Chiropractor's Google Ads, Search Console, and Social Media pages – In Google Analytics, you can monitor all of your digital campaigns from different platforms in one place! From there, you no longer have to experience switching from different tabs just to see how well your marketing efforts are working. So convenient, right?
Need guidance in understanding reports from Google Analytics?
How to Setup Google Analytics for your Chiropractic Website
 First, go to https://analytics.google.com/analytics/web/. Then, click "Start measuring."
Enter the name of your Chiropractic clinic  company under "account name"
Under "Account Data Sharing Settings" check the box of how you want to share the data you're about to collect from websites and other devices using Google Analytics. After choosing, click "Next."
Then, start setting up your property by creating a name for the property that you'll be creating (e.g. GA4 – Name of your Chiropractic clinic), the timezone of where your HVAC company is located along with the currency that you mainly use.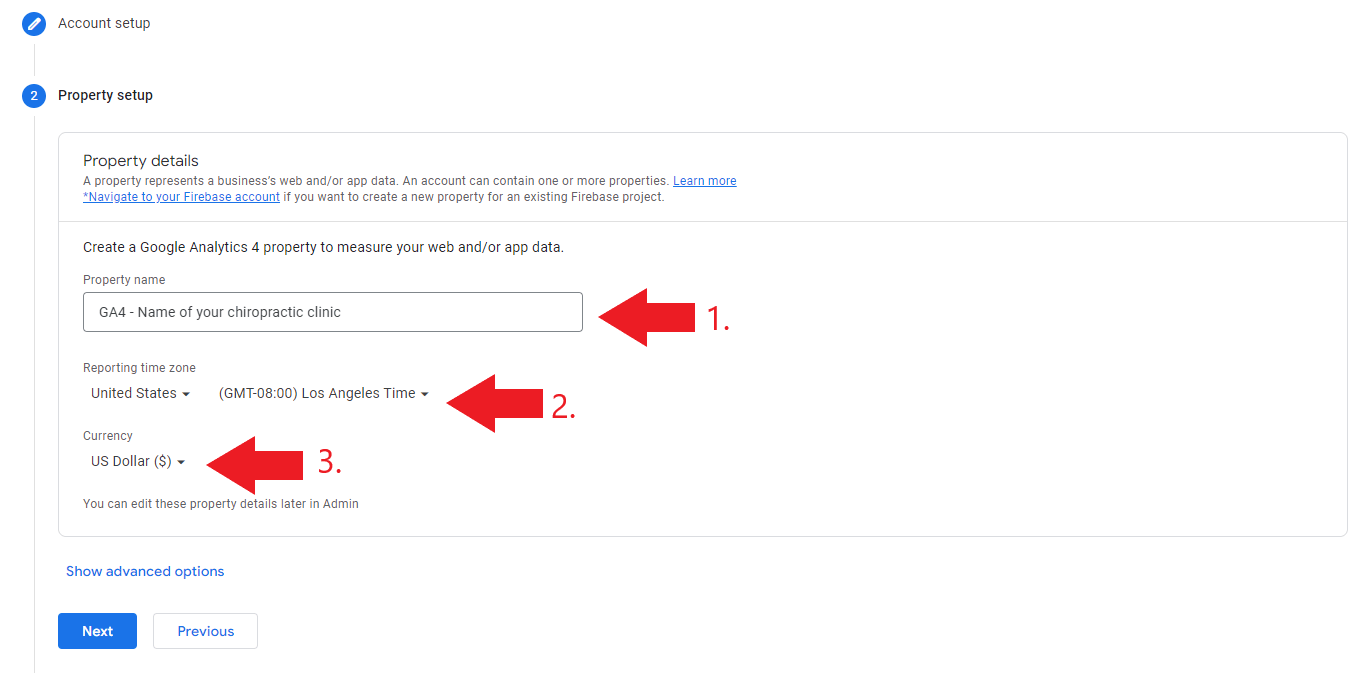 Select  "Show advanced options." Then, toggle the button to create your Universal Analytics Property.
Enter the URL of your chiropractor's website. Then click "Create both a Google Analytics 4 and Universal Analytics Property." After that, click "next."
Select the business industry that best suits your chiropractic clinic followed by the number of employees in your chiropractic clinic. Then, you'll be asked to select how you'd like to use Google Analytics in analyzing the performance of your HVAC website. Check all that apply.
Once done, click "Create."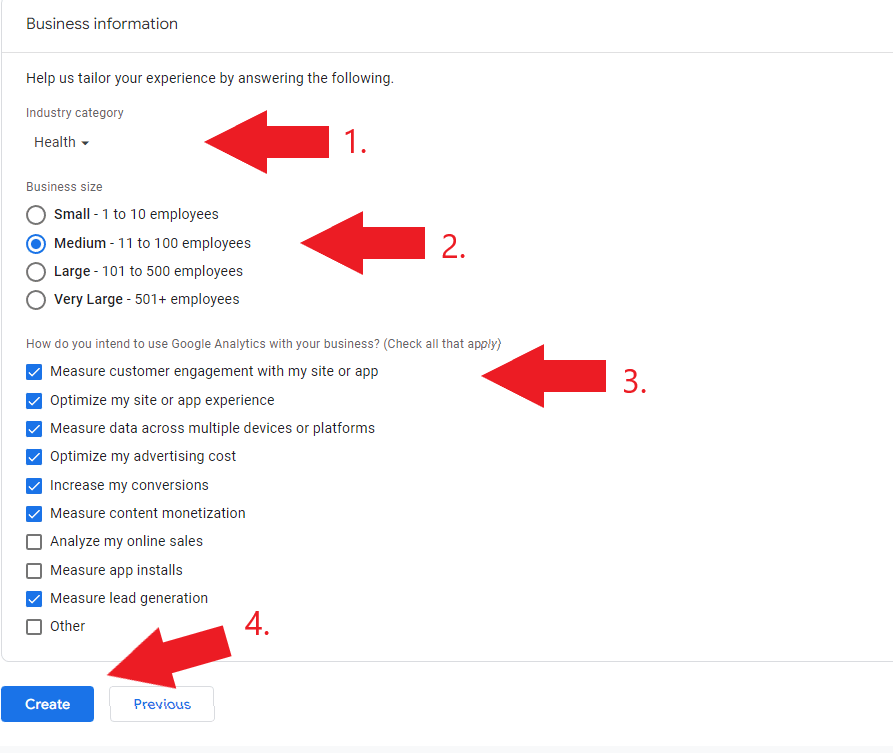 A pop-up that contains the Google Analytics Terms and Service Agreement will show up. Check the box that says "I also accept the Data Processing Terms as required by GDPR" and click the "I Accept" button.
You'll land on the web stream page that contains the measurement ID that you'll be using later as you install a tracking code to your chiropractic clinic's website.
That's it! You have successfully created Universal Analytics and Google Analytics 4 properties.
How to set up Google Analytics 4 (GA4) Property
On your Google Analytics dashboard, go to "Admin"
Under the "Property column" click "GA4 Setup Assistant"
Click "Get Started."
A pop-up that contains an overview of what GA4 property offers will show up. Click "Create and Continue."
The page will load and you'll see that you've successfully connected your properties. Click "Go to your GA4 property."
How to manually install your Google Tag
On your Google Analytics dashboard, click "admin."
Under the "Property column" click "Data Streams." Then, select "Web" followed by the (>) arrow.
You'll see the Web Stream Details of your Ga4 property. Scroll through the Google Tag section, and click "View tag instructions."
Select "Install manually." Then, copy your chiropractic website's, Google Tag.
Go to your chiropractic website's header section and paste it on the <head> element on every page on your HVAC website.
For example, if you are using WordPress, scroll down and click "Code Snippets."
Then, click "Header and Footer."
Go to the Header section and you can now paste the Google Tag you copied earlier from Google Analytics.

Then, click "save changes."
Another way of installing your Google Tag is through your website builder or content management system, refer to these steps.
Conclusion
All of your chiropractic online marketing strategies will pay off if you start using Google Analytics because, in this platform, there are a lot of useful tools that can be used to monitor what specific part of your chiro practice is working well and which is not. This way, you will have an idea of what to improve, change, or come up with a strategy to provide a better customer experience for your online audience.
Need help in setting up Google Analytics for your chiropractor website?