If you have heard of PromoRepublic and want to know how it works, then you are in the right place! This article will discuss some PromoRepublic reviews and an easy step-by-step guide on how to use it.
There are currently more than 4 billion social media users as of October 2021 and it is continuously increasing at a rate of 1 million new users every day. That is why social media is an important part of a marketing strategy since there is a huge audience to promote your products and services.
Handling multiple social media pages can be very tedious and a social media managing tool is a necessity. So how does PromoRepublic work? And is it really worth it for your social media strategy?
Want a comprehensive marketing strategy for your business?
What is PromoRepublic?
PromoRepublic is a social media tool where you can connect all your social media accounts and schedule your content postings. Instead of posting separately for each social media platform, you can create a calendar and schedule posts simultaneously. It saves time and it effectively reduces your workload.
Features
Multi-Account Management. Depending on your subscription, you can link from 3 to 59 social media accounts and you could also share it with up to 16 users. This is helpful if you are handling multiple social media accounts and you want to congregate them into one place where you can see everything all at once.
Post Scheduling and Automated Content Suggestions. Scheduled publishing is one of the main features of PromoRepublic. This lets you create scheduled posts and shows you suggested time slots with content types from their AI algorithm.
PromoRepublic also gives you a calendar of upcoming events. This shows you all the events that is celebrated on a specific date.
Content Editor. Another great feature is that you can directly edit your photos on your PromoRepublic account. You don't need to use any photo editing software anymore.
This content editor has a gallery of photos and other editing elements that you can use for your photo.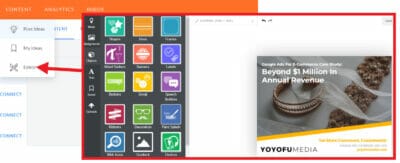 Reporting and Statistics. Data and statistics will also be reported per individual post. This will help you determine the performance of your content.
Inbox. Messages from your connected social media channels will be funneled to your PromoRepublic account.
Social Media Channels. You can connect up to 6 different large social media platforms!
Rates and prices
PromoRepublic has 4 price tiers that you can choose from: Solo, Pro, Agency, and Expansion.
Solo ($9/mo.)

Has access for only one user and can connect up to 3 social media accounts. Supports social media channels such as Facebook, Instagram, LinkedIn, Twitter. Suitable for entrepreneurs and individuals.

Pro ($39/mo.)

Has access for up to two users and can connect up to 10 social media accounts. Supports social media channels such as Facebook, Instagram, LinkedIn, Twitter. Suitable for independent professionals and small teams.

Agency ($75/mo.)

Has access for up to six users and can connect up to 29 social media accounts. Supports social media channels such as Facebook, Instagram, LinkedIn, Twitter. Suitable for agencies and growing marketing teams.

Expansion ($125/mo.)

Has access for up to 16 users and can connect up to 59 social media accounts. Supports social media channels such as Facebook, Instagram, LinkedIn, Twitter. Suitable for bigger agencies and resellers.
You can view the full details and comparison of PromoRepublic pricing plans here.
How to use PromoRepublic?
Account Creation
Go to PromoRepublic sign-up page and input your email and new password for this account. Check the terms & conditions box and then click 'Create my free account'. You could also sign-up using your Facebook account.
After that, you need to input all the necessary details including your full name, company website, phone number, business role, team size, and the industry of your business. Once you're done, click 'Complete your account setup'.
You will be redirected to a welcome page where you will choose the feature that you want to start with. You can choose any feature you want to start with, but for this guide, we will choose 'Schedule Posts'.
Connect Your Social Media Accounts
Once clicked, you will be redirected to a starting page and it will ask you to connect your social media pages. Click 'Connect Page'.
Connect all the social media pages that you are handling.
After you connect all of your social media pages, your calendar page should look like this:
All the connected accounts are listed and you still connect more social media channels that you haven't connected yet to PromoRepublic.
Automated Posting
Here is what the calendar page looks like for Promo Republic. You can change the view from weekly to monthly view to see the calendar differently. Suggested time slots and type of posts are also given to specific dates from PromoRepublic's AI algorithm.
To schedule a new post, click 'New Post' to the specific date you have chosen. You should be redirected to this page:
Click the icon of social media account where you want to post it. If the icon is faded, it means that it is not selected.  After that, type in the caption of your post and you can upload photo if you have it already. If you don't, just click 'Create Image' and you can edit a photo directly to PromoRepublic image editor.
We'll discuss the photo editor feature separately, but once you're post is ready, click the schedule button. This is how it should look like in the calendar after being scheduled for posting:
Photo Editor
To access the photo editor, you can click it on the menu under 'Content', or you could click 'Create Image' while you are creating a new post.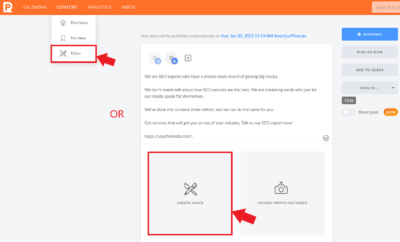 Ideas
You can start with a blank canvas and choose your preferred size of the photo. You can get inspirations and sample graphics from the ideas tab on the left side of the page.
Backgrounds
Royalty free backgrounds or images are also provided in the editor  and you can edit it how you want to. Choose the image, then resize it, rotate it, adjust its filters, opacity, flip the image and so on.
Objects
You can also create shapes, lines, and frames from the 'Objects' tab. You can change its color depending on the branding of your social media, and you can edit its opacity, position, etc. See how we use these shapes and change their color?
Text
After that, you can add text depending on the content of your post. This YoYoFuMedia post is about SEO services so we put those texts in the image. There are text options where you can edit to fit your overall image.
Once you are done editing the photo for your content, click 'Use'. You can also download or save this to your image editor for future use.
This is how a post should look like with an image.
Need help on social media marketing?
PromoRepublic Reviews: Pros & Cons
Pros
Easy to Navigate
The app user interface is user-friendly and very easy to navigate. Most of the tools and features are pretty self-explanatory.
Saves your time and energy!
This app will make publishing easier as you just need to schedule content and it will automatically post for you. It saves time and brainstorming energy as it also gives your ideas for your content.
AI Algorithm
PromoRepublic gives suggested time slots and content types for you to follow and this is based on the AI algorithm which is a really great feature. You can choose your preferred timeslot but these additional suggestions are really helpful in publishing automated posts.
Upcoming Events
Having an upcoming events tab makes content calendar creation easier. It gives all the celebration you could imagine for each days of the calendar. It also gives you images for content inspiration.
Photo Editor Integration
Having a photo editor integrated into the app makes it more efficient and great to use. It's like an all-in-one tool for social media managers. Creating posts or content usually involves graphics and visuals and with PromoRepublic, you don't need to use separate photo editing applications. It has almost everything you need for creating graphics plus royalty-free photos are already there for editing use.
Inbox
Having your social media inbox being redirected to PromoRepublic makes the checking of messages easier. Having all of your inboxes in one platform makes social managing easier since everything is already here.
Analytics & Reporting
Having analytics and performance features will help you gauge how to adjust your content strategy. In this, you can see how many viewed and interact with your post. Besides Facebook, Instagram, and other social media performance insights, this additional data can be a game-changer in your social media strategy.
Cons
No notification for activities
There is currently no feature where the notify you that your post is successfully published or if it did not push through. You still have to go to each of your connected social media accounts to check if your post is indeed published.
This is our notification tab even after publishing 4 new posts on Google My Business:
Saving branding elements of photo editor
You can save an edited image, but you can't save a custom color palette for your business branding. You still need to repeatedly type in the color hex code to get the specific color you want. Same with the edited objects and texts.
Can't create buttons for Google My Business Account
Google My Business gives you an option to include a button in your post but this is not possible in PromoRepublic. It would be nice if each social media channel's unique features are also integrated once you create a post in the PromoRepublic app.
Upcoming Events are only based on the US
Events and holidays are only set in the US. It would be a game changer if the upcoming events will detect the country or origin of the account user.
SEO? Google Ads? Marketing Strategies?
Schedule A Call With Our Experts!
Final Take
PromoRepublic is a great app for social media management. Its best feature is suggested time slots, content type, upcoming events, and of course the photo editor integration in the app.
Although it still has points for improvement, like its notification features, unique social media posting features that you can't do in this app, it is still an efficient tool that you can use for publishing content on your social media accounts.
We hope that these PromoRepublic reviews will help you decide if this app will be worth it for your business. Social media is one of the best ways to market your business and if you need help on your marketing strategies, schedule a free strategy call with our experts today!