Have you spent countless hours building your Squarespace website but struggle to drive traffic to it? The reason you likely aren't generating enough traffic to your website is that it lacks a crucial component…Search Engine Optimization. Correctly implementing SEO can drive substantial amounts of traffic to your Squarespace website.
This comprehensive step by step Squarespace SEO checklist will teach you:
What SEO is and why it's essential.
Effective keyword research and how to implement keywords on your website.
Squarespace website settings to change for optimal SEO.
Optimization for your website's content and images.
Tools and plugins to use to improve your search engine rankings
How to acquire and utilize backlinks
We will cover every important aspect of Search Engine Optimization in this checklist. It can be used for any Squarespace website to increase traffic and improve search engine rankings as fast as possible.
1. What is SEO and Why is it Important?
SEO or Search Engine Optimization is essential to running a successful website. Search Engine Optimization increases the visibility of your website by helping you rank better for your target keywords. By ranking better for your target keywords in search engine results, your website becomes exposed to a broader audience.
The reason ranking high in search engine results is important is because most people don't go to the second page. According to multiple studies, only about 25% of people go to the second page of search results. For instance, this means if your website ranks on the second page for a keyword with 1,000 monthly searches, only 250 users are even seeing your website as one of the websites on google. And even less than that will click on your link to go to your website. For sites that want to be successful, it is crucial to adopt the right SEO strategy.
SEO isn't always easy and can take a lot of time and effort to implement correctly. Don't be discouraged, though, because the result of your time and energy more than makes up for it. SEO is an extremely powerful resource for websites that can drive substantial amounts of high converting traffic to your website for free. Implementing the right SEO strategy is one of the best ways startups and websites can grow traffic while also keeping costs low.
2. Learn Keyword Research
Now that you have an understanding of SEO and it's benefits, the next step in our Squarespace SEO checklist is to teach you the best way to do keyword research. Keyword research is the starting point for any SEO strategy and can drastically improve your search engine rankings. Keyword research is used to understand what people are searching for in Google and other search engines.
There are two crucial concepts to conducting successful keyword research: search volume and keyword difficulty. 
A keyword's search volume is one of the most important aspects of proper keyword research. Search volume is an estimate of how many times a keyword is searched for per month. This estimate is taken from past keyword search volume on a given search engine.
Monthly search volume allows you to compare keywords based on how popular they are. Using this information you can decide which keywords you do and don't want to write about. Websites with a smaller domain score and size should target lower search volume keywords. This is because many large companies will rank higher than us due to massive amounts of website traffic and hundreds of thousands of links that they are already getting.
Instead of targeting broad high search volume keywords, you should break down parts of your target market and choose a smaller one to focus your SEO efforts on. As a smaller business, you need to target low competition keywords, even if they don't necessarily best describe your business.
The second aspect of conducting successful keyword research is the keyword difficulty. A keyword's difficulty is a calculation offered by most tools that informs you how easy or hard it is to rank for a specific term. This difficulty number is calculated by taking into account the search volume, number of results, and the websites currently ranking for a keyword.
Ideally, you are going to want keywords that are in the low to medium range of keyword difficulty that have a high average number of searches per month. Some tips to keep in mind when conducting your keyword research are:
1-word keywords are too broad and competitive. They are usually harder to rank for in search engine results.
Aim for niche keywords made up of 2-4 words. You will have a higher chance at ranking for these keywords and will acquire users that are more likely to convert.
Use keywords that are in the low to medium keyword difficulty range
Avoid keywords that have a large number of search results.
3. Use Keyword Research Tools
If you would like added support doing your keyword research we recommend trying a keyword research tool. One of the best tools we reviewed in our analysis of the best free SEO extensions is a program called SEOquake. This SEO tool will give you real-time SEO data directly in your browser.
This chrome extension is perfect for finding small keywords to target. When searching for keywords in your search engine it will give you a keyword difficulty percentage. This keyword difficulty percentage is a good indicator of how hard it will be to rank for a certain keyword.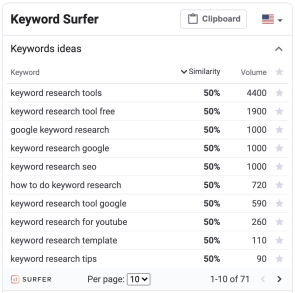 Another tool we recommend using for your keyword research is Keyword Surfer. This Google Chrome extension will give your keyword suggestions based on the keyword you searched in your browser. This tool is great for finding 2-4 word keywords to target. If you are having trouble finding niche keywords to target, you can start by typing in a broad keyword in your search engine. This program will then give you a whole list of similar keywords to the one that you searched for.
4. Optimize Your Squarespace Website Settings
Squarespace has some great features that are built into its interface that help with optimizing your website for SEO. We've made a checklist of how to tailor each Squarespace setting for the strongest SEO website foundation. Make sure to include your keywords within these settings where they fit naturally.
Site Title & Tagline: This should be your business name and a description of your business. Your Site Title can be a maximum of 60 characters. Can be changed by navigating to Design > Logo & Title.
Site Meta Description: Make this description compelling as it will appear in Google search results under your website name. Include a call to action to receive a higher click-through rate from users. Can be changed by navigating to Marketing > SEO.


SSL:

 This setting is used to secure your website as HTTPS for users. Navigate to Settings > Advanced > SSL and enable Secure (Preferred). You can also enable HSTS Secure so browsers only load a secure copy of your website.

Page SEO Title and Description:

  This title and description are customizable for each page and will appear in Google search results. You should include your target keyword in both the title and description for each page of your website. To change this you can hover over your page in Squarespace and select SEO at the top of the settings. You can set this SEO title and description for your blog post by clicking on the options tab of your post and writing a blog title and blog excerpt.

URL Structures:

 You must optimize the URL link for each of your website's pages. Your URL should be short, descriptive, and easy to read for Google and viewers. Each of your page URLs should be no more than 6 words. You can change a URL by hovering over a page and updating the URL Slug.

Blog Settings:

 You can change your Squarespace blog settings by navigating to Settings > Blogging. Here you should turn on Accelerated Mobile Pages (AMP) to load your website faster on mobile phones. You should also optimize your blog URL structure by changing Post URL Format to %t. This will remove the date from your blog URLs.


Business Details:

 Here you should include any address and contact details for your business so that it will appear in local searches. Can be changed by navigating to Settings > Business Information.
Website Navigation: Only include pages in your navigation menu that you want users to view and engage with. You should keep your navigation menus clean, avoiding making them too large.
5. Optimize Your Squarespace Content and Blog Posts
After you have optimized your Squarespace website settings, the next step is to optimize your content and blog posts. When making content for your website, your goal should be to create frequent high-quality niche posts that focus on your area of expertise. Google tends to favor websites with these types of posts so it's important to be consistent.
Posting frequent high-quality content isn't the only way that you can improve your SEO. Having the right on-site optimization strategy is key to ranking higher in search results. Search engines will frequently crawl your website for content, making your on-site optimization a crucial component. Here's a list of tips for you to follow to best optimize each of your blog posts:
Place your target keyword at the beginning of your blog post's title.
Your title should be 60 characters or less.
Include power words and numbers in your blog titles for a higher click-through rate.
Limit your blog description/excerpt to under 160 characters and include your focus keyword.
Structure your content with subheadings (H1&H2) that describe the topics of your post.
Write your focus keyword in the subheadings of your blog post.
Use your focus keyword in the first 10% of your blog post's text.
Analyze the word count of websites that rank and compete for your target keyword. In general, you should write at least 2,100 words for each post.
Internal Link to 2-3 of your previous content within each of your posts.
Link out to at least 3 external websites that have a good reputation within each of your posts. (Sites that have good reputation include research sites, .gov, .edu, and industry publications)
6. Optimize Your Squarespace Images
One aspect of our Squarespace SEO checklist that can often be overlooked by some people is image optimization. This is a mistake that a lot of companies make when implementing SEO practices. Google's search engine algorithm penalizes slow websites, and images are one of the main aspects that slow down a website.
Every image that you upload and post on your Squarespace website needs to be optimized for speed and SEO. There are three steps you can do to improve the optimization of your images on Squarespace.
First, you need to include your target keyword in at least one of your image's filenames. You should use descriptive names for each of the images that you are going to include on your website.
Second, resize and compress your images to reduce page load time. The ideal size for each of your files is under 500kb. You should do both of these steps before you upload your image to Squarespace.
Once you have uploaded your image to Squarespace, the third step is to add your focus keyword and LSI keywords to the alt text of your images. Search engines will use the alt text to identify the content of your post since bots can only read text. How you add alt text to an image on Squarespace depends on the layout you selected.
If your image is set to the Inline layout any captions added will automatically become alt text for your image. To include the alt text without displaying the caption simply select Do Not Display Caption.
For the rest of the image layouts (Poster, Card, Overlap, Collage, and Stack), the captions won't become alt text. Instead, you need to add the alt text to the Filename field in the Content tab of the Image Block Editor.
7. Setup Google Tag Manager
The first tool that you should set up on your Squarespace website is Google Tag Manager. GTM enables you to deploy code on your Squarespace website. You will need GTM to set up other tools that are on this checklist.
Google Tag Manager is easy to use and doesn't require you to learn how to code. The first step is to create an account for Google Tag Manager. After creating an account, you should receive two pieces of code immediately.
Next, log in to your Squarespace account and select the website that you want to add Google Tag Manager to. Once you have chosen your website, click Settings > Advanced > Code Injection.  Paste the first code you received into the "Header" section. Then paste the second code into the "Footer" section. Once you've done that, click save, and Google Tag Manager is successfully setup on your website.
To use Google Tag Manager simply:
Select the type of code you want to add to your website (pre-built or custom).
Add the code details (For Google Analytics, add your tracking ID).
Choose where you want your code to be triggered on your website and publish it.
The new code will automatically be added to your Squarespace website.
8. Setup Google Analytics
Now that we have Google Tag Manager installed, it's time to set up Google Analytics on your Squarespace website. Google Analytics is an extremely versatile tool that provides you with a wide range of data that you can analyze to improve your SEO efforts. With Google Analytics installed on your website, you can learn:
Which channels are generating the most traffic to your website
What type of content is attracting the most customers
Which marketing campaigns have been the most/least successful
How many of your website users are using mobile/desktop
Demographic insights about your users
How many conversions/revenue you are getting from your SEO efforts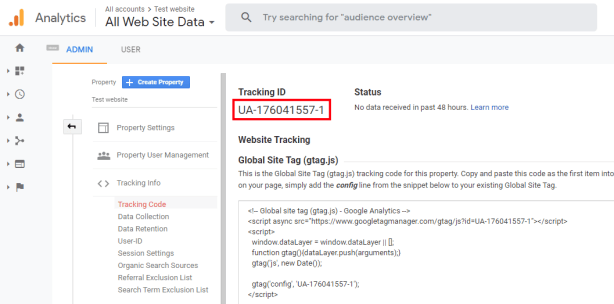 To get started with Google Analytics, you first need to sign up for a Google Analytics account. Once you have signed up for your account, navigate through Tracking Info > Tracking Code. Save your Tracking ID and switch over to your Google Tag Manager account.
In your Google Tag Manager account, click on "New" to create a new tag. Next, click on Tag Configuration > Universal Analytics. Now you're going to click the "Google Analytics Settings" drop-down and select "New Variable". Here you are going to copy and paste the Tracking ID that we saved earlier.
Once you hit save, you will be taken back to the previous page where we will set a trigger. Under the triggering section, you are going to select "All Pages." Once you do that and hit submit, Google Analytics should be functioning correctly on your website.
9. Configure Google Search Console
The next tool we recommend using to improve your Squarespace SEO is Google Search Console. This program was created for website owners to provide them with data about their website's performance. With this tool configured for your website, you can:
See which content is generating the most conversions
Understand which keywords are receiving more clicks
Analyze the performance of your keywords over time
Request indexing by Google of your website's pages
Submit your sitemap to Google
Recieve website errors from Google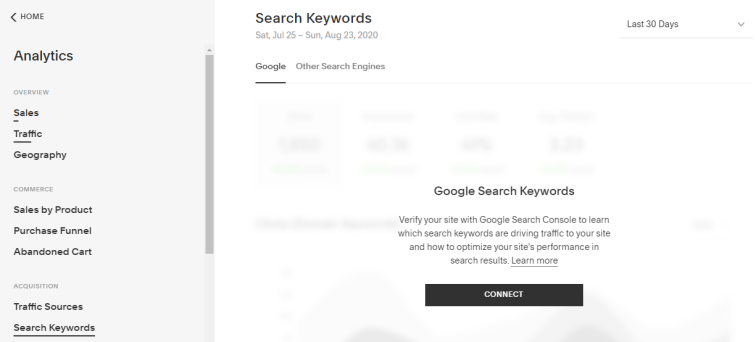 Setting up Google Search Console on your website is very easy to do. First, sign in to your Squarespace account and navigate to your website. Click the "Analytics" section and scroll down to "Search Keywords." In this tab, click "Connect" and sign in to your Google Account that you used for the previous tool we mentioned. After you connect your account, you will be able to view your top keyword analytics within 72 hours.
10. Acquire Backlinks
The last step on our Squarespace SEO Checklist is to acquire backlinks. Receiving a lot of backlinks to your website is one of the most effective things you can do to increase your search engine rankings. Google uses backlinks to see that you are an expert at what you do and increases your credibility and domain score. The more people that link to your website, the higher Google will end up showing your website in search results.
When trying to acquire more backlinks to your website, your goal should be to receive them from sources relevant to your website or post. Doing so will greatly increase your authority on the topic. You should aim to obtain backlinks from popular websites as they will add more value than less established sources. It's also important to remember that a lot of links from irrelevant sources won't help and may even harm you.
There are several ways that you can acquire more backlinks to improve your Squarespace SEO. One way you can receive more backlinks is to create niche in-depth content that people want to share or refer to within their blog posts.
Another way is by posting your content frequently on social media. We've found that you can receive a lot of backlinks and improve your marketing using Pinterest. You can also write content reviewing and backlinking to various products and tools. If you reach out to the creators with your post they may share it on their social media and websites.
Concluding Our Squarespace SEO Checklist:
In conclusion, Squarespace is great if you're looking for a place to build your first website quickly. If you are someone who has never done SEO before, Squarespace can be a great first step for learning. However, as your website and experience grows, you are eventually going to want to move off of Squarespace. Once you have become familiar with SEO, we highly recommend that you make the switch over to WordPress.
The reason you should make the switch to WordPress is because it allows you to do a lot more with SEO than Squarespace does. With WordPress, you can be more in control of your SEO efforts and install plugins to your website that can help tremendously. There are thousands of free WordPress plugins that you can take advantage of to drastically enhance your website.
If you are a student looking to start a website, you can currently build a website for free using the WordPress Education Promotion. With this promotion, you may be able to save a % off (depending on what the deal on WordPress is at the time, I've seen as high as 50%), on higher-level website subscriptions.
Other SEO Resources from YoYoFuMedia
Other Shopify Resources from YoYoFuMedia