Google Ads is a terrific tool to increase brand visibility and overall clientele through the power of advertising. Whether or not you are familiar with the tool, a great change to make is switching from the introductory "Smart Mode" and transitioning into "Expert Mode".
Expert mode in Google ads has specific benefits when you are trying to make more complex and engaging ads. There are more statistics readily available in expert mode that give valuable feedback that is not available with smart mode.
Through this guide, we will show you how to maximize your PPC strategy through the use of tools from expert mode in google ads.
What is the Difference Between Smart and Expert Mode?
Your Google Ads experience will vary depending on which mode you choose.
Smart Mode
Every campaign initially starts in smart mode. This is google's "starter" level advertising method that allows people to capitalize on the simplicity of the advertising platform. There is less customization and the system guides you down a simple-to-follow path.
Expert Mode
Google Ads Expert Mode offers the full range of Google Ads features and campaign types, it provides campaigns with a number of goal types, as well as the ability to look at more statistics like leads and user journeys. When using smart mode we simply don't have these options.
Why Make the Switch?
The title of "expert mode" reflects why you should switch. There are many more options for your ad campaigns that come with expert mode that smart mode simply doesn't offer. The data and analytics provided will be more beneficial to any campaign.
How to Switch from Smart to Expert Mode
Google ads are constantly changing and being updated. This means that there are new interfaces and formats that will pop into your feed when creating ad campaigns.
There are two versions of Google ads, smart mode, and expert mode, initially, upon account creation, you will be placed into smart mode, but it is easy to make the change!
When starting an ad campaign and setting up an account the first time you sign in and create a profile this page will be presented to you: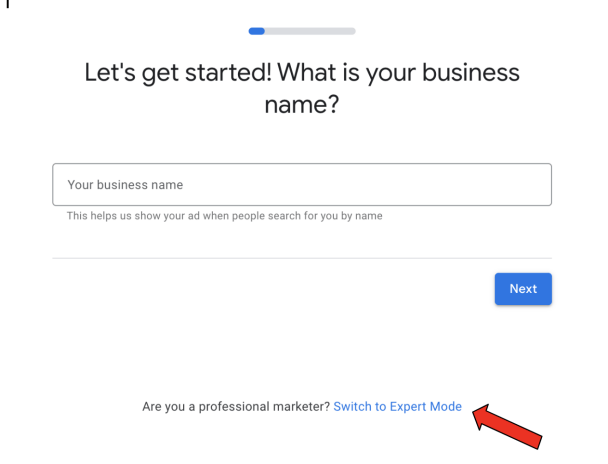 At the bottom of the page, there is the option to switch to expert mode. It is essential to click on this setting as otherwise, the entire process of creating an ad campaign will be in smart mode.
As google ads is constantly changing the interface too, this means that some guides are outdated.  This image above is the newer version of google ads while this image below is a more dated version. Each one is accessible to the consumer and contributes to the same goal of creating strong advertisements.
Here is a more dated version of the switch to expert mode
In general, when creating an account there will always be a "switch to expert mode" button within the first couple of questions.
The Benefits of Expert Mode
Negative Keywords
What is a negative keyword? This is a feature that allows us to select specific words that are left out of searches. Someone who searches with one of the negative keywords we select will not be shown any of our advertisements.
An example of this could be a specific location such as a city such as Los Angeles, if a California-based company doesn't do business in the area then they can list Los Angeles as a negative keyword to ensure their ads don't show up for clients specifically looking for that.
The Negative Keywords tab can be found on the sidebar under "Keyword Plan" and "Saved Keywords"
Once these words have been added to this section you can hit save and they will be applied instantly.
Keyword Match Types
In expert mode we can expand on the usage of just broad match keywords. This means we have access to Phrase Match, Exact Match, and Broad Match on all campaigns.
The three types of keywords that google ads focus on and we utilize are "Broad Match", "Phrase Match", and "Exact Match".
The difference between these three keywords comes from the search results. Broad words relate to the specific keywords, phrases must include the keyword, and an exact match must result in a search that shows results with the exact same meaning.
Here is a graphic that helps explain the differences between the types of keywords: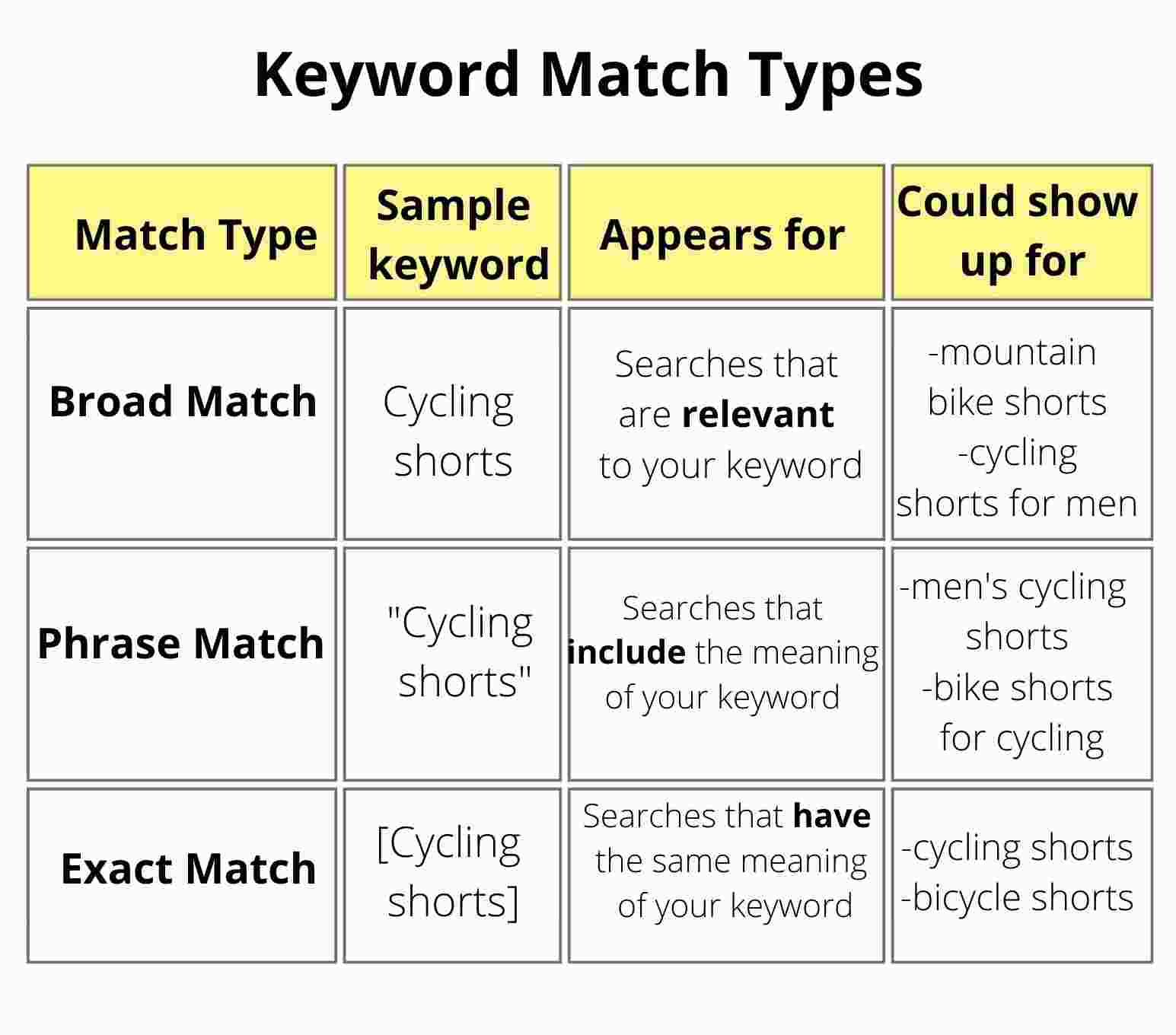 Keyword Match types are important when potential customers search for advertisements as each different type can bring a whole new set of search results.
Extensions in Expert Mode
There are three different types of extensions that we will focus on, Sitelink, Callout, and Structured Snippet extensions.
Sitelink Extensions
Filling in this section and using the sitelink extension brings the clicker to whichever site you decide. This could be a specific products page, an informational page, or the page where the services are priced.
Having control over where you send the potential customer is a great benefit and a way to ensure they spend more time on your website. These advertisements' main focus is always on converting clicks to future sales and business.
Here is an example of sitelink extensions, these descriptions will lead exactly to target websites that Nike wants to sell more of and show off to their customers.
Callout Extensions
A callout extension is additional information and text that you can add that appears under the ads description. This can be a great place to promote specific offers such as free shipping or a sale on a specific service.
Here is an example of callout extensions:

In this example, Zappos showcases a deal on New Balance shoes where there is free shipping and then presents the customer with their 24/7 customer service ensuring that they know they can always call if there are any questions.
The additional information being advertised
Structured Snippets
The last type of extension that we will be focusing on is the structured snippet, this allows us to highlight specific aspects of the products or services.
If we refer back to the previous image an example of Structured Snippets could be the specific listings on this advert.
What to Watch Out For
One thing to keep in mind with your google ads account is that when you switch from smart mode to expert mode you cannot revert to smart mode. In the current update of google ads this is not yet a feature so make sure you are ready and comfortable to make the change.
How Do I Know if I am in Expert Mode?
If the toolbar in the top right corner is titled "Tools and Settings" then you are in Expert mode.
If it is titled "Settings" then you are still in smart mode. It is easy to switch to expert mode as there will be a button that says "switch to expert mode" on the toolbar when still in smart mode. It is easy to switch over to expert mode through this method. Once you select settings there will be a big "Switch to Expert Mode" option.
Be careful when switching to Expert mode as once you change the settings you cannot go back. There are solutions such as making a new account, but make sure you are comfortable advancing your ads before you continue.
If you haven't switched over when making a campaign this is the only option to gain access to all the new information and analytics that expert mode has to offer.