Running out of ideas on what to post on your plastic surgeon's social media pages? In this article, we'll share with you plastic surgery social media ideas that will surely boost your customer engagement in no time!
But first, let's discover why social media should be included in your digital marketing strategy.
Benefits of advertising your Plastic Surgery practice on social media
People usually use social media as a pastime. In fact, based on 2021 statistics, a total of 4.48 billion people are actively using social media but about 40% of businesses haven't established their social media presence yet. Imagine the number of potential customers you are missing out on!
Aside from that, here are the benefits that you'll gain from it:
It humanizes your brand – On these platforms, connecting and getting to know your audience on an individual level is made possible and a lot easier. You can do that by sending holiday greetings, sharing words of wisdom, or even simply listening to their concerns about your practice.
It's a good source of traffic – People love consuming high-quality content. So, if you're producing content that your audience finds engaging, timely, and relevant, your plastic surgeon's social profile has a high chance of getting a lot of traffic! Check out our blog post on Best SEO Guide To Boosting Traffic to learn more.
 Improved visibility – Aside from PPC campaigns, another way that will help you get discovered is through creating social media profiles. Although it doesn't directly affect your ranking on search engine results, optimizing your social profile to its full potential can help increase your plastic surgery brand's visibility.
Already have social media accounts for your plastic surgery practice but don't have time to manage it?
8 Plastic Surgery Social Media Ideas
There's a long list of content ideas that you can use for your plastic surgery practice's social media pages depending on the platform that you are using. Below, we've listed 8 ideas that you can apply to your social media marketing strategy.
1. Educational content 
Educational content helps your prospective clients become aware of your brand. This gives them more information on the causes of certain body issues, what kind of treatment is needed, and what they can do about it.
Below is an example of a plastic surgeon who uses Youtube to provide an in-depth explanation of belly button issues:
2. Testimonials 
Since your patients are about to go through minor to major body changes, patient reviews are one of the most important things that they always consider checking before scheduling an appointment with a plastic surgeon. That is where they rely on their decisions so, you have to make sure that all of your patients are satisfied with the results of their surgeries, and through word of mouth, your plastic surgery practice will be known by more people.
Below are examples of patient testimonials on Facebook and Instagram. See how it can be used by plastic surgeons like you?
3. Blog posts 
Writing blog posts that are relevant to your plastic surgery practice is another way to provide useful content to your patients. Through this kind of post, they are able to learn more about the surgical procedures being done and it doesn't just end there. Blog posts also help drive traffic to your surgeon's website, some of that traffic will turn into leads (customers)!
In this example, you can see how the plastic surgeon created a Facebook post and from there, linked the blog post that will redirect readers to his plastic surgery website.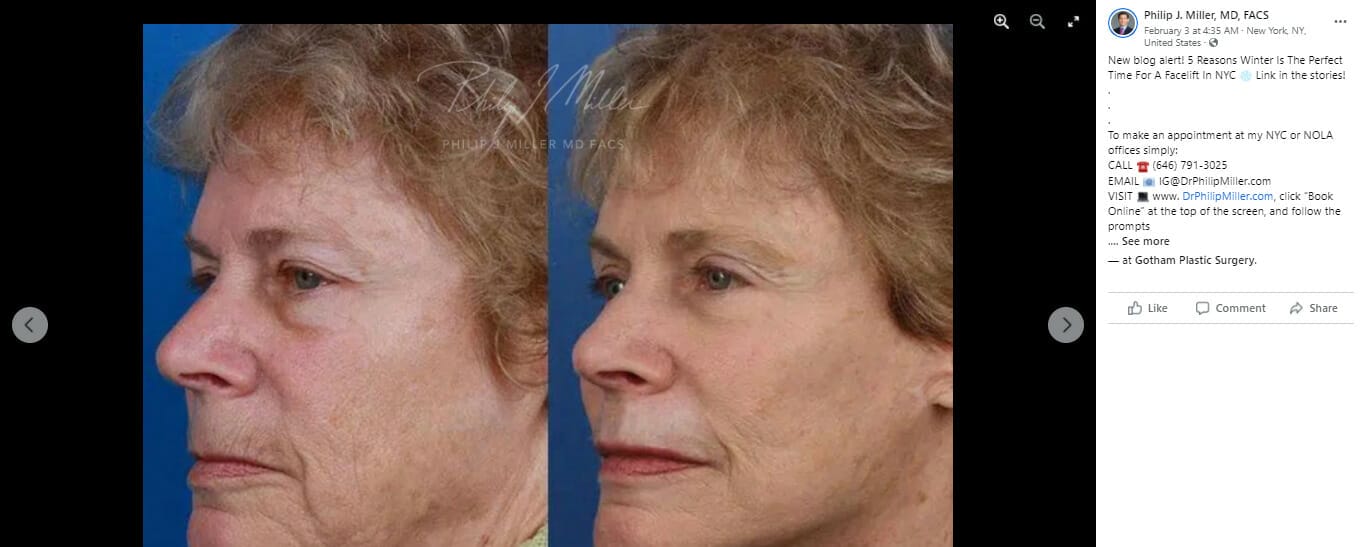 4. Q&A
Asking plastic surgeon-related questions or choosing a relevant topic that suits the interests of your followers and discussing it with them is like a conversation starter between you and your patients. Creating a Question and Answer post where they can comment on their question gives people a chance to directly send their queries to you.
Another advantage of posting Q&A posts is that it increases customer engagement rates, which is good for your brand. Here's an example of a Q&A from a plastic surgery page on Facebook: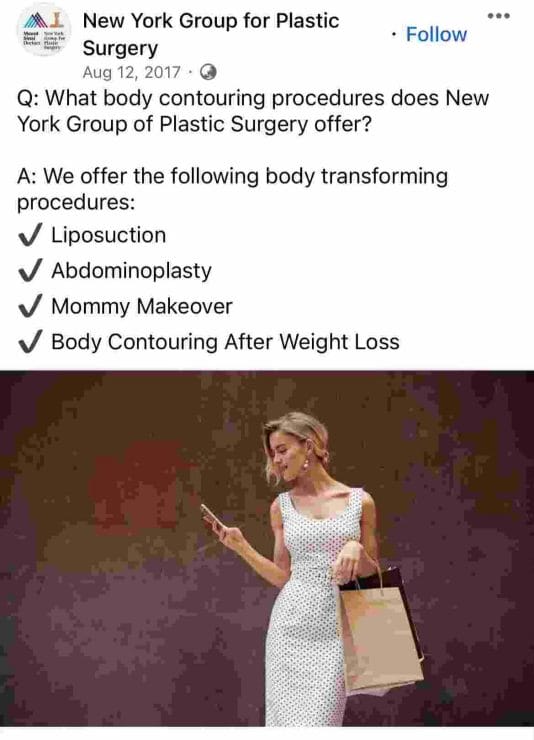 5. Holiday greetings
People are more likely to spend money during holidays. As a plastic surgeon, you can use this as an opportunity to reach out to your patients. Simply posting simple greetings and ending it with a call-to-action could be a wise tactic that you can do during the holiday season.
Below are some examples of social media posts that plastic surgery clinics do on special occasions:
6. Giveaway
Hosting yearly giveaways is a good idea if you want your social media followers or subscribers to be fully engaged with your plastic surgery practice. Since people love freebies, you could use this opportunity to grow your online audience. All they have to do for example is to subscribe to your monthly newsletters or tag their friends under your post and write a caption that says the more entries give them more chances of winning (encourage them to participate).
You just have to make sure that there's a definite goal behind your giveaway. What could be your goal? It could be gaining new followers or subscribers on your social media pages, getting more subscriptions in newsletters, getting more walk-in patients, etc.
7. Motivational quotes
From time to time, you can also share uplifting quotes with your patients. Just be reminded that the quote that you are using is aligned with the goals of your plastic surgery practice and properly credit who said the quote or where you got the image. You can also edit the image that you are going to use with free editing tools that can be found online to match the thought you are expressing.
Like this example:
8. Promotional content
Last but definitely not least, promotional content. What's the use of your social media pages if you aren't going to use them to promote your plastic surgery practice, right? You just have to create eye-catching content from the caption and choose an appropriate one for your post.
Need help in creating social media content for your plastic surgery practice?
Social Media Platforms for Plastic Surgeons
Now that you have a background on how important social media is in promoting your plastic surgery practice as well as the types of content to post, here are the best platforms to showcase your brand:
1. Facebook
Facebook is commonly used to connect with your friends, colleagues, and loved ones. But nowadays, people have also been using this platform in advertising their businesses.
As of 2015, plastic surgeons were asked how Facebook has helped their business. Results show that 67% have experienced an increase in exposure to their surgery practice. This is because there are 262 million active Facebook users in the United States and Canada alone! Imagine the number of potential clients you'll reach out to on this platform.
Here's an example of a plastic surgeon's Facebook page: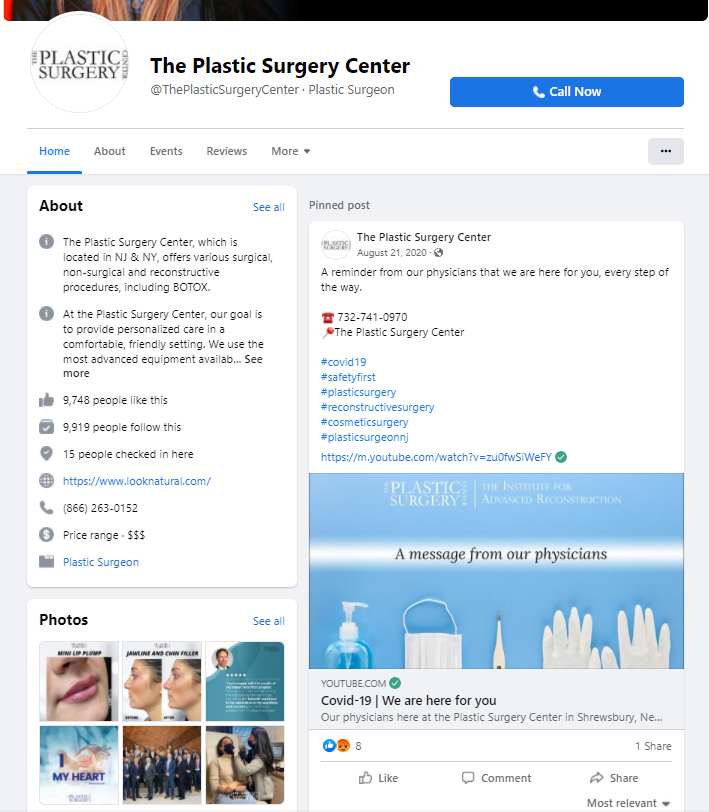 To broaden your reach to potential patients, you can use Facebook Ads if you are a surgical specialist or one that specializes in local cosmetic procedures.
2. Instagram
As we all know, Instagram is known for posting visual content, where people usually post pictures or videos of themselves and anything under the sun. But, did you know that there are 25 million active business profiles on Instagram? Since your practice is focused on making changes and improvements to a person's physical appearance, Instagram is a good way to promote your services!
Here's an example of a plastic surgeon who uses Instagram to showcase his plastic surgery practice:
Want an easy way for your patients to visit your social media pages? Read our guide on how to use QR codes as a plastic surgeon.
3. Youtube
As an experienced plastic surgeon who has made a lot of surgeries for his or her clients, showcasing your expertise on a video platform like Youtube could be a great idea. Here, you can show your prospective patients how surgery treatments are done, what they expect to happen after getting one, or just a virtual tour of your surgery clinic.
Here's an example of a plastic surgeon who uses Youtube to react to plastic surgery-related videos that he sees on TikTok:
Not sure which of these platforms suits your plastic surgery clinic?
Schedule A Free Strategy Session!
After establishing your online presence on different social media platforms, the next thing you should do is manage the reviews you are getting. Read our blog post on Review Management for Plastic Surgeons to learn more.
Conclusion
Through the use of social media, you are able to connect with your current and prospective patients. It is also a good platform to share your expertise as a plastic surgeon. Just remember to plan out every single detail of your post from the content down to the schedule of posting so that people will have a clear idea of what message you are trying to convey in your posts.