Are you ready to transform your practice? Start with this Facebook Ads for Plastic Surgeons guide, it'll skyrocket your new patient flow in no-time.
Through this article, you will learn the step-to-step guidelines of Facebook ads to refresh your image. As technology advances, so has the way we advertise clinical care. Facebook Advertisement opens the doors to several clients waiting to click on your ad that pops up on their related searches. Through awareness and conversion, you will be able to create a campaign and launch it on your Business Facebook Account.
1. What Are Facebook Ads For Plastic Surgeons
In 2004 Facebook was created by founder and CEO Mark Zuckerberg. It wasn't until 2006- 2007 that the social media platform Facebook advertisement was introduced. This platform paved the way for businesses to connect with users to target the right demographic/ audience for their products and services.
1.1 Instagram vs Facebook for Plastic / Cosmetic Surgeons
Instagram was launched in 2010, having the primary goal of featuring photographs specifically from mobile devices. Instagram users mostly consist of 52% females, between the ages of 18-29 (59% of the time). Instagram ads allow marketers to create photos, videos, and feed advertisements such as carousel ads to market their products and services. These ads can pop up on their stories and or Instagram feed. Depending on the advertisement you want to depict, just know Instagram tends to target a younger crowd such as the millennials.
Facebook has been around for over a decade. Its main users are predominantly female (52%), between the ages of 18-29 (88%). Facebook allows users to optimize their ad campaigns based on gender, age, language, etc. Between Facebook and Instagram, Facebook takes the win for being the best at distributing information for a business such as plastic surgery. Instagram does not allow attached links that redirect users to a separate tab for the business advertisement they click on. On the other hand, Facebook allows users to have complete control over their Facebook ads to gain awareness for their ad campaign.
Consider using QR codes as a plastic surgeon for your patients to have quick access to your social media pages.
1.2 How to Create a Facebook Ads Manager For Your Medical Practice
To start your experience with Facebook Ads you'll need to create an account with Facebook Ads Manager for you to create and monitor your medical practice ads. Once you continue to the link, press create an account.
Next, you'll need to enter your healthcare business name and choose which primary Facebook Page you would like to use for the account.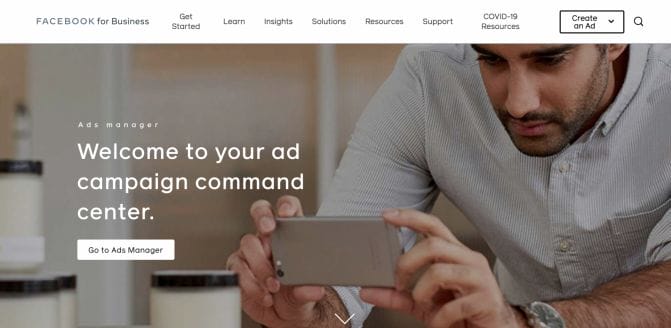 Once you finish creating your account with Facebook Ads Manager, set up your Ads Account. Go ahead and click "Add a New Ads Account" then click "Create a New Ads Account". Once you finish, set up your payment method in the settings section above.
Don't have time to run Facebook Ads? We can do all the work and get patients for you!
2. Creating a Campaign For Your Cosmetic Practice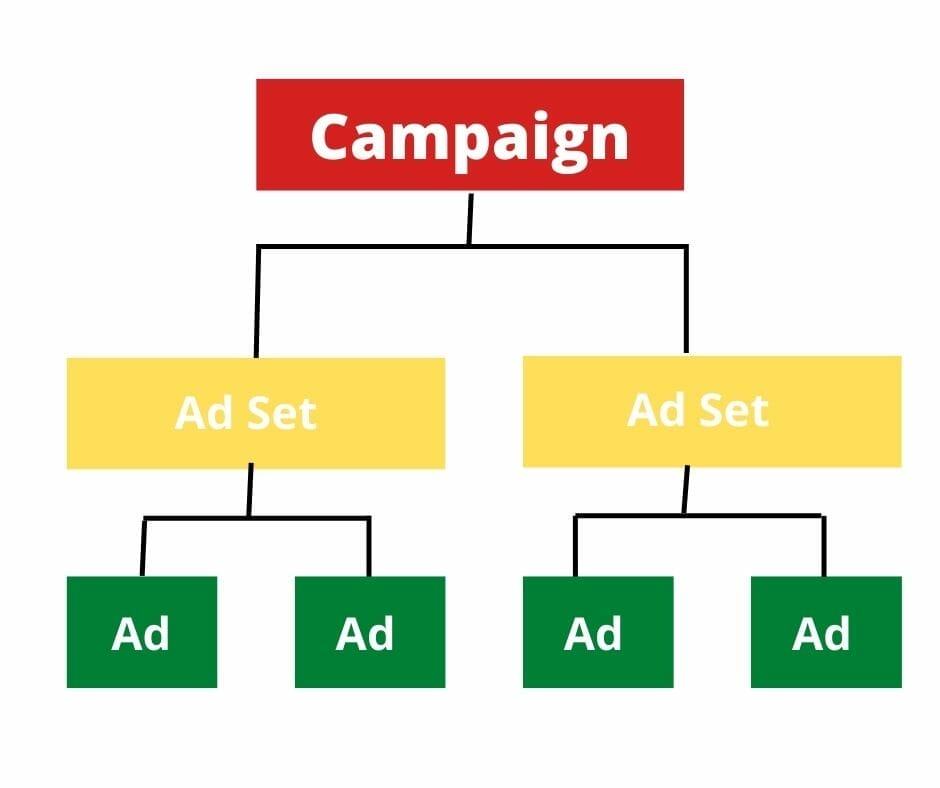 When creating a campaign you'll need to know the structure of one for Facebook Ads. A Facebook Ads campaign consists of 3 different levels.
The top of the pyramid starts with the Campaign you would like to run such as "Plastic Surgery". This is your main objective of your Facebook Advertisement and it's considered as a folder to keep the ad set and actual ad in place.
The next row is the Ad Set(s), which defines different types of audience you would like to reach out towards. For instance, you can have one ad set named "facial procedures". This group aims for women that are in their 30s-60s that are fighting against aging syndromes. We could have another ad set named "body contouring". These patients would be a variety of men and women between ages 25-40 years old. The goals of this procedure vary amongst individuals whether it be to get a tummy tuck, sculpting the structure of the abdomen or triceps, or even move some fat from one area of the body to another.
Finally, the Ad(s) itself, is the creative part of the whole advertisement since this is where images and/ or videos are shown. Aside from the visual aspect, you have the headline, body text, and the actual link description in this category.
2.1 Defining Your Campaign Goal
What type of goal do you want to accomplish for your plastic surgery campaign? When gathering up your thoughts, you want to have an idea if you want to: create traffic to your site/ sale funnel, lead customers to take some kind of action on your site, or even have them view a video clip.
On your Facebook Ads Manager Account, click on the green button "Create" to create your first healthcare campaign.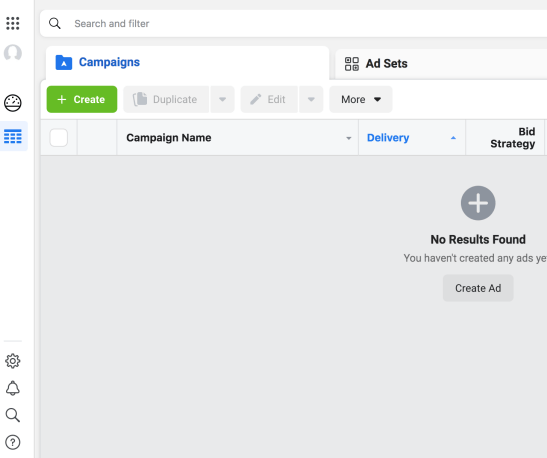 On the next screen, you'll have the opportunity to name your campaign. For this campaign, we'll name it "Plastic Surgery". Down below you have the chance to pick out your campaign objective.
Here there will be quite a few options, but since our goal is to get as many patients to sign up for a free consultation, we'll go with "conversions".
2.2 Setting Your A/B Testing & Budget For Your Healthcare Campaign
You have the option to test your campaign to others using "A/B Testing" for more accurate results. You can set-up this section now or later, whenever you have more campaigns to compare this one too. Aside from the A/B Testing step, right below you have to input your campaign budget.
Adding a daily or lifetime budget is a must, you need to set up this amount from the beginning in order for your ad to run once it gets published. The minimum you can put as a budget is $1, but you should start out with an average of $10 minimum if you'd like to test out your ad. Once you finish finalizing all the details for your plastic surgery campaign, go ahead and click "Next".
3. Creating Your Facebook Ad Set(s)
Now that you have created your plastic surgery campaign we will dive deeper into the folder and create some ad sets.
3.1 Getting Started With Your Facebook Ad For Plastic Surgery
Your ad campaign is made up of ad sets. Once you create your ad set, you are applying these changes to your actual ad in the way these sets perform.
On this page, you will be able to create several ad sets for the different audiences you would like to target. For the first ad set, let's name it "Facial Procedures". Since the goal of this campaign is to get more conversions on your healthcare site, we will click on "Website" for the next step.
3.2 Your Plastic Surgery Ad Offer
Once you scroll down to the next area, you will see that there's an "Ad Offer" section. Here you can create what you are wanting to offer to your potential clients. You want to turn this on and link your Facebook Page: Plastic Surgery, in this section. Next click on "Create Offer".
On the "Offer Page", you need to fill out all the important information in order to create a great cosmetic offer. Remember when creating an offer you have to be willing to hand out discounts no less than 20% in order to increase revenue over time.
3.3 Creating Your Healthcare Demographic 
When choosing your audience, Facebook Ads Manager allows you to customize your audience or to pick an audience from your saved selection. Since this is our first time creating a campaign for plastic surgery, we will have to create a new audience for our facial procedure ad set.
After Clicking on "Create New Audience", there will be a new menu that will pull up. You'll want to input the location of where your clinic or hospital is located, so we can target the people around this area.
It's a good rule of thumb to target people anywhere within a 5-10 mile radius. This is typically the distance that most people will go out of their way to drive to a location. So, right next to the address on the right-hand side, there should be a drop-down menu for "radius in miles". Go ahead and click on this and change it to "5 miles".
After this section comes the "Age" group and "Language" that your audience speaks and understands. For any medical or cosmetic procedure, it's very important to understand the age group that this is most appropriate for. In the healthcare realm, any person 18 years or older is old enough to make a medical decision without a guardian. For this reason, the age limit has to be no less than 18 years old.
Since cosmetic and plastic surgery is generally advertised toward women, you could have your targeted gender as a woman. However, men by the day have been increasing as patients for plastic surgery clinics; due to reasons such as wanting: rhinoplasty, gynecomastia, and hair transplant. For this reason, only, we will have this ad target all genders.
For "Detailed Targeting" you want to leave this blank since the area that we are targeting will be comprised of a small population of the town. With this being said, categorizing your audience into specific qualities or interests will only lower the number of people you can reach out to. For your Facebook Ad objective its good to have your audience as broad as possible since you are trying to get as many people to take action on your landing page.
Need help setting up your targeting?
3.4 Your Ad Placements & Budget
On to "Ad Placements", this is where you would like your ads to be shown. You want to unclick on everything except for "Facebook News Feed". This should be the only place where you should be targeting your audience.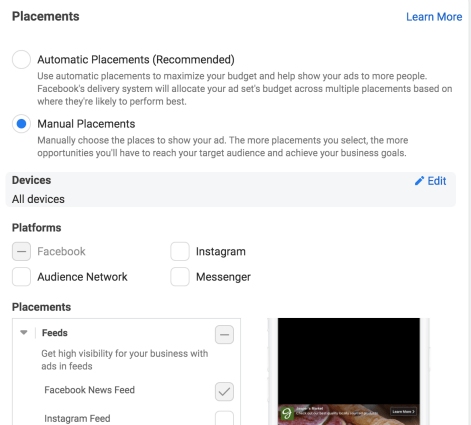 For "Optimization for Ad Delivery" leave this as "Conversions". For "Cost Control", you can input the amount you'd like your ad to run on in this section.
After you finished finalizing your ad set(s), click "Next" to proceed to the actual ad itself.
4. Creating Your Facebook Ad(s) & Understanding the Anatomy of the Structure
You are almost ready to post your Plastic Surgery Ad Campaign, but first, we need to get creative and add the actual ad.
4.1 The Ad Format
When starting your ad, you need to give your advert a name. This helps you organize the different advertisements within your ad set and campaign. Since our first ad set was named "Facial Procedures", let's name our first ad "Facial Procedures Ad 1".
In the "Identity" section, you should have already linked your Facebook business page to your ad. This section is simply to remind you to link the correct page that you are trying to advertise to your potential patients.
4.2 Cosmetic Ad Images & Headlines + Descriptions
Facebook Ads offer 3 different structures when creating your cosmetic advert.
Option 1 is to use "Single Image/ Video", this is most helpful if you are trying to tell a story.
Option 2 is to use "Carousel" if you haven't heard of this term before, this simply means to have two to ten different images or videos you can scroll through. This is good to use when advertising different plastic surgery services such as facial procedures, body contouring, and breast enhancements.
Option 3 is to use "Collection", this would be widely used when depicting a variety of cosmetic products since the ad combines all the images and videos into one fullscreen display.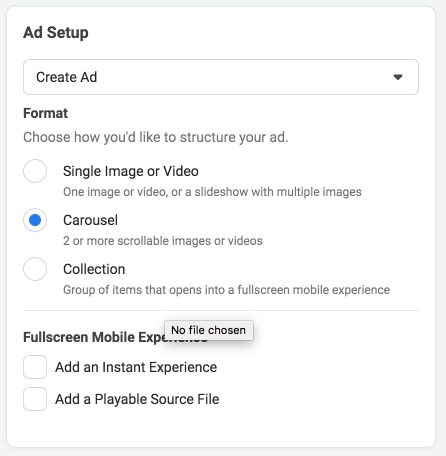 Since this ad is advertising a variety of facial procedures, let's click on "Carousel".
NOTE: When adding photos onto your carousel, try not to use stock photos. Most people are programmed to skip right over these stock images since these automatically look like an ad.
Real photos get the job done, for they look like they could belong to a friend who's posting on Facebook. For example, pick a photo of a doctor/staff from your clinic or browse one from the internet that looks genuine enough to upload. Keep in mind that people will slow down to look at real photos.
Scrolling down to the next section, we run into the "Carousel Cards". Within here, we have your: headline, description, and URL.
NOTE: For Facebook Ads, the headline and description do not matter as much as your primary text. But, even though they aren't the most important aspect of your ad, they still help increase your conversion rates. 
Important Details to Keep in Mind:
Headline Text can only have a maximum of 40 characters, but it's good to keep it within 25 characters.
The description has to be within 30 characters
Primary Text should be within 125 characters
Towards the bottom of "Ad Creative", you have some options to select from "Cards". It would be highly recommended to check off "Add a map card showing your nearest stores". By checking off this section, you give the audience a chance to check out your location from your ad without pulling up google maps and leaving your page.
4.3 The Ad's Primary Text/ Call to Action/ URL
There are 3 different ways to go about writing your primary text.
Single Text: This strategy gets right to the point when promoting your message.
Bullet Points: This helps when you have items to list for your ads such as cosmetic services and products.
1 Paragraph: This is usually used if you are telling a story or giving a background to your business before advertising your medical product or services.
It's important that your primary text follow an outline that describes who your audience is, why you are reaching out to your audience, and how your offer can solve their problem.
It's good to address the state or the city of who you are targeting since typically you don't see local stuff on your Facebook feed. Plus, saying "hey [city name]" lets the audience know it's local which stands out to most. Aside from this topic, introducing yourself "I'm Dr.[name]" shows that you are a real person with an actual degree and not just some generic scammy person.
A good outline to follow is down below:
Hey [City Name]! I'm Dr. [Name], and I'm here today to celebrate my Plastic Surgery Clinic's Grand Opening. We are doing a fall special this year, with 30% off your first visit along with free consultations. Only the first few customers will be awarded this special! Be the FIRST and click on this link: [add link].
Another topic to keep in mind when creating your primary text is the "Offer". Offers are super important and are a must-have for Facebook Ads for local businesses. The biggest mistake beginners make is not having a good enough offer. If your offer is just 10-20% or any lower, it's not going to convert.
When marketing, the clinic has to be willing to give an irresistible offer that brings in patients who will be retained. People are just minding their business browsing Facebook, only an incredible offer will interrupt them and get them off their butts to go to your private practice.
Remember, this isn't Google Ads where people have high intent and are already searching for plastic surgeons to go to. For Google Ads you don't need an irresistible offer, you just need to rank towards the top. If you do not want to make an incredible offer, do Google Ads instead of Facebook Ads. But if you want to do Facebook ads, then you need an irresistible offer greater than 20%.
When scrolling down to "Call to Action", you have the option of changing this to whatever makes sense for your goal or offer. Choose whichever one fits best with your plastic surgery ad. For this example picking "Learn More", fits well with the ad, since the advert is selling cosmetic services and it doesn't list all the services in the primary text.
Want ads that will get people to become patients?
4.4 Conversion Tracking
The final step of your ad is adding some type of conversion tracking. Facebook Ads Manager gives 3 different options for Tracking your plastic surgery ad which are:
Offline Events
App Events
Facebook Pixel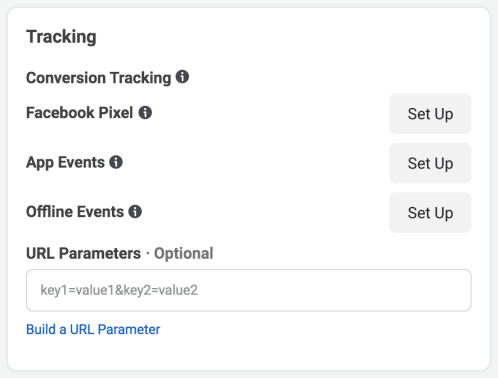 For this ad, we will be using "Facebook Pixel". This conversion tracking helps by providing a code that you can put onto your plastic surgery site that you want your clients to go onto. Having this tracker helps collect data from users when they browse your site. After collecting enough data, you can use this information to optimize your ad and retarget the clients that have already visited your site.
After installing your code and running a test on your site, then press "Publish" to complete your entire plastic surgery ad campaign.
Want a professional running your Facebook Ads for your Plastic Surgery Practice?
Come to Book a Free Consultation today and we'll go over with you how we can improve your Facebook Ads. We specialize in the areas of cosmetic and plastic surgery and know the secret of how to gain more clicks on ads. Trust in our company since we put smiles on our clients as you do for your patients. Read more about all our services and case studies.
5. Policies to Follow For Your Medical Ad
With all advertisements there comes restrictions as well. Facebook Ads must stay compliant with the rules and regulations that Facebook provides in its policy section.
5.1 Policies to Keep in Mind About When in the Healthcare Field
After publishing your Facebook Ad, usually, the content and description of the ad are reviewed against Facebook policies. If everything checks out and no rules were crossed then the ad will officially get published.  Now in the case that an ad did violate a section from the policy, the ad will be disapproved.
Now, if your ad does get disapproved you will receive an email about this matter from Facebook. Facebook will go over the section of your ad that violated their policy and will give you a second chance to fix that section so that it's compliant with their rules.
Let's say that your ad was disapproved of, however, you went over the "violated section" and you feel that they had made a mistake on their part about the section violating their policies. You can appeal and request a review of this decision in the Account Quality section.
5.2 Key Terms and Images to Avoid in Your Facebook Ads For Plastic Surgeons
When creating your Facebook ads for plastic surgeons, you have to follow a series of restricted and prohibited content on the Facebook Policy and Manual.
Some prohibited content includes:
Illegal Drugs and Procedures
Unsafe Supplements
Adult Products or Services
Personal Health (before and after images)
5.3 How to Stay Compliant and Avoid Disapprovement
When going about these policies it might feel overwhelming and doesn't feel like you can express your ad the way that you wanted to in the beginning. Facebook provides tips on How to Still be Creative When Creating Your Ad, without your ad getting disapproved of.
6. What is a Landing Page
A landing page is a place you land after pressing on the URL on the Facebook Ad. This does not refer to the homepage of a website but rather the URL destination that you chose to send people who click your Facebook Ad. If your healthcare business goal is to get more patients for your facial procedures then your landing page will be about facial procedures. The landing page doesn't need to look good, its main goal is to get the potential customer's name, email, and phone number so your front desk can call them and book them an appointment.
The number one goal of a landing page is to promote the product in detail on this page after the user clicks on the ad link.
Unlike Google Ads where the landing page needs a lot of information to increase quality score, with Facebook Ads, all you need on the landing page. This will usually include a call-to-action, lead form, and offer. The nice part about the Facebook landing page is that you don't need to spend too much time making the page look good.
The reason for this is that most people are browsing on their phones which have small screens anyway. The key is to get customers to fill out their email, name,  and phone number, so your front desk can call them and book them their first appointment.
Want to start advertising on Facebook, but don't know where to start? We have marketers ready to assist you!