Looking for ways how to improve productivity in your clinic? In this blog post, we'll share with you 12 QR Code Marketing Ideas for Plastic Surgeons that will surely help attract more new patients to your practice.
But before that, you should know what QR codes are and why plastic surgeons should use them.
What are QR codes?
QR codes short for Quick Response codes consist of black and white tiny boxes when scanned will redirect the user to a specific website. It is commonly used by local businesses in their marketing campaigns and became more popular during the surge of Covid-19 which helped reduce physical contact.
Two types of QR codes
Dynamic QR codes – This type of QR code can be edited once you've created it. Meaning, that if you make changes in the marketing campaigns found in the URLs used for your QR code, there's no need to reprint it. Aside from that, it also allows tracking, and analytics, and takes lesser time to scan compared to static QR codes.
Static Qr codes – You can't edit this type of QR code once it's created. It is used for displaying information that doesn't really need to be updated from time to time. This type of QR code is ideal for one-time promotional offers.
Interested in implementing QR codes for your Plastic Surgery Clinic?
Why plastic surgeons should use QR codes?
Haven't tried a QR code before? Here are the top 3 reasons you should implement it in your plastic surgery practice.
1. To improve patient experience
If there are times when you get more than the expected number of patients in a day it would be kind of overwhelming especially if you only have one front desk receptionist. Worry no more, because adding QR codes can be helpful for receiving payments, filling out forms, and asking your patients to leave a review. It makes every transaction faster than ever which helps in reducing patient wait times.
2. More convenient
According to one study, QR codes not only help communicate with your patients but also helps you distribute information instantly. There's no need to look into a huge pile of folders just to find one of your patient's medical history or disseminate your promotional materials. Just one scan and you can retrieve the information you are looking for.
3. Works best with offline marketing
QR codes help your prospective patients finish a task and access more information by simply scanning a code. It's also suitable for boosting your offline campaigns like flyers, posters, and brochures because it helps your offline customers to go online which helps you increase your site's traffic.
Not sure where to implement QR codes for your plastic surgery clinic?
Schedule A Free Strategy Session!
QR code marketing ideas for plastic surgeons
Now that you have an idea of how plastic surgery QR codes can help your practice, you might be wondering, where you can put your Qr codes. We got you covered! Here's a list of QR code marketing ideas for your plastic surgery clinic:
1. To leave reviews
Not every patient you encounter is fond of typing long URLs and because of that, there are times when you miss the opportunity to ask them for patient reviews. Say goodbye to the lengthy process of asking your patients to leave a review after their appointment. You can just simply start a rapport and afterward just show them the QR code and they'll be directed to your plastic surgery clinic's review site like Yelp or Google My Business.
Haven't listed your clinic on Google My Business? Check out our blog post on Best GMB Guide For Cosmetic Surgeons 2022 to learn more.
Source: cosmeticsurgicalartsokc.com
2. Online payments
Since more and more businesses are adopting the use of digital transactions, you could also use this to provide seamless transactions to your patients. It's more convenient because your patients no longer have to wait in line in a bank, and carry loads of cash to pay for their surgery. Just one scan from your plastic surgery QR code and payment received.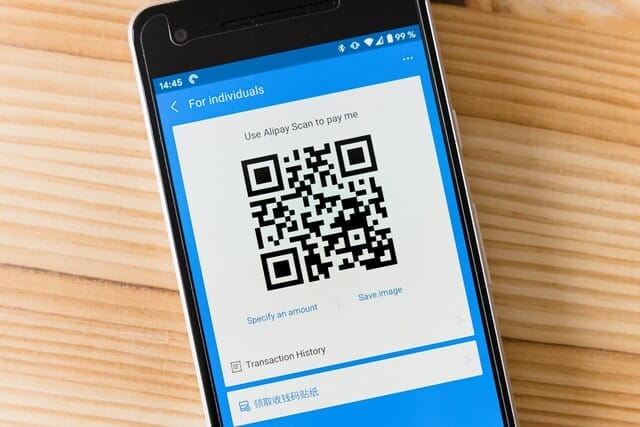 3. Use it for your promotional items
For example, you are also offering skin care products that would be beneficial to your patients who have undergone plastic surgery. You can add a QR code at the back of your product's label that will redirect them to shop for other skin-related products offered by your clinic or show them the testimonials or before and after transformations of your previous patients.
4. To get directions
If you have posters, banners, or a billboard for your plastic surgery practice, adding a QR code on any of these physical promotional materials is a good idea. Why? Because it allows more people to have access to the services offered in your clinic.
Who knows? You might get new patients from it.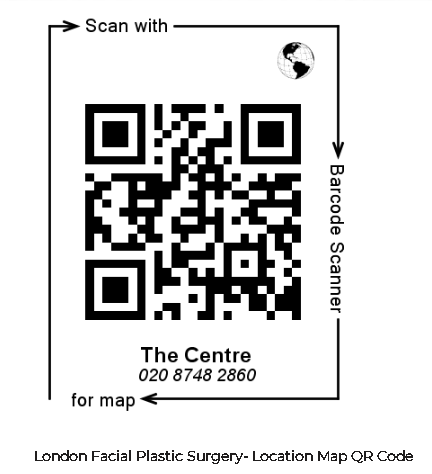 Source: londonfacialplasticsurgery.co.uk
5. Redirect to your website
If you have business cards, adding a QR code that redirects your prospective patients to your website would be a good idea since business cards don't have that much space for you to write, adding a scannable QR code would be a good alternative.
Wondering what the best plastic surgery websites commonly have on their pages? Check out our blog post on 33 Great Plastic Surgery Websites to learn more.
6. Follow you on your social media pages
Looking for a way to promote your social media pages in one place? You can do that by creating a QR code that will connect and link all of your plastic surgery social media pages in just one scan.
To do that, you just have to go to a QR code-generating website, choose social media as the category, link your plastic surgeon profiles, and from there your patients can like, follow and keep posted on the latest news and updates of your clinic.
Want to know how you can advertise on social media? Check out our blog post on Social Media Marketing for Plastic Surgeons to learn more.
7. To fill out forms
You can also use QR codes to make it easier for your new patients to fill out a form when they're in your clinic. They no longer have to type in the URL, you just have to show them the QR code from a card on your front desk and they can fill out the form right on their devices.
8. Claim promo codes/ gift cards
Another way of using QR codes for your plastic surgery practice is to promote your clinic. For example, if you are accepting new patients in your clinic, you can create a QR code that gives a 20% discount to one of your patients who has successfully referred a friend, family member, or colleague to your physical therapy practice.
9. To connect to your clinic's WiFi
You could also use QR codes to make it easier for your patients to connect to your WiFi. This will not only keep them entertained while waiting but will also help improve overall patient satisfaction with your services because they will no longer have to use their mobile data if they want to look something up online while they're at your clinic.
10. To learn more about your plastic surgery services
You could also use QR codes to let your new patients learn more about the services offered in your plastic surgery clinic. It could be an educational video, blog post, or image gallery that gives more information about your services.
Like in this example:
11. To get more details about the plastic surgeon
QR codes can be helpful in letting your patients get to know more about you. This can be done by generating a QR code that contains the basic details such as your email address, social media profiles, and achievements you've received as a plastic surgeon.
12. To access educational materials about plastic surgery
You could also educate your prospective patients on how plastic surgery works by providing online resources to those individuals who are interested in enhancing their physical appearances. You just have to create a QR code that will lead them to your educational blog posts, infographics, or videos about your plastic surgery practice.
Need help in deciding which type of QR code to create for your plastic surgery practice?
QR code best practices
Now that you have an idea of how you can use QR codes to market your plastic surgery practice, here's a list of best practices you can implement in your QR codes:
1. Prepare your landing pages
Before using a URL for your plastic surgery clinic's QR codes, you have to make sure that your landing pages are working. From the design and layout, everything should work according to its functionalities.
Also, consider using ads on social media platforms such as Facebook Ads to bring more traffic to your landing page.
2. Strategically placed QR codes
Another thing to consider once you've already created your QR codes is where you'll place them. One thing to keep in mind is to avoid placing it in areas that are prone to accidents like stairs. It should be somewhere your patients are more likely to notice.
If you're planning to post it on a wall or print it on a flyer, its size should be large enough to be seen by someone who passes by.
3. Add a call-to-action button
QR codes are useless if it doesn't have anything that tells their purpose such as where an individual will be redirected or what will they get once they scan it. To avoid confusion and to improve patient engagement, adding instructions or CTA buttons would be a good idea.
5. Don't forget to add your company logo
Some companies also add their company's logo on their QR codes. The purpose is to establish their own QR identity, increase brand awareness, and give your QR codes a professional look.
6. Test your QR codes
Before publishing or printing out the QR codes you've created for your Plastic Surgery Clinic, you have to make sure that your links are working. You also don't want to mislead your patients so the code should redirect them to where you promised them to or it might ruin your reputation
7. URL should be mobile optimized
Since QR codes mainly use mobile phones as a scanner, you have to make sure that the link that will redirect your prospective patients is mobile-optimized. Your website's speed performance plays a role in converting your page visitors to your actual customers so you have to make sure that you never miss out on this feature.
QR code-generating websites
1. Beaconstac
Beconstac is one of the top QR code-generating websites that's easy to use and has reliable customer support. The only downside of it is that you have to sign up and choose a package that ranges from $5 to $99 if you're planning to use it in the long run. But if you're only going to use it for a few codes, you can use their 14-day free trial.
2. QR Code Generator
QR Code Generator provides free static QR codes which can be used for E-mail, URL SMS, Twitter, WiFi, vCard, etc. If you want to have access to more features like adding frames that have "Scan Me," "View PDF," "Rate Us" and create dynamic QR codes, you just have to sign up for a free account, and you can instantly use it for your plastic surgery clinic.
3. QR Code Monkey
QR Code Monkey is a QR code generator that gives you unlimited scans, vector formats, and high-resolution formats, and works on browsers like Chrome, Safari, Firefox, and more! You can access all of those features for free!
If you don't want to go with the classic format, you can choose from 12 other templates for free!
Key Takeaway
QR codes have now become a part of every business transaction. Not only does it make your transactions a lot easier but it can also be used as a tool to promote your plastic surgery practice, and stand out among your competitors. So, if you want to step up your online marketing efforts, this strategy would greatly help you get more leads and retain your existing patients.