Managing multiple can be hard. From managing all incoming emails and signing into different email accounts, but there is a solution. With Mozilla Thunderbird, you can manage multiple emails at the same time for free!
But, we found a way to make Thunderbird even better where you can manage all your email accounts in one place.
You can create a "master inbox" where you can see all incoming emails while responding with the correct email.
Here are the steps on how to create a unified inbox on Thunderbird, so you can manage run a successful email campaign:
1. Go to Mozilla Thunderbird
This is how Thunderbird looks after you have already downloaded and added multiple email addresses.
Note: It may look slightly different depending on the version you have.
If you haven't downloaded Mozilla Thunderbird, you can start here.
2. Add your email accounts
After, you can go ahead and add all your email accounts that you want to use.
Now you have all your emails and don't need to sign in individually every time you want to check your email.
But, you still need to click individually on each email to see each accounts' inbox or even send/ respond.
You want a master inbox where you can manage all your emails.
That's where the second step comes into play.
3. Go to "Folder Pane Tool Bar" and set it to "Unified"
(if you did not toggle "Folder Pain Tool Bar" go to "view" then "folder" then "unified")
This will combine all the emails in your thunderbird by inbox, draft, trash, etc.
Now you can see all your emails in one "master inbox".

4. You now have a master inbox using Thunderbird
You will receive all incoming emails from all your email accounts. In addition, when you respond, it will respond with the correct account that received the email.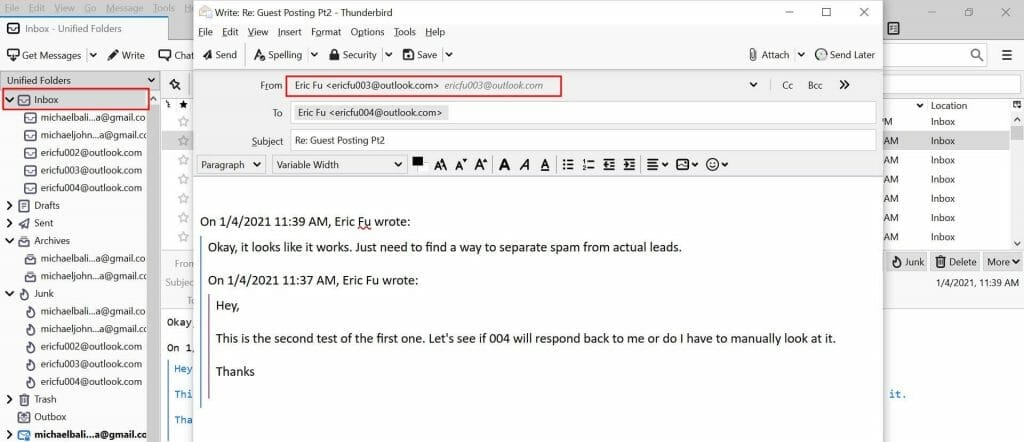 5. Create Filters to keep things organized
Spam and junk mail can clutter your inbox (especially if you have multiple emails), so it's a good idea to create filters.
Click on "Tools" then go to "Message Filters".
You will see this. Then you can click "New".
Here is where you can create the filter rules. Depending on what you're looking for, Thunderbird will filter emails that are only relevant to you.
Now you have a master inbox to help out with your guest posting or for your email outreach. Have fun!
Bonus: Organizing your Thunderbird
Here is a plugin to help reorder your Thunderbird:
Use "Manually sort folders" to reorder emails
Intro what does this add on do
1. Download Manually Sort Folders add-on
Here is the link for Manually Sort Folders
2. Go to "tools"
3. Click "Manually sort folder"
You can reorder your emails to put the more important emails on top.