For Plastic Surgery Practices, Google Ads is a great way to increase new patient flow. Google Ad provides an ideal way to drive traffic. In this article, we'll see how it works, and the way to structure your ad campaign for your business.
So what's Google Ads?  Google Ads (also referred to as Google Adwords) is a system used to deliver content and services toward customers. To achieve this, match broad and definite keywords with the customer's searches to gain leads.
1. What Are Google Ads
Google Ads For Plastic Surgery Practice is an efficient way to increase traffic even though it's a paid advertising campaign. We usually categorize platforms like this into a section called Pay-Per-Click. With PPC the only catch is that you have to pay for each time a visitor clicks on your ad.
For the sake of this article, let's stick to talking about Google Search Ads. These ads are ones you pay to show up on the Google Search Results Page. Viewers will be able to see these text ads if they are searching for similar products or services.  Want to reach your target audience AKA possible clients searching for a cosmetic surgeon on Google? Run a Google Search Ad! Run a Google Search Ad targeting that keyword! It's a no brainer.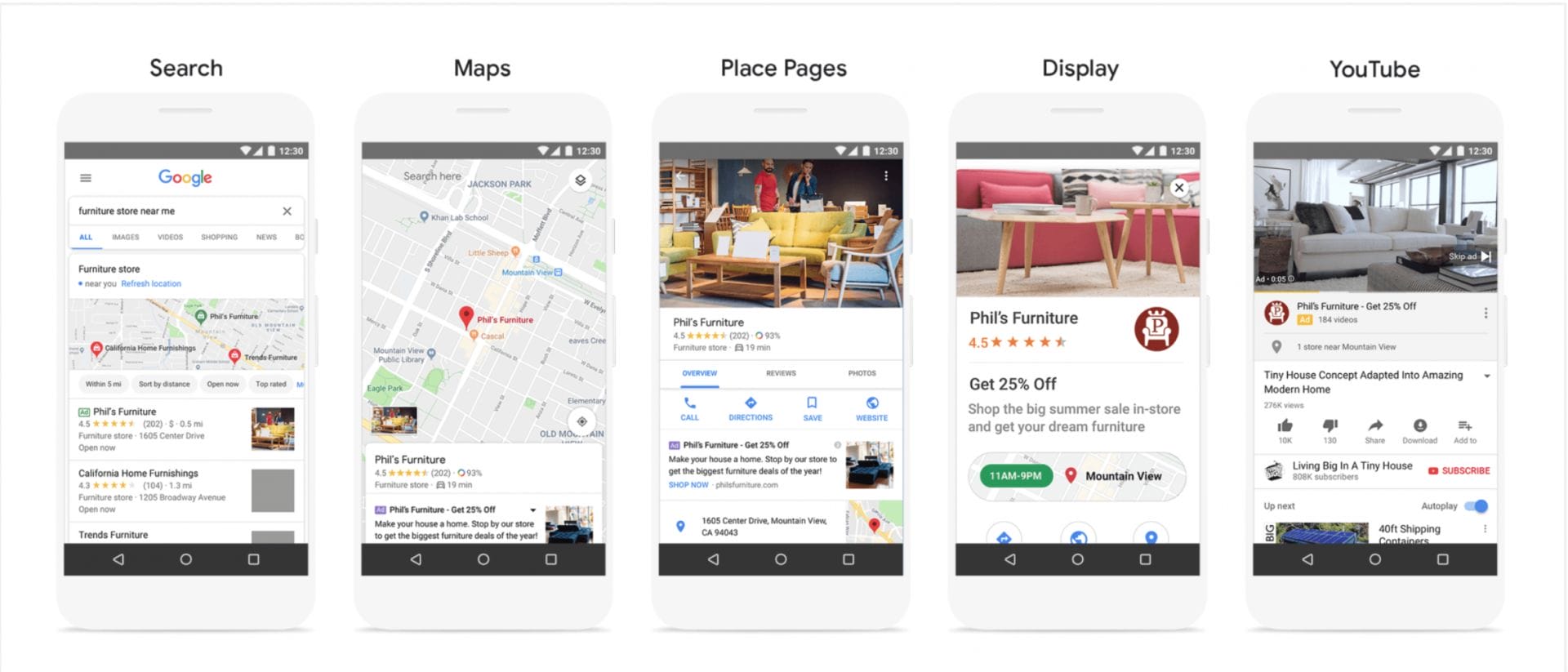 1.1 PPC vs SEO
Search Engine Optimization is a way to bring in traffic to your website through organic techniques. This would include on and off-page optimization, technical audits, backlink outreach, and content writing. With SEO for Plastic Surgeons, you'll usually see the most relevant organic content towards the top of your page versus the bottom of the search results. If someone were to search up "Body Sculpting", the top articles that would be towards the top are themes of cosmetic surgery, plastic surgery, or possible treatments for body sculpting.
With SEO, there might not be immediate results like PPC but in the long run, they achieve a similar goal. The term organic in the marketing realm means you cannot pay for a certain site to be placed at the top of the search result page. Having said that, you have to put in the work and investment towards achieving those organic results such as writing a ton of blog posts, getting backlinks, creating infographics, etc. It's a very long process that takes a minimum of five-month.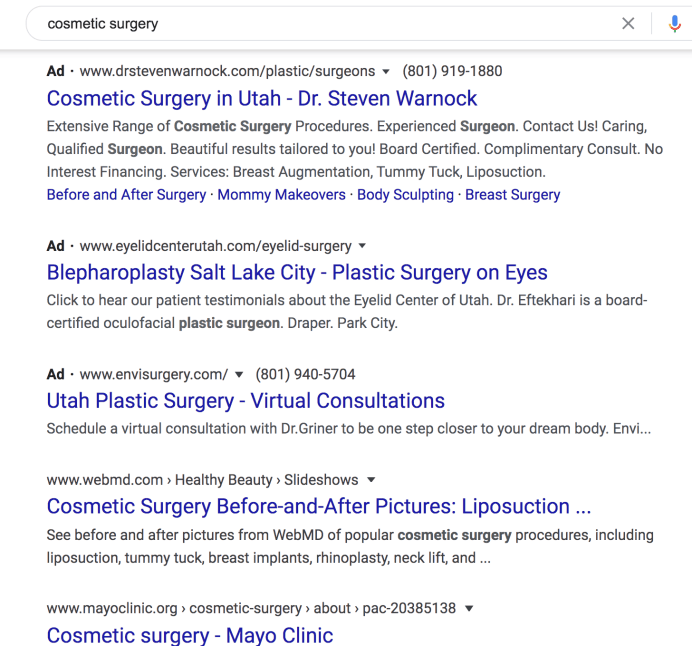 On the other hand, Google Ads is more immediate. You can create a Google Ads For Plastic Surgery Practice campaign and it'll show up on the search result that very day. And our clients typically see a 1.5x increase in new patients at around the 2-3 month mark.
With Google Ads, you can maintain full control over your campaign and ad groups. In fact, you can start and stop your ads and change them to reach the right target audience. Now, despite having that kind of authority does not guarantee direct traffic. Keep in mind, why a certain group of people did not click on your ad or how your ad is in comparison to someone else's to make those modifications for next time.
Want to increase your traffic?
1.2 How to Create a Google Ad Account for Your Medical Practice
To start, log in with your Google Gmail account to sign in to your Google Ads account.
If you don't want to use your most current Gmail account, you can create another account for your medical practice to link to your Google Adwords account. After you do this, search for ads.google.com to create an account with Google Ads. On the homepage go ahead and click "Start now".
2. Creating a Google Ads Campaign for Your Plastic / Cosmetic Surgery Clinic
Down below are some step-to-step guidelines to making your Google Ads experience more pleasant and hopefully engaging when beginning your first Google Ads Campaign for your plastic / cosmetic surgery clinic.
2.1 Picking Your Advertising Goal
When pulling up to the first page of Google Ads, there will be a choice of a few questions to respond to help guide you towards the main goal of your advertisement; but if this isn't your first time using google ads or if you are somewhat familiar with this application you can press on "switch to expert mode" to unlock other cool features like ad groups.
Let's click on "switch to expert mode" just so you can see how to add ad groups and keywords for those groups.
After clicking on the button, then click "next" to continue.
For this campaign lets run with the theme of a Cosmetic Surgery Business.
Go ahead and click on "create a campaign without a goal's guidance". There will be a second tab that'll pop up and in that one, you'll want to click "Search".
Once the 3rd drop-down menu opens up, it'll give you three options to pick from for your ad campaign, just click on "website visit".
The final drop-down menu will open and have you put in your campaign description. Once you finish finalizing these key details, just click "Continue".
2.2 Selecting Your Demographic for the Cosmetic / Plastic Surgeon Medical Clinic
On this page, you will have to select where you'd like your ad to appear. For instance, if you want to advertise Plastic or Cosmetic Surgery for the US, click on "The United States". Then pick your city.
After picking your location, select the language you want your advertisement to be in or even what your patients might speak. If we picked the United States let's pick the language as "English" for this scenario.
When choosing your plastic surgery demographic location, keep in mind that you need to include the audience types such as "beauty & wellness or beauty & personal care". There possibly won't be an option to select your audience as "patients" since its very broad and no general theme around that term.
Having a selected audience helps increase impressions and promote traffic when users have similar attributes towards the service or product you are advertising.
Next, choose the budget that you would want to spend on your cosmetic surgery ad. Change the currency if it's not in correspondence to the demographic or location you are advertising towards.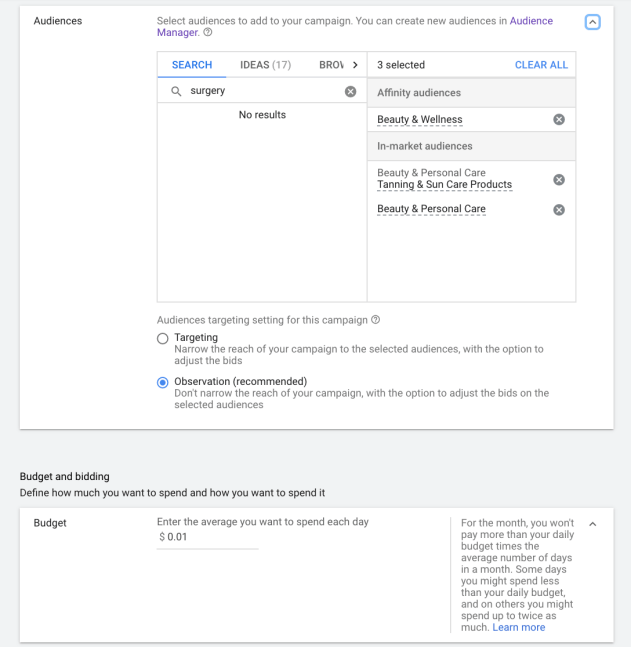 At the bottom of this page, it'll give the option of focusing on areas such as the number of clicks, conversion rate, or several impressions.
After filling this section out, move to the next page.
3. Building an Ad Group For Your Cosmetic Surgery Campaign
Down below we will start adding your Ad Groups.
3.1 What are Ad Groups
Ad Groups are a collection of different ads that target related keywords. Ad Groups, allow for a diverse amount of themes in which they encompass many keywords.
Things to keep in mind when creating your first Ad Group:
What type of audience are you attracting
What is your budget
What service or product you are trying to sell
On the next page, we will start creating your cosmetic surgery ad groups.
For example, having our campaign about "Cosmetic Surgery", some good ad groups for this theme would be face procedures, breast enhancement, and body contouring. If we name our first ad group "face procedure", we would need similar keywords for this group.
Once you have your ad group name, a drop-down menu will pop up and it'll give the option to add some keywords related to this ad group theme. Some keywords could be" facelift, rhinoplasty, etc." Don't forget to do this with all your ad groups. Once you are down click "Save and Continue".
Need help organizing your groups?
4. The Anatomy of Google Text Ad of A Cosmetic Surgery Practice
Writing your first Cosmetic Surgery Text Ad might be tricky at first, down below are some key friendly tips to help you go about this. Here is an example of a cosmetic surgery ad:
4.1     Headlines
Remember for this section you have the option of including 3 headlines, each with a limit of 30 characters.
Your headline can be a minimum of 1 but you can use up to 3 if you want to advertise more detail. It's good to include keywords in your headline so you can appear better on search results when possible clients are searching for similar keywords. The headline will be the first item viewers will see and read before reading the description so it's good practice to include keywords from the start.
4.2     Display Path
Google Ads allow for up to 2 display paths, each with a 15-character maximum to write.
This section isn't a necessary area but it could make that difference when someone is curious about what the site might intel when they click on the ad. These display URLs aren't actual URLs but rather meant to show a small description of what the final URL will take them.
4.3     Description
For this section, you will be given 2 description fields to fill up with a max of 90 characters per box.
In this description area, you will want to include content that is relevant to the product or service that you are promoting for your ideal customers. Be sure to add numbers and offers in your ad like a discount since customers usually like to see $ and % signs when viewing the descriptions. Avoid jargon as much as possible along with generic descriptions of ads. Just try to be creative and get right to the point when writing your description.
4.4     Final Url
This is the main domain of your site that customers will click on when wanting to go to your main landing page.
Specify the address of your site as this will be important when viewers click on the ad. Have the landing page be relevant to what you're advertising, so you are providing a good patient experience to your users.
For more information on writing text ads for your cosmetic/ plastic surgery medical practice, you can check out our article on best practices for creating a successful google text ad.
5. Piecing the Entire Private Practice Google Ad Together
Now that you have finished your private practice Google Ad campaign, you can go back and review your account. At this point, you want to check over all the details of your cosmetic surgery ad in case you want to make any further changes.
Key Areas to Monitor on Your Google Ads Account:
Impressions
Clicks
Cost
Day and Hour of changes
Search Phrases
6. Keeping an Eye on Conversions and Results of Your Cosmetic/ Plastic Surgery Ad
6.1     Keeping Track of Measurements
Conversion tracking allows you to keep track of how well your cosmetic ad campaign is doing such as sales, leads, and the number of patients and clients willing to sign up to reach out to contact the number on the private practice advertisement.
The data received, gives you the ability to identify which areas of your cosmetic surgery ad campaign are doing well and which need to be modified to improve better. Areas that might need optimizing could be:
Text Ad
Bids
Keywords
Landing page
6.2 Adding Google Ad Conversions to Your Cosmetic Private Clinic Website
Have an idea of what your goal here is.
You'll want to go to "Tools and Settings", next scroll to "Measurement", and then click on "Conversions"
Click on "+ Conversions", a page called "Start tracking conversions" will appear.
There will be 4 categories below, go ahead and click on "Website" since we want to track this area of your cosmetic clinic website.
Next, it'll want you to pick another area to track within the website. For this category click on "purchase".
6. Set up your "value" and "count" detail in the next section. After completing this section click "create and continue".
6.3 Generating a Tag for Your Cosmetic Private Practice Site
Creating a tag helps build a report on your cosmetic site that will show you the actions that occur when a client clicks on your ad. The actions might be a purchase, an email, or a sign-up for a specific cosmetic service you were advertising, whatever it is the important thing is you can track these actions and gain feedback to improve your private practice site.
With these tags, you can customize what actions it tracks so you can modify your plastic surgery site based on those actions.
To set up your code snippet, copy the two codes given.
When installing your code it'll give you the option to install the codes yourself or to use google tag manager to install the codes for you.
Use Google Tag Manager for this scenario.
4. Open your Google Tag Manager (if you never made an account with them just simply login in using your Gmail account that you want to link). Next, open your Google Tag Manager, and then click on "New Tag".
5. In your New Tag, click on "Tag Configuration". Scroll down and click on "Google Ads Conversion Tracking".
6. In this section, you will be able to paste the conversion ID and conversion label. Don't forget to fill out all the other key areas.
7. Once you are finished with this section click on "Triggering" and then click on the "+" button to begin a new Trigger.
8. Once you land on the Trigger Configuration page click on "Page View". You are given the option here to click on the pages of your cosmetic website that you'd want to trigger.
9. Make sure you click on the last section Page URL towards the bottom and add the url.html of the page that you want to trigger.
10. After finishing up with this part and saving, google ad conversion will launch on all your pages that had an attached code to them. You will then be able to receive notifications about actions that occur on those pages that you selected to be triggered.
If you need any help with this process or want to learn more about successful case studies, check out our YoYoFuMedia page.
7. What are Landing Pages
A landing page is a place where you direct clients to meet your business goal depending on what you're trying to sell or the services you are trying to provide. If your business goal is to get more rhinoplasty patients, then your landing page will be all about rhinoplasty for your plastic surgery practice.
Landing pages are created through advertising to meet business quotas and obtain a substantial amount of patients. Some things that might be included in a Landing Page are:
Home Page
Support Button
Blog Post
Call to Action
Contact Information
Hero Shot
Brief Description "What You Are Advertising"
Testimonials
Supporting Images or Video Content
The key to a good landing page for plastic surgery is being simple and getting straight to the point. You are trying to deliver a specific message on this page to persuade patients in purchasing a cosmetic procedure and ultimately achieve your cosmetic business goals.
Remember, it's not just about having all the key information on your page, it's about having a good design and outlook. If there are too many images or too little, that could hurt the number of consumers landing on your page.
Some Good Traits of a Landing Page are as follows:
Have a clear call to action such as "Get A Private Consult Today!"
Have images that stand out and represent your text.
Establish the possible problem that the audience is having.
Have a solution to the problem and state how your product or service could resolve their dilemma.
8. Keywords to Include in Your Cosmetic Ad
There are a few things to keep in mind when constructing your landing page for your plastic surgery site.
"Keywords" are necessary for your cosmetic site.
What words or phrases are needed in your cosmetic landing page?
Three Terms to Focus on:
Exact Match Keywords
Negative Keywords
Broad Match Modifier
8.1     Distinct Types of Keywords
Exact Match Keywords: These keywords are written out based on the parameters entered. Exact Match Keywords give you control over who can view your ad such as clients interested in your cosmetic practice. Although impressions of clicks won't be as high as other keyword options, click-through rates (CTR) will score higher than ever.
Example 1: Keyword [breast reduction], Search breast reduction
Example 2: Keyword [plastic surgeons near me], Search plastic surgeons near me
Example 3: Keyword [best surgeons (city you are in)], Search best surgeons (city you are in)
Negative Keywords:
These keywords help to eliminate unwanted traffic to your cosmetic ad. To use these negative keywords correctly, you'll want to include any close variant terms such as the singular and plural terms of the keyword and common misspelling of the word so that doesn't pop up on any traffic you are trying to generate.
For negative keywords, don't forget to put a "-" sign in front of the keyword itself. These keywords help control filter search queries in hopes that our keywords match our parameters set.
Example 1: Keyword -medical school, Search clinic
Example 2: Keyword -rhino, Search rhinoplasty
Example 3: Keyword -private practice license, Search credibility
Broad Match Modifier: These keywords are when you want to reach a large number of people but you still want to be specific at the same time. With these keywords, you have to include a "+" sign in front of the keyword.
Using BMM will ensure a close variant of the keyword but will not catch any synonym of the term. The order of the keyword will not matter since it can be rearranged. The terms however will need to contain all keyword sets within the BMM parameters.
Example 1: Keyword +gender +surgery, Search gender confirmation surgery
Example 2: Keyword +gynecomastia +men, Search gynecomastia for men
Example 3: Keyword +cosmetic +surgery, Search cosmetic plastic surgery
9. Restricted Keywords to Not Include in Your Healthcare Cosmetic Ad
9.1 Policies for Ads to Look Over When in the Medical Field
With advertising being very broad there are some instances where some restrictions are needed before launching your ad. For example, healthcare-related content has certain keywords that cannot be advertised for ads in the medical field. For instance, illegal drugs and procedures that are used in some private practice cannot be advertised.
These rules vary among every country and state, depending on their regulations and laws. Remember, these rules apply to the google ads platform, however other platforms might have similar policies. This being said, one clinic can advertise its services however, if the content does not pass the google ads policy check, then it will get disapproved and blocked from google.
For more information on healthcare policies for google ads check out this site: https://support.google.com/adspolicy/answer/176031
9.2 Keywords to Avoid
When creating your healthcare advertisement for your medical practice, make sure to follow this list of banned keywords to not include in your ad.
Need help finding the right keywords to target?
9.3 How to Stay Compliant & Avoid Disapprovement 
For a lot of these keywords even though they are banned, some can be used with certified pharmaceutical licenses. Remember for every country there might be a slightly different policy to adhere to. So check-in with their specific regulations before creating your ad.
For more information on different country policies for healthcare-related ads visit here and search for the section on "How does this policy differ from country to country?". In this section, there should be a small drop-down menu to pick the country you are interested in. Once you select the country, you'll be given information on their advertisement policies.
10. Top Landing Page Builders for Healthcare Practices
10.1 Instapage
Landing Pages are an essential part of marketing for google ads, however, how do we create these pages without a web development background? Instapage is an easy software program that helps guide marketers and plastic surgeons alike in creating their eye-catching landing pages without any knowledge of coding.
Key Points Using Instapage:
Able to add Instapage widgets that enable buttons for clients to click on to send them to other pages within their landing page such as clicking on a link to go to certain cosmetic services that a clinic can offer.
Instapage contains over 200 different templates
Using the application they have the drag and drop feature that's very handy when wanting to create a quick landing page.
Instapage incorporated a mobile-friendly page design in case you are on the go or advertising mainly through mobile devices.
The nice thing about software applications like Instapage is that they all have something unique that the other applications don't have in their system. Instapage has an integration option such as connecting Paypal or Shopify eCommerce Store if you are selling a product and want your patients to purchase your cosmetic product through your landing page.
It's easy to use and great for people in the healthcare practice who don't understand how to create a website. Instapage's drag-and-drop landing page creation is easy to use like Wix (I'm sure you've seen those Wix ads).
10.2 Unbounce
Unbounce was one of the first applications' that was out in the market. This helped with the marketer's conversion rates and attract consumers like cosmetic clients to their site due to their eye-capturing layout and templates given.
Unbounce builder uses the drag and drops setting to create an effective landing page for your cosmetic campaign.
Some items in their menu options that they have are:
Ability to download files and content.
The application allows for social media to be placed on the page.
Videos and maps can be placed on the page such as the location of private practice and videos of testimonials or the clinic.
Pros:
A/B testing is automatic
There is some form of WordPress integration
Lots of flexibility when setting up a landing page
Cons:
Only can publish a limited number of pages
The mobile editor sometimes has difficulty switching back over to regular desktop form
10.3 Elementor Plugin for WordPress
Elementor Plugin is a simple-to-use software and even their basic version is free to use. This application uses a drag and drops feature to create the entire page.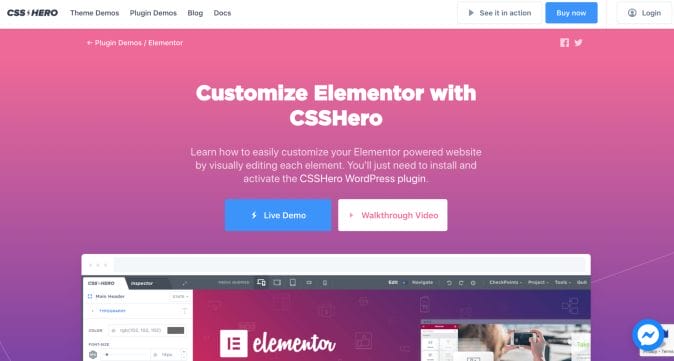 Elementor is known for its diverse themes and templates along with the number of new features that continuously updates.
Fun Features Using Elementor:
The option for mobile preview, if clients are on the go and searching for a cosmetic clinic to go to.
Ability to adjust features and styling to your page.
With the Elementor Pro, you are given more access to other features like custom CSS, pro templates and sections, and much more.
Want an expert to run your ads and create your landing pages for your plastic surgery practice?
We can do that for you. As you can see, we know exactly what we are doing. Book a free consultation with us today and start growing your practice.