A well-marketed orthopedic practice starts with a good foundation. Since 2004, online media has been heavily used within the healthcare industry to help healthcare & medical businesses. Google Ads is one of the main platforms that you can use to increase your new patient flow.
In the field of medicine, online medical marketing has been a helpful tool for doctors. We want to show you how you can utilize this tool to increase the number of new patients coming your way. Through this expert guide, you'll be able to learn more about structuring and formatting your Google Ad to its finest.
1.What Are Google Ads For Orthopedic Surgeons
Most healthcare professionals think they need an expert to run their advertising campaigns. You can pay an advertising agency to run your ads or you can just as easily run the platform yourself. "Pay-Per-Click" is a model of web marketing that directs traffic towards the site you are advertising.
In PPC, the advertiser (in this case, you) pay per every click that you get. Marketers only pay for advertisements when it's viewed by a targeted audience.
Google Adwords not only can boost the number of patients but can be the solution to your overall orthopedic surgical practice. This marketing playground offers customizable sectors such as cost per ad, demographic, and unique keywords to aide your campaign. For instance, if you were to do an ad for orthopedic surgeons, you could change sections of your advertisement after it is launched. Google ads can get you the results you need instantly all from a click of a button.
Side Note: Like PPC, there are other marketing tactics in the digital realm. "Search Engine Optimization" is a marketing strategy that can get you more organic and unpaid traffic to your website. Regardless of the size of your private practice, SEO can reduce the overall marketing budgets. However, using this approach could take you anywhere from 4 to 6 months to start seeing some results. If you want to generate faster leads for your medical practice, the best platform to use in this case would be Google Ads.
Interested in Google Ads? We can help you get started!
1.1 Constructing a Google Ads Account For Your OB/GYN Practice
When starting your experience with Google Ads, you need to create an account with them. Using your Google Gmail account you can link it to your Google Adwords. To create the official account, search up https://ads.google.com/home/ and press on  "Start now" to begin your experience.
2.Creating a Campaign For Your Orthopedic Healthcare Clinic
Within this section, you will grasp new online medical marketing information that will help you create a campaign for your orthopedic healthcare clinic. Though this is a competitive complex field we will break down each section so you can follow along. By the end, you will be able to understand the key parts of what makes up a strong and stable campaign structure.
2.1 Advertising Goal For a Surgical Practice
The first page of Google Ads will have you select your main advertising goal. You can just skip this area and click on "Switch to Expert Mode". By selecting this mode, you will be able to unlock all the features that Google ad has to offer for your surgical practice.
After clicking on "Next", you will land on a page called "New Campaign". There will be a series of drop-down menus that will have you answer a few questions regarding creating your orthopedic campaign.
Follow These Steps Before Proceeding To The Next Section:
Click on "create a campaign without a goal's guidance"
Click on "Search" on the next tab
Click on "website visit" 
On the final tab explain your campaign, then click on "Continue"
2.2 Analysing Your Patients' Demographic
You need some way of organizing your platform. By giving your medical campaign a name this establishes a kind of folder that will keep it from mixing with your other campaigns. Let's name this campaign "Orthopedic".
Now when targeting your patients, you want to market only to those interested in your practice or who are in search of an orthopedist. Google Ads helps to ensure that we only target patients within a certain geographical area. Your patients' demographic will comprise their location and what language they can understand and speak.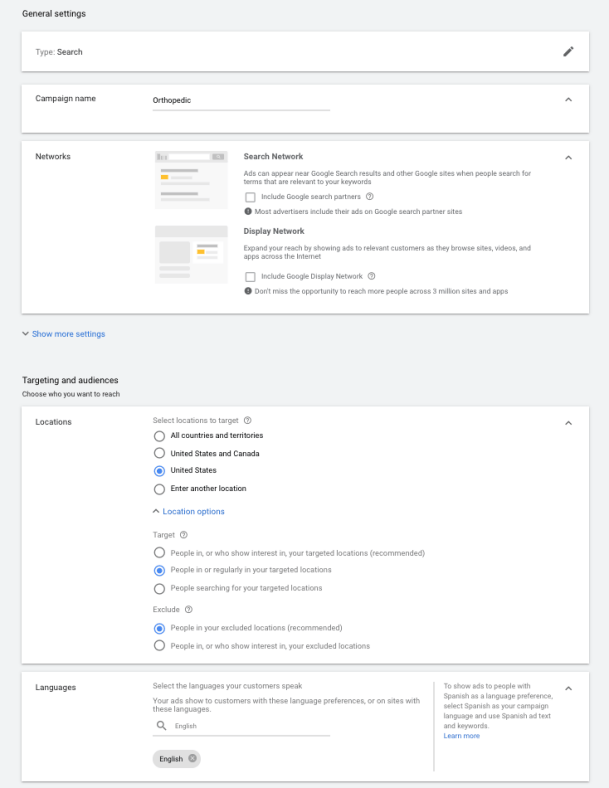 In the image above, imagine that this Orthopedic practice is located in the U.S.
Therefore, under "Targeting and Audience" we will select "The United States".
Once you have chosen your patients' area of living click on "Location Options" to further isolate your target audience.
To target patients within a 5 to 10-mile radius from the clinic, click on "People in or regularly in your targeted location".
Following this section, there will be an area labeled "Exclude". Pick the option called "People in your excluded locations". This selection helps you to exclude people within your 5- 10-mile radius that you don't want to advertise to.
Once you have finished finalizing your location details, the next area to edit would be the dominant language of your audience. Since our location was the United States, we can narrow down the most dominant language in most states is English.
So for this section, you want to select "English".
2.3 Your Healthcare Audience and Budget
When recruiting your healthcare audience, you want to keep the population as broad as possible. Any athlete or person needing an ortho consult has their reasoning for why they want to see an orthopedic specialist. In your Google ads section of  "audience" don't make any changes to this area, so you can broaden it.
Now, below the audience, you will see a section called  "Budget".
Input the amount that you would like to spend per healthcare ad. Double-check that the currency is correct and in correspondence with the country you are advertising towards.
Have your "Bidding" focus on "Clicks" since your goal is to have as many future patients sign up for an appointment or consultation.
For "Ad extensions", you want to fill out all areas that apply for your campaign. Afterward, click "Save and Continue" to move onto the Ad Group(s) page.
3. Constructing Your Ad Groups
The campaign essentially can be divided up into multiple ad groups with various but similar themes. Let us break down the structure of ad groups and their focus areas.
3.1 What are Ad Groups in the Healthcare Field
Each ad group you create can eventually lead to more traffic for a lower cost. Since these ad groups target a larger population with various interests, keywords become an important part. Having designated keywords per ad group helps to organize these groups by specific topics. If you are a bit confused about what keywords are, don't worry, we will go over in more detail the different types of keywords and how to use them in section 7.1. For now, try your best to follow along since you can always go back and edit this section after completing your ad.
Helpful Tips When Constructing an Ad Group:
Come up with synonyms for each keyword & include them in the appropriate ad group.
Keep an ongoing theme within your campaign, ad group(s), and keyword(s).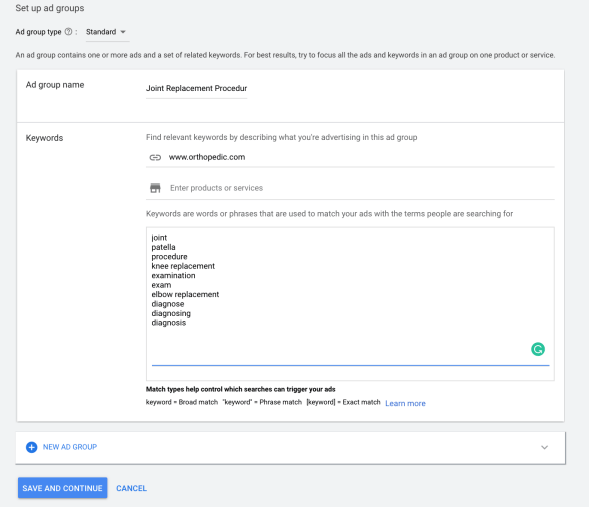 Since most medical practices are divided into different departments and specialized areas of care, we recommend designing out campaigns and ad groups that way as well. Within every campaign, there will be around 1 to 5 ad groups created.
For example, for the campaign "Orthopedic", some ad groups that could be assigned are Joint Replacement Procedures, Diagnosing/ Examination, and Sports Medicine Ortho Services.
After choosing a name for your first ad group, a drop-down tab will appear.
Click on "Keywords" to include any related terms that match this topic.
If your first ad group is about "Joint Replacement Procedures", then some good keywords to add are "joint replacement, knee surgery, replacement procedures, etc.".
Don't forget to include as many keywords whether they are synonyms of each other or different variations of spelling. Once you have finished, click "Save and Continue".
Confused about how to structure your groups? 
4. Diving Through Google Text Ads Structure
Why is PPC text ad so important to marketers? This area is what your audience observes when your ad pops up on their search query. When structuring your orthopedic text ad, what's the item on the ad that appeals to your audience first? We will dive into each component of Google text ad, so you can have a clear understanding of how important each is to the overall ad.
Down below is an example of what an Orthopedic text ad should look like:
4.1 Headline(s)
For every text ad, there will be 3 headlines that consist of a 30 character limit. Most text ads require the first two headlines and the third headline falls under optional. This is typically the first place that your audience will browse over before looking any further. To appear on someone's search query, include some keywords within your headline. If your ad is about an orthopedic practice, then you want keywords such as orthopedic surgeons, orthopedists, and sport medicine practitioners in your headline title. Most viewers type in keywords to search up the topic that they feel most interested in at the moment.
4.2 Display Path(s)
The display path is known as a fake URL in a way. What I mean by this is that the display URL is meant to describe to the audience where they will go once they click on the final URL. The display path does not have to be the URL of the landing page.
Even though the headline is the main feature that viewers look for, the display path possesses a huge responsibility for getting the audience to press on the link. The audience needs some kind of verification that the link isn't spammy or irrelevant before clicking on the button.
For instance, if your landing page's topic is on orthopedic, then you can have one display path mentioning "article" and the other display path saying "Ortho Services".
4.3 Description(s)
This area will be the place to mention any final details that you couldn't portray in the headline(s) nor display path. Here you will have a max of 90 characters per description box to explain your service or product. You want to be concise with your wording since 90 characters fill up fast.
Remember that if you are making an offer, keep it broad since you don't want to promise anything to your audience that you can't live up to. Viewers are typically drawn towards symbols and signs such as $ and % since they represent discounts in ads. Be creative when putting together your description section and try to avoid jargon, since they can pose a threat to your ad.
4.4 The Final Url
The final URL is a link that transfers your viewers from the ads page to the main domain. The only item here that you need to make sure is correct is the URL and the landing page itself. If the landing page isn't relevant to what you are advertising in your google ad then there's a problem. You need to maintain trust within your audience, such as advertising reliable information. Always double check your information matches up to one another to avoid Google from throwing the red flag.
For more Tips on Delivering an Outstanding Orthopedic PPC Text Ad, just visit our article for further details.
5.Stitching All the Ad Parts Together
The most important part about your Google Ad is making sure all your ad parts are completed and ready to be launched. If there are any areas of your Orthopedics And that still needs modification, this would be the best time to adjust them.
Google Ad Metrics to Keep Track of on Your Google Ads Account:
Cost Per Conversion
Negative Keywords
Average Cost Per Click
Conversion Rate
Total Impression
6.Keeping Track of Conversions & Results of Your Ortho Page
6.1 Observing Measurements
A vast majority of patients do daily online searches for conditions, treatments, and specialists nearby. They do their research to get the best care out there before signing up for a consultation. How can we observe our future patients' website activity to better improve our site? There is something in the marketing realm called "Tracking Your Conversions & Results".
What I mean by this is, you can add a snippet code to your site to keep track of activity that goes on in there. These activities might consist of purchases, signing up for a consult, or messaging someone over chat to help get some answers. Aside from tracking conversions, there are some measures you should keep in mind about.
Areas that might need some revision are:
Text Ad & The Context Within It
Keywords to Optimize
Cost Per Ad or Campaign
Landing Page Site & CTA
6.2 Google Ad Conversions to Your Sports Medicine/ Orthopedic Website
To create a conversion for your sports medicine/ orthopedic site, you'll have to follow these series of steps:
Click on "Tools and Settings" that will be located at the top right-hand corner of the page.
Once the drop-down menu appears click on "Measurement".
Click on "Conversions".
Next, click on "+ Conversions".
Finally, you will be brought to a page called "Start tracking conversions".
On this page, there will be four different conversions to track. Pick the conversion that you think fits your advertising goal. For this example, since our goal is to track the amount of activity going on in our sports medicine/ orthopedics site, let's choose "Website". There will be another series of steps to follow when putting together your conversion outline.
Under "Category", you select "purchase", to track your audience's purchases on your site.
For  "value" & "count", input the amount that you would like to spend per conversion action.
6.3 Generating a Tag For Your Orthopedic Medical Practice Site
The final steps of adding your conversions are to set up a tag. This tag includes a snippet code that will be placed on the specific web pages that you want to track. Inserting this code allows you to track all the activity that goes on in your website. You will have the chance to observe these activities such as a patient signing up for a consult or someone making a purchase. To set up this tag, select one of the three resources to set it up. For this example let's choose "use Google Tag Manager".
A drop-down menu should appear, it'll go over some instructions on how to set up your tag using  Google Tag Manager. Copy the "Conversion ID" and the "Conversion label", since you will use these items for later.
Go to Google Tag Manager, and click on "Start For Free".
Login in using your Gmail account that you linked your Google Ads account to.
Once you have landed on the Google Tag Manager home page, click on "New Tag".
Afterward, click on "Tag Configuration", and afterward "Google Ads Conversion Tracking".
On the Google Ads Conversion page, you will paste those snippet codes that you had copied earlier. Once you have finished filling in the other blank sections, click on "Triggering".
On Triggering, click on "Triggering Configuration" and then to add a new trigger press on  "+".
Look for "Trigger Type" on the next menu and then click on "Page View".
Select the pages that you want to trigger on your orthopedic site.
Once you finish completing this page, click on "Page URL" to add the final URL. Save all your actions and then Google Ad Conversions should launch everything.
7.Keywords to Include in Your Ortho Ad
Not all keywords are made equally in the sense that one keyword might dominate the other. Some of these terms are likely to be dominated by large healthcare sites such as WebMD or Healthline. Even if your healthcare company isn't well known doesn't mean that you can't strategize a way for your keywords to dominate other company sites. Doing some keyword research and understanding the different types of keywords matches is probably the best area to start first.
3 Kinds of Keyword Matches to Understand:
Exact Match Keyword
Negative Match Keywords
Broad Match Modifier
Want to target the right keyword? We're here to help!
7.1 Distinct Keywords That Vary
Exact Match Keywords: These keywords are the most restrictive out of the three types of keyword matches. They only show up on customers' searches when the exact keyword is types or a very close variant. Some close variants might include the singular, plural, or misspelling of the term. Using exact match keywords will give you better control over what type of audience you attract but could lower your impressions at the same time.
Example 1: Keyword [ACL Reconstructive Surgery], Search ACL Reconstructive Surgery
Example 2: Keyword [Orthopedist near me], Search Orthopedist near me
Example 3: Keyword [Best Sports Medicine/ Ortho Specialists (city you are in)], Search Best Sports Medicine/ Ortho Specialists (city you are in)
Negative Broad Match Keywords: These keywords help your ad from responding to irrelevant terms that you put under the category of negative keywords. You can easily create a list of negative match keywords by adding a "-" sign in front of the term that you would like to exclude from your ad. These keywords do not include their close variants, so you would have to include those common misspellings, plural, and singular forms as well. Remember that negative broad matches will not restrict ads from showing if someone only searches one of the words.
Example 1: Negative Broad Match Keyword -orthopedic residency program
Possible Searches:
Orthopedic clinic                            WOULD SHOW
Residency program                        WOULD NOT SHOW
Residency                                         WOULD SHOW
Orthopedic residency program   WOULD NOT SHOW
Example 2: Negative Broad Match Keyword -private practice license
Possible Searches:
Private practice license       WOULD NOT SHOW
Ortho practice license          WOULD NOT SHOW
License                                     WOULD SHOW
Orthopedic license                WOULD SHOW
Broad Match Modifier: These keywords can help you save time when researching keywords and their relatives. Broad match modifier can be thought of as the middleman between broad match and exact match keywords. This match type allows for specific keywords but on a broader scale such as filtering in keywords that might be relevant. Your keywords may appear in different orders or variations when using this match type. To use this match type correctly, just simply add the "+" sign in front of the keyword.
Example 1: Keyword +Surgery +Shoulder, Search Shoulder Replacement Surgery
Example 2: Keyword +Fusion +Spine, Search Spinal Fusion
Example 3: Keyword +Syndrome +Carpal, Search Carpal Tunnel Syndrome
8.Restricted Keywords Not to Include in Your Surgical Marketing Ad
Within the medical and surgical industry, the Google ads platform has helped many individuals with their company's site and advertisements. However, just like hospitals, Google has regulations and restrictions that keep the platform from getting into trouble. We will go over those detailed guidelines so you can have a positive experience using Google ads.
8.1 Staying Within Boundaries of Google Ads Policies
Google has these policies put into place since others in the past have tried to take advantage of this platform and advertise experimental drugs or procedures that could harm others. Not all drugs and procedures are harmful but they do have their risks. If the right person isn't explaining these precautions carefully, then someone could get hurt. Now, with these policies in place, some individuals might try to go around these rules and by result will have their ad disapproved. If you want to stay within boundaries of Google Ads Policies, then read Google Ads Policy for Healthcare.
8.2 Keywords to Beware of For Your Orthopedic Private Practice
As there are probably over a thousand medical terminologies and pharmaceutical terms, Google Ads does not allow a good percentage of them to be used in its platform. These terms are sadly put on a banned list of keywords that can only be used if you have a certified board license or some kind of pharmaceutical license. But even with a license, a lot of doctors have gotten their ad disapproved and removed. So, how do you go around this issue? You can either avoid those keywords in general or if you feel that Google has made a mistake, then you can appeal.
9.What are Landing Pages
Landing pages are different from all other pages since it has a form that captures visitors info in exchange for a kind of service or offer. The main purpose of attracting visitors is to turn them into leads after they land on your website. If your goal is to advertise your orthopedic facility then your landing page has to focus on that topic so you can keep that connection with your audience.
Items to Include in Your Medical Landing Page:
The Home Page Main Header
Company Brand or Name
Testimonials or Reviews
Contact Information
Context That Addresses the Audiences Problem and How Your Service Will Fix It
Clear Call to Action such as "Get Your Free Consult Today"
Images That Represent Your Context
Remember that your landing page is meant to be sales-oriented, so don't forget to provide a clear and concise message about what kind of service you are offering. Include eye-capturing images and designs that match your contexts so readers can follow along. You want to have as little distractions on this page since you are trying to get your message across to your audience.
The goal of this page is to have your patients' provide some kind of information about themselves here, whether that's filling in their contact information, signing up for a consultation, or sending a message through the chatbox.
9.1 Number 1 Landing Page Builders For Medical Marketers
Unbounce: This landing page builder lets you customize and build your page while giving you digital support to increase your sales. Medical marketers are fitted to use this software since it doesn't require any coding or graphics designing background. You can even test run Unbounce, using their 14-day free trial giving you access to all of their cool features. They have over 100 templates to pick from along with automatic A/B testing. To use this software you simply just pick a template and use their drag and drop feature to add in your content and images you would like to include.
OptimizePress: This landing page builder came out almost 6 years ago and now has over 300 templates for marketers to choose from. With their 30 days free trial, a lot of markets have gotten hooked on their unique features such as their standard WordPress theme & plugin support, live editor, and even the new OptimizePress 3.0 dashboard. This software is one of the cheapest and good offers out there for building your dream medical landing page.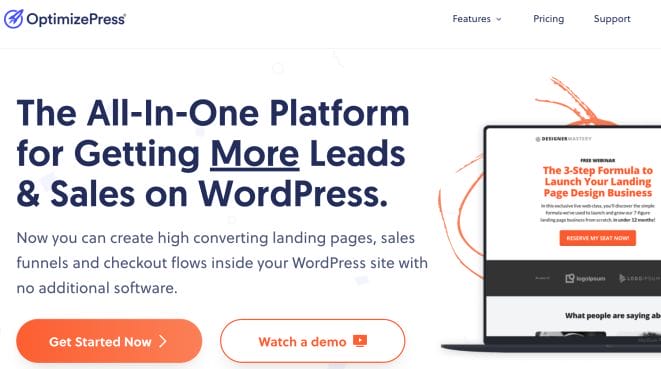 Elementor: Elementor was developed by a group in 2016 and has since has been modified and revised to serve to all marketers. They are one of the only landing page builders that offer a free version with enough functionality to build a good performance page. Some features they offer are in-line text editing, drag and drop and access to over 2,000-page templates. Elementor is also mobile-friendly, which is good if your clients are on their cell-phones and looking through your landing page on the go.
Don't have time to run Google Ads? We can do all the work for you!