SEO or Search Engine Optimization is essential to running a successful website. Search Engine Optimization increases the visibility of your website by helping you rank better for your target keywords. To help you drive more organic traffic to your website, we created a list of 9 Must-Have Free Chrome Extensions That'll Improve Your SEO:
First on our list of free Chrome SEO extensions is Serpstat's Website SEO Checker. This powerful tool allows you to quickly and easily find the key metrics of any webpage. This free SEO Chrome extension has three core components: On-page SEO Metrics, Page Analysis, and Domain Analysis. The on-page search engine optimization is free to use, while the page and domain analysis requires a premium account.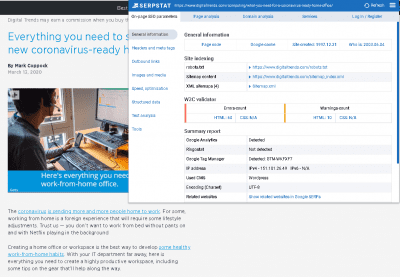 The On-page SEO Metrics function provides you with several data points with which you can analyze. This tool provides you with a web page's headers, meta tags, internal and external links, structured data, text analysis, and more.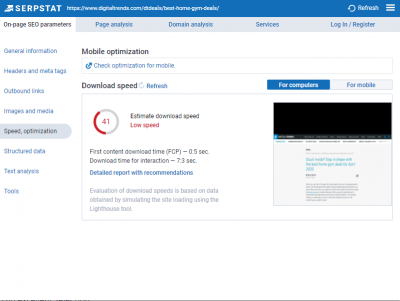 Another key feature that this tool provides is the download speed of the webpage you are analyzing. If you improve how fast your webpage downloads, you can rank better in search engine results. This tool will give you an estimated score based on how quickly your webpage loads for either desktop or mobile. You can also view a detailed report on your download speed and see recommended courses of action to improve it.
If you decide to upgrade to the premium version of the tool, you will gain access to the Page Analysis function. This tab will show you the top 10 keywords that your page is ranking for on Google.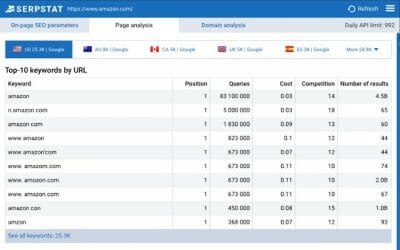 You can also easily see and keep track of rank position and change for any keyword you are trying to target. This feature will provide you insight on the search volume of keywords, keyword CPC, and URLs of your competitors. All of the data points that the Page Analysis function provides is why this tool is one of the best free SEO extensions for Chrome available.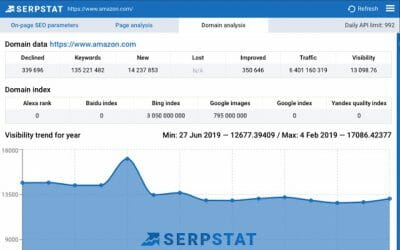 Another benefit of upgrading this tool to premium is the Domain Analysis component. This feature will provide you with key metrics related to your domain, such as domain visibility, traffic, and Alexa rank. It will also show you the number of keywords that your website ranks for and whether they have improved or declined. The tool records all of this information and displays it for you in an easy to understand domain visibility graph.

The Page Analytics SEO Chrome extension is another popular SEO tool that shows important metrics about how customers interact with your web pages. This toolbar will give you specific data on what your website visitors click and don't click. You can then use this information to optimize your webpages for your users.
Using this tool, you can see the exact percentage of users who clicked on links and buttons on your website. The feedback this tool gives you allows you to create a better experience for your visitors, making it more likely for them to use your website and increase conversions. To use Page Analytics, you must have Google Analytics access to the webpage you want to analyze.
When analyzing a webpage, this tool will tell you the number of page views, unique page views, and the average time spent on the page. These metrics are valuable information because Google factors in the average time that a user spends on your webpage when deciding where to rank you in search results. Additionally, Page Analytics will also display the number of active users on your webpage in real-time.
Pricing:
Currently, this SEO chrome extension only offers a free version with no option to pay for an upgraded version of the tool.
Mozbar is one of the best free Google Chrome extensions that'll improve your SEO research. This powerful all in one SEO toolbar is a great way to understand how your webpages can rank better in search results. One way MozBar helps you do this is by giving you metrics that you can analyze while viewing any page. These metrics enable you to see the top-ranking pages of specific keywords and understand why they are ranking so well.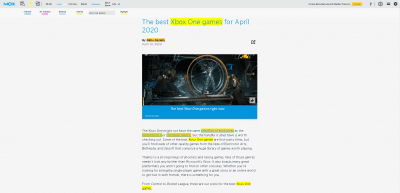 One of the most useful features of this toolbar is that it allows you to highlight specific keywords and links within a webpage. This tool also gives you the option to explore the different metrics of any given webpage
By allowing you to expose the page elements and attributes of top-ranking web pages, you can see what it takes for your webpage to rank better.
In addition to analyzing webpages, Mozbar also functions as a free SERP tool. It allows you to create custom searches by engine, country, region, or city. You can also access and compare link metrics across pages for any SERP. When done with your SERP analysis, you can easily export your details to a CSV file.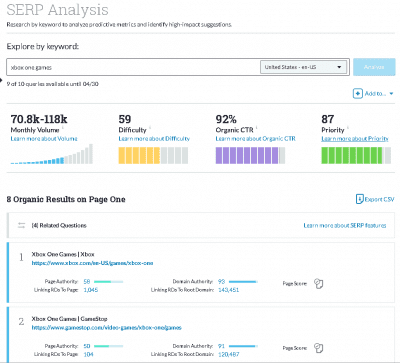 Mozbar also offers additional features that you can unlock by upgrading to the premium version of the tool. One of these features is a keyword difficulty score for any search term when using the SERP function. Another bonus of upgrading to the premium version of the tool is instant page optimization feedback and suggestions for any keyword you wish to target. If you are interested in upgrading, the price and features of each version are below.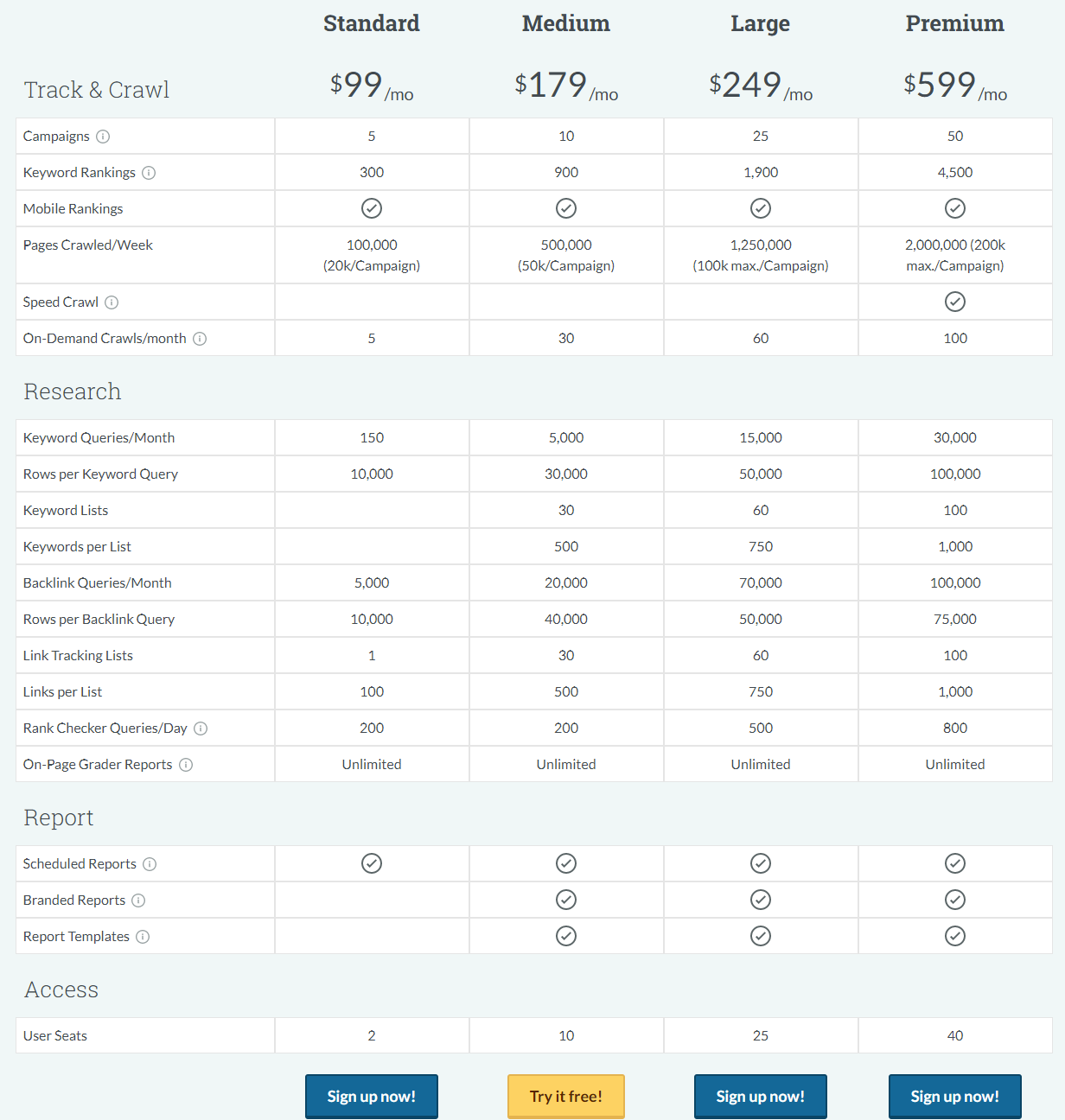 vidIQ Vision is one of the best free Youtube SEO tools currently available. This powerful SEO tool is useful at informing you on how to get more views on your Youtube videos. VidIQ provides you with an extensive overview with several data points on any video you watch on youtube.
This tool will show you the secrets to success that Youtube content creators use to obtain higher view counts.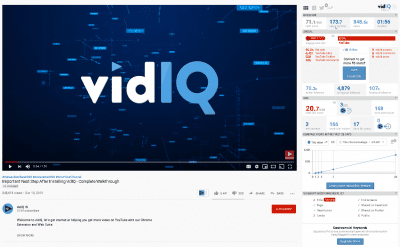 When watching a Youtube video, the tool will display four tabs of information you can select. Overview and Tweets are included with a free account, while Historical Data and Trending are for premium users only.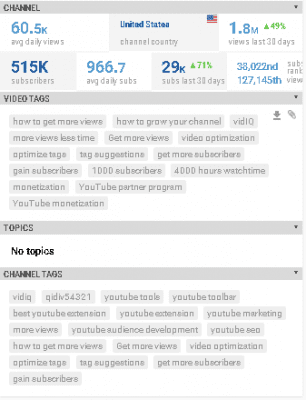 The overview tab provides you with an abundance of data on the video, such as views per hour, SEO score, video optimization checklist, view comparisons by date, and video tags. Additionally, vidIQ also provides you with valuable information about the channel that posted the video. This data includes average daily views, average subscribers, social media followers, social media engagement, and so much more. The Tweets tab will show you the exact tweets people made about the video and when they posted about it.
The metrics that this tool provides allow you to learn what videos that rank higher than yours are doing right. If you want to learn more about what your youtube channel can do to improve its SEO, you can select the channel audit button. This function will show you the views, subscribers gained, and watch time increase or decrease your channel received over a set time frame. It will also analyze your videos and tell you which content to double down on, material that could use work, and items to improve.
If you want to learn even more about what this tool can do for you, check out the video below: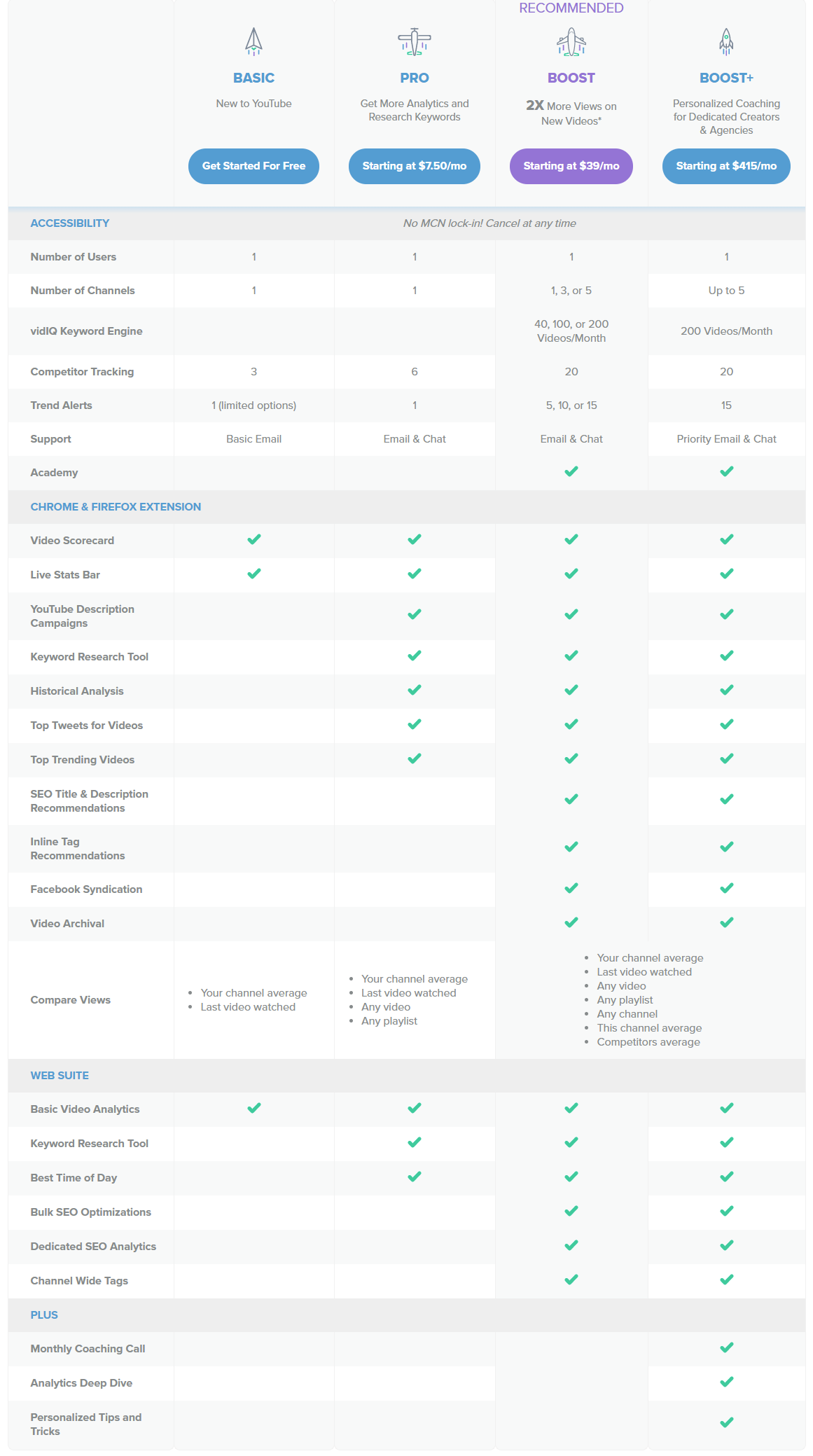 WebRank SEO is a free Chrome SEO extension that is both powerful and easy to use. This particular tool is beneficial for analyzing your website, as well as any of your competitors. With just the click of a button, you can check your website growth and compare your website statistics with your competitors.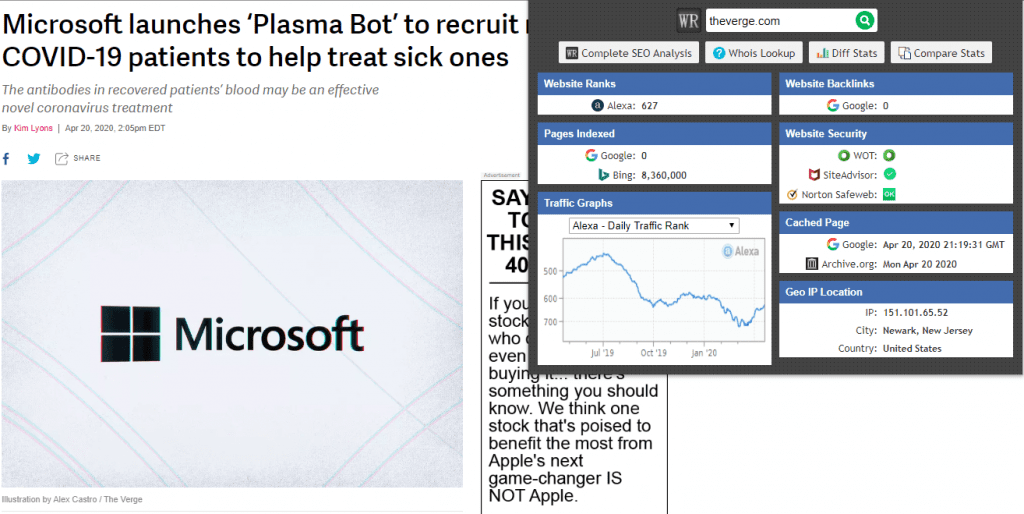 Once you have navigated to a webpage that you would like to analyze, open up the WebRank SEO extension. This tool will provide you with the Alexa rank, website security, server location, Whois lookup, pages indexed and backlinks in Google & Bing for your webpage. You will also get a graph with the webpage's daily traffic rank and search visits.
If you click Complete SEO Analysis, the tool will analyze the metrics of your webpage and give you a score based on your search engine optimization. This score is a quick and easy way to keep track of how your webpage's SEO is performing.
Pricing:
Currently, this SEO chrome extension only offers a free version with no option to pay for an upgraded version of the tool.
Next on our list is a free SEO Chrome extension that allows you to check the metadata found inside webpages. The Meta SEO Inspector is tremendously useful as it can reveal specific site properties that usually are not visible by browsing. With just the click of a button, you instantly have all the metadata of a webpage at your fingertips.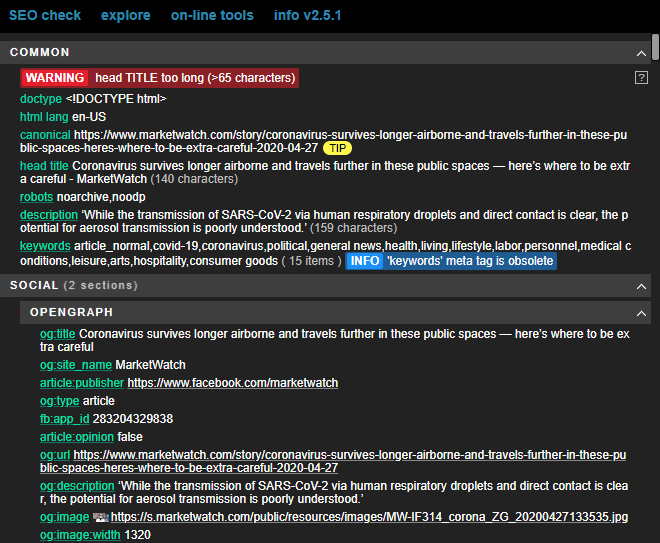 With the data this program provides, you can analyze competitors' webpages, and Search Engine Optimize your website to compete with them. This tool is particularly useful for finding and correcting errors in your webpage's metadata. Alerts appear when the data is not within specific ranges. Next to the warnings, the tool will also give you tips on how to fix the problem. An example of this is in the photo above, where the head title is too long.

Once the tool has collected all of the metadata from your webpage, it will organize it into different categories. These categories include common, social, structured, mobile, markup, link, and presentation data. By clicking on each group, you can further explore the data collected in each. Once you optimize your webpage, you can easily print or export the data by simply copy and pasting.
Pricing:
Currently, this SEO chrome extension only offers a free version with no option to pay for an upgraded version of the tool.
Checkbot is a powerful SEO tool that can check hundreds of pages at once. This free Chrome SEO extension tests your site for the 50+ best practices for SEO, speed, and security. It excels at its job of identifying problems early and optimizing your website.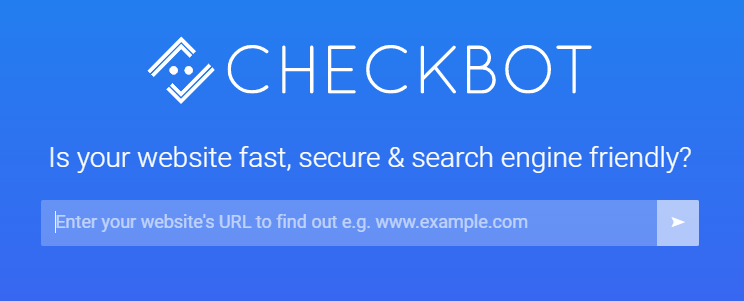 Checkbot is a website auditor that will uncover broken links, duplicate titles, invalid HTML/CSS/JavaScript, insecure password forms, redirect chains, mixed content errors, and more. With the free version of the tool, you can check 250 URLs per site. You can also check as many sites as you want, as often as you wish.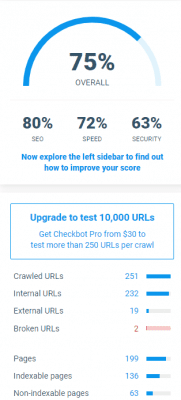 When Checkbot has completed searching your website URL, it will display two sidebars with different data points. The sidebar on the right-hand side will give you an overall percentage score of your website based on the best practices. Below your total score, you can see percentage scores for your SEO, speed, and security.
These percentages will give you a better understanding of what aspects of your website you need to improve the most. In this sidebar, you can also find data on the number of crawled URLs, pages, redirects, and other information that the tool scanned.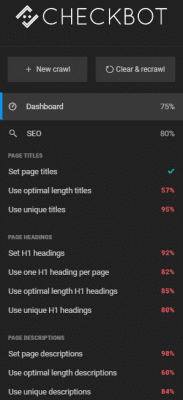 The sidebar on the left-hand side will give you a more in-depth analysis of how your overall score was determined. In this sidebar, you can see percentages for specific metrics within the three categories of SEO, speed, and security.
The SEO category of Checkbot shows you individual scores for page titles, headings, descriptions, content, links, and more. In the speed category, you can view your website's scores for page size, javascript, CSS, redirects, and caching. Lastly, the security section displays your website's performance with HTTPS, HSTS, content sniffing, and other miscellaneous data. The amount of data that this tool provides is what makes it one of the best SEO extensions for Chrome.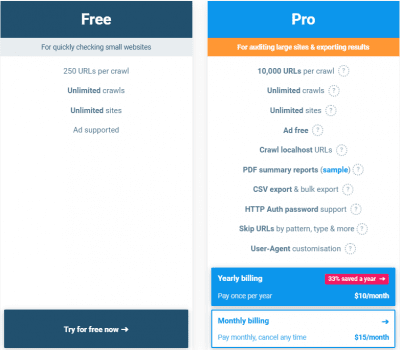 This tool by WooRank is one of the best free Chrome extensions that'll improve your SEO and your website's marketing performance. The SEO Analysis and Website Review plugin provides you with an analysis of your domain's on and off-site data to give you a complete understanding of your website's optimization. You can also scan your competitor's websites for backlinks or see what technology they are using on their site.

This extension will analyze the website you're viewing in your browser and generate a report to highlight any issues impacting the site's accessibility, readability, usability, and inability. At the top of the tool, it will give you an overall score of how your website tested. Here you can get a general idea of how much of your website passed the test, the number of components that need improvement, as well as any errors encountered. This score is a great and easy way to understand your domain's overall SEO performance.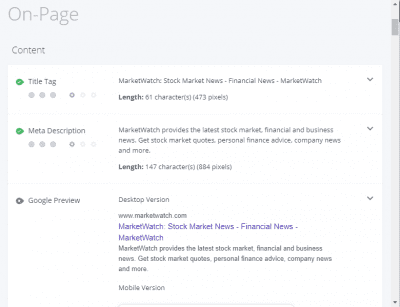 Further analysis of your website is grouped into On-Page and Off-Page data and can be seen by scrolling down. In the On-Page category, you can view how your website scored in metrics like title tag, meta description, headings, links, indexing, mobile, security, performance, and more.
Below each parameter, the tool will inform you on how big of an impact it has and how hard it is to solve. This format makes it easy to understand which aspects of your On-Page data are most relevant and need fixing.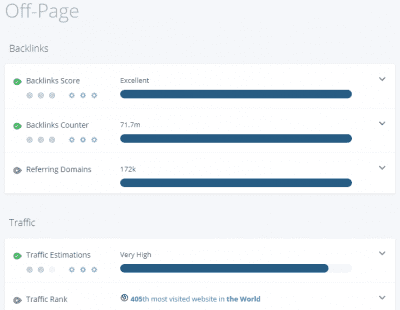 After reviewing your website's On-Page data, you can scroll further down and view it's Off-Page data as well. Here you can review your website's metrics such as backlinks score, traffic estimations and rank, and social media engagement.
This extension can track social media interaction on Facebook, Twitter, Instagram, and LinkedIn. If you upgrade to the premium version of the program, you can also scan local directories for your website. All of these metrics are extremely important to analyze and monitor to optimize your website best.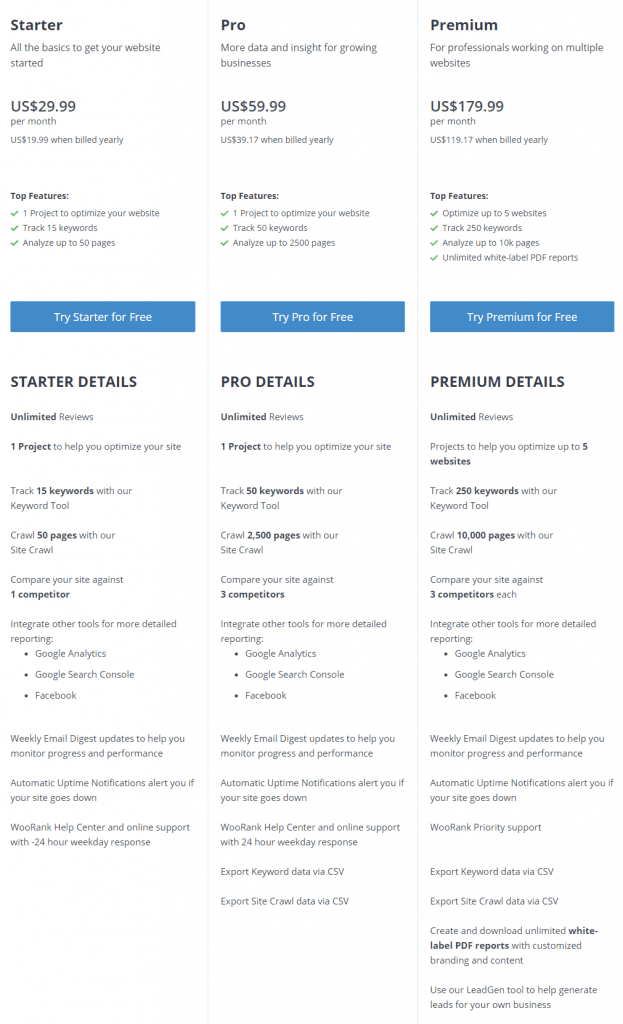 Honorable Mention:

BuzzSumo
Before we reveal our top choice, we wanted to include an excellent SEO Chrome extension called BuzzSumo as our Honorable Mention. This plugin requires a premium subscription; however, we highly recommend trying the 7-day free trial they are currently offering. This easy to use tool provides you with a tremendous amount of social data about any website of your choice. BuzzSumo will show you the exact amount of engagement that a webpage received on various social media platforms.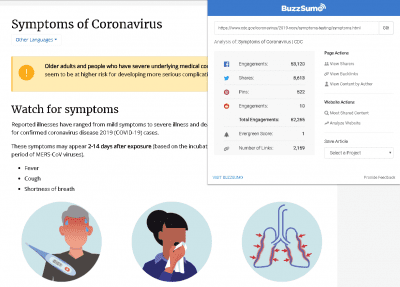 This tool shows you the number of interactions on Facebook, Twitter, Pinterest, and Reddit that a webpage received. Additionally, BuzzSumo allows you to view the specific sharers of your webpage. To view these statistics, click on the view sharers button, and the tool will display the top social media accounts that linked the webpage.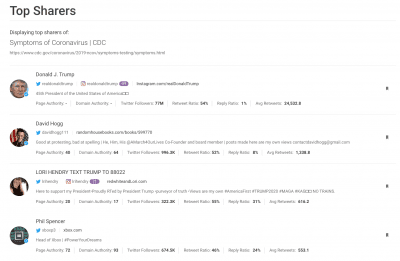 Under each social media account, it will showcase page authority, domain authority, number of followers, avg retweets, and the retweet and reply ratio. You can also click on "View Backlinks" to see which websites have backlinked to the webpage that you're analyzing. This feature is a great tool that will help you understand the volume and location of traffic that you are receiving from social media. Social media sharing and backlinking can have a massive effect on your SEO and search engine ranking.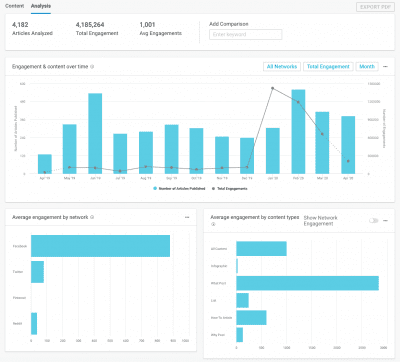 By clicking on Website Analysis, you can view a larger-scale analysis of your website. This function will analyze all of your articles and tell you the total and average engagement on your website. It will display graphs of your interactions by month, day, the social media network, content type, content length, and more. The data this tool provides is beneficial for learning the aspects of your posts that drive the most engagement.
If you want to test out this SEO Chrome extension for yourself, BuzzSumo is currently offering a 7-day free trial. After your free trial has run out, you are required to upgrade to 1 of their four premium accounts. A detailed list of the pricing for each version and the various added features included is below.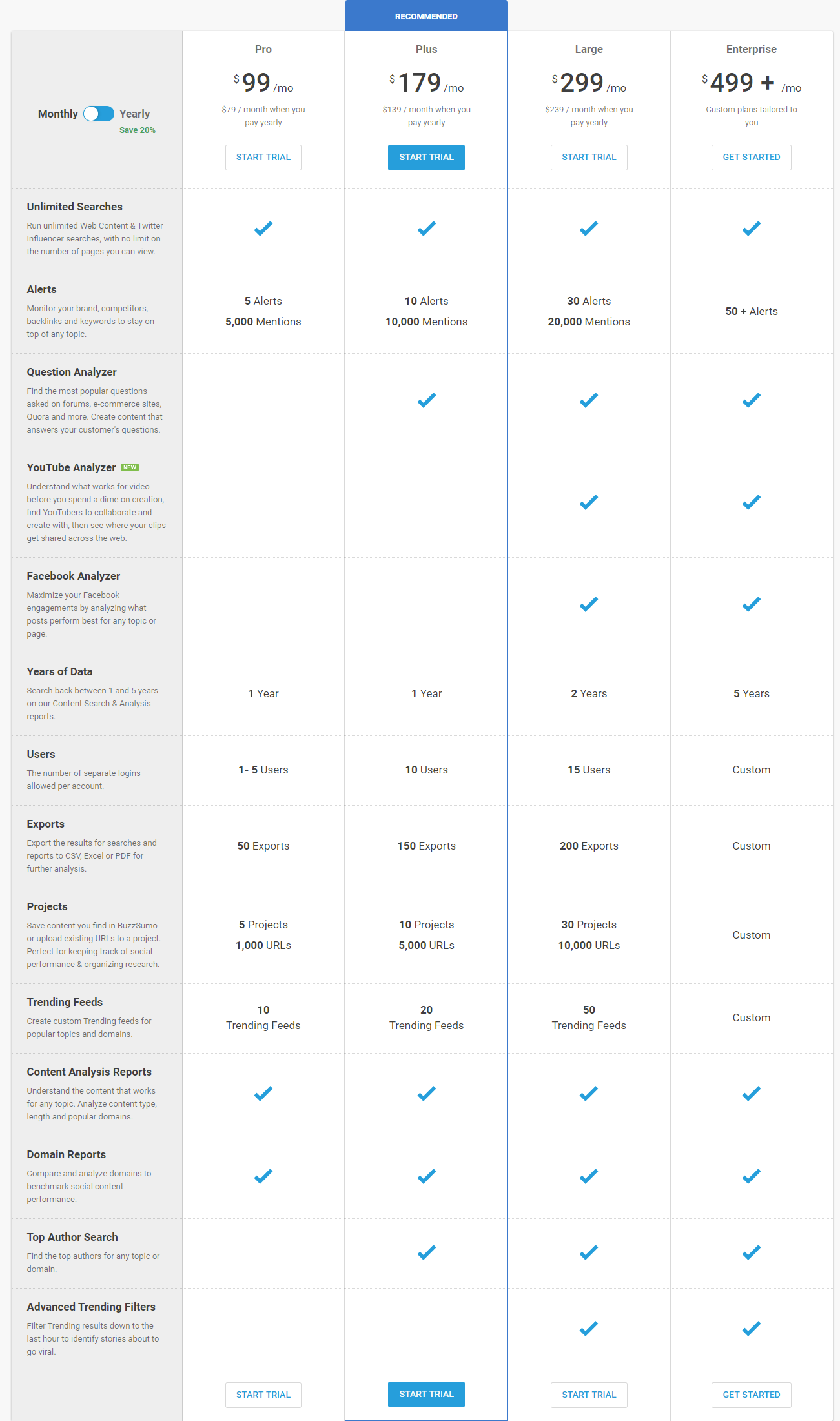 SEOquake is a free SEO Chrome plugin that provides you with key metrics to help you search engine optimize your webpages. This free SEO chrome extension consists of several tools you can use to improve your search ranking. Some of these tools include an SEO bar, SERP overlay, SEO audit tool, keyword density report, internal/external link analysis, and even social metrics.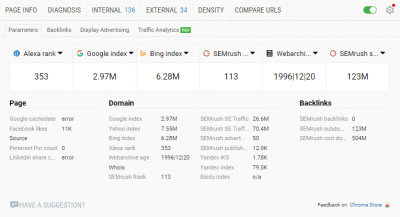 Once you have navigated to a webpage you would like to analyze; you can click the SEOquake button in your Chrome extensions to view the web page's parameters. This function of the tool presents you with the website's Alexa rank, Google Index, Bing Index, SEMrush rank, Facebook likes, and more.
If you click the Display Advertising button under Page Info, you can also see the percentage of media to text ads that the webpage shows. To access the Backlinks and Traffic Analytics report, you are required to sign up for a free SEMrush account and connect it to SEOquake.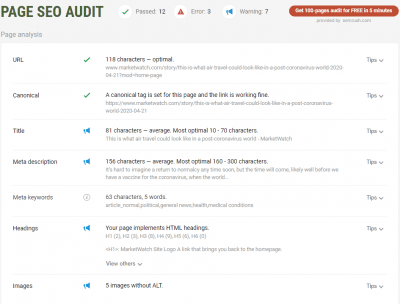 Another useful feature that this plugin offers is a complete SEO audit of any webpage. This SEO audit will analyze every key metric of your webpage to show you which aspects you need to improve. The tool will evaluate your webpage's URL, headings, title, images, text/HTML, meta description, etc. SEOquake will then give you feedback on which metrics you need to improve upon and recommend changes to fix them.
One of SEOQuake's most useful tools for search engine optimization is its keyword density analysis. By clicking Density on a webpage of your choice, you can instantly view the keyword data that comprises the webpage. This feature will show you the number of times a keyword shows up, the density percentage, and the prominence of each keyword. It will also signify whether a keyword appears in a title or heading.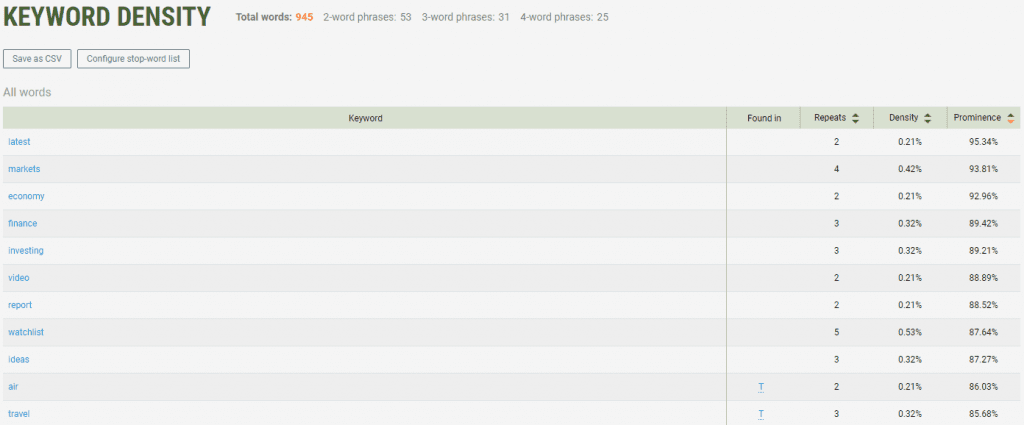 Pricing:
Currently, this SEO chrome extension only offers a free version with no option to pay for an upgraded version of the tool.
If you want to learn more about how you can improve your search engine optimization and rank, check out this list of the top free SERP tools.