When it comes to having running dentistry, the most important thing a dental clinic need is a constant stream of new patient leads to keep their business afloat. To maintain this, a dental site should have an increasing number of organic traffic.
In Sage Dental & Spa's case, they were not getting leads, which was especially difficult with the effect of COVID on businesses alike and the overall economy. Sage Dental had used multiple different agencies before and none of them were able to deliver any tangible results.
In addition to the lack of traffic, they had outdated content and their website was not adapted to get people who came to the dental website to convert to potential patients. It was just outdated walls of texts that were not designed to convert people into customers.
But, given the circumstances, YoYoFuMedia was able to turn this around and was able to increase Sage Dental & Spa organic traffic by 15.6 times over the course of 6 months.
Have a similar issue? Book a free consultation and see how we can help your local business!
What we did
To get Sage Dental & Spa more organic traffic that can generate more leads, we implemented three major SEO changes to the clinic's website.
1. Updated the Content
Before, Sage Dental & Spa had outdated content that can negatively rank their content compared to more updated content. For example, the pages looked like this:
To make sure the dental clinic had the most recent content, we made sure to update the service pages with newer content. As a result, more service pages now have more relevant content that helps boost the pages rankings: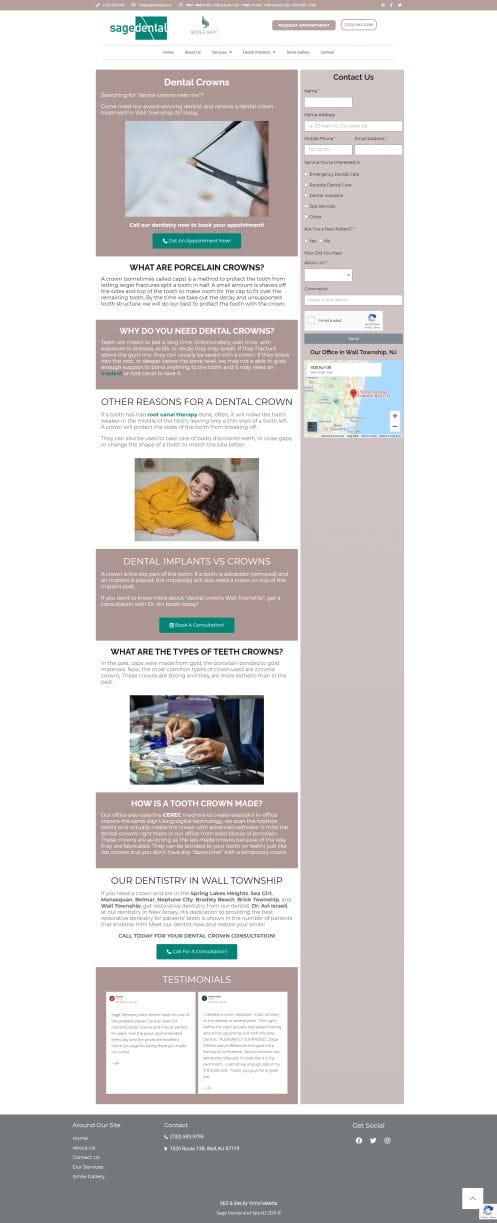 2. Optimize Old Content
During the updating process, we also made sure to find and add important keywords. This is the key to rank. We spent a lot of time researching before we even start optimizing. We optimize towards a specific main keyword by including important keyword variations and LSI.
By doing this, the LSIs and keyword variations support the main keyword and allow Sage Dental & Spa's service pages to rank a lot higher on specific search queries.
Here are some examples of what keywords we included:
3. Made it more conversion-friendly
After adding the keyword and updating the content, we made it more like a modern website. By implementing CRO into the pages, we were able to create more conversion-friendly pages.
With this, we were able to generate more organic traffic and get those more users to convert (book or call for an appointment).
We implemented this by adding these things to each of the updated pages:
Colors
Call to actions (CTA)
Buttons (that led users to a contact form or make a call).
Here is an example of what we did: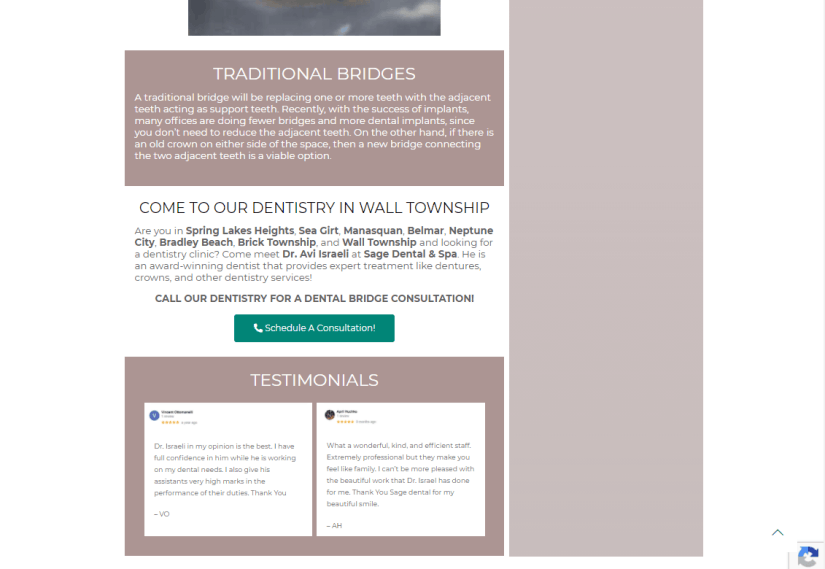 Need help with your SEO? Contact our experts today and see what we can do for you!
What were the results:
With these SEO implementations, we had various results. The most notable is the increase in organic traffic. The addition of these SEO changes causes the website's organic traffic to increase by 15.6x from Feb 1, 2021 (when we first started tracking) to July 24, 2021.

In addition, we were able to see an increasing trend in impressions (number of times the sites page was seen on search results) and clicks (how many people clicked on them)
The influx of organic traffic also led to an increased chance of getting a new patient. In addition to making the pages more conversion-friendly, this contributed to an increase in conversions.
The effect can be first seen in the increase in calls for an appointment. The dental clinic saw an increase in calls from Google My Business or the website. From March there were about ~270 calls compared to Feb 15th – 28th, 87 total calls. Currently, the clinic reaches ~310 calls in July
 "The dental clinic went from 80 calls a month to 310 calls a month!"
The second thing that can be seen is the increase in monthly appointments through the contact forms. With the implementations, more people are clicking on and filling out the online forms.
From Feb 23, 2021, to Mar 23, 2021, the clinic was receiving about ~6 form submissions. From May 23, 2021, to Jun 23, 2021, our dentistry saw an increase and had ~13 form submissions. The monthly form submission doubled  (+116.67 (13 vs 6)) compared to when we first started.
Important Note: In addition, these were not just your appointments for dental cleanings but high-value production appointments services like dental implants and extractions.
Here are just a sample of calls: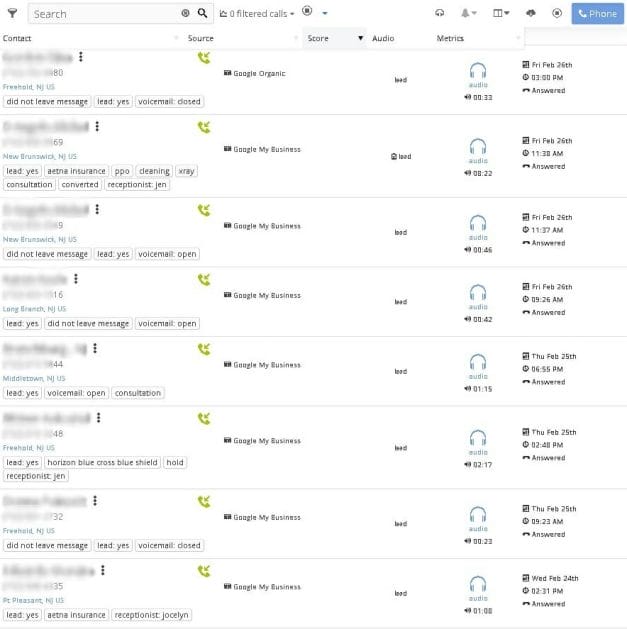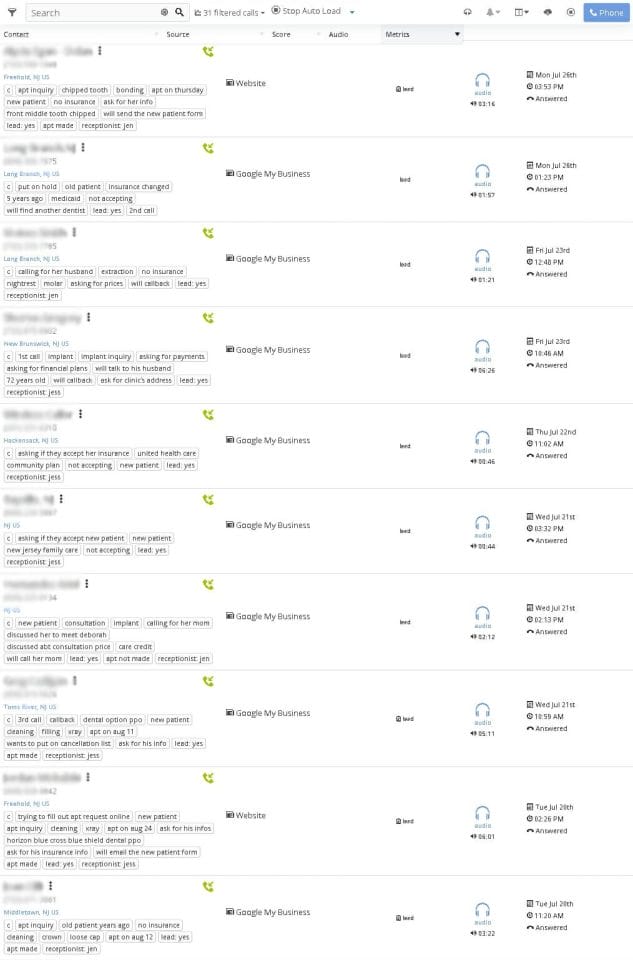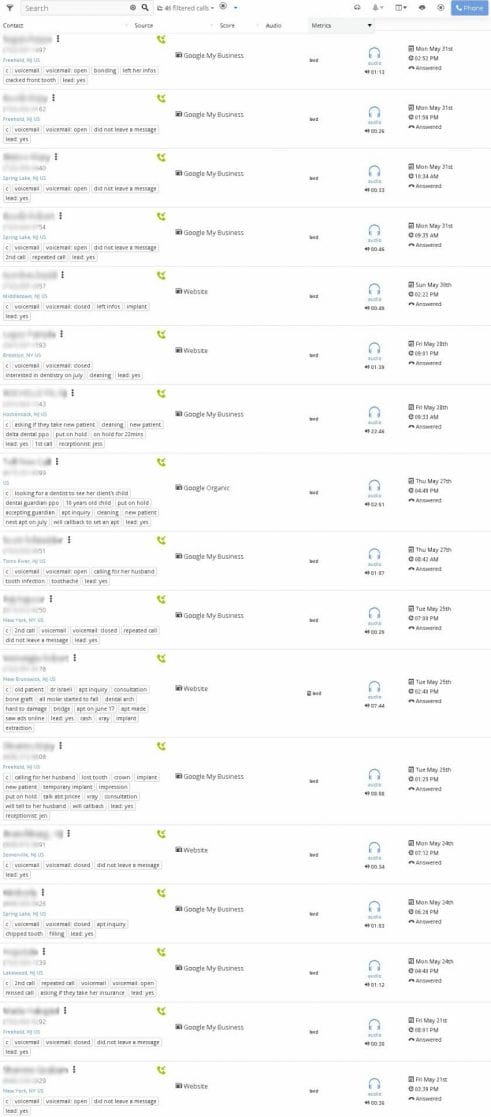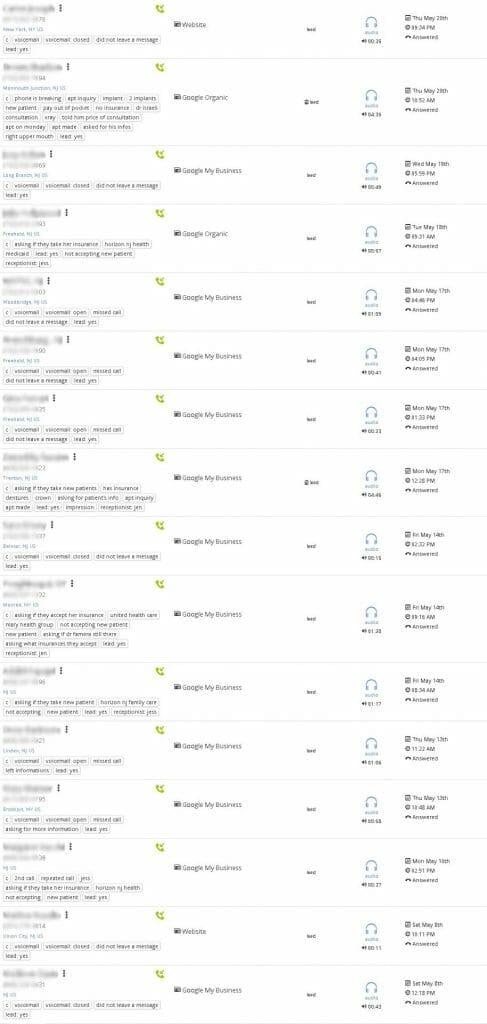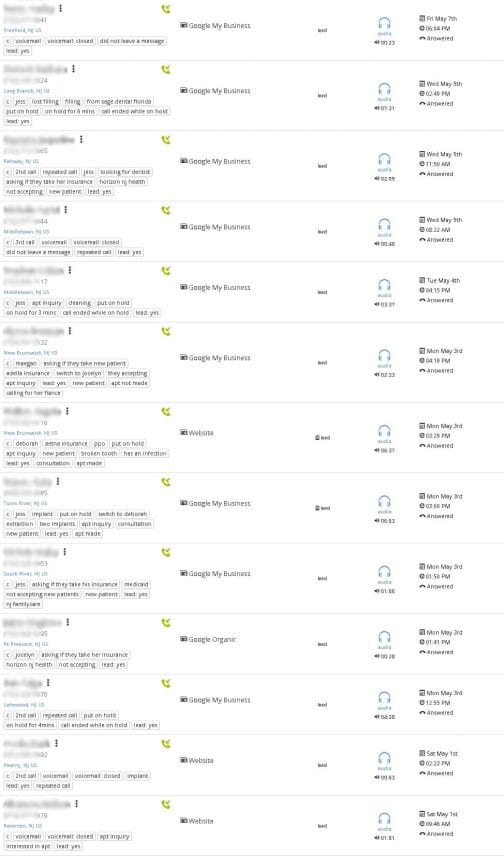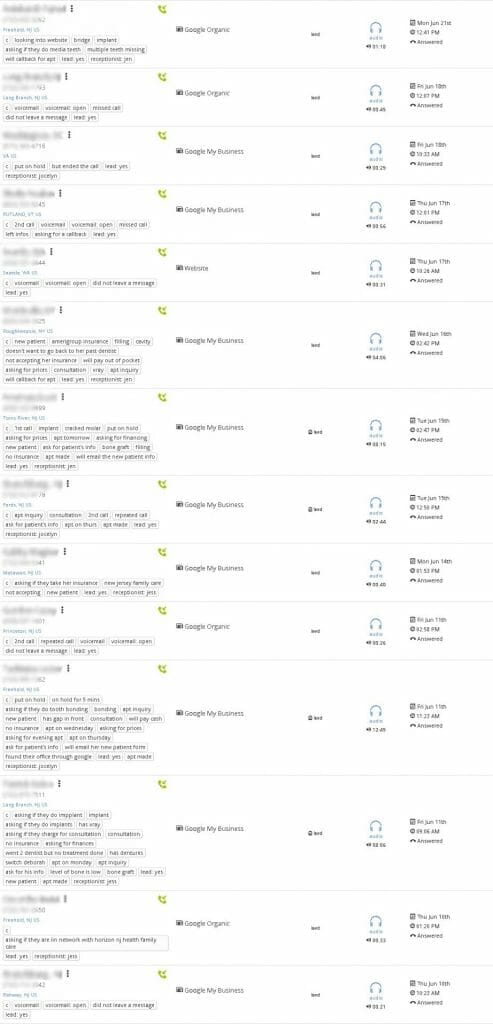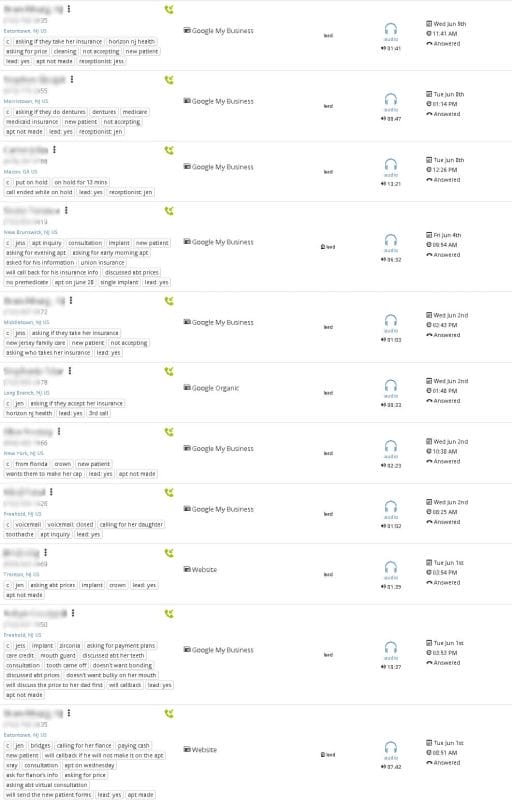 Conclusion
By implementing SEO, we were able to get more traffic to Sage Dental & Spa and generate for them more leads. Most notably, we increase their leads for their dental implant treatment.
Want to generate more leads? Book a consultation and see how we can help your business!