Bad reviews hinder your physical therapist's success from getting a lot of new customers. If you are not effectively managing your online reputation, it'll result in a significant loss on your end. In this article, we'll share with you what reputation management for physical therapists is, how it works, and some free tools to make the task easier.
Due to the fast-growing online population, data about your physical therapy clinic can be seen in just a few clicks. As a physical therapist, your reputation matters both in the offline and online community because if you failed to manage your online reputation, you might lose the trust and credibility of your patients towards your physical therapy clinic.
What is Online Reputation Management?
Online Reputation management is the process of managing how your audience thinks about your physical therapy services. It's a continuous cycle that requires a lot of time and effort to avoid things from getting worse.
Remember, it's not just about removing or burying all the bad impressions about your physical therapy practice but also about handling it properly.
If you're a long-time operating physical therapy clinic and haven't started monitoring your reputation yet, you should consider handling it now because you wouldn't know how people think of your staff without supervising it.
On the other hand, if your clinic just opened recently,  you have to start building your reputation by starting early. Doing these measures is to ensure that your reputation as a therapist is a strong and positive one so one bad review won't affect your business as much because it'll be in a sea of positive reviews.
Don't have time to do reputation management for your physical therapy practice?
How does reputation management work?
There are a lot of factors why people leave negative reviews about your physical therapy practice. It can be because of your part, but that's not always the case. Sometimes, they're just trolling your page visitors.
That's where online reputation management comes in. Online reputation management helps you get your reputation back from negative reviews and control anything negative that's linked to your physical therapy brand.
But, how?
To prevent that from happening, here are some of the strategies that can help you repair your damaged online reputation:
If you're already getting tons of bad reviews linked to your brand on the search results page, here's what you can do:
1. Declutter bad reviews
The first thing that you have to do is by exploring the terms that are linked to the name of your PT brand. By typing "the name of your physical therapy clinic + reviews" on Google, it'll show you the sites where you get reviews from various platforms.
Bad reviews on Yelp or Google? You could get rid of them by flagging a review. There's no assurance that it'll be immediately removed but if they find out that the person violates the Content Guidelines, it will be subject to removal.
2. Get listed in online business directories
Although domain authority isn't really a factor that Google uses in ranking websites, business directories such as LinkedIn, Google My Business, Bing Places, and Insider Pages help you evaluate your website's performance compared to your competitors.
Moz has this free domain analysis tool that determines your physical therapy website's ranking potential, tracks newfound links, and estimates the search volume of your top keywords.
Consider using Google Ads for PTs to appear in more searches that include your offered services.
3. Link your properties with your physical therapist's website
After getting listed on those directories, bind all of them in your website's footer section using icons so that people will find it easier to locate you on social media.
If a person is highly interested in your physical therapy services, there's a probability that they'll also check you on social networking sites. Providing this information on your website not only adds convenience to your customer's experience but also helps you grow your brand's presence.
Take a look at this PT clinic's strategy:
See how their social profiles rank high next to their website. Building links to these directories and social media profiles, make it easier to rank higher than the bad reviews that you have.
But, if you have extremely low ratings on Facebook, there's an option that allows you to turn it off so that it's temporarily removed from your page.
4. Join group discussions about physical therapy
Engaging in question-and-answer forums like the ones you see on Quora could also help your physical therapist website to gain more visibility and get interested patients to engage with your brand. The more interaction you gain, the greater the chance of increasing your rank on Google, shoving those negative reviews to the bottom.
5. Create blog posts
You could also try writing relevant and high-quality content about your physical therapy practice. Topics about misconceptions about PT, how to relieve knee pain, health and wellness tips, and the like could help you outrank those negative reviews found on Google Search Results.
6. Video content
94% of marketing professionals say that videos provide customers with a better understanding of their services. As you will notice, Youtube videos occupy a bigger space in search engines like Google, Yahoo, and Bing.
And if you're having a hard time concealing negative reviews from the first page of search engine results, creating videos that explain more about your physical therapy clinic is worth a try!
7. "People also ask" section
If you are receiving a lot of questions about your PT clinic, Google has this snippet feature called the "People Also Ask" box. This section also takes up quite a space in the search engine results page and along with that, it allows you to address the frequently asked questions about your brand.
But to increase the chances of making it up to the PAA section, your answers should provide a clear and concise answer to the queries of your potential patients.
Creating a bunch of useful stuff and participating in Q&A forums about physical therapy practice are some of the best ways to reduce the visibility of unfavorable content about your physical therapy clinic.
It can be a lengthy process but by following the tips that we've mentioned, you'll be able to redefine the search results when someone searches for your brand online.
Why Reputation Management for Physical Therapists?
53% of consumers spend time researching a brand to make sure that they are making the right decision. For physical therapists to have a lot of new patients, it is important that you consistently manage your online reputation as it may affect your business if it goes out of hand.
Before we tell you how to conduct a physical therapy reputation management, here's why you should consider utilizing it:
Top 3 Reasons Why Reputation Management Should Be Included In Your Physical Therapy Marketing Strategy
#1 Higher Return On Investment
In a 2019 survey, results show that 75% of the respondents are influenced by ratings and reviews from other people when choosing a healthcare provider.
This is because when people see that your physical therapy clinic receives a lot of good feedback from your patients, they are more likely to trust your brand. When that trust has been established in your potential patients, it can be a driving factor towards having more patients in your physical therapy clinic which will benefit your ROI.
#2 It helps you stand out from your competitors 
One way of winning the hearts of your prospective patients is by having a good reputation. If you have a poor reputation, your chances of getting more patients in your clinic are very low especially since physical therapy is quite a competitive market.
But if you want to stand out among your competitors and attract more patients to your clinic, try to encourage your previous patients to leave a review and at the same time, manage the reviews that you are getting. As it will help increase the exposure of your physical therapy practice.
#3 It makes your brand credible
When people see a lot of good feedback about your physical therapy services, it establishes trust between your customers and your brand. Trust plays a big role for local businesses to succeed. With an effective online reputation management strategy, more patients would want to be associated with your physical therapy clinic.
Want to improve your existing reputation management strategy?
How to Effectively Manage Your Reputation as a Physical Therapist
Your business reputation can be hard to build but may easily crumble if not handled properly. To effectively manage your physical therapist reputation, we've created a list of the ways how to do reputation management for physical therapists:
1. Grow your online presence
The first step in managing your reputation is by establishing your physical therapy brand online.
You can start by listing your physical therapy clinic on Google My Business, claiming your business on Yelp, or by creating social media pages. Read our guide on social media calendars for PTs to plan out your content schedule. It is important that your clinic can be easily discovered because that's where you'll keep in touch with your patients.
2. Monitor your audience
Now that you've already established your online presence, it's time to monitor the platforms that your physical therapy brand uses.
But, you must first identify where your audience is coming from. Is it mostly on social media sites like Facebook, Instagram, Twitter, LinkedIn, review sites such as Yelp, Google My Business, or both?
It may seem overwhelming if you have already established your audience within these platforms but with the help of reputation management tools (that we'll share with you in the next section of this article),  the task becomes bearable.
Also, consider using QR Codes as a physical therapist to provide your patients with easy ways to access your pages.
3. Assign a team to handle reputation management
Physical therapists are usually busy providing the best PT services in the clinic. So, you should assign a team that'll be responsible for monitoring the reviews, and conversations, and responding to patient feedback.
When assigning your reputation management team, it should be the ones who know how to effectively listen and understand your patients' concerns because they'll be the ones who'll deal with complaints about your physical therapy clinic.
Keep in mind to not take rude comments personally, instead, think of a way to solve them or make it up to your patients.
4. Find out the keyword that affects your brand's image
Having an idea of what keyword phrases go along when someone searches for your physical therapy clinic is crucial because it gives you a clear picture of who you are competing with and what the majority of your patients think about you.
You can also use these keywords to compare, make improvements, and boost your physical therapy clinic's online presence.
5. Communicate with your patients
Properly address negative reviews
Reading negative comments or reviews about your physical therapy services may trigger you to respond irrationally. But you shouldn't take it that way since you have an image to protect.
As a matter of fact, 7 out of 10 consumers change their views when they see that a brand replies to a customer review. So, instead of you getting your feelings to get in the way of dealing with the situation, or ignoring negative reviews, you should deal with it in a polite and professional manner.
Like in this example:
Acknowledge positive reviews
Showing appreciation to your patients who left a good review about your physical therapy services motivates other patients to submit their feedback as well.
Not only that, but it also humanizes your physical therapy clinic. So, if you're receiving a lot of praise from your patients, don't forget to say "thank you" whenever you have the chance.
Like this example: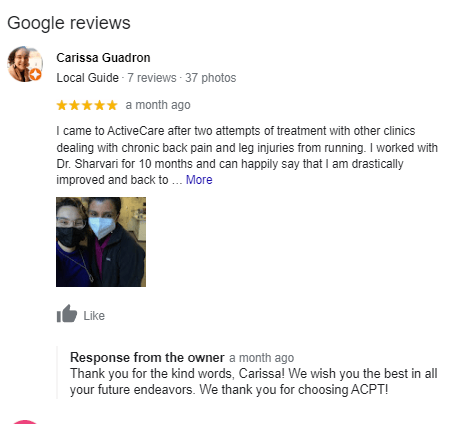 Answer queries about your physical therapy services
When patients are looking for information and can't seem to find it on your website, they'll ask questions.
As a physical therapist, being responsive is almost the same as providing great services to your patients.  That's why you should spend some of your time answering these queries and in return, you'll have more loyal customers and higher revenue.
Reputation Management Tools
Managing your online reputation can be a challenging task especially if you're doing it manually. No need to worry, here are some of the best review marketing tools that you can use:
Google Alerts
There are instances when people forget to tag or mention you in their Facebook status, Tweet, IG post, or Google review. But with the help of Google Alerts, finding unlinked reviews is made easier.
Here, you'll be able to see how often your previous physical therapy patients are talking about your physical therapy services, and also identify the platform they're using. All of those are for free! How cool is that?
Reputology
Another reputation management tool is Reputology. It helps you keep an eye on patient reviews, understand patient experiences (i.e. poor customer service, unfriendly staff, didn't meet expectations, etc.), and immediately respond to their concerns.
You can try their services with a free trial or get a subscription depending on the location you're targeting. If you want to focus on single or multiple locations, or if you're an agency that's handling different physical therapy practices, there's a plan made for you, too.
Mention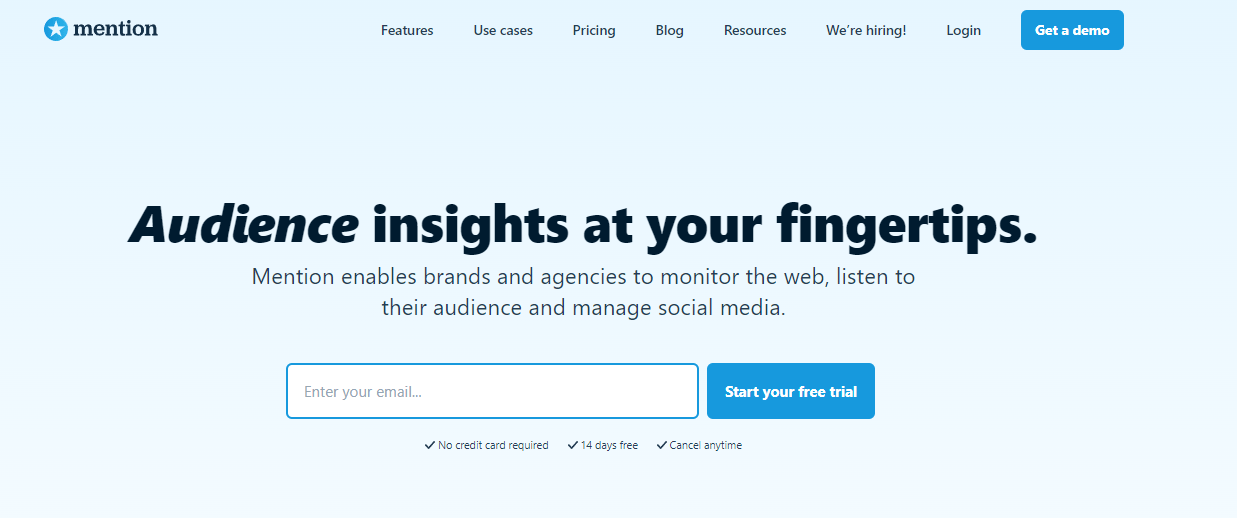 What's unique about Mention is that it contains a lot of features aside from managing your online reputation. Starting from social media and web monitoring down to conducting a competitive analysis of your brand for you to be aware of the online behavior of your previous customers.
Need help in managing your physical therapist's online reputation?
Conclusion
Reputation management for physical therapy practices takes a lot of patience and hard work before you see good results. So, if you haven't started yet, you should start catching up with these issues before it's too late.