Google Ads for Physical Therapists is an incredibly effective way to generate leads and bring in new clients to your practice. If you want to be at the top of Google's search results pages when users are searching for Physical Therapists near them, then Google Ads is the way to go! This guide will teach you how to optimize your ads to increase your leads and grow your business.
What Are Google Ads?
Google Ads are the very top spots on Google's search results that businesses can pay Google directly for. They get your ads in front of relevant customers when they are searching for businesses like yours on Google. Businesses only pay for results, like clicks to your website or calls to your business. A key benefit of Google Ads is that you have control of your advertising budget. You are able to set a monthly budget cap and you can pause or adjust your spending anytime.
For example,  below, are 2 Google Ads that pop up when you search for "physical therapist".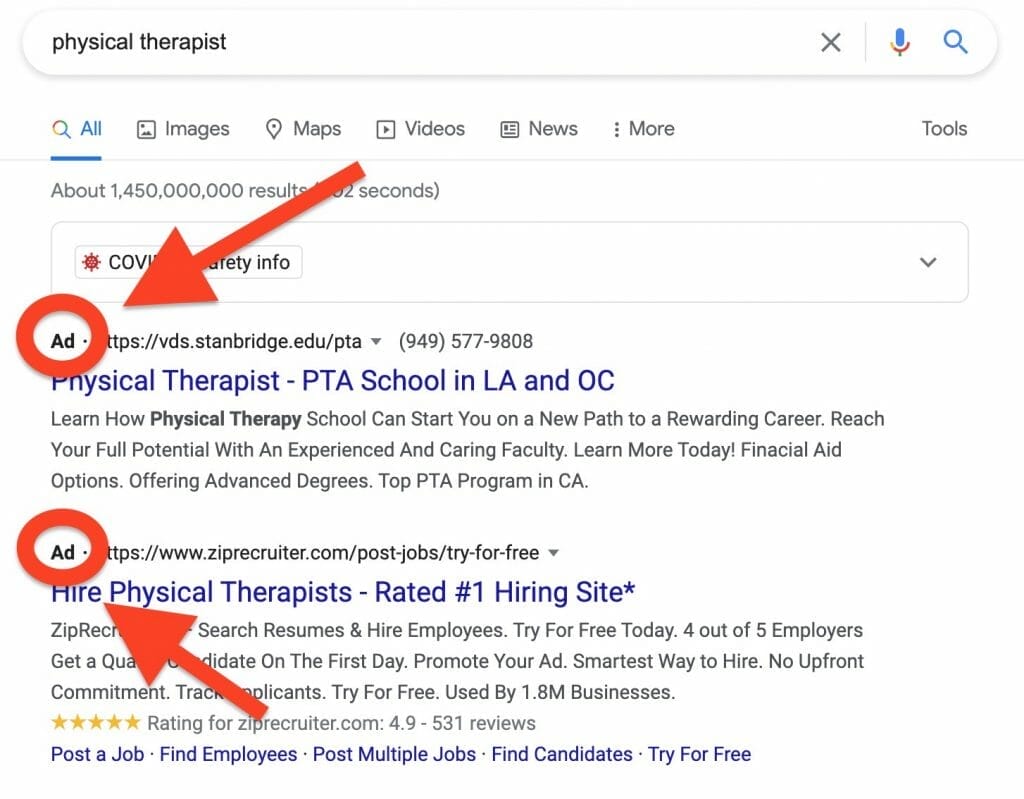 Why Google Ads for Physical Therapists?
Google Ads allows you to tailor your ads to reach potential clients in your area. You are able to manage and customize factors including, your ad schedule, desired keywords, and the location you wish to reach.
Google Ads allows you to filter keywords that you want to block your ads from showing up for. This will help you save money and generate more intentional clicks. For example, you can block keywords such as "assistant", "certifications", and "careers". These are keywords that are more associated with Physical Therapy Schools which is not something your ad is offering.
You are trying to target physical therapy patients, not physical therapy students.
Google Ads will help you grow your practice and will have a great return on investment.
Not enough time to run your Ad Campaign?
Creating Your Google Ads Account
In order to start your Google Ads campaign, you will need to create a Google account or be signed into one. You can create an account by visiting ads.google.com.
You will need to click the blue "Start Now" button.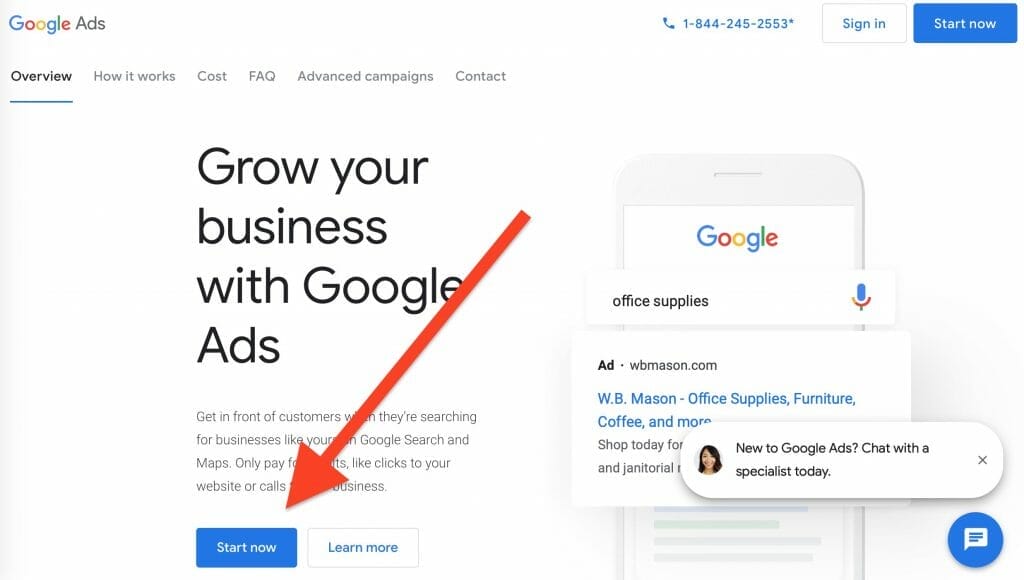 On the next page instead of selecting an advertising goal, select Switch To Expert. This will be in small blue letters at the bottom of the screen.
If you do not switch to Expert Mode you will be launched into a simplified version of Google Ads. Switching to Expert Mode will give you more control over the components of your ad.
After switching to Expert Mode, Google Ads will ask you to select a goal that would make this ad campaign successful. Instead, click the blue words "Create an account without a campaign".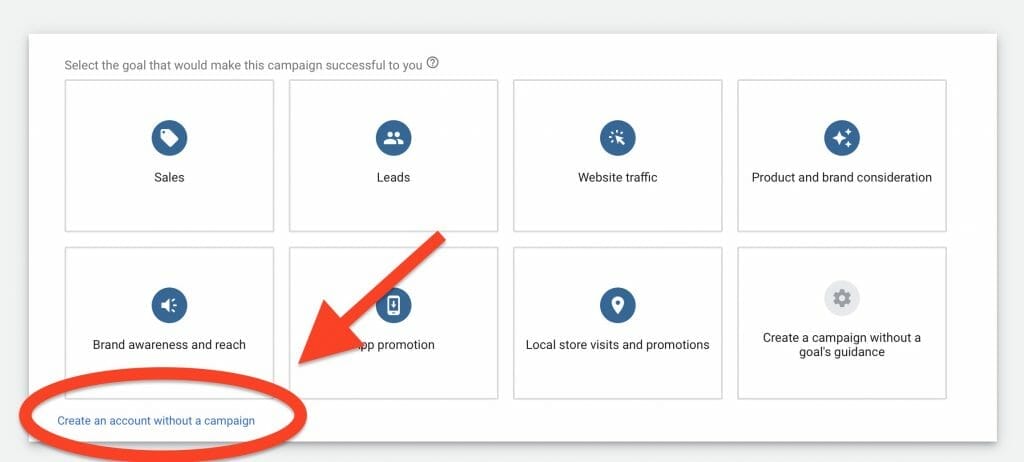 Next, confirm your business information.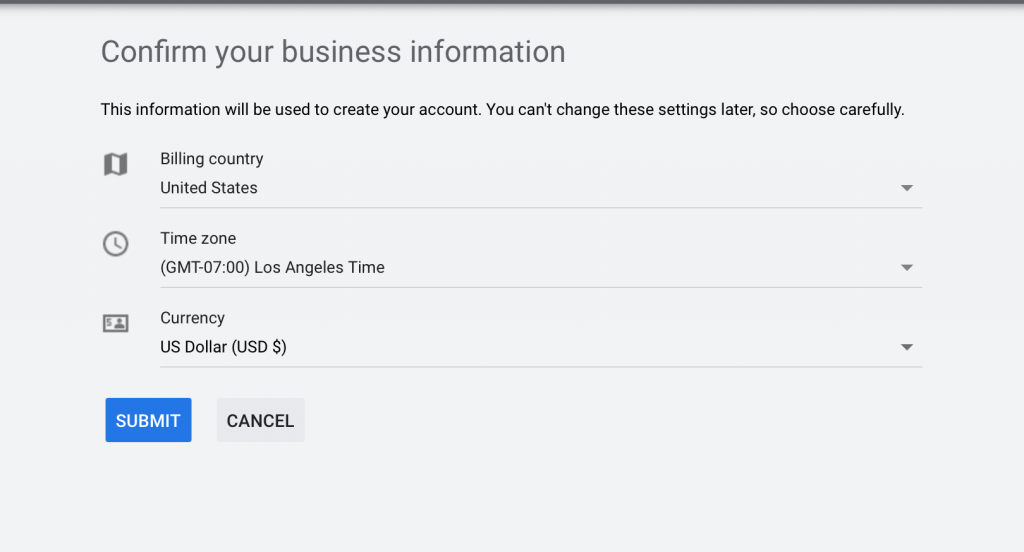 Your account is all set up and you are ready to start creating your ad campaign.
But first, let's talk about Landing Pages for your ads.
Landing Pages for Physical Therapists
A landing page is a specific page where people who click on your ad will land on. Unlike a homepage which is designed to be the home, the central hub of your website, your landing page will be about the specific niche/service that you provide (as stated in the ad).
For example, a physical therapist home page will cover everything from a little about the practice, to what services they provide. Whereas the landing page, will be about a specific service, ie: "Physical Therapy for Myofascial Jaw Pain".
When you are googling to buy a specific product: ie: Apple Airpods 2, the page when you click on the ad will send you to the Apple Airpods 2 landing page. NOT the Apple home page.
If that page sends you to the Apple home page, and you have to look around to find the specific product you searched for in the first place, you would probably leave.
The same can be said for your practice. Don't send people to your homepage, send them to specific service pages.
This exchange can include a special offer or information about your PT practice in return for providing contact information. Client contact information can include, name, number, email, and possibly phone number. For example, a physical therapist may offer a certain amount of a patient's first visit in exchange for their contact information.
Creating a Campaign for your Google Ads for Physical Therapists
Now that your account is set up and you are familiar with landing pages you can start creating your campaign.
Start by selecting the blue plus sign that says "Start Campaign".
Next, select "Search" as the campaign type.
Then you will select the results you want to get from this campaign such as website visits, phone calls, and/or app downloads. This will be different for every practice and how you wish to quantify success for your campaign.
But as a Physical Therapy looking to bring in more patients to your practice, website visits and phone calls may be best.

Conversion Tracking
Next, you can set up conversion tracking. To do so you will need to install the tracking code on your website. You will receive instructions in your Gmail if you wish to do this.
With conversion tracking, you receive instant feedback on the actions users are making. This helps you track conversions. For example, when someone makes a purchase, signs up for the email lists, or when someone submits a lead form. You can track conversions by tracking "Confirmation" pages or "Thank You" pages.
To set up conversion tracking you need:
A website with code access
A success/confirmation page URL + Conversion code
Not sure how to set up Conversion Tracking?
Campaign Name & Search Network
After you are done with the conversion tracking section, you need to create a Campaign Name.
After in the Networks section, you will need to deselect Display Network. ONLY have Search Network selected.
Next, select the start and end dates for your ads to run.
Ad Schedule
For your ad schedule, you can select the times to run.
Since you are just starting your campaign you can choose to run your ad schedule to ways:
Option 1: To start, you can choose to let your ads run 24/7. This method allows you to collect data such as when you are getting conversions and at what times. This will show you when you are getting the best results from your ads and the worst results from your ads. This can include, fluctuations in conversions, CPC bids, and in impressions. All of this data is valuable for optimization.

If you decide to go this route you can later go into your ad campaign and set the times where you saw your ads performing best.

Option 2: The second option is only letting your ads run during your office hours. This is because if your office hours are from 7 AM-5 PM a prospective client is highly likely to reach you. However, if a potential client does a search for your business or related keyword at 7 PM, they will likely not reach you and can become a wasted click.

If you decide to go with Option 2, once you have enough data and see the results you get at that time you can then decide to run your campaigns outside of your office hours. This will help your business get more volume.
Need help choosing the right Ad Schedule for your Business?
Location & Language
Now you will need to set your Location and Language.
Leave the Audience section as is.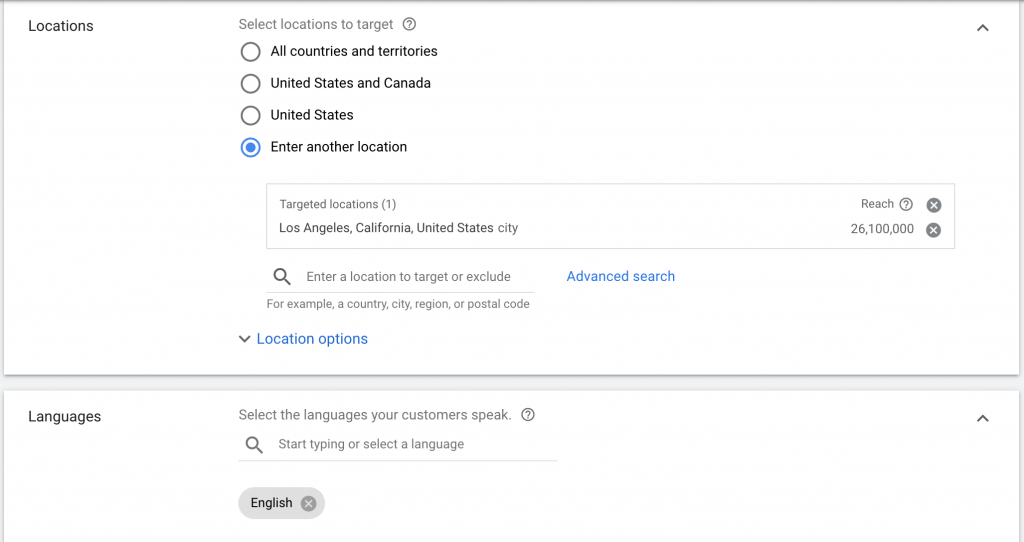 Consider using Google Maps Ads as a physical therapist to have your location's services listed over your competitors.
Budget & Bidding
First, set your average daily budget for your campaign.
Next, you will need to set your budget and bidding strategy.
It is important to be aggressive in your bid strategy.
A popular mistake with local businesses is that they bid too low. This results in low traffic volume.
When using Google Ads for Physical Therapists one thing to do is bid different based on locations. According to other physical therapy practices, after 5 miles people are less inclined to visit your office. This is why it is best to bid less for zip codes that are much further out from the location area you wish to target.
Bid adjustments are made to specific areas like zip codes or cities. You should bid higher for zip codes closer to your practice and bid less for cities further from your practice.
Need help with your Bid Strategy?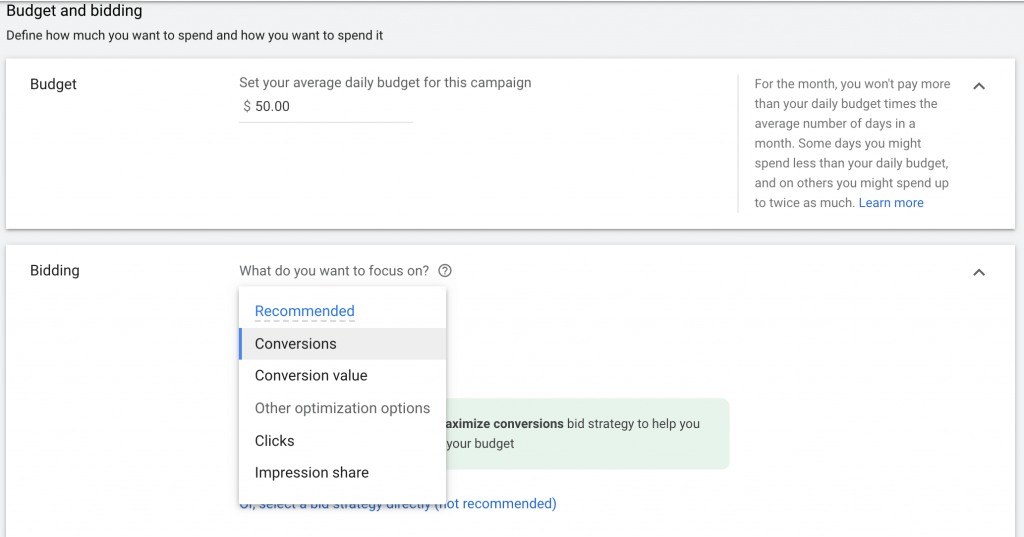 Now, under "Show More Settings" you will have the option to customize your ad rotation. Select "Do Not Optimize. Rotate Ads Indefinitely". This means that the same amount will be spent on each ad group until you can analyze which ad is performing better for your campaign.
Once your ad has been running for enough time you will be able to collect enough information and data to determine which ads are performing better. Then you can adjust the ad rotation manually.
Ad Extensions
Next, you will need to insert your Ad Extensions. There is no way to know when Google will use your ad extensions. That is up to Google's Algorithm. However, it is best to add them now: including ad extensions can get you up to a 15% higher clickthrough rate by showing more information.
Tests show that the larger your ads are the more likely people will click on your ads. Also, you want to provide potential patients with as many options as possible to grab their attention and better inform them.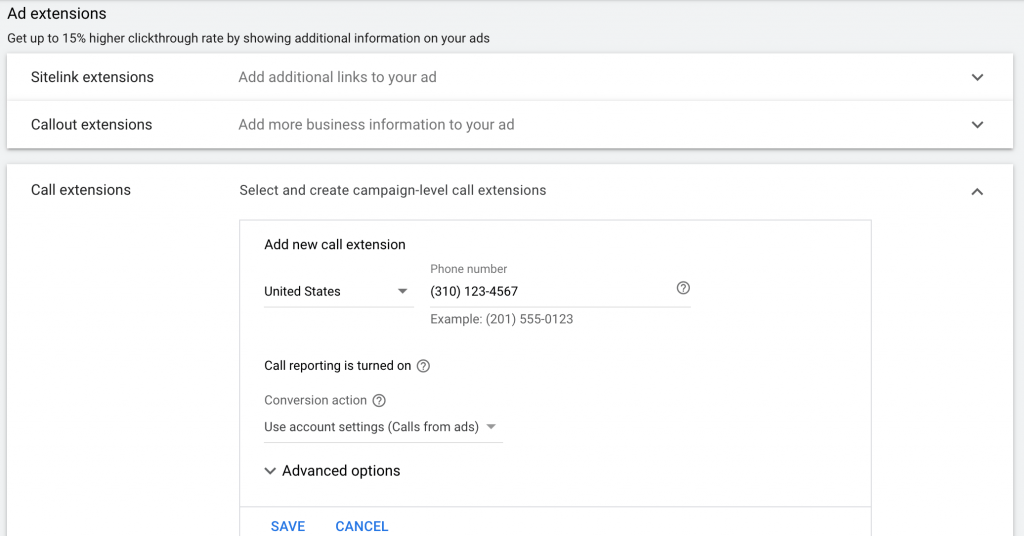 There are many types of extensions but some that may be beneficial for a Physical Therapists' practice may be site link extensions, callout extensions, call extensions, and lead form extensions.
Ad Group Name & Keywords for PT
An ad group contains ads and a set of related keywords.
Now you need to create an Ad Group name and the Keywords for that ad group.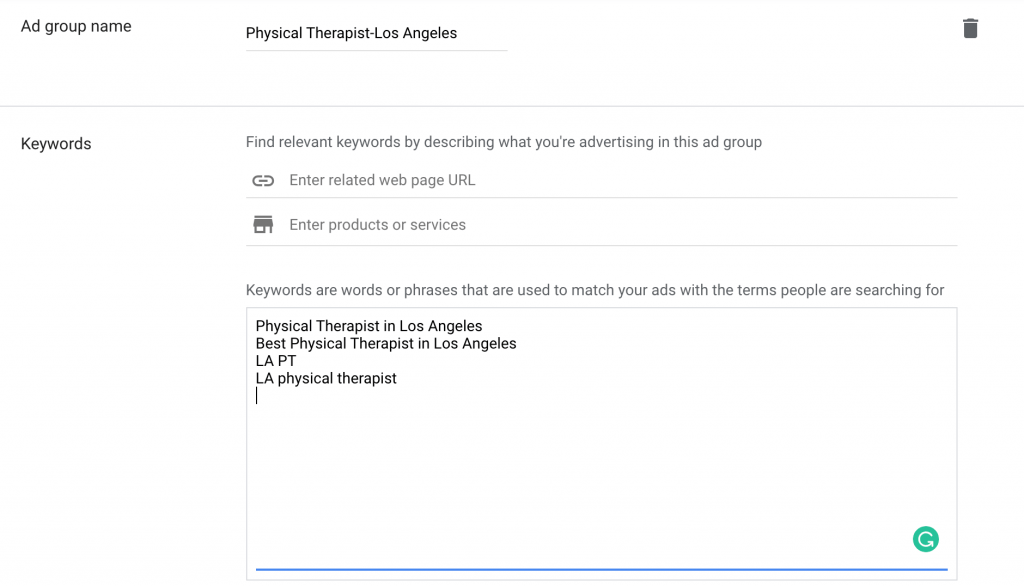 For the best results focus all the ads and keywords in an ad group on one detail, product, or service.
The Keywords are words or phrases that are used to match your ads with the terms people are searching for.
There are three ways to distinguish your keywords.
A Broad Match = Keyword (No quotations or brackets.)

A broad match does not require characters to be used around the keyword. Google will take that keyword and apply it to keywords that may be similar. For example, a keyword search such as LA physical therapists may also show up for best physical therapy in Los Angeles.

An Exact Match = [Keyword]

When applying the exact match method to your keywords, you will need to include brackets around your keywords. When using exact match the search terms need to have the exact phrase as the keyword.

A Phrase Match = "Keyword"

If you want to apply a phrase match to your keywords you will need to add quotations around your keywords. When using this approach the terms that people search for must include the exact phrase in their search but not only that phrase. For example, ads using the keywords "Google Ads for Physical Therapists" may also show up for searches like "Google Ads for Physical Therapists Guide."
Having trouble with your keywords?
Creating Your Google Ads for Physical Therapists
Now it is time to create your ads Google Ads for Physical Therapists.
First, you will need to set your Final URL and Display Path. The Final URL is the landing page your clicks will be directed to when they click on your ad. You should use a conversion-focused landing page. You should make sure your URL also includes a keyword for that ad group.
Avoid using your Homepage, About Us, Contact Us, and SEO page as your landing page. You won't get as many results if you decide to use these pages.
The Display Path is what is shown to users on the ad but it is not where the users will end up if they click on your ad.
Studies have shown that if you add certain keywords and at least one path it can increase your quality score.

Next, you will need to create your Headlines. You have the option to include 15 headlines, but Google will only show 3 per ad. Headlines #1 and #2 will always be showing, while headline #3 may or may not be displayed.
Headlines 1 and 2 should include things like company name, price, and/or promotion.
Including a price will help you stand out and will ensure that customers who are interested are going to be clicking.
Your headlines should also include popular keywords in your headlines and make them unique.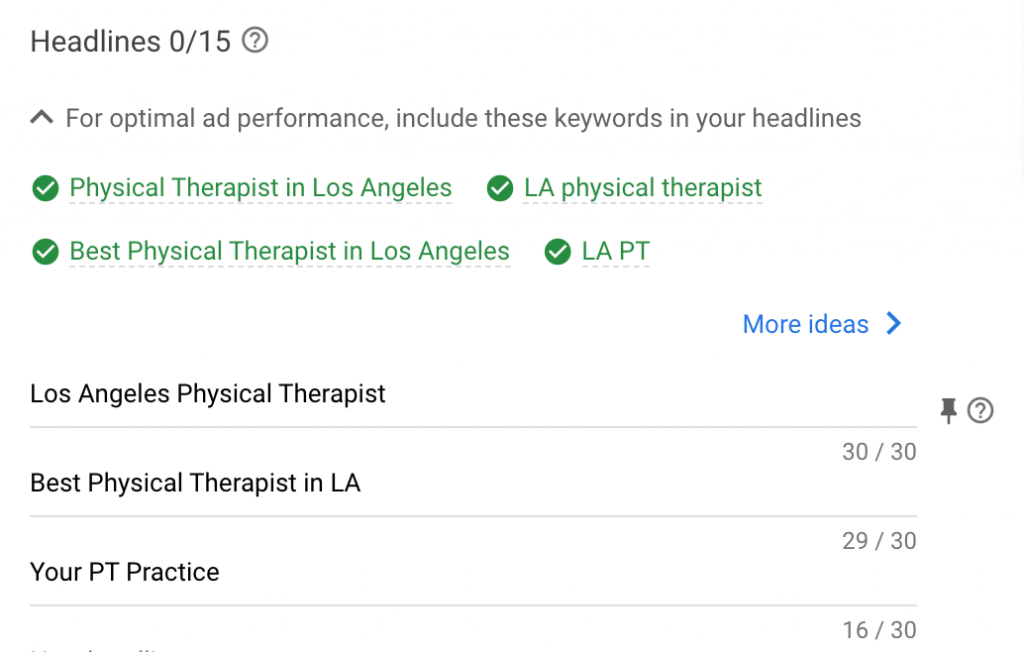 Next, you will need to write your ad description. Description 1 will always show while Description 2 may or may not show. Use credentials in your Google Ads for Physical Therapists ads if you have them, it gives users a larger incentive to trust your brand. For example, "300 Happy Patients" is a form of social proof and can be validated for potential clients.
You will be shown a preview of what your Google Ads for Physical Therapists will look like on a desktop and mobile device. You will also see your ad extensions in these previews.
Desktop Preview:

Mobile Preview: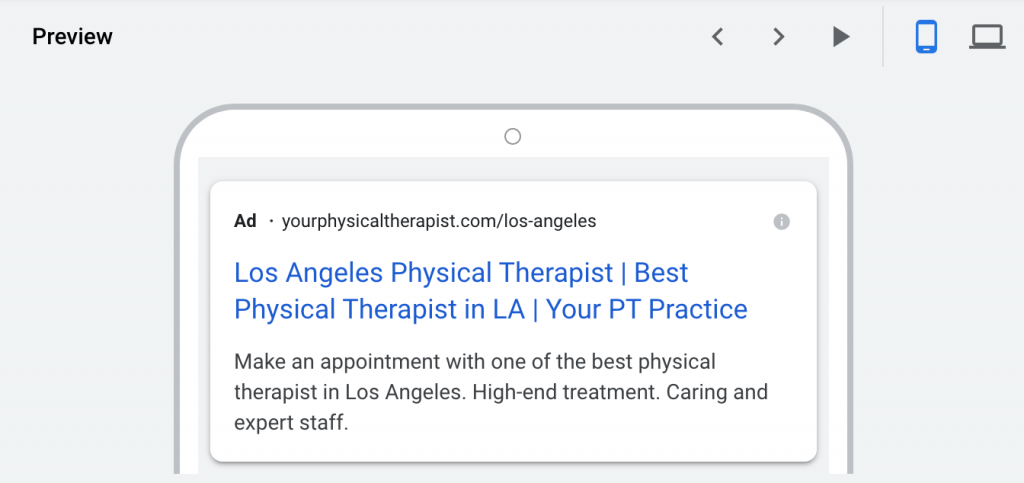 You will then be able to publish your ads.
To start running your ads you will need to enter your billing information. This is where you will be charged for any activity like clicks on your Google Ads.
Your Google Ads for Physical Therapists will not run immediately after being published. They will first need to be approved by Google.
If you need help with any of the previous steps for creating Google Ads or want to learn more about our successful case studies, visit our YoYoFuMedia page.
Important Things To Do For Your Ads
When using Google Ads, you should constantly be monitoring how your ads are performing.
With Google Ads, you can go back into your campaign and see the search terms your ads are popping up for.
A Negative Keywords list is a list of keywords that your ad will not show up for. You should be proactive and create this list before and continue adding to it after your ads are running.
Negative Keyword Lists Before Ads Run:
Before you launch your ad campaign you should create a list of negative keywords you know you want to block your ads from showing up. For example, as a physical therapist, you may want to avoid keywords like "at-home physical therapy techniques " or "physical therapists certificates". Someone who is searching for "at-home techniques" is not looking to schedule an appointment at a PT facility. Likewise, someone who searches for "certificates" may be more interested in Physical Therapy Schools.
You also want to block the names of local competitors before your ads run. If someone is searching for a specific physical therapy practice they likely are already invested in that practice and not interested in browsing. For example,
Negative Keyword Lists After Ads Run:
Once your campaign has already been up and running for a sufficient amount of time you can go into your keyword lists to see keywords that your Google Ads for Physical Therapists are showing up. If there are any more keywords you wish to block you can add those to your negative keyword list.
Adding Negative Keywords to your Google Ads for Physical Therapists Campaign
First, you will need to select "Keywords" on the left bar of your Google Ads account.
Then you will need to select "Search Terms". This will show you all the search terms your ad has popped up for.
To add keywords that you want to block your ad from showing, click on "Negative Keywords" on the left bar. Then click the blue plus sign on the top left or middle of the screen.
In the box, enter all the keywords you wish to add to your Negative Keywords list.
This will help you save money by filtering out any undesirable keywords.
So, if you want your Physical Therapy practice to be listed at the top of Google's search results page, then Google Ads for Physical Therapists is the way to go! This will help generate more leads for your practice and connect with clients.
Want to see how we helped an Irvine practice gain 26 new patients in just 1 month? We can do the same for you! Read more about it here!