In this step-by-step guide to Facebook Ads for Orthodontists, you will learn all you need to know to bring in a new list of patients. Starting to market your orthodontic practice online can be very confusing and competitive. This guide will break everything down so you can start building your patient list today.
Don't have time to learn?
Basics of Facebook Advertising
Before you begin to create ads that will convert, it is important to understand the structure of Facebook ads. To begin you must create a Facebook Business Manager account. With this account, you can create ads, filter out audiences, and monitor how your ads are doing. This is where most of the work will be done to create a successful orthodontist ad.
Pixel
Once your account is created you need to create and install a Facebook Pixel on your website. Pixel is a code that tracks all visitors to whatever site you install it on. It is possible to create multiple Pixels so you may grab traffic from your site, a landing page, and a thank you page. Your ads will be more effective overall by installing Pixels.
By running your Pixel on your website, BEFORE you create any ads, you will save valuable ad spend. This is because the Pixel is collecting the data of visitors to your website who are already interested in your services. With this data from your Pixel, it is possible to create an audience of these visitors and target them in your ads. To learn more about Facebook Pixel and how to install it, visit this guide.
Types of Facebook Ads
The 4 main types of Facebook ads are:
Link Clicks
Web Conversions
Post Page Engagement
Video Views
You can leverage all these for different purposes in your orthodontics practice. However, there are some recommended practices for each.
Link Clicks
Running ads for link clicks means that Facebook shows your ad to who is most likely to click on it. These are typically not the best long-term ad type to run. This is more about gaining data to learn who is clicking on your ads and interested. If you have had your Pixel running and have already collected a decent amount of data, there isn't a need to get started with link-click ads. Link click ads are most useful when used after testing out conversion ads. These allow you to broaden your audience and gain more information on people you may retarget.
Web Conversions
Web Conversion ads are when someone completed the desired action of your ad. This can be filling out a form or booking an appointment. You get to choose from a list of conversion types on what you would like the ad to be optimized for. This allows Facebook to display your ad to people who are most likely to convert. To begin, go to the business settings page. Then click on Data Sources and Custom Conversions.
Click add new custom conversion, and fill out the form. Insert name, which Pixel to use, and standard event for optimization.
It is highly recommended that you begin your Facebook ads for orthodontists' journey by using conversion ads. Your ads will be shown to people who are the most likely to convert at first, and as time passes you will need to restrategize. Your audience has to become broader if your conversions slow down, and that is when you can run link click ads to cast a wider net. That way you have new people to retarget with more conversion ads in the future.
Post Page Engagement
Post Page Engagement or PPE ads attempt to target people who are most likely to engage with your posts. This will boost impressions, likes, and comments, but overall is
not
worth it. Even though the inflated likes and comments look nice, this is a vanity measure. Meaning it is not worth it to local orthodontic practices, because this is simply to gain likes and not gain patients.
Video Views
These are similar to YouTube ads, where your video will be shown to those who are most likely to watch it. To Facebook, a view counts as someone who watched your video for at least 3 seconds. These can be great because those who aren't interested easily filter themselves out by not watching your video. Any people who watch about 65% of your video ad are worth retargeting with another video ad, a link click ad, or even a conversion ad.
5 Steps to Creating Facebook Ads for Orthodontists that will Convert
The 5 things you need to create an ad to convert:
To target the right audience
Irresistible offer
Compelling ad copy
Eye-catching creative
A relevant landing page
To get started, create an ad in your business manager account. You will run multiple so it is best to keep it as organized as possible by naming each ad appropriately. The easiest way to do so is by including the type of ad it is and the audience/demographic you are targeting in the title. Here is how you can abbreviate your ad types:
LC= Link Clicks
WC= Web Conversions
PPE= Post Page Engagement
VV= Video Views
An example of naming your ads can look like: LC Women 20-60, WC Men 18-30.
Does this seem like it will take away too much time from helping patients? 
Targeting the Right Audience
You are running these ads for your orthodontistry to obtain new patients, so it is super important to make sure you are showing these ads to people who are interested. Facebook gives you 3 different audience types you can choose from Custom, Saved, and Lookalike.
Custom audiences are when you provide the data to create an audience. This can be from your current patient list or from your Pixel. This way you can target those who are already interested in your services. Even if you don't plan on running ads to current patients, it is still important to upload your list anyway to create the most effective ads.
Saved audiences are based on demographics. This includes age, gender, location, and interests. For example, it doesn't make sense to show your ads to 13-year-olds or display them nationally. A 13-year-old will not have an interest in your ad and since you are a local orthodontic practice, you wouldn't want someone in a different state to see your ad since they won't book an appointment.
It is best to target a 5-10-mile radius around your practice to attract the most amount of potential patients. If you are located in a rural area with a low population density, it is best to target a 10-mile radius. If you are in a large overpopulated city, 5-miles would be best.
Interests are another aspect of saved audiences, but they are not recommended. These will narrow down the chance of targeting potential clients in an odd way. If you were to put interests in orthodontistry, you may be targeting other orthodontists or
dentists
.
Lookalike audiences are based on data you already have. Facebook creates a similar audience to those on your patient list or those from your Pixel. If you decide to use a lookalike audience, it is best to set the audience size to 1-2%. Anything larger will be a waste because it will display your orthodontic ads to more people who are least likely to be interested.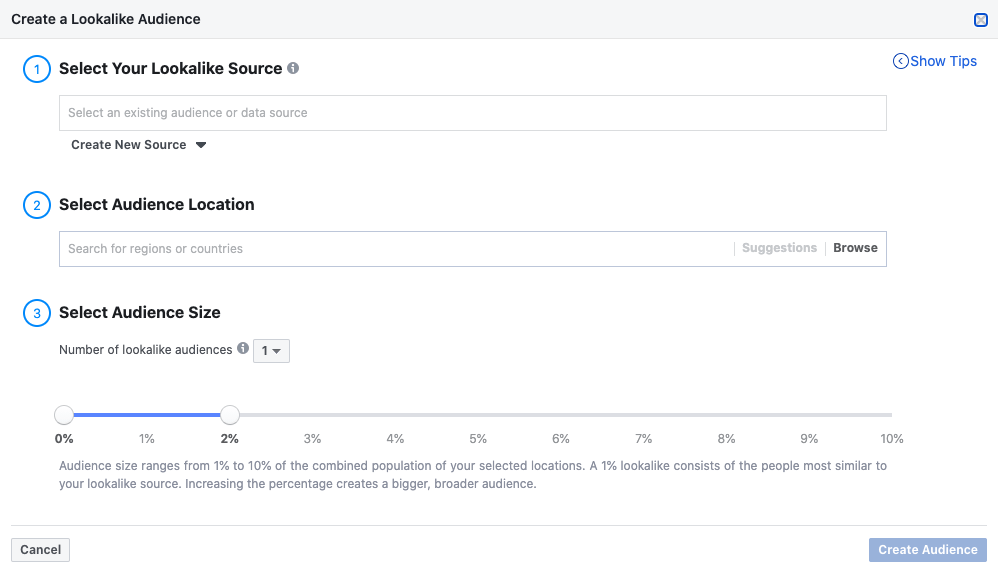 Placement
The placement of your ads is very important to their success. You should manually choose the placement of your ads rather than let Facebook decide. If you left it up to Facebook they will show your ads on Messenger, the marketplace, on stories, and Instagram. 
It is best to limit your placement to Facebook News Feed.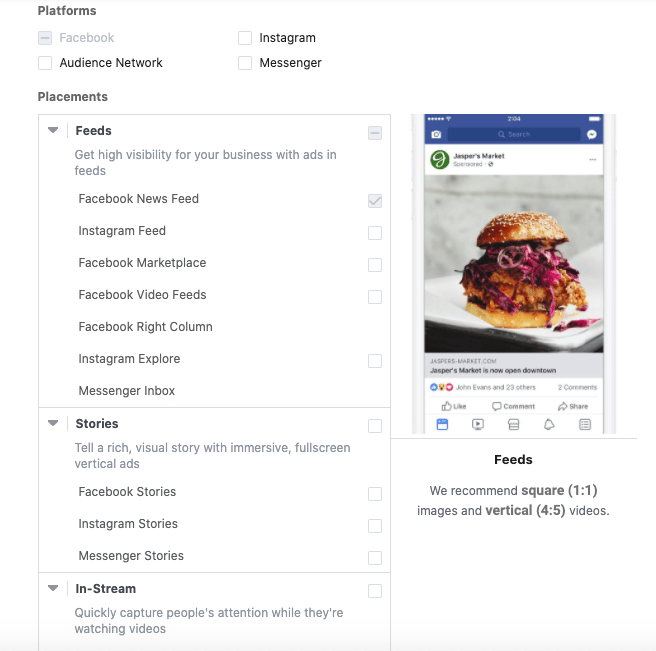 Irresistible Offer
People are on Facebook to see their friends and family, not to shop or to book appointments. You must give them an offer they cannot refuse in your Facebook ads for orthodontists. It must be something great that will catch their attention. Your offer is ultimately what will draw people to your ad, so it can't be something as little as 10% off of a service. 
If you can't offer a discount to potential patients, then Google ads may be your best bet. 
Captivating Ad Copy
Once you have your deal, you need to focus on the ad copy or the language of your ads. The way you decide to word your ad is very important. Attention, interest, desire, and action are the 4 things to remember when writing your ad copy. 
Your offer got their attention, and now you need to focus on keeping it. As for the "interest" aspect, this is where you can illustrate the benefits of your offer. You can keep viewers desiring your offer you can highlight other reasons why your deal is so great. 
Lastly, action refers to a call to action (CTA). This means telling viewers what to do next. It can just be "Sign up now," or "Redeem your deal today!"
In this example, they highlighted the fact that they were voted the best dental office for braces and have Harvard-trained orthodontists. They even lead with their CTA, which covers all aspects of decent ad copy.
Eye-Catching Creative
You need a great visual to catch the eyes of potential patients for your orthodontic practice. You have 3 visual options: image, carousel, and video. With any of these, it is important to use photos you took or photos that were taken of you, your practice, and your employees. 
Facebook users appreciate it when they can put a face to the ad. It makes it more personal. If you were to create an image ad, make sure it is 1200×628 pixels. You can edit the sizing in Canva if your photos do not meet the pixel standard.
As for carousel ads, you can include multiple images each being 600×600 pixels. Make sure that each image has the same headline, description, and URL. By keeping everything the same, your ad will be bigger. With different descriptions, headlines, and URLs, Facebook tries to show all of them. Which means smaller writing and a smaller ad. 
Video ads are for you to showcase your practice and services. However, if you or your employees are camera shy there is no need to worry about them. If the video doesn't come through as charismatic, it will not do well and it would be best to stick to an image ad.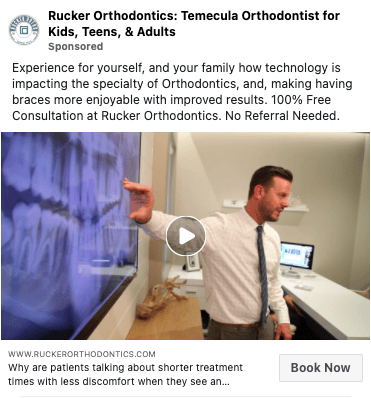 Landing and Thank You Page 
A landing page is where someone ends up after clicking on your ad. A thank you page is where someone ends up after completing the desired action on your landing page. It is super important to have both of these set up properly as they are important to the success of your ads. 
Your landing page must be relevant to your ad. That means you should use a similar ad copy and visual style, as well as the same deal. You can't offer a free braces consultation on your ad, and then take someone to a landing page of Invisalign. Facebook values relevance, so it is important to make sure everything ties together. 
Even on your thank you page, you should let them know they have received the deal you offered. 

Source: massihortho.com
In this landing page example, you can see the orthodontist, request a complimentary consultation, look at reviews (social proof of your work), look at other services, and see where she is located. The visual style of the landing page is consistent throughout as well. 
You can create your own landing page on ClickFunnels, LeadPages, or through Elementor for WordPress. If you need more help on this process or want to learn more about our services, visit our page here.
Budget
With your budget on Facebook ads, you can choose between a lifetime or daily budget. Facebook will not go over whatever number you limit it to.
You can get started with a budget of around $600 to begin seeing your first conversions. For consistent leads, you should budget at least $1000-$2000 per month (or more depending on how competitive your city is. If you have been running your Pixel and accumulated a good amount of data, you will be able to spend less on your ads. Make sure to monitor them to know if they are working. 
Let your ad reach at least 1,000 people before you make any decisions on altering or stopping the ad. The more people your ad is shown to and data you accumulate, the cheaper your cost per lead is. 
Recap on Facebook Ads for Orthodontists
You are now prepared to being your Facebook Ads for Orthodontists journey. It can be the best digital marketing strategy you use to bring in more orthodontic patients. 
Remember to get that Pixel up and running so your ads can be as effective as possible. Once you have enough data, create your first web conversion ad following all the advice outlined and you will be on your way to growing your patient list.
If this is still not enough information or too much information that you feel overwhelmed, don't worry. Our experts have you covered