Don't have enough time to design your own physical therapy website? Or do you have little to no experience in coding? In this article, we'll share with you 10 of the best physical therapy website templates that will help you save time in designing and at the same time, make a good impression of your brand!
But before we proceed with the template ideas, it's important to know the things that make up a good physical therapy website.
What makes a good physical therapy website?
There are lots of factors that contribute to a good website from functionality down to design. In this section, we'll tell you the qualities that your physical therapy website should have to convert page visitors to your actual patients.
1. Highly-functional
A website is considered functional when an individual visits your site and they can easily navigate it without a hassle. For example, if they click on certain elements on your physical therapy website, all of them should be working according to their functions. Having a functional website is critical if your want your page visitors to stay on your site longer and have a positive impression of your brand.
3. Mobile-friendly
Did you know that more than half of the global website traffic comes from mobile devices? It's because mobile phones are the most convenient device to fetch information with just a snap of a finger. With that in mind, you have to make sure that your physical therapy website is responsive not just to desktop users but to mobile users as well.
You don't want to miss the potential traffic your physical therapy website might get, right?
4. Uncluttered layout
Too many elements on your site can be one of the factors why some of your page visitors immediately leave your site. To prevent that from happening, only keep the ones that you think are necessary on your site. For example, you could categorize some of your physical therapy-related content inside a hamburger menu or display more info only when a page visitor clicks the drop-down button of a text.
Consider implementing Google Ads for your PT practice if you want to increase traffic to your webpage.
5. Distinct call-to-action buttons
CTA buttons guide your page visitors to take action toward your physical therapy website. Here are some of the qualities that your CTA buttons should have:
action-oriented text with a sense of urgency (e.g. Schedule An Appointment, Call Now, Subscribe Now)
contrasting color buttons
2-5 words
write in the first-person point of view
proper placement
Additionally, you can place these CTA buttons on your social media pages, including LinkedIn for Physical Therapists.
6. Satisfies search intent
Satisfying searcher intent is the primary goal in search engine optimization. So, if a person clicks on a site and realizes that it doesn't have the information that he or she is looking for, they are more likely to abandon it without finishing action towards that site. Always keep in mind that the more relevant content you have on your site, the higher the chances of your page visitors converting as your patients.
Types of Search Intent
Informational search intent

People who have a specific question in mind. Their search terms usually start at "how to" or "why"

Navigational search intent

These are people who already know what they are looking for. So, they add a brand along with their chosen search term (e.g. "select physical therapy")

Transactional search intent

These are the type of people who are one step closer to becoming one of your physical therapy patients. Some of the transactional queries may start with "where is the best physical therapy clinic near Florida"

Commercial search intent

This type of search intent is commonly used by individuals who have high intentions of looking for the best physical therapy in their area so they are evaluating their options. One example of keywords that people with commercial search intent go for is "affordable physical therapy services."
Searching for blog topic inspirations for your PT clinic? Check out our blog post on Physical Therapy Blog Ideas to learn more.
7. Safe and secured site
An SSL certificate provides an encrypted connection to a website which helps hide valuable data from your page visitors. If your website doesn't have SSL yet, your page visitors risk getting their data stolen by hackers or phishing scams. Prevent your site from hackers by installing an SSL certificate on your physical therapy website.
After learning the must-have qualities of a PT website, you should also have an idea of how to maintain a good reputation for your physical therapy brand. Check out our blog post on Reputation Management For Physical Therapists to learn more.
Interested in creating your physical therapy website but don't have enough time?
10 Physical Therapy Website Templates
If you don't have enough time to design your own physical therapy website, there are tons of free and paid templates you can use. Most of it already has built-in functionalities you just have to choose which of those you need the most. Here's a list of PT website templates you could try:
1. Physio
Themeforest has thousands of WordPress themes and website templates that you can use for your physical therapy website. One of them is Physio which has a 4.8 rating and more than 3,000 downloads. It is built for physiotherapists who want to create their own websites that are highly responsive on all devices, compatible with multiple languages, and lets you use more than 20 custom widgets including social media icons, Google Maps, call-to-action buttons, and more!
What sets this apart from other templates is that it comes with a premium appointment booking calendar that will help your patients plot their own schedules. You can get all of those features for only $59!
2. Physio Plus
Another physical therapy WordPress theme that's customizable is Physio Plus. It has lots of key features such as 9 pre-designed service pages, compatibility across different browsers, Mail Chimp-ready, and easy shortcodes like accordions, alert boxes, list-style, etc.
Other than that, it has a custom pricing table and a filterable gallery which helps you categorize your physical therapy-related images in an organized manner. With just $49, you get 2 premium homepages, choose from more than 10 inner page designs, and more!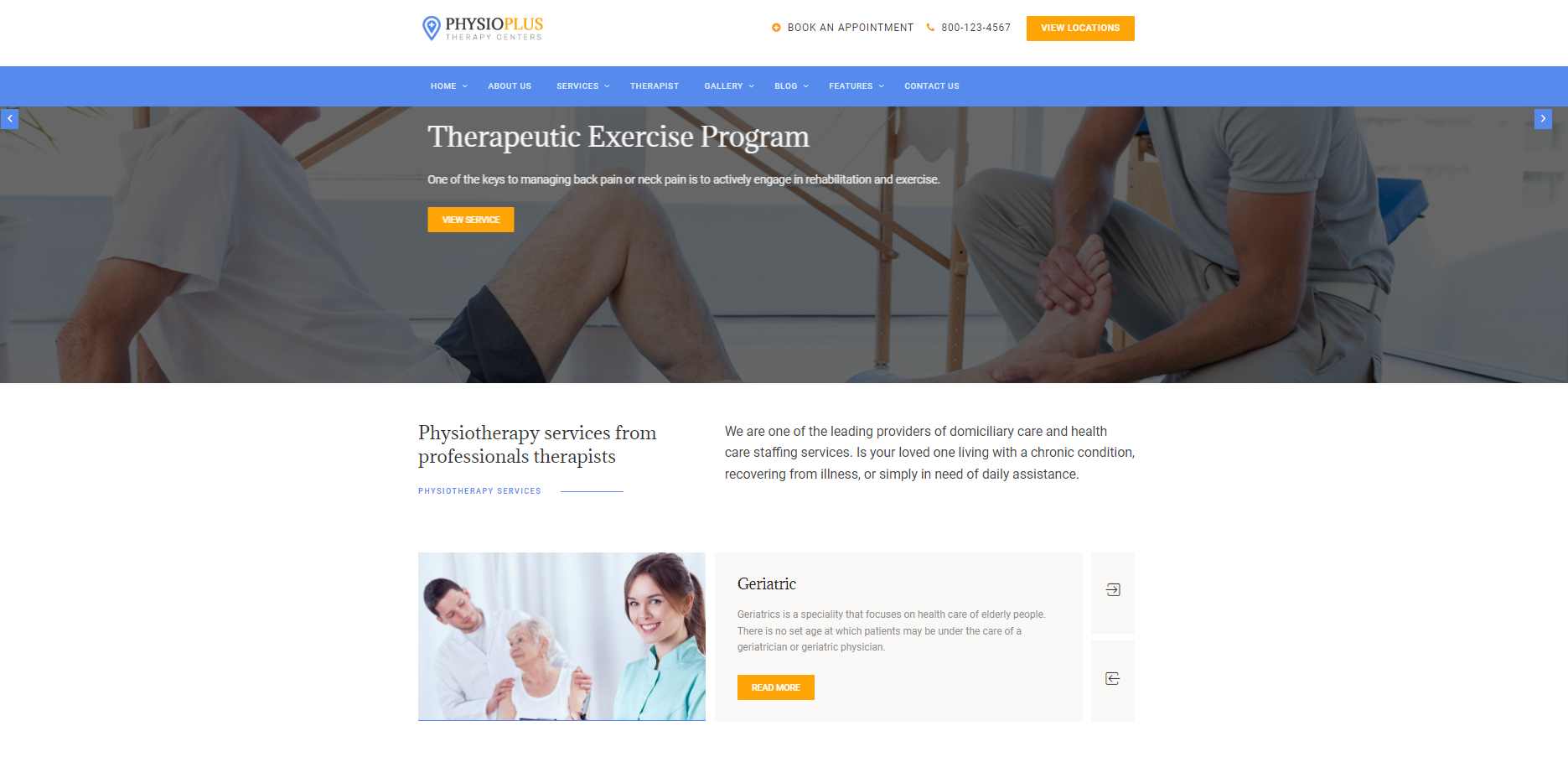 3. Jian
Jian is a lightweight website template that has 2+ Homepage Variations, a Right-To-Left (RTL) feature that allows Hindu and Arabic languages easier to read, FontAwesome & Flaticon integration, a customized slider, W3 valid, and is built with Bootstrap 5.x and Sass. You can get those features for your physical therapy website with this template for only $17!
4. Doxwell
Doxwell is another WordPress theme that you can use for your physical therapy website if you want something that's quick and easy to install and at the same time has a modern touch. Some of its key features include detailed documentation and video guides to help you set up and customize the template, drag and drop page builder, compatibility with Contact Form 7, and a one-click demo install which helps your site to get running in just a few minutes!
Aside from that, it's also WPML & translation ready and gives you tons of Google web fonts to choose from for only $59!
5. Resox
Resox is a website template that comes with the essential features needed when establishing your online presence through creating blog posts, and other pages on your physical therapy site. This includes 2 homepage variations to choose from, retina-optimized images, a parallax scrolling effect (2D illusion), built with a bootstrap framework, has clean code, and perfectly fits any device!
It also has quick and professional support which is great if you are having issues creating your site. You can experience all of those features and more for only $17!
Want to know which features should be in your chosen physical therapy website template?
6. Wix
You can also find physical therapy website templates on Wix. What's unique about this template is that you can see how your website will look on both mobile and desktop versions while editing.
Apart from that, it gives you plenty of space to highlight your physical therapy clinic's services, and testimonials and even edit the FAQs page. You just have to create an account and you can have access to all of those features for free!
Desktop version:
Mobile version:
7. Physiotherapist
If you are looking for a WordPress theme that has sophisticated built-in extensions, check out Physiotherapist. It is made with a fully responsive design that's easy to customize, built with Redux framework, has a Pixel Form Builder plugin, website animation effects, and a WPBakery page builder plugin which doesn't require you to have programming knowledge to create the layout you want!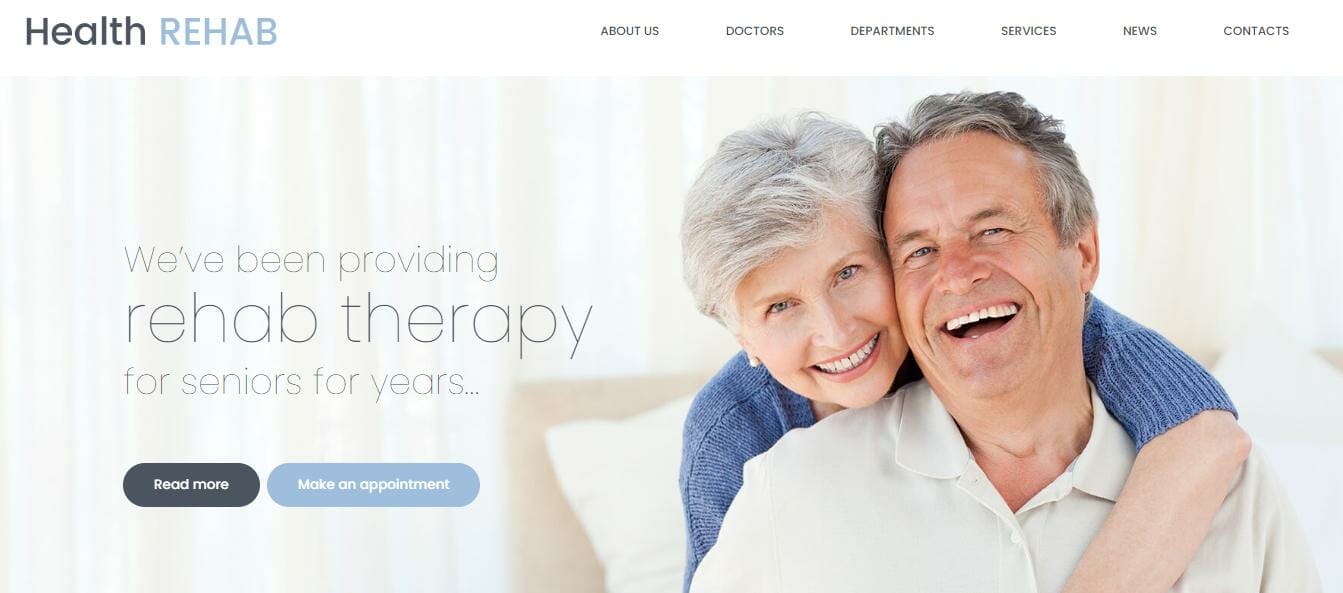 8. HouseMed
Another WordPress theme that's perfect for increasing your physical therapy website's rankings is HouseMed. It has a 4.3 rating and is packed with medical and health-related layouts. Not just that, it also has amazing features such as 8 pre-made homepages, one-click import, a fast support team, and a free WPBakery Page Builder Plugin.
It's also WooCommerce ready which makes it easier for you to sell products that your physical therapy patients might need for their recovery (e.g. walkers, crutches, heel inserts, grip devices, etc.). Get this template for only $69!
Also, learn about even more different marketing tactics for your PT clinic!
9. Dr. Changes
Dr. Changes is an Elementor Medical WordPress theme that doesn't require you to have coding experience! It has 3 pre-made homepages, comes with a patient booking form, various blog style layouts (grid, list, grid flip, overlay, and hover), a free consultation page, high-speed performance, and is mobile responsive which is suitable for your physical therapy website! Get these outstanding features for only $49!
10. MotoCMS Physical Therapy Website Design
MotoCMS is a professional website builder company that helps you create your PT website without a hassle. They have this Physical Therapy Website Design that's 100% responsive, has Google Maps integration, 24/7 support, a convenient admin panel, and a built-in media player where you can add photos, videos, and music to your physical therapy website!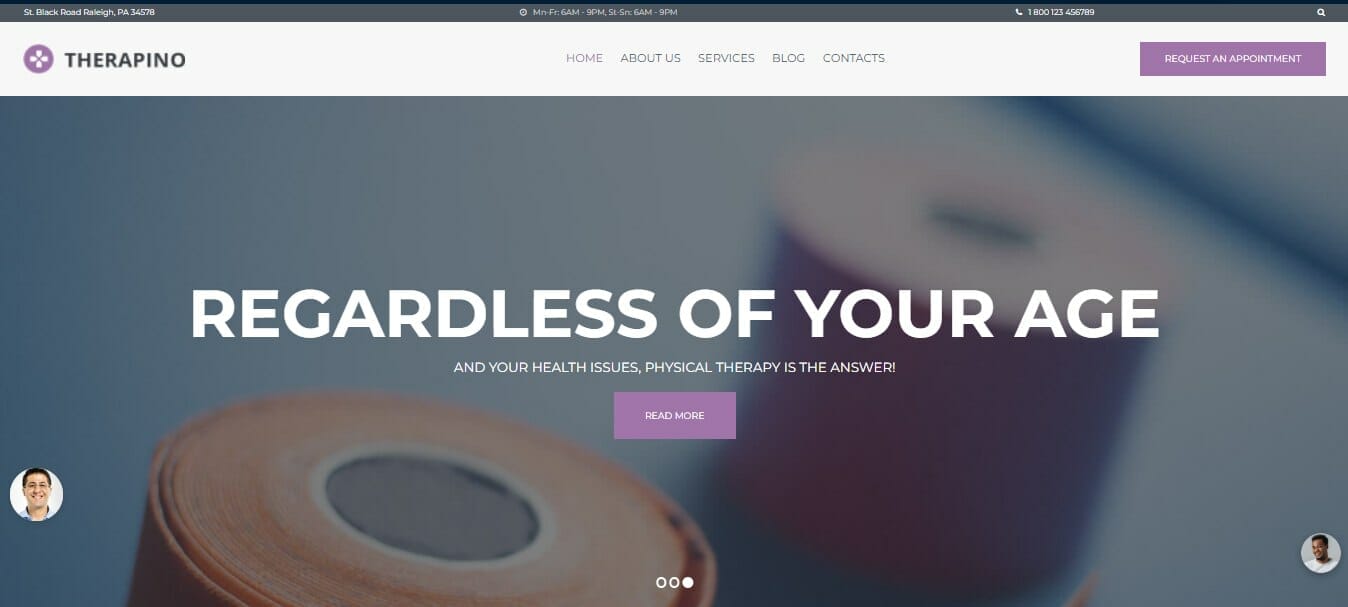 Once you're done designing your physical therapy website, the next thing you should do is track its performance to see if your marketing efforts are paying off. Check out our blog post on Google Analytics For Physical Therapists to learn more.
Want us to create a physical therapy website for your clinic?
Key Takeaway
Creating your physical therapy website from scratch can be time-consuming and stressful. Although you have plenty of room for creativity if you do it on your own, it may lead to frustration if the end product isn't how you pictured it. With the use of pre-made templates, you'll save more time thinking about your design, and focus on making developments to your site.