There's false lashes, then there's Doe
Eurocentric beauty standards are defined by sharp and defined features, whether that be in the eyebrows, cheekbones, or jaw structure. There is no doubt that these trends have dominated the beauty sphere, encouraging people to contour their face and give the illusion of a more defined complexion. However, another trend has also dominated the beauty industry, which includes full and long lashes to give a more dramatic effect. With this trend comes many brands that work to fulfill this desired look, including many popular lash companies such as Lilly Lashes, House of Lashes, or Velour Lashes.
However, because those lashes work to fulfill the goals of a Eurocentric beauty appearance, it leaves little room for people who have smaller eyes or lid space. In the case of these style of lashes on Asian eyes, they can become a little overwhelming and dramatic because they are not catered towards those who have smaller eyes. Asian beauty has always been on the side of emphasizing natural beauty and bringing out a beauty from within, so dramatic eyelashes have never been on their repertoire. Thus, it has been difficult for Asian eyes to find the right pair of lashes that fit comfortably and look beautiful, while elongating the eyes and providing the desired effect of long and luscious lashes.
However, the emergence of the false eyelashes trend has intertwined with Asian beauty in a brand that has reimagined what it is like to wear them. Doe Lashes is an established lash brand that works towards bringing that extra flair to any makeup look without being too overwhelming on Asian eyes. Their entry into the world of lashes has changed the lash game completely for those who need a comfortable pair of lashes that fit all their needs.
We explain why Doe Lashes' branding is so successful in attracting an extremely loyal customer base. To understand Doe Lashes' appeal, we need to talk about the history of false eyelashes first.
But first, what are fake eyelashes?
False eyelashes, or "falsies," are a strip of hair, typically made of synthetic, human, or mink hair, that is applied onto the natural lash line to enhance the eyelashes and give it a fuller appearance. This is not to be confused with eyelash extensions, which are extensions of the eyelashes by gluing individual false eyelashes to the natural lash. These extensions usually last for a few weeks and can withstand water, whereas false eyelashes are not typically waterproof and are removed/reapplied daily.
The main idea behind the obsession with longer lashes was that lashes get shorter with age. However, another idea behind the popularity of longer lashes dates back to ancient Rome, when the idea of longer eyelashes was associated with being chaste. Author Pliny the Elder had stated that excessive sex contributes to losing more lashes, so by keeping lashes long, it would prove their chasity. This exclamation, although false, encouraged many women to strive for longer eyelashes.
History of False Eyelashes
The trend of fake eyelashes actually dates back to the 1800s, when women would actually get them implanted by needles onto their natural lashes. The actual "creator" of natural lashes is debated, but the trend really became popular in 1916 due to Hollywood. Director D.W. Griffith suggested that the actress in the film Intolerance to be more dramatic and "supernatural." Thus, he requests that the wigmaker cut human hair and glue them onto her lashes with spirit gum. Of course, the idea did not translate very well and the actress came in one morning and had her eyes glued shut due to the lack of advances in beauty at the time.
Throughout the following decades, some people, mainly men, were quite skeptical of the false eyelash trend. However, through Vogue and the power of Hollywood in the mid 20th century, false eyelashes became a stronghold in the beauty industry, with iconic figures such as Marilyn Monroe boasting a nice strip of false eyelashes. As lashes were beginning to be made of synthetic material at this time, they were much better quality and more pleasing than its predecessor. So much so that some lashes today are still made of the same material.
Image Source: doelashes.com
The trend of false eyelashes continued through the 50s and 60s, but eventually died out towards the '70s and '80s when women boasted a more natural makeup look. However, from the 90s to the present, false eyelashes have come back with a vengeance and are now even more popular in mainstream culture. Drag queens have taken the trend of dramatic lashes to a completely new level, and false eyelashes look to mimic the trend in a more wearable way.
The Thing About Doe Lashes
Doe Lashes provides a different approach to the trend of false lashes but nonetheless is effective in making beautiful lashes that are more appealing to Asian audiences. Asian eyes are shaped differently, and some Asians have monolids which further decrease their amount of lid space. Thus, finding lashes that suit Asian eyes is not an easy feat, but Doe Lashes has made the process even easier by designing lashes that are more suitable for Asian eye types.
Furthermore, the brand was created in order to provide a more comfortable experience for those who wear false eyelashes. Strip lashes that are glued onto your natural lashes are not the most comfortable thing in the world. Sometimes the lash band is too thick and stiff, making it uncomfortable. Or oftentimes, the corners would be too hard to attach to the inner and outer corners of the eye. Applying lashes are often one of the most difficult things to do in a beauty routine, as it requires patience as well as precision in order to get it as close to the lash line as possible in order to ensure comfortability. By creating lashes out of silk fibers and a special blend of cotton, Doe Lashes has been able to achieve a feat that seemed almost out of reach.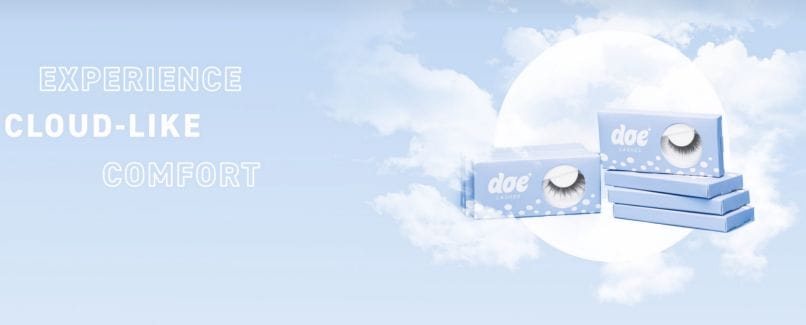 Image source: doelashes.com
However, Doe Lashes was created to specifically combat that struggle. Founder Jason Wong founded the brand to create lashes that were more comfortable to wear for his girlfriend, and thus, Doe Lashes was born. It is a lash brand that really understands consumer needs and works to address the prominent issues that people face when they apply false lashes. The bands on Doe Lashes are very flexible and light, making them easy to be glued on and placed on the natural lash line. Jason Wong has called it the "Ultraboost" of lashes, emphasizing that a main goal of the brand is to be an extension of the natural lash and create lashes that look more natural looking. The more natural look definitely conforms to the realm of Asian beauty, and provides an interesting contrast and juxtaposition compared to western lash brands that are often more dramatic and long. Western lash brands can tend to look like a statement of the eyes than a component that complements the eyes.
Doe Lashes and their Branding
Initially, Doe Lashes looked very different from what it is now. Previously Doux Lashes, in which "doux" meant soft and sweet in French, the brand headed in a very similar direction as other brands, thus, not being able to stand out as easily. Wong had decided to rebrand Doux Lashes in order to create a more cohesive branding strategy and a more unique brand identity that is not currently out in the market. The brand needed something more substantial in terms of design, which then started the rebranding process into Doe Lashes.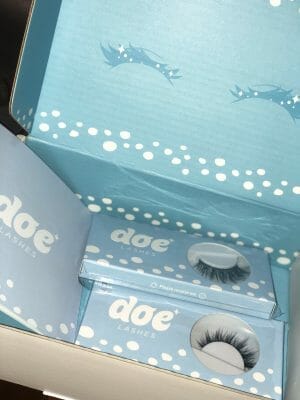 Wong then did further research, taking inspiration from South Korea. He then flew out to Korea and found the packaging designer for Dippin' Dots, which was one of his favorite treats as a kid, and hired the designer to do the redesign for Doe Lashes. The design direction that Wong envisioned was something that was fun and bubbly and that stood out amongst a crowd. Color was an aspect in the redesign that was more heavily incorporated, drawing from the color trends in South Korea which involve a lot of muted colors and pastels. After months of ideating, the rebranding of Doe Lashes was finally complete. You can read more about their rebranding on their Twitter thread here.

When you pick up a box of Doe Lashes, their appearance has a different feel to them. For the most part, Western lash brands are typically very monochromatic. Doe Lashes tends to stand out due to its packaging and blue color and provides a very welcoming feeling. The blue is soft and inviting, which is effective in marketing a lash that is comfortable and appropriate enough for everyday wear.
Image source: https://twitter.com/vytrxn/status/1236774557115011072
Doe Lashes and their Marketing Strategy
As a consumer myself, I had noticed the presence of Doe Lashes on my personal social media accounts. I attributed this largely to the fact that I had been following Wong for a few years and had seen him build the brand from the bottom up. However, as I saw more people on my Twitter feed talk about Doe Lashes, I began to realize how much the brand was reaching out to different audiences. A thing that particularly caught my eye was the use of the Doe Lashes Twitter account to engage with the audience. The account was similar to that of Wendy's Twitter account in which the account had a personality beyond the scope of just selling or advertising a product. And the Wendy's Twitter account is popular on the platform due to its personality and its unique engagement to other fast food restaurant accounts. It is very evident through what they tweet that an actual person is writing the tweets, as opposed to scripted messages, that makes Wendy's more personable and fun to follow.
When asked about why he wanted to move Doe in that direction of marketing on the Twitter account, Wong replied, "Customers know when an ad is an ad. It's obvious. Most people don't like being sold to so you need to convey the ad in a way that is easier to digest." The Doe Lashes Twitter account is meant to be like a friend, which is why it has adopted a similar personality to that of the Wendy's account. Through these observations, it is evident that these social media personalities reach more people. Social media is such an easy and effective way to get a message across. It is essentially free to use, and in Twitter, no money is put into sending out tweets, and when people share your tweets, that's basically like free advertising as well.
In addition to their Twitter account, Doe Lashes has also expanded their audience by reaching out to influencers to endorse and review the product. When asked about the PR packages that were sent out to popular influencers, which I saw much of when I scroll on Twitter, Wong replied that they were sent out without any expectations. The influencers decided whether or not they wanted to review the product, and these reviews came straight from the influencer themselves. As Wong explained, "Consumer behavior has been associated with listening to authority. For decades, celebrities and newspapers have been endorsing products. Now, social media has been endorsing products by reviewing. By integrating this idea into social media, we can evolve the way in which we publicize products."
Doe Lashes Marketing and My Experience
My personal experience with Doe Lashes has been a pleasant one, and there were many things that they did that I never experienced before. The idea of personality is incorporated into Doe Lashes' various social media channels, and I saw this when I placed my first order. I received an email in which there was an introduction included, which helped to introduce me to the brand and what the brand really means. Wong described email to be a more traditional tool, but also emphasized that it is also very powerful. Doe Lashes' email marketing strategy is effective because of its more modern twist which makes their audience feel closer to them. The emails include a signature, which makes the experience more personable and makes the consumer feel as if they are friends with the brand.
Along the introduction email was a discount code for another purchase, simply because I had made my first purchase with them. This already had got me thinking about what lashes I wanted to buy next because of this new incentive. I have been an avid online shopper, but my experience shopping with Doe Lashes has been the most personable one by far. I felt like there was someone that actually cared about my shopping experience, and this translates well to their customer service as well. Per their tweet, they also reach out to customers who are not 100% satisfied with their purchase: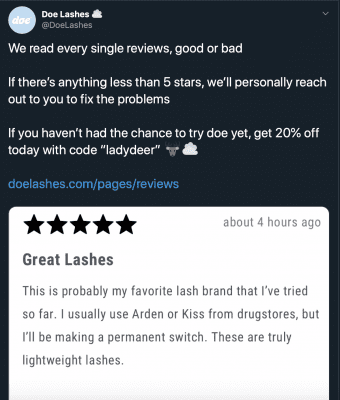 Final Thoughts
The rebranding of Doe Lashes has not only affected its aesthetic appearance, but also in the way in which they market their products. In deviating from streamline marketing practices, Doe Lashes has established an effective way to communicate and engage with their audience and consumers, creating a more personable shopping experience. The redesign of Doe Lashes has revealed much potential about the brand and the effectiveness of their social media marketing strategy.