Digital marketing tools are just like physical therapists, their guidance is needed because a person who is having a hard time moving won't be able to improve the way they function regularly without their help.
In this article, we've created a list of marketing tools for physical therapists that you can use to measure and improve the results of your marketing techniques.
Physical therapists are the go-to healthcare professionals for individuals who have medical conditions, recovering from injuries, or experience pain when moving their bodies. For starters, if you are looking for marketing tools to implement your marketing ideas, it would seem kind of overwhelming due to a wide variety of choices.
In this article, we've summed up the best digital marketing tools that you can use to provide high-quality services to your patients and also, improve your website's SEO.
But first, why do physical therapists need to use marketing tools?
Digital marketing tools are needed by every physical therapist because it allows you to monitor how effective your marketing strategies are not just for your existing patients but also for the new ones.
Aside from that, marketing tools also let you know some of the things that are often overlooked that may affect your physical therapy clinic's revenue in the future if not resolved earlier.
List of Marketing Tools for Physical Therapists
If you want to step up your physical therapy advertising strategy, here are some of the best tools that physical therapists can use to increase your marketability:
1. Google My Business
The first tool that we find useful in every physical therapy clinic is Google My Business. It's a free advertising platform that allows you to keep your patients to keep up-to-date about the recent changes in your business hours, and location and also allows previous patients to leave a review.
Using Google My Business lets you stand out among your competitors. How? Through means of appearing on the first page of Google Search Engine's Results page.
Note: You will appear on the first page only if you properly optimize your Google My Business Physical Therapist Profile.
2. Google Analytics
Now, if you want to dive deeper into the details of how well your physical therapist's marketing strategies are working, Google Analytics can help you with that. This marketing tool has a wide range of features such as:
providing detailed charts and reports about your marketing efforts
if you are using Google Ads for Physical Therapists and Google Search Console, you can access them all on this platform
tells you what page from your website gets a lot of views and which ones that are the least performing
gives you insights into customer behavior toward your physical therapist's site
Want to set up an analytics account for your business? Check out our blog post on Google Analytics for Dentists.
First time setting up Analytics for your physical therapy clinic?
3. Semrush

Semrush is a platform where that helps with your page's search engine optimization, keyword research, growing traffic by improving the techniques used by your competitors, and social media management.
4. Surfer SEO

Searching for a tool that can help you come up with physical therapist content that ranks on the first page of Google? There's Surfer SEO. It works in all languages and provides you with NLP algorithms that are helpful in boosting your site rankings.
5. Google Search Console
Wanna know if your physical therapist's web pages are available on Google? Google Search Console can do that for you! All you have to do is individually enter the URL of your page and Google will automatically analyze your page if it can be indexed or not.
You will also be notified when there are issues that need to be fixed on your site. The earlier you catch up on these issues, the better.
6. Google Ads
Now, if you want to fully customize advertisements about your physical therapy services, that is possible with Google Ads! This advertising platform works under a PPC (Pay-per-click) system wherein you set the amount that you are willing to pay for a specific keyword for your ad.
Want to use Google Ads as one of your physical therapy advertising strategies?
Also, consider getting good reviews from optimizing your PT practice's LinkedIn profile.
7. CallTrackingMetrics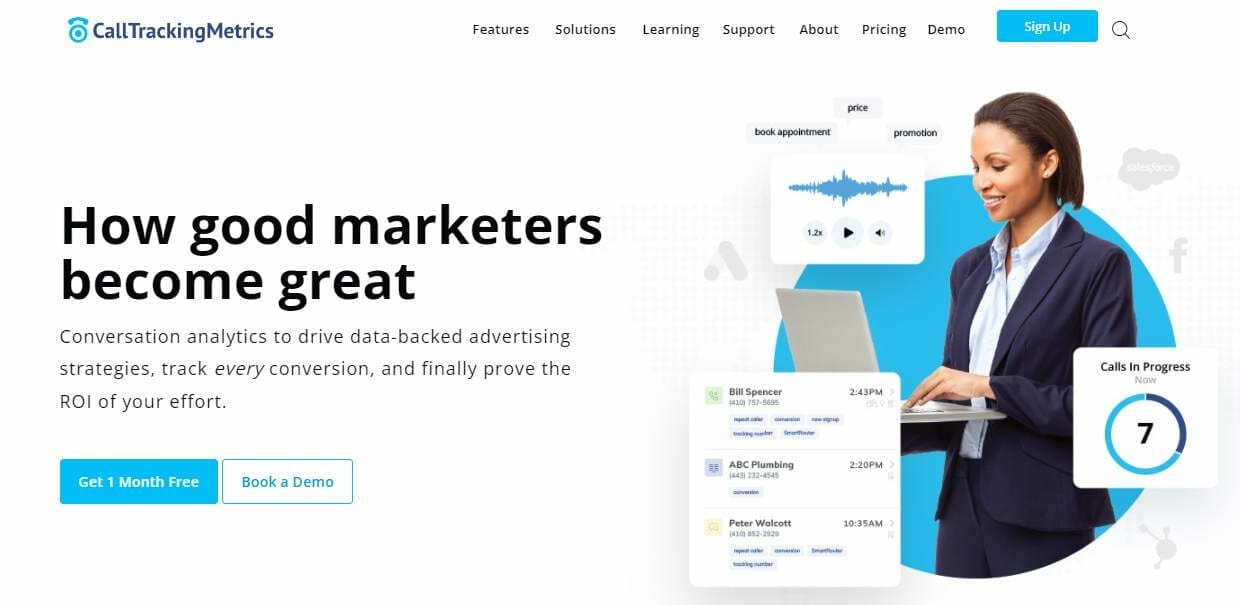 As someone who owns a physical therapy clinic, every call matters. Knowing what went wrong in a call or where the call came from is easy to track with a use of a call tracking software like CallTrackingMetrics. You no longer have to guess which campaigns are driving calls to your front desk because CTM can help you with that.
8. Canva
Canva is another platform that offers a lot of free templates which can be used in promoting your physical therapy services. It has a feature where you can collaborate with your team if you're working on a draft design for your post which makes it convenient to use.
9. Hootsuite
Hootsuite is an online platform where you can do all the tasks that need to be done by a social media manager. From scheduling the date of your next post, producing high-quality content, monitoring your audience, and more.
10. Buffer
Buffer is another social media management tool that helps you analyze the performance of your physical therapy clinic's Facebook, Instagram, Twitter, Pinterest, and LinkedIn profiles, respond to patient queries, comments, and reviews, and plan your physical therapist marketing campaigns.
11. Click funnels

Click Funnels provides you with helpful strategies on how to bring in new patients to your physical therapy clinic, generate leads, and send follow-up messages to your prospective patients through their social media messaging apps, emails, texts, and more.
12. Facebook Ads

Facebook Ads is where you can advertise your physical therapy clinic directly to the Facebook community. It also has a feature where you can decide on the format of how your physical therapist ad will appear across all devices depending on your preference.
13. GoHighLevel

GoHighLevel combines almost all of the digital marketing tools that you need. Starting from email marketing, sales funnels, website builder, call tracking, forms, analytics, and reputation management, you can easily access all of those on this platform.
14. Promo Republic

Promo Republic is another platform that helps you manage your physical therapy clinic's social media accounts, increase your local SEO, and maintain a consistent image of your practice.
15. Hubspot

Hubspot is a customer relationship management software that keeps track of your physical therapy advertising strategies and customer support. It also gives you an idea if the emails that you sent to your physical therapy patients were opened or not, form follow-up emails, and even schedules when your next emails.
16. Mailchimp

Mailchimp is another marketing platform that helps you handle all of your marketing channels, send automated messages, and suggest actions that you must accomplish based on the insights gathered from your physical therapist's email marketing strategy.
17. Ahrefs
In Ahrefs, you'll see an overview of your search engine optimization progress on a dashboard, look at your competitor's backlinks, get keyword ideas, scan your physical therapist's website for issues, and more!
18. FullStory
FullStory is where you can keep track of your potential patient's booking journey on your physical therapy clinic's website. Its purpose is to give you an idea if there's an error page on your website, detect rage, and dead clicks, and measure the time it takes for your webpage to load, which are the things that should be immediately fixed or else, it might affect the user experience.
Key Takeaway
As you can see, there's a long list of digital marketing tools that you can use to see if your physical therapy advertising efforts are driving results or not.  But as long as you are using the appropriate marketing tools such as the ones that we've mentioned above and strategies for your physical therapy practice, you'll eventually get used to it.