We've found Google Ads for roofers as a great way to increase traffic to your website and gain new customers who are looking for roofing services. In this article, we'll cover how to structure your Google Ads campaign and create your ad copy to attract leads and sales for your roofing company.
1. What is Google Ads?
Google Ads is a Pay-Per-Click (PPC) marketing platform where you pay Google every time your ad shows up on the search engine. There are a lot of benefits that you can get from using Google Ads. Ultimately, it is a great way to promote your business so you can reach your target audience and drive traffic to your website.
In this article, we will focus on how to set up Google Ads for roofers.
1.1. What is the Difference Between Google Ads and SEO?
Google Ads and SEO can complement one another, but it is important to note that both are different from each other. Using SEO helps make your site more attractive to customers and creates engaging content that caters to your customers' specific needs. Thus, SEO involves everything in your site from optimizing site layout, ensuring user-friendly design, and all written materials and videos. SEO works to have your site a higher ranking in organic searches.
On the other hand, Google Ads helps target specific keywords and keyword phrases that your potential customers use while searching Google and then creates an ad to promote your website. It is a fast and efficient way to reach your target customers. Below is an example of a Google ad when searching for a 'roofing company' on Google.
Want to increase your site's traffic?
1.2. How to Create a Google Ads Account
To start, you'll want to open the Google Ads website. On the homepage, you can simply sign in with your existing Google account, or you may also create a new account if you prefer. Once done,  click "Start now" as seen on the image below.
2. Creating Google Ads for Roofers
Now that you have created your Google Ads account, you are ready for your first Google Ads Campaign! Here are the steps in creating your first campaign:
2.1. Determine Your Advertising Goal
Google ads will ask you to choose your campaign's main advertising goal. This is a great way for it to focus on a specific goal and achieve the results that you want.
There is also an option to switch to Expert Mode at the bottom of the page, and clicking this allows you access to the advanced settings that the program has to offer.
For this article, we will click on "Switch to Expert Mode" to create our campaign.
After clicking "switch to expert mode", you want to click on "Create a campaign without a goal's guidance". Then, click on the "Search" campaign when a second box appears. Finally, you want to click on the "Continue" button.
2.2. Choose Your Target Audience
On the next page, you will start setting up your actual Google Ads campaign.
First, you will have to label your campaign and set which networks you would like your ads to show. We recommend unticking "Display Network" to have better quality search traffic.
Next, you choose the target locations where you want your ad to appear. For this example, let's choose "The United States". After picking your location, you may add a language that your target customers might speak such as "English".
For your ad to reach your desired customers, you need to select your target audience. You can input keywords that your audience might usually search for. In our example, we use the keyword "roofing services". Selecting an audience promotes traffic and impressions when users search for similar products or services that you are advertising for.

2.3. Set Your Budget
Depending on your preference, you need to determine the average daily budget that you are willing to spend for your campaign.
Google Ads also gives you several options on what you want your bidding strategy to focus on, such as click, conversion, or impressions.
Afterward, you can also opt to set a maximum cost per click (CPC) bid limit for your ad. This means that you will not pay for more than the maximum CPC that you set if someone clicks your ad.
For a more in-depth discussion on bidding strategy, you may also check our article on tips for a successful bidding strategy for your Google ads for roofers.
Need expert advice on setting up your Google Ads budget or bidding the right amount?
3. Creating Ad Groups for Your Roofing Business Campaign
3.1. What are Ad Groups?
Ad Groups, as the name suggests, are a group of ads that share similar targets. They help organize your campaign to determine which ads to show based on the keywords that the public is searching for. Included in the Ad Groups are keywords, text ads, and landing pages.
3.2. Starting Your Ad Groups
This part is pretty straightforward. For the Ad group name, think of several umbrella keywords that you would like to be targeted for your campaign. Under each Ad group, include words or phrases that match your ads with the terms that people are searching for.
For instance, using the campaign for "roofers", we can create an ad group for "roof" which is the main keyword. Then, we will include other keywords similar to this theme. Example keywords would be metal roofs, residential roofing, commercial roofing, roofing repair, and new roof installation.
4. The Anatomy of Google Text Ad for a Roofing Company
Now, let us take a look at the structure of Google text ads. Below are the different parts of your Google text ads and their definition.
4.1. Final URL
You start by placing your site address under the Final URL. This link will be the main landing page of your ad which is the destination that your potential customers will be taken to once they click your ad. Creating a good landing page with a specific call to action for your potential customers will give you a higher chance of converting them to leads.
4.2. Display Path
Display Path fields are part of the display URL in your text ads. This field will give your target audience an idea of where in your site they will be taken to once they have clicked your ad. You can include up to 2 display paths, and each path can have a maximum of 15 characters.
4.3. Headline
The headlines should include the main keywords of your ad. This is important because this will be the first text your target audience will read, so make sure to catch their attention. There are 3 headline options, so you can include multiple headlines based on what you want or you can just use one. You can include up to 30 characters for each headline.
4.4. Description
Under description, you can include additional products or services that you would like your customers to know about. You can include up to two description boxes. You may choose multiple description lines based on what you want or just use one. You will have a maximum of 90 characters in creating your ad description.
Our article on How to Create a Successful Google Ads Text Ad provides a more in-depth and comprehensive guide on this topic.
5. Piecing the Whole Google Ad for Roofers Together
Congratulations! You have just completed your first Google Ads for roofers! At this point, you may review your Google ad account just to make sure that you have all the details that you want to be included.
Here are things to Monitor in Your Google Ads Account:
Total Impressions
Clicks
Cost
Keywords performance
6. Optimizing your Google Ad for Roofers
At the end of the day, you are using Google Ads to drive more customers. Getting the data and tracking your conversions will give you a good understanding of how your ads are performing. It can help you check which campaigns and keywords are effectively working and which are not.
6.1. Why Do We Keep Track of Measurements for your Google Ads for Roofers?
It is helpful to have conversion tracking installed for you to see all the data and action when a potential customer clicks on your Google ad for roofers. Studying these data will help you track how well your Google ads for roofers is doing. Areas of your Google ads that may need optimizing are:
Text Ad
Bids
Landing Page
Keywords and phrases

6.2. How to Add Google Ad Conversion to Your Roofing Website
Below are the steps that you can follow to add Google Ad conversion to your roofing website:
Go to "Tools and Settings", then click on "Measurement", and then click on "Conversions"
After clicking "Conversions", you will be directed to a page similar to the image below where you can choose which type of conversion you would like.
There are 4 categories  to choose from in tracking your conversions, namely: Website, App, Phone Calls, and Import.
Let's use Website conversions as an example. Under the Website option, you will also need to pick another category to track within your website.
Let's say you choose "Purchase" as the category. You need to determine its value and count which you think is best for your purchase conversion action.
Once you are done, click "Create and Continue".
The other options for conversion tracking will also have similar steps to our example above.
6.3. Creating a Tag for Your Google Ads for Roofers
Creating your tag for your website will aid in providing data on users' actions on your site, and then forwarding the data to your Google ad account.
These actions can be personalized according to what data you want and think is important to your website.
Below are the options on how to install your tag. You may opt to install the tag yourself, email the tag to your webmaster, or use Google Tag Manager.
Depending on which option you choose, Google ads will provide you a code and straightforward instructions on how to set up your tag on your website. For example, the image below provides the instructions when using the option for Google Tag Manager to install the codes.
 Let us help you start tracking your conversions!
7. What Exactly is a Landing Page?
A Landing Page is a page on your website with the sole purpose of converting your site visitors into leads. It should be able to provide your customers a strong offer and explain why the offer is valuable to them in a clear, concise manner. It also helps to have your relevant keywords or search terms to be included in your landing page to make it simpler for Google to index it.
For you to convert potential customers, a good landing page will include a form where customers can fill out their information in exchange for a service or a product that you are offering.
Some elements that make a great Landing Page are as follows:
A great headline
A relevant image or video that helps attract your customers
A list of benefits of your offering to address your customers' needs
A good social proof in the form of case studies, testimonials from your customers, and review scores
A clear call to action (this will be your sole conversion goal)
7.1. What is the Difference between a Homepage and a Landing Page?
A website's homepage is different from the landing page because it has a lot of distractors and it serves other purposes as well. This means that while homepages promote website browsing, landing pages only have a single goal in mind. Landing pages are one part of your business' site while homepages are the face of your website where customers can navigate other parts of your website. Lastly, traffic from landing pages is driven by ads, while homepage traffic can come from various sources.
8. Keywords to Include in Google Ads for Roofers
Earlier in the article, we learned that keywords are crucial in the success of your Google ad for roofers. Let's discuss further the different types of keywords that you can use and how you can maximize them.
AdWord Keyword Match Types:
8.1. Broad Match Keywords
These are the keywords that will give you the widest reach since this is Google's default setting for keywords. There are no special symbols used for this type of keyword.
Example keyword: residential roofing; Example searches: roofing
8.2. Broad Match Modifier Keywords
These are keywords that have a '+' in front of the keyword. These are more targeted.
Example keyword: +residential; +roofing; Example searches: roofing for residences
8.3. Phrase Match Keywords
These are keywords that are put in quotations. Your ads may show on searches when someone types in a phrase that exactly matches your keyword phrase or close variations of it.
Example keyword: "residential roofing"; Example searches: residential roofing
8.4. Exact Match Keywords
These keywords have the lowest reach since only ads that match the keywords word-for-word will appear in the search. Exact keywords are placed in brackets.
Example keyword: [residential roofing]; Example searches: residential roofing
8.5. Negative Keywords
Excluding negative keywords is an effective way to prevent irrelevant searches that are prompting your ad and incurring unnecessary costs. This way, you will be able to focus on the keywords that will bring you the right customers. You will use a minus (-) sign before a keyword for it to be excluded.
Example keyword: -roofing education
9. Top Landing Page Software for Roofers
Taking the time and effort to create a great landing for your roofing company is something that will pay off in the long run. This may be hard for someone without a web designing background, but there is a lot of available software online that can be the solution to your problems. Let's take a look at some of them.
9.1. Leadpages
Leadpages offers a lot of features and integrations for your business site such as built-in payment systems to efficiently run your store, mobile and tablet-friendly templates that run great, and  unlimited A/B split testing. They also offer a free 14-day trial. After the trial, you may choose from 3 different plans depending on what specific features you want, and this will be billed to you annually. Their pricing is as follows:
Standard – $27 per month
Pro – $59 per month
Advanced – $239/ month
Compared to other software, Leadpages is definitely more budget-friendly. You may check the complete details of their plans here.
9.2. Unbounce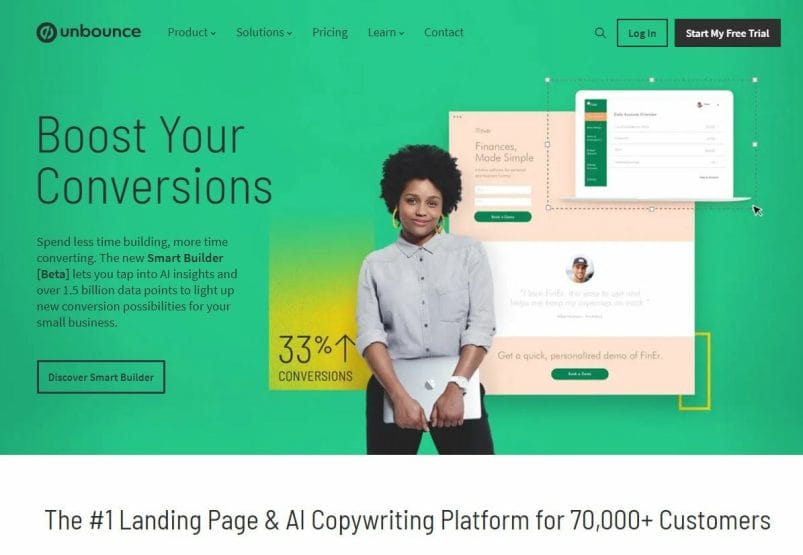 Unbounce is one of the most known and one of the best landing-page software at present because it offers diverse customization options from beginner-level to highly advanced ones. For example, you can add basic elements and run high-quality A/B tests. It also offers a dynamic text replacement that allows you to replace landing page keywords that were searched by users. This saves you time and effort because instead of making multiple landing pages for all your keywords, you can just include them on a single page.
Unbounce also offers a free 14-day trial. After which, below are their prices depending on your preferred plan:
Launch – $64 per month
Optimize – $96 per month
Accelerate – $160 per month
Scale – $240 per month
You may check more details of their pricing here.
9.3. Landingi
Landingi is very similar to Unbounce but it is also one of the easiest to use software available in the market. Some of its features include having integrations that help you streamline your landing page process. In this way, you can automatically send information to your CRM or email campaign. It also has a diverse range of templates that you can choose from, and on top of that, it has a drag-and-drop builder that can be very easy to navigate even for a novice.
Landingi offers a free 14-day trial. After the trial, below are the different plans you can choose from:
Agency – $149 per month
Automate – $79 per month
Create – $55 per month
You may view the complete details of their offers here.
10. Final Thoughts
If you have a roofing company and you would like to see immediate results, Google Ads is one of the best ways to grow your business effectively. While it's easy to spend money on low-quality leads, using this guide to Google Ads will help you get more quality leads that will convert to profits.
Want an expert to run your Google ads for roofers?
We can do that for you. Schedule a free strategy session with our experts today and start growing your business.