In this blog post, we'll share with you 12 massage therapy marketing ideas that will help improve your customer retention rate and get more new clients to your clinic!
But before we proceed with the marketing ideas, here are a few things that you should consider when creating your marketing campaign (whether it's on Google Ads, Instagram, postcards, etc).
Things to consider before creating your digital marketing campaign
1. Know your audience
As someone who manages a massage therapy clinic, knowing your target audience is one of the most important parts of a marketing strategy. This allows you to focus on individuals who are most likely to engage with your brand. Targeting the wrong audience is just a waste of time and resources and you'll get nothing in return.

Who could be your target audience? Individuals who want to combat body aches relieve stress and improve blood circulation and well-being. These can be seniors, people working in stressful environments, or university students (it all depends on who your target demographic is).
2. Identify your goal
Before choosing the platform to promote your massage therapy clinic, you have to identify first the goal you want to achieve in your business. Whether it's to get more new customers, keep existing ones, keep in touch with previous patients, etc. No matter which goal you choose, it's important to decide during the early phase of your planning stage so that it will be easier for you to track in the future whether you're close to meeting your goal or not.
Need help with your massage therapy marketing campaigns?
Schedule A Free Strategy Session!
Digital Marketing for Massage Therapists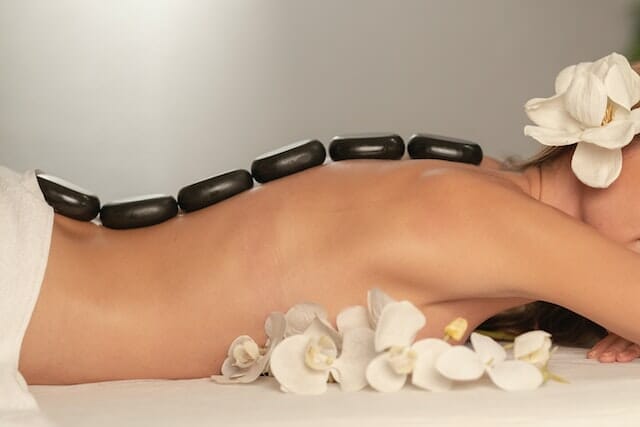 1. Establish your online presence
First things first, you have to create a website for your massage therapy clinic. This is one of the essentials in establishing your online presence because of the following reasons:
It gives your audience 24/7 access whenever they're looking for more information about your massage therapy clinic
It makes your brand legit (increasing the trust of your potential customers)
You can track user behavior (e.g. what makes them leave or stay on your website)
Important features that your massage therapy website should have:
1. Contact information (have it very visible)
Your massage therapy clinic's contact details should be visible on your website. Without this, it would be impossible for them to reach out to your brand or send inquiries to your clinic and if they don't see this anywhere on your site, there's a high possibility that they'll go to your competitors instead. Your potential clients shouldn't have to look hard to find it. We see too many sites that have contact info that is hard to find, and it drastically decreases the conversion rate.
So make sure to put your clinic's contact number, exact location, and e-mail address somewhere that can be easily seen on your website (which is usually at the bottom part of your page AND top of your page).
2. Mobile-friendly design
According to Statista, most people are using their phones whenever they're browsing the internet. And if a website is not responsive on the mobile visitor's end, 57% of these people are more likely to abandon that site and never return again. Since you don't want that to happen, you have to make sure that mobile users will have a seamless experience while scrolling through your website.
Wanna check if your massage therapy website is mobile-friendly? You can test it for free using Google Search Console.
3. Functional buttons
Another thing to check is your website's functionality. You have to make sure that all the buttons, links, and pages are working. For example, if you are updating you're transferring to a new domain, you have to update the links in your landing pages.
If these issues are not fixed right away, you're going to miss out on your potential customers!
4. Call-to-action
Call-to-action buttons are the ones that help your potential customers to come up with a decision after consuming content from one of your landing pages. It's something that guides them on what to do next.
Looking for an in-depth guide on how to create the Perfect CTA for your massage therapy clinic? Check out this blog post on How to Write the Perfect CTA to learn more.
5. Testimonials
Now that we're living in an era where anyone can easily build websites and scam people, gaining the trust of your customers should be one of your priorities. By creating a page where all of your testimonials are presented, your page visitors are more likely to trust your brand and you can even use it as your sales pitch!
In fact, your conversion rates can increase by 4.6% if you have this on your website because consumers perceive online reviews as if they were recommendations that came from their peers.
So, if you haven't gathered that many reviews from your customers, you have to start asking them for feedback to increase your massage therapy clinic's credibility.
6. About us page
Your "About Us" page serves as an introduction to your prospective customers. It's something that sets the personality of your brand.
Here are some tips for writing a compelling About Us page:
Tell the story behind your massage therapy clinic

When people first heard about your brand, the first few things they want to know are the people behind the brand, its purpose, and the personality of your business. It humanizes your brand. The more the audience can relate, the more likely they feel comfortable going to your business.

Build a connection with your audience by stating how you can help them

Another thing that you should include is how you can help make a difference in their lives. Here, you can mention a situation where you've successfully helped one of your customers who wanted to improve their lifestyle and well-being.

Don't forget to state the Who, What, Where, Why, and How.

Having all these details in your "About Us" gives your potential customers to get to know more about your massage therapy practice.
7. Great visuals
Your page design matters. In fact, 59% of page visitors are more likely to stay on a website that is beautifully designed than a website that's too plain and boring because it builds an emotional connection between your brand and your potential customers.
So, if your website seems kind of outdated, overcrowded, or too wordy, it's time for you to make changes to it so that you don't drive away your prospective customers.
Go for a design that's pleasing to the eyes. Take a look at Holden Beach Massage's homepage.
See how easy it is for page visitors to navigate their site? They used a relaxing color combination, appropriate font style, noticeable call-to-action buttons, and a good layout.
However, the criticism we have for this, is that the "book now" button needs to be of a contrasting color, it blends in with the theme and picture right now and is harder to see.
Need help creating landing pages for your massage therapy website?
2. Get listed in local business directories
Once you've already created your website, the next thing you should do is get listed on local business directories. This helps increase your brand's visibility. Here are some of the free listing websites for your massage therapy clinic:
Google My Business
Google My Business is one of the easiest tools you can use which allows you to update your business hours and contact details, get reviews, and respond to inquiries. Having a Business Profile also helps improve your massage therapy clinic's local SEO, so make sure you fill out all of the important details needed.
In addition to that, it also allows you to post the latest updates on your massage therapy clinic! Haven't heard of it before? Check out our blog on How to Post on Google for Free to learn more.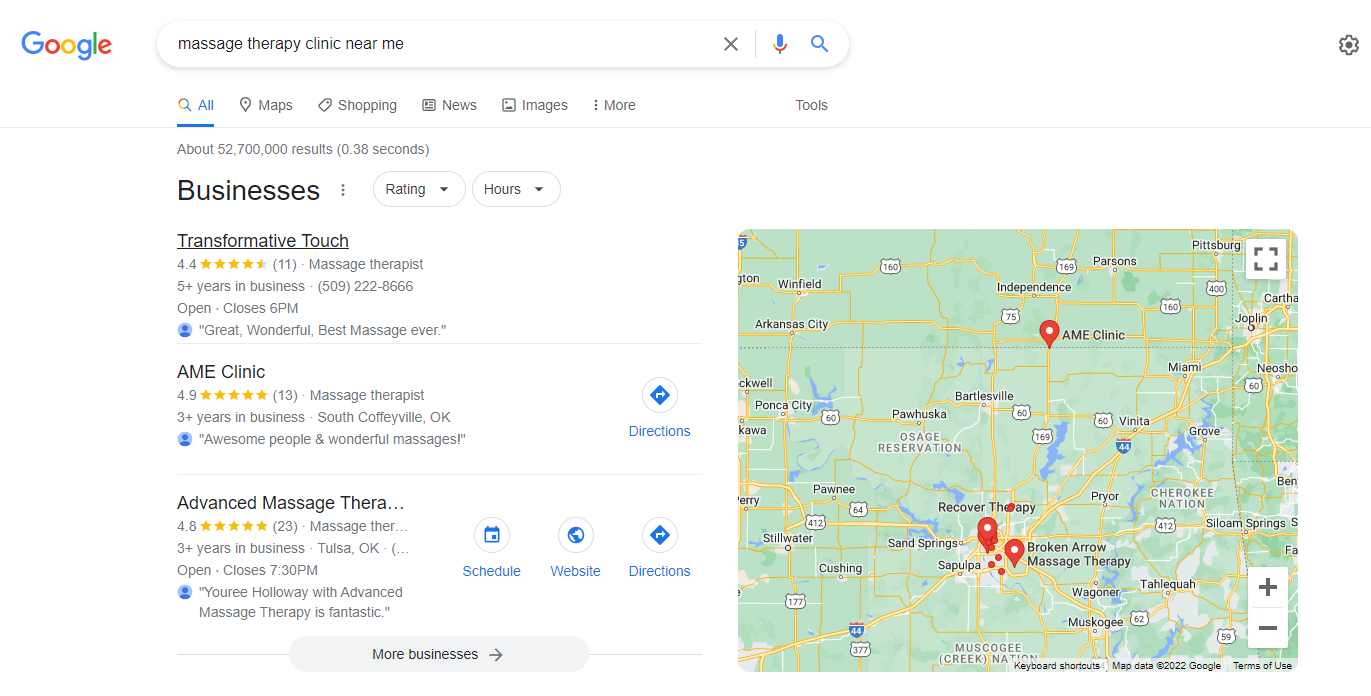 Yelp
Another platform where you can claim a business listing is Yelp, which is known as a platform where customers can request a quote, or make an appointment in advance. It's almost the same as the previous ones where people can find out more about your massage therapy clinic in just a few clicks.
3. Pay-per-click ads
In pay-per-click (PPC) ads, your massage therapy advertisements are shown to individuals who are looking for your services on search engines like Google. Local search terms like "massage therapy clinic near me" can trigger your ad to show up depending on the criteria you've set (e.g. customer demographics, keywords, etc.).
Google Ads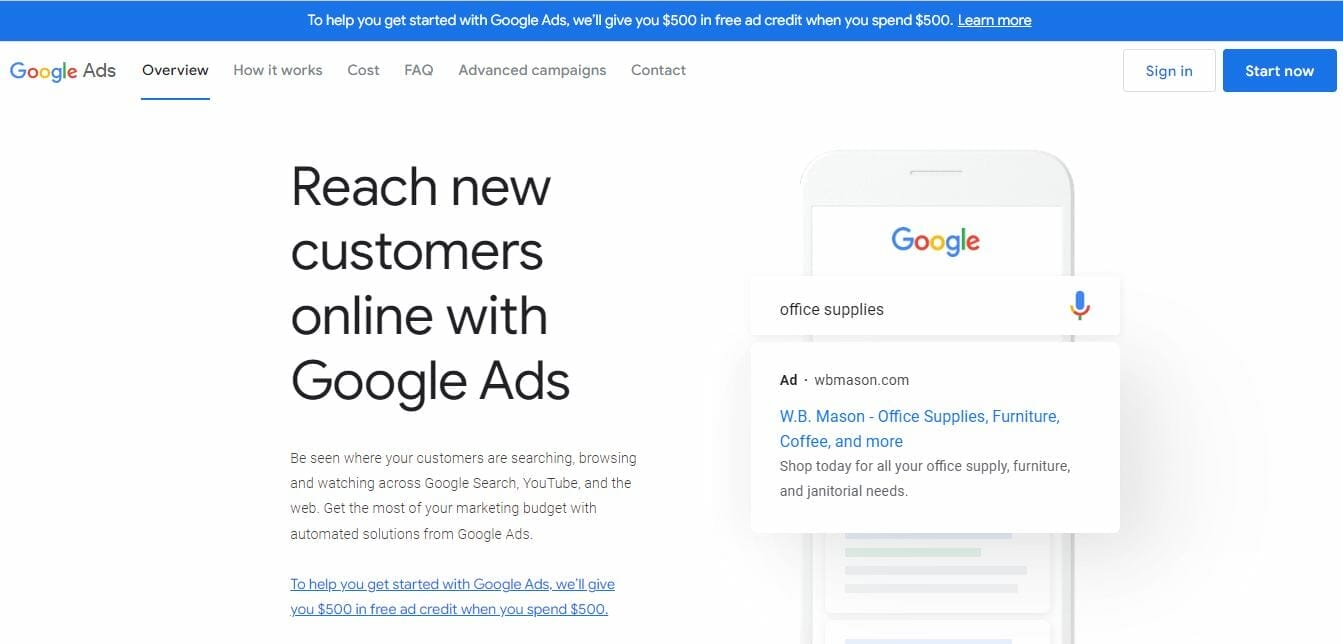 Google Ads is one of the most powerful PPC platforms out there. With over 3.5 billion searches that take place on Google on a daily basis, advertising on this platform gives your massage therapy clinic increased exposure. It provides recommendations that will help improve your ad's quality score, and reports to see how your ads are performing in a specific time period.
You also get to make changes to your budget and bid which you'll only have access to if you're using Expert Mode.
Some of the best practices when using Google Ads:
Use the right keyword match types
Proper use of negative keywords
Create multiple ads and keyword combinations to match customer intent
Ad strength should be at least "Good"
Make sure your landing pages are relevant to your ad
Regularly monitor your ads
Other PPC networks are:
Facebook ads
Instagram ads
LinkedIn ads
TikTok ads
Pinterest ads
Interested to know how to create a Google Ads account for your massage therapy clinic? Check out our blog post on Google Ads for Massage Therapists to learn more.
Want us to create a Google Ads account for your massage therapy clinic?
Facebook Ads
Facebook Ads allow you to micro-target your audience (e.g. based on their spoken language, likes, hobbies, and interests posted on their profiles). This allows your ad to show up on your target audience's newsfeed. Not just that, but it also gives you a wider range of ad formats to choose from such as static images, carousel, video, stories, slideshow, and more.
Best practices for Facebook Ads:
Define your target audience

Core audiences – individuals who haven't heard about your massage therapy services before
Custom audiences – for individuals who have already visited your website or shown interest in your massage therapy services
Lookalike audiences – individuals who show interest in your massage therapy clinic

Choose the type of ad that best suits your massage therapy clinic's goal (e.g. brand awareness, increase conversions, engagement, etc.)
Test your ad in different formats (to see which works best)
Target by life-events
Keep track of your Facebook Ads
Twitter Ads
Twitter Ads allows you to reach your target audience based on their following lists, likes, hashtags used, and more. What's unique about this type of ad is that your Promoted Ads will show up on places like:
a user's timeline
profiles that fit your targeting criteria
on top of relevant search results
Best practices for Twitter Ads:
Make the most of the character limit
Use eye-catchy and high-quality images
Don't forget to include a call-to-action
Phrase your caption in a way that will encourage them to take action
Must include a sense of urgency (e.g. "few stocks left", "limited-time-only")
LinkedIn Ads
If you're looking for a platform that'll help you reach out to professionals in social media, LinkedIn Ads is a good place to start! With over 66.8 million active monthly users (in the United States only), your massage therapy clinic has a higher chance of getting high-quality leads!
Best practices for LinkedIn ads:
build your audience
use of relevant images
segment your posts for each customer journey
put yourself in the shoes of your target audience
keep your ad copy concise
Pinterest Ads
Pinterest is one of the most influential platforms for massage therapy clinics that wanted to increase brand awareness and authority. Since it's an image-focused platform, Pinterest Ads don't interrupt a user's browser experience. Instead, it highlights your brand's post which gives additional exposure compared to regular Pinterest posts.
Best practices for Pinterest Ads:
Try various ad formats (e.g. Standard Pins, Carousel Ads, Video Pins, etc.)
Make sure landing pages are working
Use vertical images
Add text to your image (so that users will understand the context)
Include your brand's logo
Connect with your audience by creating how-to pins/ infographics stating facts
TikTok for Business
Another platform that can help your massage therapy clinic get discovered is TikTok for Business. With over 1 billion active monthly users, your ad has the possibility to reach out to millions of users. You just have to do certain measures to stand out on this video-focused platform.
Some of it includes making fun and creative content, using appropriate hashtags, and use of subtitles. If one of your goals includes getting more impressions, you could also try using trending music.
Note: Don't forget to test your ads or posts before implementing them. This will give you an idea of which is more capable of boosting your conversion rates. Check out our blog post  What is a/b testing to learn more.
4. Write blog posts
Blog posts are another marketing strategy that can help drive more traffic to your massage therapy site, improve your brand's visibility, and become a reliable source of information in the industry. It can also help drive long-term results, especially if it's well-written and provides useful information to your readers.
Best practices in writing blog posts:
Publish relevant content
Stick to a regular publishing schedule
Link to reliable sources
Use variations of your focus keyword throughout your content
Compress images without affecting their quality
Recommended length: 1,500-2,000 words
5. Get involved in community activities
Participating in community services is another way to promote your massage therapy clinic. It provides you with more business opportunities such as building connections with other massage therapists, and other healthcare professionals and reaching out to potential customers.
Aside from that, it also helps establish a good reputation for your brand. It's like a win-win situation where you get to do good things for the community and at the same time, you do something that your brand will benefit from.
6. Referral program
Another way to increase the number of customers visiting your massage therapy clinic is by creating a referral program. Offering incentives increase the likelihood of your existing patients referring your services to their friends, family, and colleagues.
Your existing and repeat customers are the most successful source of referrals. Sometimes, all you have to do is ask them. But of course, there are a few things you should consider before asking your patients about it such as timing and the quality of service you provide.
Successful customer referrals can be rewarded by sending out gift certificates, offering discount vouchers, or freebies, depending on the resources you have.
Here are a few things to keep in mind when creating referral programs:
Choose a suitable reward
Share your referral program on social media
Use it as a pop-up on your massage therapy website
Send it to your customers via e-mail
Make the referral process easy
7. Loyalty Program
Another way to retain your customers aside from providing the best massage therapy services is by creating a loyalty program. It could be through a loyalty card where if they reach a target number of sessions at your clinic, they'll be given discounts or freebies from business establishments like coffee shops or gyms.
Creating this type of program encourages satisfied customers to return to your clinic whenever they feel like taking a break from a stressful environment because they receive points in every therapy session.
Best practices when creating a loyalty program:
make it simple but rewarding
provide relevant rewards
start with smaller rewards and increase rewards later
8. Email marketing
With email marketing, your target audience is less likely to miss out on the latest updates in your massage therapy clinic because you can directly send newsletters and announcements directly to their inbox. This gives your customers a chance to read it whenever it's convenient for them.
Aside from that, it also helps nurture your relationship with your customers since it allows you to personalize your marketing campaigns which makes it more meaningful to them as they read your monthly newsletters and limited-time offers. Not only that, but it also helps you keep in touch with your existing customers with the use of re-activation email campaigns.
Best practices for email marketing:
Personalize your emails
Segment your mailing list
Do split tests to see which kind of subject lines work for you
Use a casual or conversational tone
Include a compelling call-to-action
Respond on time
9. Get on Different Social Media Platforms
More than half of the global population is on social media. Creating a page for your massage therapy clinic on social media platforms like Facebook, Instagram, and TikTok gives your brand tons of exposure and a huge opportunity to interact with your target audience who are looking for a massage therapy clinic in their area.
Here are some content ideas you can post on these social media platforms:
sharing photos of your team
link to your blog posts
live Q&A sessions
host giveaways or contests
tips on how to improve one's physical and emotional well-being
patient feedback
branded hashtags
10.  Create educational videos
Another way of capturing the attention of your potential customers is by posting educational videos. This is found effective in helping your audience get a better understanding of your massage therapy services and set an impression about your massage therapy practice.
Video ideas for massage therapy clinics:
Clinic tour – Filming a virtual tour around your massage therapy clinic gives your prospective customers an idea of what to expect when they visit your clinic whether you have a cozy ambiance, upgraded facilities, and friendly staff.
What to expect when going to a massage therapy clinic – It's also important to discuss with your audience the things to expect from a massage therapy session. This gives your audience, especially first-timers who are anxious and quite hesitant to visit a massage therapist.
Informative video about the benefits of massage therapy  – You could also use videos to provide an in-depth explanation of the benefits received from massage therapy. For example, you could discuss the common misconceptions about massage therapy, answer frequently asked questions, and more.
The story about your brand – Telling the story behind your massage therapy clinic is another way to humanize your brand because it helps you communicate with your audience on a personal level. It's something that shapes the opinions of people who are not that familiar with your brand.
11. Combine your digital efforts with traditional marketing
To maximize your marketing efforts, you could also pair it with print advertising. Promoting your brand both in the online and offline world works best because it helps you stand out from your competitors.
Tangible materials like brochures, flyers, business cards, and posters also add exposure to your brand.
11. Partner up with social media influencers
Influencer marketing has become accessible not just to those who watch television but also to those who are using Instagram, Facebook, and Youtube. In this type of marketing strategy, personalities with a huge number of followers promote certain products or services on their social media accounts. Discount vouchers, cash, or expensive products are given to them in exchange for promoting a certain brand's product.
So, if you have resources and connections, use them to partner with social media influencers that share the same goal as your massage therapy clinic to expand your customer base.
12. Join forums
Online forums are where professionals like massage therapists can interact with the online community. Here, you can post or share your opinions, as a professional therapist, and respond to queries raised by individuals interested in massage therapy. This helps you connect with people who share the same interests and get useful insights from those who work in the same field as yours.
Still not sure which marketing strategy suits your massage therapy clinic?
Key takeaway
There are lots of ways to promote your massage therapy clinic. No matter which you choose, always make sure that your marketing campaign is in line with your goal and addresses the needs of your target audience. Just follow the tips we've mentioned above and you'll surely get more bookings in no time!