Are you a small local business owner looking to grow your business on a rising new platform? Tiktok for small local businesses guide can grow your foot traffic exponentially, for free!
Why use TikTok when implementing a new marketing strategy?
TikTok is more than the younger generation posting pranks and dancing videos. TikTok has the ability to reach all age groups on their platform. The platform has over 800 million active users worldwide. So, utilizing TikTok will reach all age groups for your small business.
There are a ton of great TikTok videos about entrepreneurship and small businesses. Furthermore, implementing TikTok into your marketing strategy is a viable platform. Many owners have launched their small businesses on this platform and went viral.
Two reasons to utilize TikTok for your small business
Mobile first
TikTok is extremely mobile first. Mobile first involves designing a site starting with the mobile version. Whereas, the traditional approach is the desktop version first then adapting to smaller screens such as mobile devices.
Now, TikTok is available to use on desktops and mobile devices. So you can use it whenever and wherever you go.
Focuses on authenticity and creativity
In comparison to other platforms, TikTok is unique in the matter of focusing on authenticity and creativity. Unlike traditional platforms in which they focus on a curated experience.
How to set up a TikTok account for your business
Are you ready to start promoting your business on TikTok? It's free to create an account and get started right away. So let's create your account.
First, download the TikTok app from the Apple Store or Google Play Store. If you do not want to download the app just yet, TikTok now allows you to create an account through the web.
Now, open the app and select Sign Up with Phone or Email. Unfortunately TikTok does not allow you to sign up with your instagram account anymore due to restrictions.
Next, you'll be asked for your birthday so be sure to input an accurate birth date. Set up a username and enter your email address and password. When entering your email address use your business email. If you don't have one yet, you can set up the account with your personal email address.
When choosing a username make sure it clearly states your business name and is the same as your handles across other social networks.
Now that your account is live start customizing your profile. Add your company logo, business bio with keywords, link to your website, and social media platforms.
Switch to Pro Account
To switch to a Pro Account, click manage account and scroll down until you see "Switch to Pro Account". Tap the link and now choose between two options. A creator or business account. Now, you will gain access to analytics and other business features using this feature.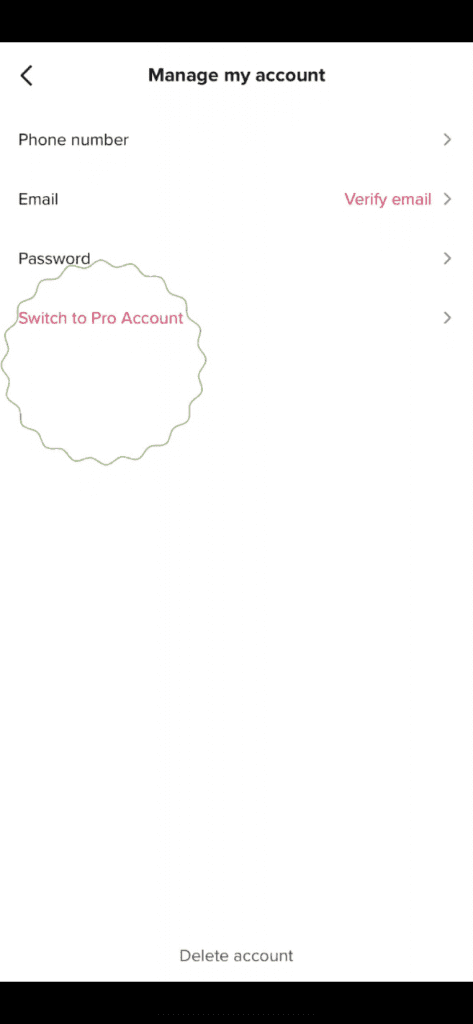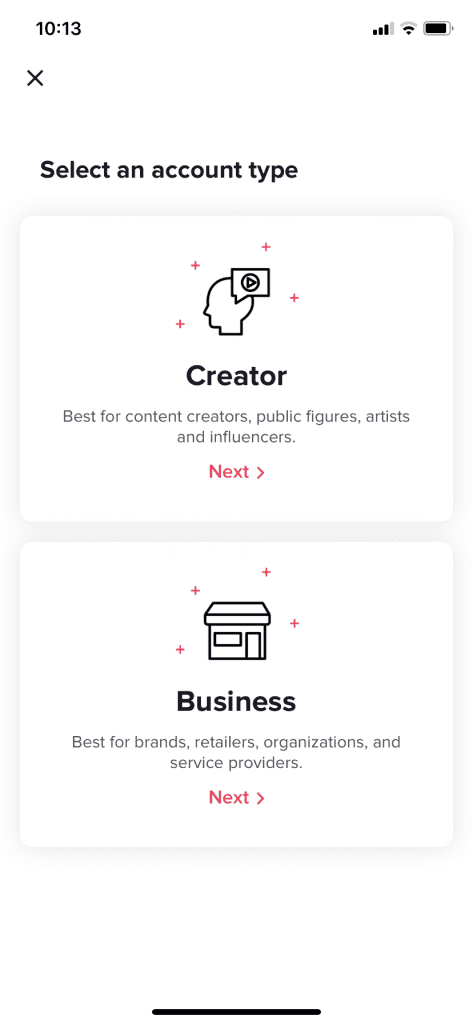 Based on research, selecting a creator account will work better for your business rather than a business account and here is why.
Creator Account
Instagram and TikTok have clear incentives to lower organic engagement on business accounts. Why? Because they want businesses to pay to reach people. Therefore, this same strategy is being used across social media platforms. As soon as you pick business, they limit your organic reach so you can run ads.
On a Growth Hackers Forum posted by Chris Tweten, a user commented that he always had a business account on Instagram and noticed a decrease in engagement over the years. He believes that instagram is "suppressing images with text". He did his own research and posted a picture with text then monitored it for a few hours. The impressions were very low on the post and he pulled it from his account. Later that day, he posted the same image without text and received more than double the impressions.
Take into consideration that the process of suppressing business accounts content is being used across all platforms not just Instagram. So utilize the creator account when operating your social media platforms.
Your TikTok Creator Account is all set up so what is next?
Introduce your business through a TikTok Video!
A great first video for small business owners is to introduce themselves to their TikTok followers. Be personal to your followers and more people will be able to relate.
Things to share in your video can be your name, fun facts, how you got started, and more about your business. As soon as they get to know you and your business is when they start to follow your business journey.
Create content for TikTok users
Create content that TikTok users will enjoy! I throughly research the "#ShopSmallBusiness" Hashtag on TikTok and these are the content ideas I found that users enjoy watching.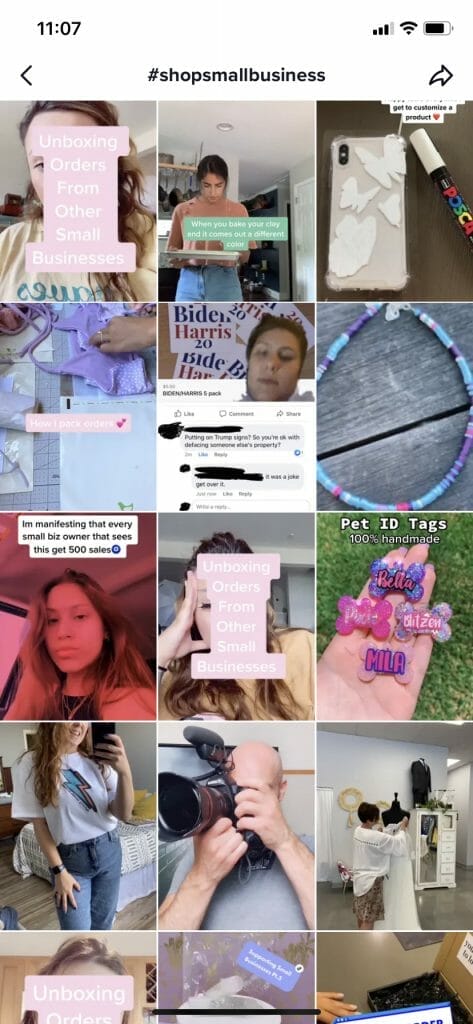 Some video ideas consider are a workspace tour, meet the team, day in the life, and being a local business owner.
WorkSpace Tour
Share your workspace with your customers. Show them where your products are created, shipped, and promoted on social media. This will help them relate to you more if they are a small business as well.
Meet the Team
Let your customers meet the team virtually. Have each team member do a video of what their job and tasks are for the day. This will provide an insight of how your business is operated. Also, if you are a family owner business let the viewers know and give funny traits about each family member.
Day in the Life
Have your followers follow you on a typical day as a small business owner. Show what you have planned for the day such as unboxing, the shipping process, and show previews to upcoming launches. This shows your customers what goes on behind the scenes of running a small business and being an owner.
Being a Local Business Owner
Share details about being a small local business owner in your community. Include how your business is making a difference in the community and why people choose your business. This helps prospective customers understand your loyalty within the community and differentiates you in the market.
Strategies smaller businesses are doing on TikTok
Let's take a look at other strategies small businesses are doing on TikTok. We are going to analyze from food businesses to doctors and dentists.
How-to Viral TikTok Strategy: Angel Tijuana Tacos
Angel Tijuana Tacos is located in North Hollywood, Sylmar, Glassell Park, Echo Park, and Fontana. On their TikTok platform they post How-to Videos.
For example, how they make their delicious tacos and burritos. As well, they promote their specials on Taco Tuesday which everyone loves Taco Tuesday.
Jumping on Trending Songs Strategy: Banging Buns
Let's look at another food business called Banging Buns located in North Hollywood, California. They focus on using popular hashtags and songs on TikTok. When using popular songs on TikTok, your engagement rises because everyone is using that trending song. Just like Angel Tijuana Tacos, they post how-to make their famous chicken sandwiches.
Instead of Taco Tuesday they promote their menu using "FRYday" creating their yummy buffalo chicken fries finishing it off with their famous sauce.
They don't just stop at How-to videos and FRYday videos. Banging Buns post challenges and include trending sayings to grab the attention of the younger generation. Recently, they reached 100k followers on Instagram and they held a giveaway of $1000 dollars.
Participate in Weekly Trending Challenges: The Real Dr. Miami
The Real Dr. Miami is a popular plastic surgeon located in Miami, California. He has worked on many famous celebrities and is known for posting his surgeries online. So if you are interested in the behind the scenes of cosmetic surgeries definitely check out his Instagram.
He manages to have a successful platform on all his social media accounts. He participates in weekly trending challenges on TikTok which keeps him on the popular page. He engages with his audience by answering questions with funny commentary back.
To relate more to his followers he shows his daily work activities with his coworkers. This is when he posts his surgeries or the process of making challenge videos.
Giving Tips and Advice: Dr. M
Now let's talk about the Dentists of TikTok. Dr. Suhail Mohiuddin is a part of the Dentists of TikTok and provides daily tips for his TikTok viewers.
This includes how-to videos such as how to floss, brush your teeth, and when to go to the dentist if you are experiencing problems. He targets everyone whether the viewer is 8 or 60 years old.
Furthermore, he shows his daily procedures at the office and what to expect if you are getting the same procedure.
Partner with creators that work with smaller businesses
Now that I have talked about strategies smaller businesses are implementing on TikTok. Let's talk about how collaborating with creators on TikTok can help your engagement and grow your following for your business.
Today, I'm going to focus on creators that work with small food businesses on TikTok.
Work with creators and in exchange for a video provide them with free food. Let them see the behind the scenes of how you run your business, your story, and what made you start a food business.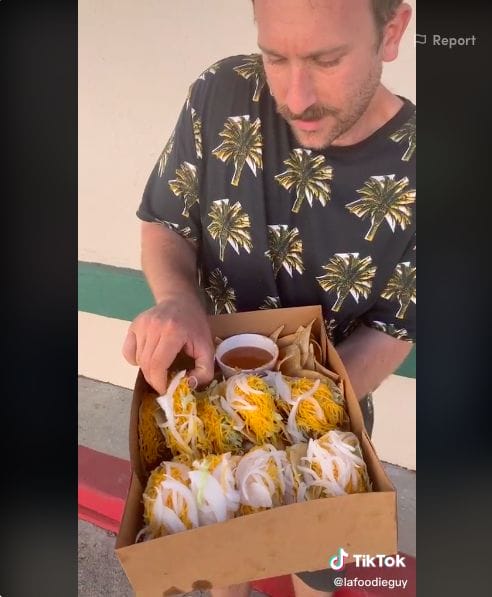 A popular TikTok creator that creates content like this is @LaFoodieGuy. He tries food in the LA area for his TikTok followers.
Another creator is @Misohungry, she promotes small food businesses in the LA area. She provides how the business got started and then ends the video with eating the delicious food.
Lastly, here is a creator that supports local businesses in the Inland Empire is @MrBiggsMenu.
Different types of paid TikTok videos
Let's talk about different types of paid TikTok videos.
Brand Takeovers are ads that appear in the user's feed before other content. This is known for popular businesses to take initiative in.
Sponsored HashTag Challenges are essential on TikTok. Whether it's you participating in a challenge or you're getting paid to promote the business. It's a good video strategy to use when you want to increase your engagement.
In-Feed Native content are native ads placed at the bottom of a TikTok video or in the feed as part of the video queue based on the type of product.
To read more about the different types of paid TikTok videos check out "The Ultimate Guide to go viral on TikTok".
Market your business EVERYWHERE
TikTok is a useful platform to gain traction and followers to your business but do not limit yourself to one platform. There are many different ways to market your business. Such as Instagram, Twitter, YouTube, Pinterests, Snapchat, and Facebook. Utilize every platform so you can to get your business name out there.
If you don't know how to grow your social media platforms, check out this video created by Neil Patel on "7 Social Media Hacks That'll Make Your Business Grow Faster".
Instagram Reels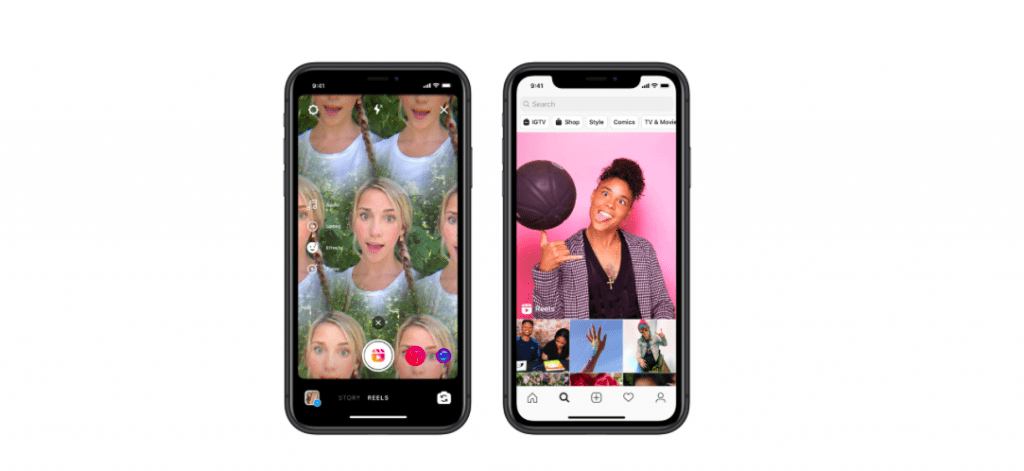 There is a new feature on Instagram called "Reels". This is a similar strategy that TikTok is known for. They have implemented a feature called "Reels" on the Instagram platform that consists of a 15 second clip with audio, effects, and creative tools.
This is a new way to connect with friends or anyone on Instagram. To reach more people make your page public so that it's available to reach a wider audience in the Explore Page. This feature offers anyone to become a creator to engage with a new audience across the platform.
A good strategy to use on Instagram's new feature is to promote your TikTok content on Instagram. This gives you double the free exposure. Post your videos on Reels to see your engagement compared to TikTok.